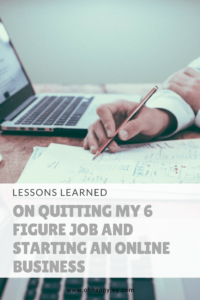 Why Quitting 6 Figure Job To Run An Online Store Is Hard
Let's look back at our childhood dream. What was yours?
Mine changed quite a bit overtime. Once it was a diplomat. (I didn't know what they do except that they have to speak foreign languages very well and travel to different countries.) A lawyer. A dentist. An architect. And a business woman. I had this vague image of me working in those tall skyscrapers looking professional while I have a dog like a golden retriever at home.
My dream was affected by many things. But one thing that really affected how I viewed success was my family. I grew up in a family who emphasized excelling in academics is the way to success.
Go to a good college, get a good job, and then marry a good person.
And no one I knew explained to me any other options other than that! It may also be that I grew up Korea where excelling in academics is highly regarded as the success. And also I grew up in a neighborhood where most parents all worked at a company or had some type of job to earn a living. I'm not here to blame anyone and I do think that I came from a very fortunate background to achieve all the success I dreamed of as a child. I went to a good school, got a good job, made pretty good money, and I married a good person. Life was good.
But then, after I got married and had a baby, I was confused. Like a lot. I was confused about how to raise a baby. I was confused about whether going back to work is the right thing to do. I felt like I didn't have a direction anymore now that I have achieved what my family has taught me a good life is. It was definitely different from having a career counselor back in high school.
My mom has been a stay at home mom all her life, except when she worked at a company where she met my dad. She quit after getting married, and she dedicated her life to raising us. Her life was us. Now that I'm a mom, now I understand that being a stay at home mom is a full-time job itself and more. It's probably the most underlooked job in today's world. No one really counts it as a full-time job since you are not getting paid, and you are not being evaluated for your performance. But, in my opinion, it's one of the toughest jobs to have. But back when I was single, I didn't know any of this. I never wanted to be someone like my mom whose life at many times felt like revolved around us. I wanted to have a career, I wanted to show my children how they can achieve success, be a role model.
But all of that seemed like it was disappearing from me, as I made a decision to stay home and start an online business. Building a business is no joke. But it certainly doesn't have the same prestige as working at a fortune 500 company, unless your business becomes big like a household brand. It definitely gives a different nuance when someone says 'oh I work at Google' vs ''oh I have an e-commerce store that sells jewelry'.
After 3 years of quitting my job and changing my career to a business owner, running an e-commerce store and being an Amazon Seller, I have learned to be okay with quitting my job, something that has been regarded as 'the success'.
Here are few things that I've learned:
There are so many ways to make money.
There are so many ways to make money than just getting a good job. I've come to known many who make living not having a 9-5 job. Photographers, Calligraphers, Designers, Social Media Coordinators, Sales Consultants, and Coaches to name a few. Many people are tied to their 9-5 jobs that they hate because they need financial means to support themselves and the family. But once you start to recognize that there are just so many ways to make money and you don't have to be tied to your 9-5 job, you will start to see opportunities. The internet is full of opportunities. Sell your photographs on stock photo website. Complete online surveys and make money. Have a blog. Sell products online. Have a youtube channel. You just have to start. Start small and grow.
Running a business is challenging.
And one thing I've learned is that running a successful business is challenging! While working at a job makes you look at one particular area of a business (be it finance, marketing, sales, creative), running a business requires you to look at all aspects of running a business. It's challenging work to make your business successful and requires a lot of self-discipline and determination. If you've succeeded at running a business, then now I understand that that deserves a lot more recognition than a promotion at a job.
You have to live a life that makes you happy.
I truly believe that we are not here to just live but to thrive. Live your life to your fullest. If your job presents that opportunity, then I think you are truly lucky. Being happy means different for everyone. For me, happiness is many things. But when I think about work aspect, I am truly happiest when I have the flexibility to work whenever I want, however I want, and whomever I want. I am truly happy when I see the products that I have designed come to life. So ask yourself what makes you happy!
Your priorities change as your life changes.
My priorities when I was in my 20s completely changed after getting married and having a child. Looking back, I was the most important being on this planet and everything I did was for me. But I have a different perspective now that I have a child. My life has to accommodate his needs and providing him a good life comes first when I think about where to live, cook meals, and the way I spend my spare time. Everyone has different priorities so you can't judge someone based on how you see the world.
Your success in life isn't measured by your job title.
I used to think this way. While I do respect people that have a great amount of experience and was very fortunate to work with many great bosses, I also know plenty people that just go to work because they have to or because they don't know other options. I also know plenty people that have job titles that their experiences don't fully support his role and as a result, the team members suffer. I've learned to not judge success by a job title.
It's a blessing to have control over your day
It's hard to do that when you have a 9-5 job, when you are required to stay at your job location. Being an entrepreneur means you can work wherever you want, however you want, whenever you want. The freedom it gives to your life is unmeasurable. You also get to choose who you want to work with. How amazing is it to be able to hire the person you want to work with. You can design your life the way you want it.
Have control over your day, be free from any responsibilities that you didn't create, work with people you like, and do things that make you happy. This is how I became okay with quitting my six figure job.
Have you switched your career or became a business owner after a 9-5 job? What have you learned from that experience?