As a busy mom juggling business, kids, and household duties, making an easy dinner is always on my mind. Especially with the cold season in full swing and my little one being sick, chicken noodle soup totally saved me from having to cook few meals, including the dinner and the lunch the following day. All while helping with the cold symptoms and making the belly hot with warm soup.
Here's a super easy chicken noodle soup recipe that I love.
Easy Dinner Recipe - Chicken Noodle Soup On A Cold Night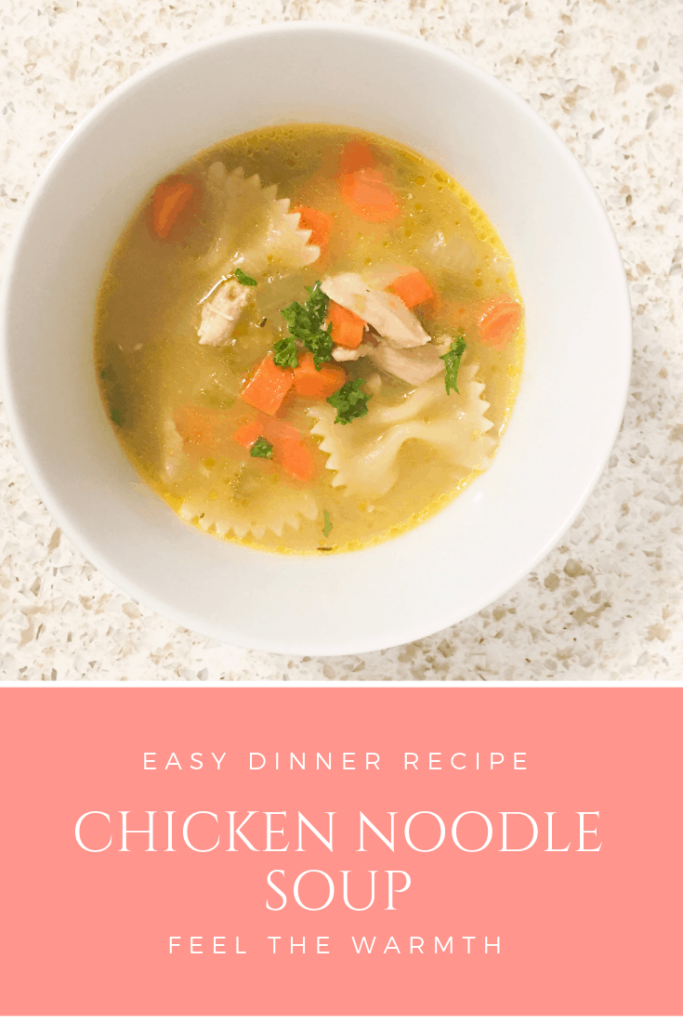 Easy to make, delicious, and packed with nutrients, and my kid loves it! I can guarantee that you will feel warm after having this soup! It takes only about 40 minutes to make - it sounds like a long time, but all you really need is the time to chop the ingredients and the time to sautee the vegetables initially for about 15 minutes. Rest happens in the pot as it boils.
Hope you enjoy this recipe as much as I do!
Ingredients:
1 tablespoon butter
2 minced garlic cloves
1 chopped onion
3 carrots chopped in slices
3 teaspoon vegetable or chicken stock powder
½ teaspoon dried parsley
¼ teaspoon ground black pepper
4 cups Chicken Broth / 4 cups Water
600 g skineless chicken thighs
1 cup of bowtie pasta (or long grain rice or other type of short pasta)
1 tablespoon finely chopped parsley
Instructions:
Melt butter over medium heat.
Add onion and garlic and cook until translucent.
Add carrots and celery and cook for about 1 minute.
Add vegetable powder, parsley, thyme, pepper, chicken stock, and water.
Mix the ingredients and add chicken.
Cover the pot and simmer on medium for 30 minutes.
Add the pasta or rice and cook for another 15 minutes.
Remove chicken from the pot and shred. Return shredded chicken to the soup.
Serve the hot delicious soup, garnished with fresh parsley.