Now that I have gone through two baby registries for my now 4.5 years old and a 2 months old newborn, I wanted to share the things I wish I put on my baby registry.
I had a pretty big baby shower for my first baby and the list of items I had put on the baby registry was pretty long. I read multiple articles and pinned numerous posts to make sure I have all baby registry must haves. But there were still many things I wished I added to the baby registry. So I decided to put together a list of most forgotten baby registry items.
I also feel like it's important to not forget about moms! I have put together a separate list of things to put on baby registry for mom so please do check that out!
We had Amazon Baby Registry for both babies. Mainly because we are Amazon Prime members and Amazon pretty much has everything we would need. And once you complete your baby registry, you can get the 15% completion discount. So I wanted to make sure whatever I need, even if they were something we were going to buy ourselves, I add to the baby registry so we can get the discount.
But even now, there are so many things I wish I had included in the baby registry as I place orders online for things I need. Small things add up and I wish I had put on the registry so that we could get help from others in getting them or get the discount.
It's nice to buy things on our own but it's also nice to know what we need in advance and get friends and families to pitch in!
This post may contain affiliate links. Please read our disclosure for more info.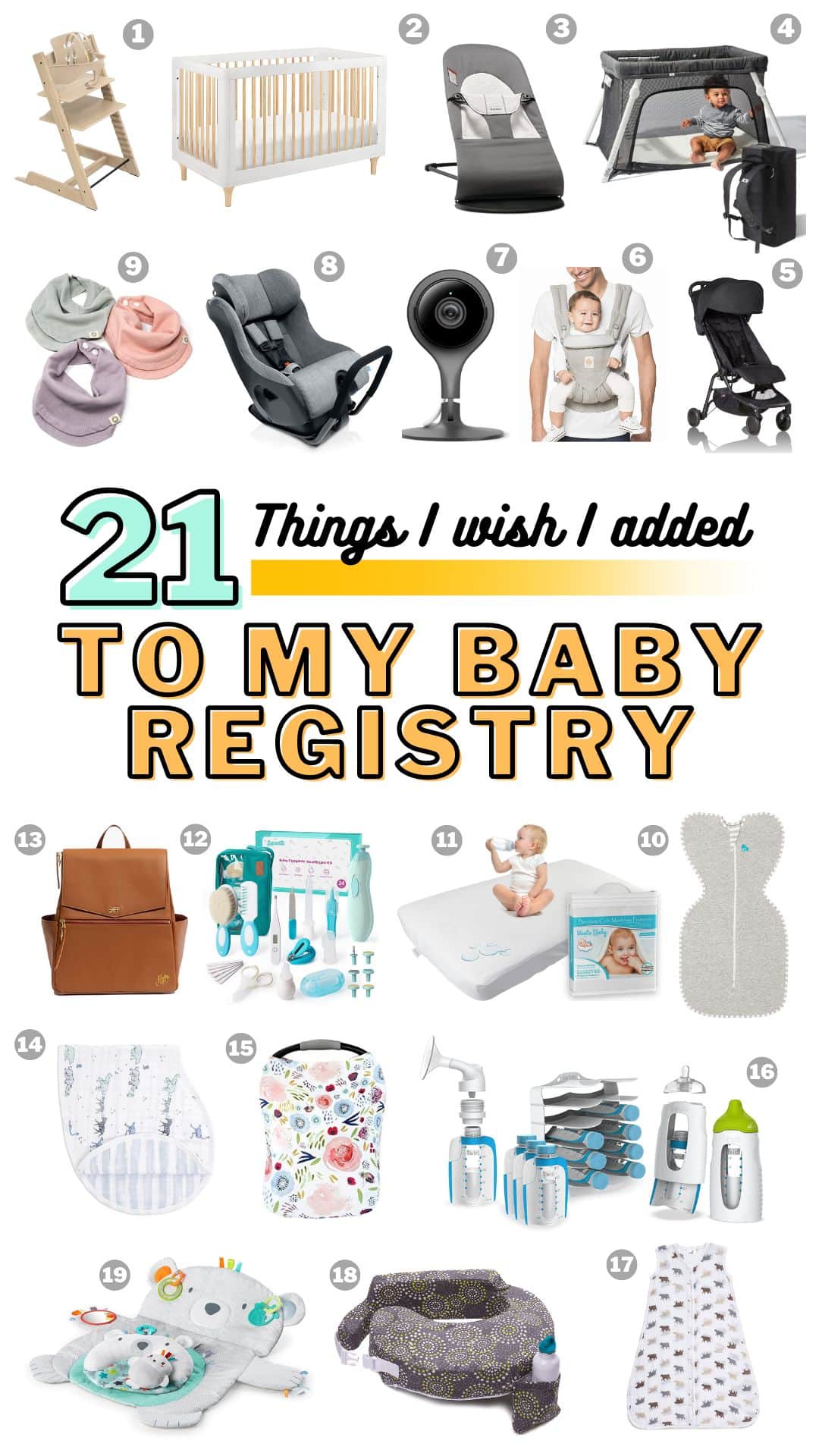 Big Ticket Baby Items I wish I Added To The Baby Registry
We didn't have space to store big items like highchair when we first set up our baby registry that we left this item out. So when the time came, I was surprised to know how pricey these things can get! Yes, there are relatively cheap options out there, but I wanted something that looks nice and also functional.
So, we actually got a used one from Craigslist since we didn't feel that it was worth it for us to spend so much money on a high chair. We got OXO Tot highchair since I liked the simple design.
After using it for awhile, I'll be honest, I wasn't a huge fan of this chair for several reasons. The chair wasn't easily adjustable to pull to our table when we didn't want to use the tray. Also, my son was such a messy eater that cleaning was a huge hassle with this one. We ended up not using the foam back since it was so hard to clean the belt and the foam together.
We then got a hand me down of Stokke wooden high chair from a friend. And I'm a huuuge fan of this! I must say there is a reason whey there is a high price tag on these and it's so worth it! It doesn't take up much room and my son used this chair until he was about 4 at which point he wanted to sit on the big chair like us.
This chair doesn't take up much room. You can easily adjust the height, and can use it since the infant stage all the way up to toddler stage. I absolutely love it and I wish I had put it on the registry.
We bought our crib and mattress from Ikea, so this was never part of our registry. We got a convertible crib that we could use it from infant stage to toddler. For the most part, I liked it for its price, except for the mattress. The mattress from Ikea was not the best and we had to replace it with this one later on.
For my second son, we now have this crib from Babyletto which I love and the same mattress my older son used. I love the design of Babyletto cribs since they are modern and simple. You can see few gorgeous nurseries that are using this crib here.
If you plan on having more than one baby, I highly recommend that you invest in a nice crib that you know you will use it for at least 3-4 years until your baby outgrows it. These can be included in the Amazon baby registry if you want some family members to help purchase it!
Bouncer or a swing is a must with an infant as you need to set them down somewhere while you get things done in the house. I love Baby Bjorn bouncer since it has clean and modern look and doesn't take up much room. It's easily foldable for storage as well. I had used a swing for my first born which I never really liked since it took up so much room and he didn't seem to enjoy it as much. I wish I had added this despite the cost since I use it all the time.
We used pack and play so much! Especially since we travelled quite a bit, this was a must for us. We got a Graco pack and play but I never really liked it. I felt like the bottom cushion was never comfortable enough for my son to sleep well in it.
I wish I had gotten this pack and play by Guava Family. It provides more room for sleeping and playing. It's similar to Baby Bjorn pack and play but it has side zippers that makes it easy to soothe the baby while the baby is sleeping. I also love how portable it is, by having shoulder straps for traveling.
We have an Uppa Baby Vista stroller. We use it from time to time but we honestly never used it as much. When the baby was little, we just used the car seat and the snap and go as the stroller.
When the baby could sit, we used the Uppa Baby stroller for some time but because it is heavy and takes up so much trunk space, we ended up using a portable one a lot more.
We had gotten Mountain Buggy Nano Travel Stroller since this is one of the strollers that fits in the overhead compartment of an airplane. It's so compact that it freed up our trunk space a LOT. Also, it's so much lighter to fold and unfold for a tired mama, who needs to constantly carry stuff. It can also hold up to 45 lbs so you know you can use this for awhile. I wish I had done some research and added this to our baby registry!
A little bit more expensive version is the Baby Brazen YOYO stroller, which is also pretty popular for many moms.
Right now we are using Ergo Baby 360 Carrier. I absolutely love this carrier for its versatility.
However, the only downside is when the baby is small, you have to use their infant insert to carry the baby. Right now, with my 2 months old, I am using it with an infant insert. Because we used the carrier so much, I wish we had extra on hand and also one that's more friendly to use when the baby is young. Baby Bjorn baby carrier does not require infant insert and you can use it when the baby is young.
For the baby monitor, we actually ended up getting Nest camera. I love how flexible you can use this monitor and the great angle and night vision it gives you. You don't need a separate monitor to see the baby - you can log into the website or your phone (anywhere you have WIFI) and see the baby.
We've had multiple Nest cameras around the house to use as a nanny camera too. I wish we had put one of these on our registry!
Having a husband who was really keen on getting the safest carseat, we have Cybex carseat as an infant carseat and my older son uses Clek (Look into them if you want to get one of the safest carseats in the market!). While each of these carseats is really high quality, I felt like it's a waste of money to buy a separate carseat for each stage.
If it was solely up to me, I would choose convenience over safety, knowing that all carseats are designed and made to protect the baby. If I could go back and add a carseat now, I would totally add the carseat by Doona. It turns into a stroller without you having to pull out a stroller base from the trunk. How amazingly great is that! The only downside is that it is a little on the shorter side so if you are super tall, it might be slightly uncomfortable to push this stroller around.
RELEVANT READ:
Small Baby Items I wish I Put On The Registry - easily forgotten baby registry items
My baby was a huuuuge drooler! And I never really liked the waterproof bib kind since it wasn't very soft on the skin. What saved me were the bandana Bibs. I absolutely love these since they make the outfit look stylish while preventing clothes getting wet from endless drools. I would definitely put few of these sets on my baby registry since I had to replace these so often with my little one!
We started off using swaddling blankets until my babies' hands started to escape the swaddle ALL the time. Honestly, I've used so many different ones - Swaddleme, Nested Bean Swaddle, Halo Swaddle, and Loved To Dream Swaddle.
My favorite is definitely Love To Dream Swaddling Blanket as I have mentioned in this post (15 Postpartum Must Haves That Will Save You During Fourth Trimester). I love how easy it is to put it on while doing its job of making the baby feel secure.
I wish I had added few of these in different sizes in the baby registry. My two month old likes to suck on his hands and the trims tend to get dirty and having one extra one on hand will definitely help since nap time comes around so quickly.

I didn't know I would need so many of these until I realized how sweaty my baby gets while he sleeps. And add spit ups, poop blow ups, and leaking diapers. Any one of these will require you to change your crib sheet and the waterproof cover.
You do use these for a good 3-4 years until you replace the crib with a bigger bed. I wish I had added multiple crib sheets on the baby registry so that I know I have extras on hand, without having to do multiple laundries.
There are so many cute options nowadays that makes your nursery look gorgeous.
It amazes me to see how the tiny human needs all the tools to keep them clean and groomed. From nail clippers to snot suckers, you would need a separate set for your baby. I never had one of these kits on my registry but I wish I did. They pretty much include everything you will need and more.
We stopped using rectal thermometer once the baby was a bit older - around 5-6 months. We instead got the one you measure on the forehead and through the ears which is so much easier! Your baby will get sick at some point and having this easy to measure thermometer will be your life saver.
I went through so many diaper bags with my first one! Back then, there weren't that many backpack options. Nowadays, I think there are so many options! I love Freshly Picked, Fawndesign or Petunia Pickle Bottom ones. Happ Brand has cute diaper bags but they are currently not being offered on Amazon.
I used the Aiden and Anais burp cloths so much! They are great when you are burping the baby and I like how you can use as a bib. I also used these on my baby when he started solids. He absolutely hated any plastic ones and I couldn't keep them on. It was hard as it is to feed him food and I didn't want to fight keeping the plastic ones on him.
He never resisted these burp cloths as his bibs. They are also wide and cover the entire upper half of the body, so worked great for a messy eater.
The only downside is that you may not be able to get the food stain off of these and the buttons sometimes fell off after using these so much.
I would totally add few of these burp cloths on the registry!
I had talked about these nursing / carseat cover in this post (15 Postpartum Must Haves That Will Save You During Fourth Trimester). I would definitely add one or two of these on the baby registry since these are a must for nursing mamas. They serve the dual purpose of being a carseat cover and a nursing cover. I had only one of these on the baby registry but I wish I had added at least two!
I only found these breastmilk storage bags for my second baby but I wish they existed for my first one too! They are so convenient since you can pump directly into the pouch and also feed your baby from the pouch using their pouch holder. If you buy the kit, it comes with the storage bags and the pouch holder.
Because my second baby has reflux issues, I am not using their pouch holder, but instead using the Dr Brown bottles. But I love how I don't have to pump into a bottle and then pour into breast milk storage bags. Less washing of the bottles, happier mama!
9. Baby Sleeping Bags
I have gone through so many baby sleep sacks after my first born was done with the swaddling blankets. I wish I knew what these were when I was setting up the baby registry for the first time.
Because of the risk of SID (Sudden Infant Death), it is recommended that babies wear sleeping bags instead of putting a blanket on them. These keep them warm and reduce the risk of having blankets over their face and suffocating them while sleeping.
Since you transition from swaddling blankets to sleeping bags when the baby starts to roll over (around 5-6 months) until they are able to put a blanket over themselves (around 3-4 years old), you end up using the sleeping bag for quite a while. And these aren't very cheap either so I wish I had added these in different sizes to the baby registry. I also transitioned to toddler sleepsack with feet when my baby started to stand up in the crib so that he doesn't slip and fall in the crib wearing a traditional sleeping bag.
My favorite ones I've used so far are Aiden and Anais Multi Layer Sleeping bags and Tealbee Baby Toddler Sleepsacks. Other popular options such as Baby Deedee was too thick when we have the heater on and didn't like the softness of it. I've never bought Woolino since each was so pricey and I needed at least two so I can rotate when one's in the wash. But some say it's really great! Definitely add one of these to your registry so that you can save money on these!
There are Boppy pillows
which you can use as a nursing pillow and baby lounger. But I find that My Brestfriend nursing pillow works really well in supporting the baby while nursing. I've used both but if I were to choose, I would definitely go with My Brestfriend nursing pillow. This is also a must for your hospital bag since you will be nursing right after giving birth and these make a world of difference compared to hospital pillows!
It is said that giving tummy time to your baby is so important for their back and neck muscle development. Also, they spend most of their time on their back that it's important to give them tummy time even when they hate it. I am doing a lot more tummy time with my second one and he just rolled over today while he was on his tummy at 2 months! I'm amazed since it took my first one almost 5 months to roll over.
He only lasts about 3-5 minutes each time but I'm trying to encourage him by making him enjoy it more and more.
Activity mats or tummy time mats makes tummy time entertaining for the baby. I haven't added these to the registry both times (I know I totally forgot!) and I regret that I didn't. I've ended up buying this one since it's simple and relatively less pricey than activity mats.
Do you have any baby items that you wish you'd added to the baby registry? Or do you have any other ideas on registry ideas for second baby? Do share in the comment below!