13+ Newborn Must Haves In 2023 - Now that my second son is 4 months old, I thought I would do a round up of newborn items you absolutely need.
As a first time mom, we tend to buy a lot of things that we end up not using. I added way too many things to the baby registry. There are so many things I ended up NOT using. I donated or gave away a lot of these unnecessary items.
If you are thinking about how to survive the newborn stage with your baby with minimal things, here are the 13+ baby must haves in 2023 that will save you lots of moolah and time!
This post may contain affiliate links. Please read our disclosure for more info.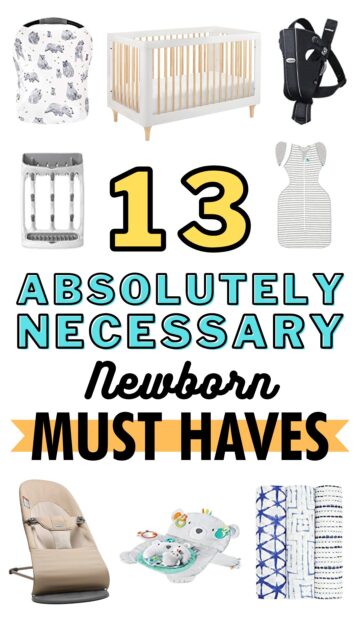 13 Newborn Must Haves In 2023
When the baby was teeny tiny (couple days old). I used swaddling blankets to swaddle the baby. But as he started to wiggle around and kept taking his arm out, I needed another solution to swaddle him. I've tried so many other options ranging from Summer Infant, Halo, and Nested Bean. None of them worked as well as Loved To Dream swaddles.
It's so easy to put on the baby with just a zipper. And since the baby can maintain its natural preferred position of having hands up rather than down, it made him sleep better. Also, when he wanted to suck on his hands, he was able to reach and suck on the hand part.
I have already recommended to my other mom friends who just had their babies and cannot recommend enough. I wish I had used this with my first one!
Now that he is 4 months and moro reflex is mostly gone, I have moved onto using the swaddle with the zipper arm. I slowly transitioned him by letting him have one arm out and the other one in. Now he sleeps with both arms out.
I will have to transition him to a sleeping bag but for now, the Loved To Dream swaddle with zipper arms still work for me.
RELEVANT POST:
I have talked about how using baby crib vs bassinet from day 1 helped him get used to sleeping in the crib from early on, without going through a transition phase.
I'm a huge proponent of 'Start as you mean to go on'. So, we just put the crib next to our bed and put him there to sleep whenever he needed a nap. We did that consistently from day 1.
Now that he is 4 months old, he totally knows that that's a place of sleep. I just put a swaddle on him and put him in the crib while he is awake and he drifts off to sleep without crying.
Not all naps are like this though. There will be naps when he will cry a little bit or fuss. I normally wait it out, rather than rushing to go get him. (what I did with my first one!) Normally within minutes, he drifts off to sleep on his own.
Muslin blankets are so useful in so many ways. A definite newborn must haves for year 2023, if you already have a newborn or planning one this year. First, you can use it as a swaddling blanket. And you can later use it as a tummy time mat, nursing cover, or a blanket to keep them.
I love these muslin blankets since they are light and they are so versatile. I always have one of these in my diaper bag.
When my first baby was born (approximately 5 years ago), there weren't that many options for carseat covers. I used blankets as the cover back then.
I'm so glad that they came out with these carseat covers!
They are great when the baby is sleeping in the carseat and you don't want to disturb them. They are also great at blocking wind or sun and keeping the baby nice and warm in the carseat.
They work great as a nursing cover as well and you don't have to carry multiple things in the diaper bag.
Get Carseat / Nursing Cover here
I use Ergo 360 Baby Carrier. I've been using it with the infant insert until about 3 months and now I use it without. Now that he is 4 months, I also have him face forward when he is awake.
The only downside of this carrier is that you need an infant insert when the baby is small. But looking back, it's only a short period when the baby needs it.
Soon, the baby graduates to not needing one. And from my experience, you end up using your carrier a LOT. And having the versatility of being able to wear it in multiple positions is a huge plus.
Something I started doing with my second one is starting to nurse him in the Ergo. I did that since he was about 2 months old. It's a life changer as a nursing mom! It's so much easier to nurse in public. Also, nowadays, I nurse him in Ergo at home since it gives me so much more mobility than being stationary.
I love Dr Brown bottles! It helps so much with reducing the bubbles while the baby drinks. I didn't realize this until my son struggled to drink from regular Medela bottles. He had reflux issues early on and using this bottle helped a lot.
The only downside is various parts that require washing after. But hey, if the baby is going to be less gassy and complains less when drinking milk, I'd totally take it!
Relevant Post:
Whether you are strictly breastfeeding or not, you will need bottle washing soap and brush. You will also need a rack to dry all of these.
I absolutely love the rack I'm using right now since it doesn't take up much space. I hated having yet another large item take over the kitchen counter. This one works great since it's compact and fits in all the breast pump gears and bottles I'm using.
Get Bottle Washing Soap And Brush
First few months are so critical in establishing your milk supply. I did everything possible to increase the milk supply during the first few weeks. And I was producing a lot more than what my son could drink.
These breast pump storage bags came in soooo handy as I could skip having to wash bottles and putting it in a special storage bag for the freezer. All you have to do is pump it in the storage bag and just store it!
You can also feed the baby directly from these storage bags, which I didn't use much. But it's a great option if you plan on doing that as well.
Honestly, the only clothes I really put on are the onesies. Since he was a summer baby, all I needed were short sleeve onesies. For occasional photos, I had few cute outfits I received as a gift.
My first one was a fall baby and needed long sleeves - all I used were the onesies that covered his toes and had a zipper for easy outfit/diaper changes. I didn't even use much of the ones that had buttons since it took so much longer to button them whenever I would need to change him.
You would need to make sure you have few baby care kits like nail clippers, nasal aspirator, and baby bath tub.
Also, baby shampoo for their delicate skin would be needed as well. If your baby has cradle cap, then you might want to get Mustella baby shampoo which helps with getting rid of the cradle cap. You can buy a brush to gently remove the cradle cap off of their head. What I ended up using were the surgical scrub that I got from the hospital. Cradle cap was a temporary thing so I'm glad I didn't need to go out and buy a brush.
Tummy time is so important in the baby's development!
And most babies hate tummy time when they are little.
What helped was getting a tummy time mat that came with a small pillow to support him. I initially was using a rolled up towel but I quickly got tired of using the towel and ended up buying the tummy time mat. I'm so glad that I did since he was able to spend much longer time on his tummy and now he totally enjoys it!
Oh, what would I do without this bouncer!
Since he was about 4 weeks old, we used the bouncer to put him down. It's so useful when you are trying to get the formula or trying to pump. Or when he is just simply awake and when the rest of the family is eating a meal.
I love this bouncer since it doesn't take up much room and it's easily portable to various rooms in the house.
I use Aquaphor as body lotion and also as diaper rash cream. Also, since my baby got circumcision done, we used lots and lots of Aquaphor first few weeks so that it helps with the healing.
I truly believe that using Aquaphor after a bath on the baby's body prevents eczema. And any flare ups my first son had, putting Aquaphor did wonders in making it go away the next day.
I've used various brands as diaper rash cream - butt paste, honest, and Burts bee. But nothing seems to beat Aquaphor in its effectiveness in preventing diaper rash.
There you go! These are the 13 newborn items you absolutely need. Things that I bought but can live without, I haven't listed here. Hopefully this list will help you with setting up your baby registry!