Postpartum Must Haves - My fourth trimester with my second baby has been a lot more enjoyable than my first. I felt like I knew what to do. And when the baby cried, I wasn't stressed out as I used to with my first. Breastfeeding came to me a lot more naturally as well and my recovery was much faster, although both had second degree tear.
While trying to meet both of my kids' needs were difficult at times and I still am struggling with the sleep, my fourth trimester this time around is much more smooth.
It might also be that whenever I needed something, I could just browse on Amazon and order online. The next day or two, the product will be delivered at the door. What a difference it made! I've also subscribed to few things which really saved my life few times. At this time, anything to make my life easy, I would welcome with my arms wide open.
As a second time mom, I've put together things I wish I had put on my registry in a separate post.  We had Amazon baby registry since we pretty much buy everything from Amazon.  We knew we would go through disposables like diapers, wipes, diaper cream very quickly. Also, when you complete the baby registry, you get 15% discount as a Prime Member. It was a win-win strategy to put all those on the Amazon baby registry and get that extra discount on things we knew we would need.
But there were still items I wish I had put on the baby registry so that we could've enjoyed additional 15% discount. These are definitely must haves during the fourth trimester.
If you are a breast feeding mama like me, these items will save you so much time and energy. I've listed the ones that I've personally bought and love.
So here are the Fourth Trimester must haves you would want to put on your baby registry!
This post may contain affiliate links. Please read our disclosure for more info.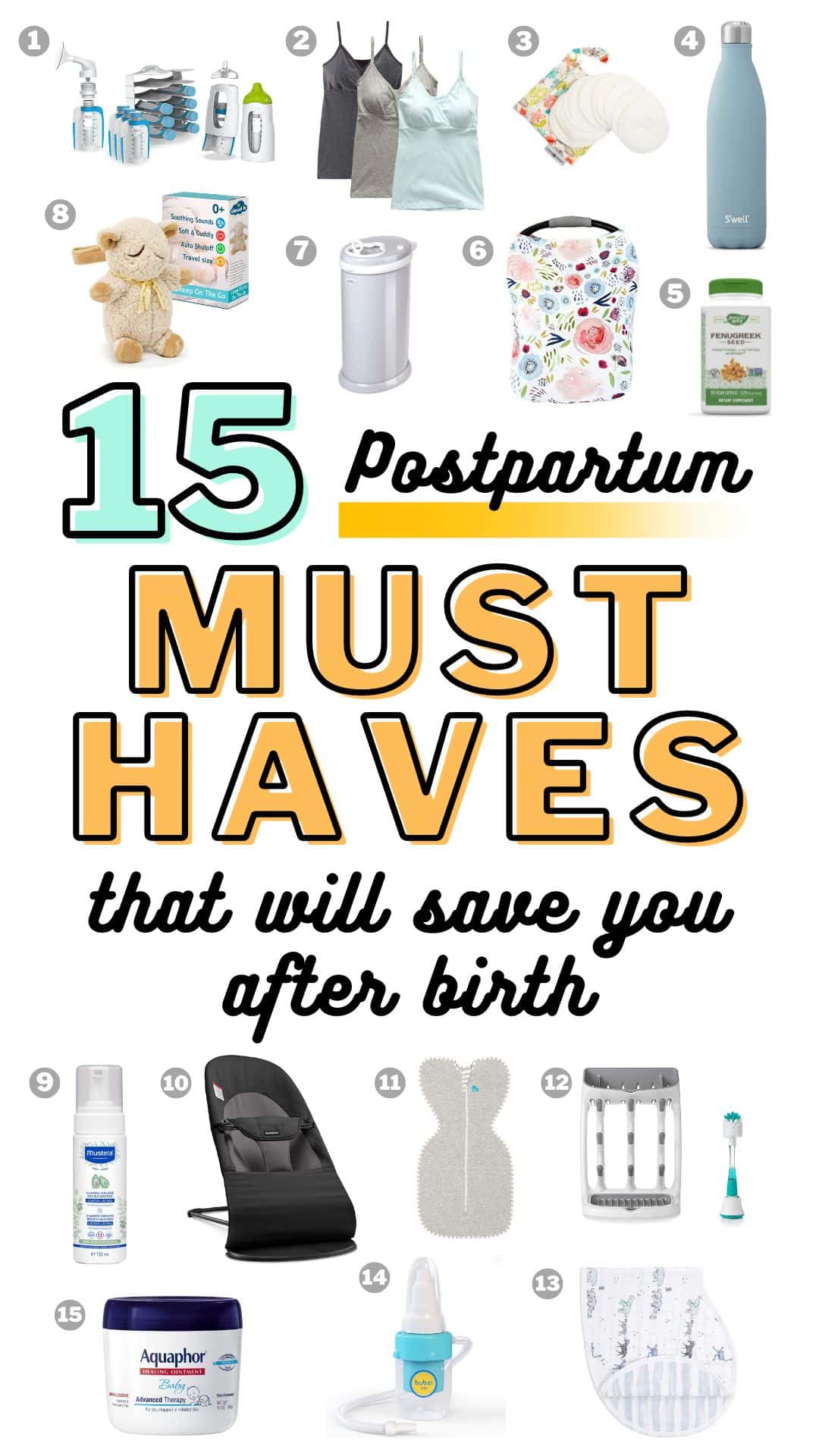 I absolutely love these since you can directly pump into these Breast Milk Storage Bags! It saves you from having to wash your bottles and having to pour it into a separate bag after you've pumped. If you haven't added to your baby registry, this is one of must have postpartum items as a new mom and for your newborn. Complete time saver!
You can also feed your baby directly from these storage bags using the holder it comes with the Kit. I personally haven't used this much since my baby has reflux issues and we are using Dr. Brown bottles (totally love this if your baby has colic or acid reflux). But if your baby can take it directly from the pouch holder, you will love it even more!
While I was pregnant, I had to buy bigger size bras as none of the bras would fit me anymore. Having gone through my first pregnancy, I wanted to buy nursing bras to wear during pregnancy since I knew I could use them after giving birth.
But since nursing bras still require you to wear a nursing top, I've stocked up on nursing tank tops I can just pair with a cardigan or a kimono gown. These ones are great as they are clip-ons and they are long enough and not as tight to your belly to hide them while you recover.
In addition to above, I've also stocked up on these nursing tanks to wear at home. Instead of those clip on tanks, these are so amazing especially when you are trying to nurse at night. You just need to pull them down for nursing without fumbling your way through clipping and unclipping your tank top. A definite postpartum essentials for many nighttime feeding!
Relevant Post: Nursing Tops and Dresses That Don't Scream I'm Breastfeeding!
You will definitely experience leaky boobs if you are a breastfeeding mama. I've had let downs at odd times where I would be walking around with a top with milk stains if I didn't have the nursing pads. These ones are great since one side is waterproof. Having one waterproof side will save you from getting your top all wet with milk and showing that milk stain.
You know you have to drink lots of water while breastfeeding to keep your supply up. I've never used these as much as now that I am breastfeeding. I've also suffered from hemorrhoids after giving birth and had to drink lots of water to keep myself away from constipation. Drinking lots and lots of water is a postpartum must haves for sure!
These are great since it keeps the water warm or cold for long periods of time and you can keep them by your side to constantly hydrate yourself. I love this Swell bottle since it fits nicely in a car cupholder as well but I also love these Hydroflask bottles since they are really great at keeping the water cool and warm.
I've had supply issues with my first one that I really wanted to keep my breast milk supply up with the second one. These pills have really helped me to keep my supply up and actually produce more than what my baby currently drinks. I never thought I could 'save' my breast milk for later, but these definitely help me do just that.
According to the Pediatrician I had seen, most of the over the counter products that help with breast milk production has this 'Fenugreek' ingredient in it to promote the breast milk supply. They are safe to consume and will help you produce if you are struggling to make more milk for the baby. If you are a breastfeeding mom, consider taking this supplement as your postpartum must haves!
RELEVANT READ:
I love how dual purpose these are. It works really well as a car seat cover and also a nursing cover. They are super stretchy. Totally saves you from having to carry two different things in your diaper bag. They also come in many different cute prints to make it look more like a scarf rather than screaming nursing cover. I purchased one but now I am trying to purchase another one to have as extra when the other one is in wash.
We've used a regular diaper pail in the past and this new one we got is a total game changer! We used to have to buy so many bags but since this diaper pail uses a regular trash bag, we don't have to get a special one just for the diaper pail. It also locks in the odor really well and is easy to use. I wish it comes with a step-on lid opener to save me time from opening the lid with my hand. But overall I'm pretty happy so far with it!
I love the Cloud B Sleep Sheep in my little one's crib. It's cute and comes with four different types of white noise you can choose from. There's also an option to play for 23 minutes or 45 minutes. My little one is very sensitive to sounds so putting this sound machine on as part of the bedtime routine helps him fall asleep.
If you have a baby with cradle cap, this shampoo is really wonderful! You still need a fine comb brush to brush the hair with this shampoo for the best results, but it helps to remove the cradle cap. My baby had cradle cap and is now looking good without it with this shampoo.
If you live in a small space or like simple designs like me, this bouncer is the one for you! I love that it have a simple design and doesn't take up much room. When the baby is awake and you need to put down the baby other than the floor, this rocker will do the trick. It has three different settings to lean them back and bouncing action seems to calm my baby down. The cover also comes off for easy washing. I wouldn't survive the fourth trimester with this bouncer at home!
I'm pretty religious about bedtime routine since that's what's going to help my baby to fall asleep and understand that it's bedtime. I've used many different swaddling blankets ranging from Aiden and Anais muslin blankets to Nested Bean weighted swaddling blankets.
So far, my favorite is Loved To Dream swaddling blanket. It apparently helps the baby feel secure by maintaining their natural posture of having the hands up rather than down. What I like about it is how easy it is to put my baby in with a zipper. You all know how hard it is to get the swaddle perfectly right and babies seem to know how to wiggle out of it! With this Loved To Dream swaddling blanket you don't have to worry about how baby's arms will be flailing around 5 minutes after you swaddled him/her.
Also, since it's summer time, while other swaddling blankets tend to overheat the baby, this one keeps them cool by just having one thin layer wrapping them like a piece of clothing.
If there is one thing I hate, it's making my kitchen cluttered. I like having my countertop space nice and clean and spacious. The OXO Tot Drying Rack is so since it doesn't take up much room and yet it holds enough bottles and accessories for babies at this stage. I now am using it to dry all my breast pump accessories and 4 Dr Brown bottles. If you've used Dr Brown bottles, you know how much more things it comes with it than other brands. It just tells you how much it can hold while keeping the counter top looking organized and spacious.
I love how big these burp cloths are! They also turn into a nice bib for the baby when the baby is older with a clip at each end. I used to use these for my older one when he started solids since he just absolutely hated those plastic bibs. It's dual purpose (you probably notice how I like items that serve multiple purposes!) and lasts long, both of which I love.
I totally forgot about having one of these handy at home until my baby starting breathing heavily with stuffed nose! I had to use the one from the hospital for few days but these work so much better. I've since gotten the smaller one which seems to work pretty well. The small one comes in handy when you need to bring these with you on a trip, since it comes in a nice plastic container.
I've used various butt creams out there that's supposed to help with the diaper rash. In my opinion, nothing beats Aquaphor since it's so multipurpose! It works really well as a diaper rash cream and whenever the baby has dry skin. We lather the baby up with the Aquaphor after bath and also use it as a diaper rash cream.
My older son had eczema and Aquaphor works really well in preventing it and making skin moisturized as well. You can also save more money if you subscribe to receive these on a periodic basis through Amazon.
After our baby got circumcised, we were told to have the baby 'swim' in vaseline, which is pretty much the same thing as Aquaphor. With that advice, we used so much of Aquaphor that we went through this entire thing in two weeks! It's definitely a disposable that you will go through really quickly so why not add to the baby registry and get that 15% off?
Hope you enjoyed this post. Do share any other must have items during the fourth trimesters. What were your game changers and your postpartum must haves during this time period?