Ever since I had my second baby, I've been ordering more and more stuff from Amazon just because of the convenience factor. Taking two kids to Target or any grocery store is becoming less and less appealing to me, especially since the younger is just 8 weeks old.
And lately, there has been many days when my husband and I would be asking each other 'Do we have more of this at home?' and our response would normally be 'Oh no. I forgot to buy them.'
It wasn't too bad, except for the day when we didn't have the dog food anymore. I love our dog, but ever since the second baby arrived, he's definitely become the last thing on our mind. And yes, we had to wait until the next morning to have food and felt horrible. We order a specific kind of dog food that's normally not found at big chain stores. We would have go to a pet store or order online.
So, in order to avoid 'I forgot to buy' moments, we started using Amazon Subscribe and Save option.
You probably have seen a button on Amazon product page where it gives you a lower price when you subscribe.
The great thing about this is that you can set your own frequency - so if you don't think you will need toilet paper for another 4 months, you can still get the discount and get it automatically delivered to you after 4 months.
One thing they require is that you subscribe to more than 5 products delivered to the same address in the same month in order to get the 15% off. Otherwise, you get 5% off.
Initially we struggled to come up with what we really need to subscribe, but we quickly came up with everyday essentials that we buy all the time. And now we don't have to worry about dog food or my prenatal vitamins running out.
Here are few that will help you think about how you can also save with Amazon Subscribe and Save program.
This post may contain affiliate links. Please read our disclosure for more info.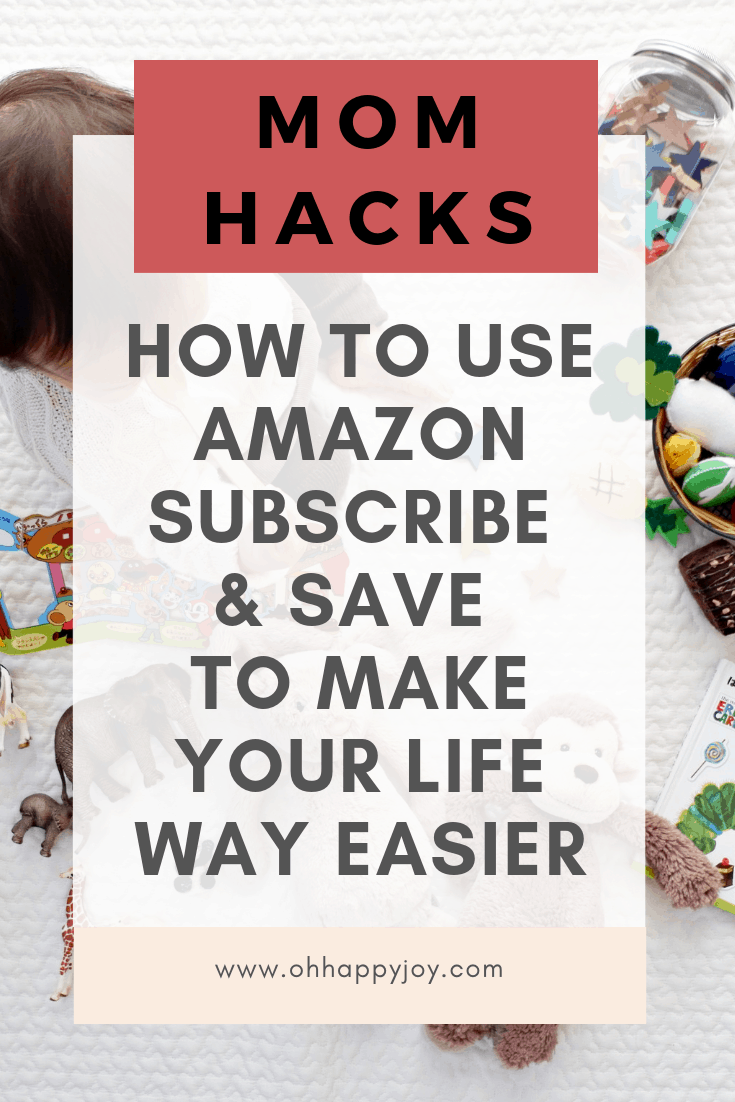 Mom Hacks: How to Use Amazon Subscribe & Save to Make Your Life Way Easier
If you are pregnant or a breastfeeding mama, you don't want to run out of your prenatal vitamins. I've had bad nausea with some over the counter brands sold at Costco (the second place where we shop most often!). And ever since I switched to New Chapter Prenatal Vitamins, I don't have nausea anymore even on empty stomach. It's especially useful to have these on subscribe and save since you know exactly when you will run out based on the number of pills in each bottle. I just got one delivered few days ago without me even realizing that I was running out. Just in time for me to get a new bottle and I didn't have to do any work!
I love these baby sanitizing wipes since they are safe on babies and they are alcohol free. If you have a toddler at home and on the go a lot, these are a must. I'm a strong believer that clean hands keep germs away. Since we are out and about a lot and also travel frequently, we go through these pretty quickly. These are also hard to buy at local stores so having these automatically delivered to my door is a time saver.

I've talked about how we use Aquaphor for everything related to our two kids. It almost feels like magic lotion to us - it makes the rash go away after generously applying it to the area. My older son has eczema and it keeps him from having any flare ups since we put Aquaphor on his body after every shower. And now that we use it as diaper rash cream, we quickly need these again and again.
If you are not into the sticky texture of Aquaphor, I would recommend Cerave Baby lotion. Another friend of mine whose baby had eczema had her pediatrician recommend Cerave lotion for her baby's eczema. It doesn't leave the sticky feeling on your skin while moisturizing. Cerave lotion is what we normally bring when we are traveling since it comes in a friendly tube bottle.

After running out of dog food and having that 'oops, we forgot about you' moment and feeling terrible as a dog owner, getting dog food delivered to us periodically completely makes sense for us. And because we order a very specific brand of dog food and dog treats, it also saves us a trip to pet stores. We also subscribe to the dog treats since we give these treats after our morning and evening walks every day.

We use Nespresso coffee machine at home. And let me tell you - running out of capsules in the morning does not look pretty. My husband likes this Peets Nespresso capsules which we have it as part of Amazon Subscribe and Save. We don't run out of coffee anymore! As a breastfeeding mama, I order a decaf and it seems to me that ordering this on Nespresso website is actually cheaper than Amazon. So do check the price and compare before you order!

RELEVANT READ:
Other than prenatal vitamins, I take probiotic pills daily. I have written about the benefits of probiotics here. These also seem to run out at regular intervals. Having this on subscribe and save definitely saves me money and also the time to reorder them.
Right now, my baby is on full breastmilk so we haven't subscribed to formula yet. But I know we will soon have to as he needs to drink more. My firstborn had to be supplemented since about 5 months and we used this formula by Baby's Only, after my husband's extensive research. We've also used Earth's Best organic formula which we will experiment with our second one. It's definitely worth it to put it on the Subscribe and save since you will need to continuously order them.
If you are like us, we like specific brand of baby wipes. We used to buy from Costco. But we wanted more baby skin friendly and natural product. We now have Water Wipes on Subscribe and Save. I love these wipes knowing that they are almost pure water. The only downside is that they don't have the user friendly version where you can put it in a container that makes it easy to pull each wipe out.
Is it just me or does your baby also go through diapers like crazy? Our first month back from the hospital, we went through an entire box of diapers in about a week, when it said it should last us a month! I almost forgot how much the newborns poop and pee! Having these diapers on subscribe and save definitely saves us a trip to the store.
We go through hand soaps pretty quickly all the time. Having these delivered to us every so often saves me from having to think about whether we need them or not. It's also cheaper to get these through subscribe and save!
I use toaster oven and air fryer almost every single day. Many dishes I cook in these two, I always use parchment paper. Parchment paper is a must for me to have at home and running out means I have to use other alternatives such as tin foil. Although some say it's completely safe, I do like to avoid using anything that may pose a health risk. So having these in the subscribe and save, I know I will never run out and cook in much safer material.
12. Other Every Day Essentials
If you need more ideas, here are some you can consider. We normally buy these at Costco while we do grocery shopping there, since I don't really mind Costco brands for these and sometimes it's cheaper at Costco. But if you are in a situation where Costco is far or you want the convenience of getting things delivered to you, you can try adding these items to your Subscribe and Save to save time and money!