This post may contain affiliate links. Please read our disclosure for more info.
You can simply blurt out "We are going to have a baby!", "I'm pregnant" or "We have a bun in the oven" - or you can choose to be creative. There are so many ways to share this fantastic news with your loved ones. And they are all fun and innovative in their own ways!
Looking for the best way to break the big news can be a fun challenge. After all, we all want to make it a little memorable, especially if it's a firstborn. With so many beautiful and funny videos online, it makes us all want to be a little creative too and get it on camera.
Here are some of the best ways to announce your pregnancy to your better half or your family:
1. T-shirts:
Rock those mommy t-shirts that you have always wanted to. Imagine wearing a "Mama In The Making" tee and greeting your family!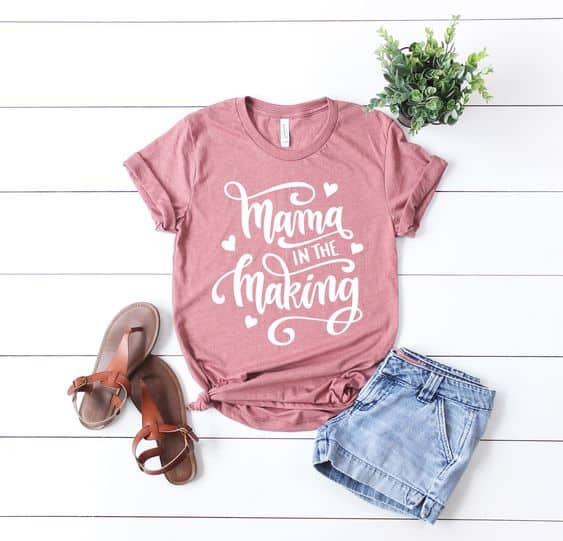 Source: Pinterest
Where To Get It: Mama In The Making Shirt
2. Bun in the Oven
The good old saying"We have a bun in the oven" is back with a twist. Turn this metaphor, literal. Bake a bun with the caption "We're going to be parents!" and have your oblivious husband grab it out of the oven.
But if baking is not your forte, a photo of a bun with a the expected due date with you and your husband in the background would be a fantastic way to share your new online.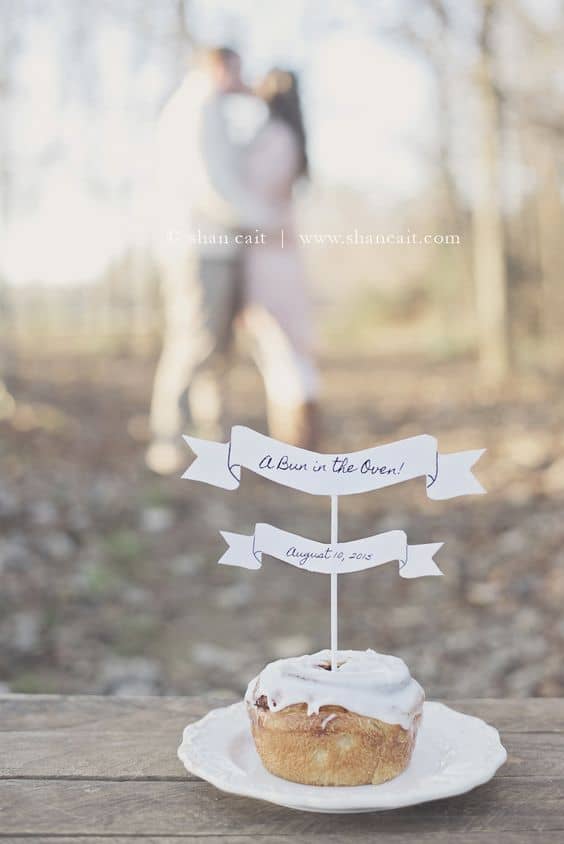 Source: Shancait Photography
Where To Get It: Cake Topper
3. Fur Babies
If you have a pet dog or a pet cat at your home, you can use them to make your big announce. You can make them hold a printout with the announcement "Mom and Dad are getting a little hooman" or even go for a funny caption like the one below!
Source: Cuteness Overload
Where To Get It: Mom and Dad are Getting Me A Human Sign
RELEVANT READ:
4. Big Brother
If this is your second pregnancy announcement, you are in great luck! Use your first child to announce the wonderful news. After all, who can make a better announcement than the excited new sibling?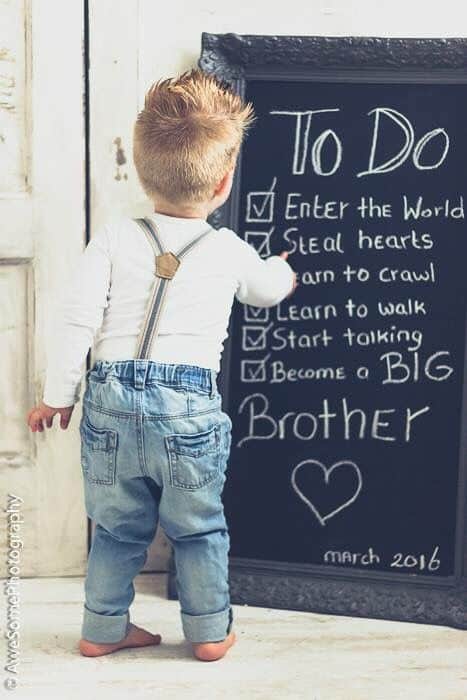 Where To Get It: Big Brother Announcement Board
5. A Movie Poster
We have all wanted to star in a movie at least once in our lifetime. So, if that's not happening in real life, why don't you create a poster of your own to announce the good news of your pregnancy? A little Photoshop and you've got yourself a beautiful, innovative way to announce your pregnancy. Don't know how to photoshop yourself? Just pay $5 on Fiverr to get the graphics made for you and you got yourself a hilarious Movie Poster pregnancy announcement.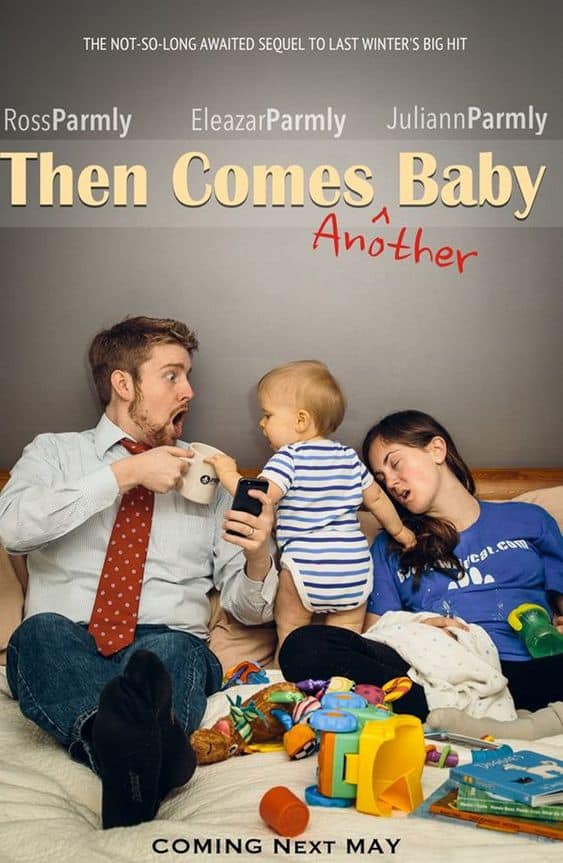 Source: Pinterest
Where To Get It: Hire A Graphic Designer For Five Dollars on Fiverr
6. The Proof
Have you done your pregnancy test at home? Chances are you must have used a test kit. Snap a picture of the test kit and the very happy baby daddy at the back to spread the amazing news. This is particularly suitable if you want to take the news public on social media.
This is great for those who don't really want to host a small gathering at home. It's effective plus very cute!
Source: Baby Center
7. Cute Baby Shoe
What can be more delightful than holding a pair of cute baby shoes! That's right. Take full advantage of those tiny shoes and take a picture out of it to upload in your Instagram and your loved ones will get the hint.
If you want to surprise your husband, gift him a pair of shoes. Wrap it in a box and have him open it to reveal the beautiful news!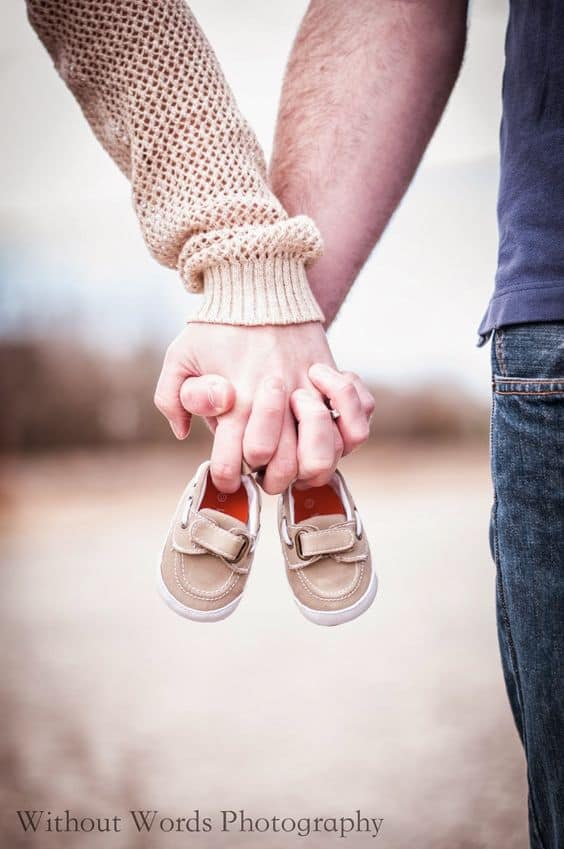 Source: Without Words Photography
8. Use Your Ultrasound Picture
So you got your first Dr's visit and came home with the ultrasound picture! Why don't you buy a cute baby onesie and style it with your ultrasound picture to announce your pregnancy on social media? Anything with a baby onesie, can't look any cuter!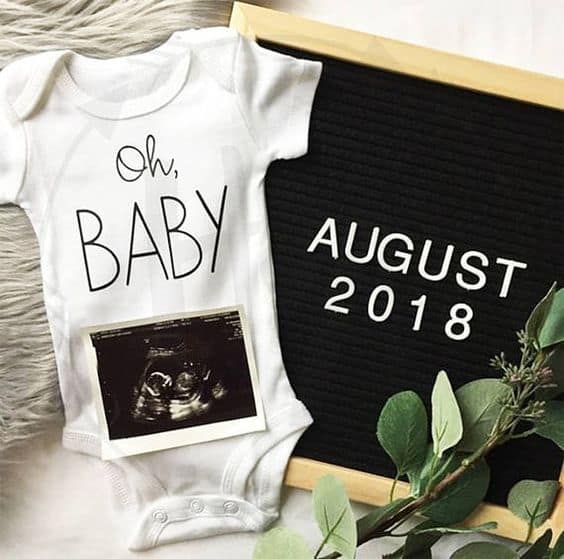 Source: Pinterest
Where To Get It: Letterboard, Oh Baby Onesie
9. Save The Date
This tactic never gets old. You might have already done that when you wanted to announce your wedding day. A cute little card can be distributed among your family members after you've invited them for a small home party. This is more intimate and the grandparents (who would be the second happiest after the couple) would even frame it and preserve it as a souvenir! Again, if you are not a graphic designer yourself, you can just hire someone to do it for $5 on Fiverr.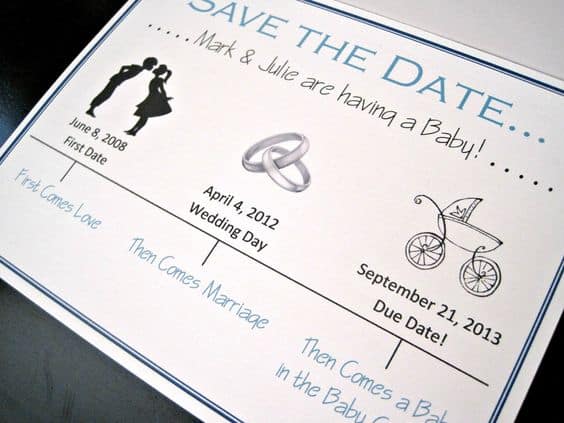 Source: Pinterest
Where To Get It: Hire a Graphic Designer for just $5 on Fiverr!
10. Write on the Beach
Now, this is very interesting and requires a bit of a planning beforehand. You can take a short trip to the beach with your partner.This idea is particularly great for surprising your husband. Have your husband grab you a coconut drink and use this opportunity to write "We are pregnant" on the shore. It's romantic, and cute and will definitely catch him by surprise when he returns.
Not just that, you can also share the exclusive news with your friends and family.Put some shells around the writing and take a picture of that only to upload it on your social media accounts. The next thing that you know, you'll be flooded with notifications of your loved ones congratulating you for the excellent news!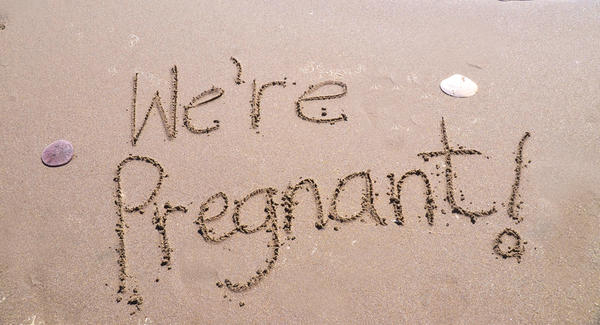 Source: Baby Center
Which one do you like the best? Let us know in the comments below!