How to travel with a toddler on a plane - 20 best toys for airplane. Before my first son turned 2, we traveled pretty often. (See my post here on how I traveled for free with credit card points!) I've done two international trips, countless domestic flights (we traveled between LA/SF/Vancouver pretty often), and also few trips to Hawaii, all before my son turned 2.
I think I scoured the internet to buy the best toddler toys for airplane. I was so dreadful of spending 10+ hours on an international flight with my little one that I bought every kind of toy I can find and filled up an entire carrier bag with his new toys.
He was also a terrible sleeper on the plane. I knew I had to find toddlers toys for airplane to entertain him.
Traveling with a toddler that's a little too young to be entertained by an iPad or movies is so hard! With our second, we are definitely going to wait until the younger one is a little bit older to travel, since I know how difficult it is to travel with a baby.
But here are some toys that I bought that worked pretty well with him on many trips!
This post may contain affiliate links. Please read our disclosure for more info.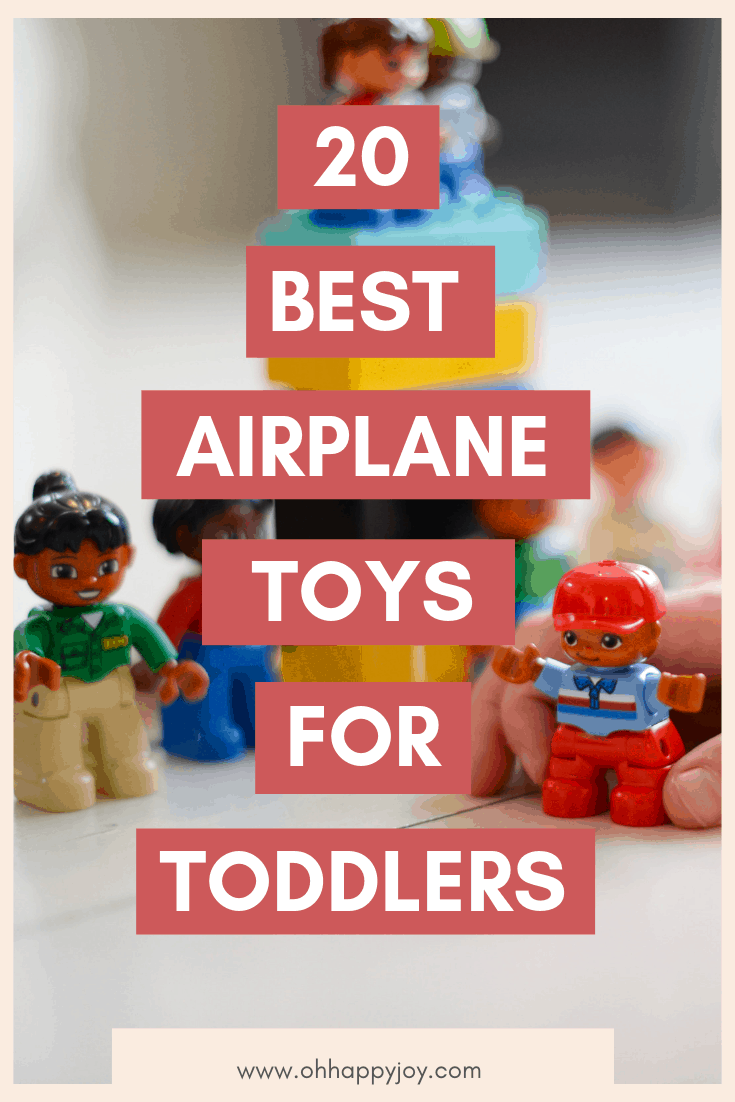 Best Toddler Toys For Airplane
Travel Toys For 2 Year Olds
These are really amazing! They are mess free since all you need is water and it will show the drawings as your child paints each page with the brush. I haven't seen any toddler that does not like these! It will definitely keep them entertained for awhile as they paint away with water. Bring a few on the trip to keep them entertained on the airplane and also at restaurants. It's definitely one of the best toddler toys for airplane and also when you are on a road trip.
My son loves playdough and bringing this on the plane definitely kept him entertained. I brought few molds from home so he can play with these on the plane. I normally brought a brand new one so that it sparks more interest in him to play with it. You can also buy mini ones (party pack) and bring few different colors on the plane with you.
It was a little bit hard for my son to actually put things in the Mr Potato Man's face at his age (20 months). But, he was still entertained for awhile with this toy as he tried to put each of the facial feature in a hole. It was also a good toy for him to play with at the hotel while we were traveling.
4. New Books
Bringing few of new books sparked interest in my son. We also have a story time before bed every day so these served dual purpose. I tried to pack light weighted ones like 'My First I Can Read' series. Or 5 Minute Stories Collection books work well since one book includes multiple stories. I've also brought an electronic reader with few books on the plane to keep him entertained on his own by letting him press buttons and listen to the book on his own. These electronic readers are also great travel toys for toddlers if you are planning a road trip!
Bringing Duplos on a long airplane ride will sure entertain your little one. It also works well as a hotel toy. I normally brought few that we already owned. If you are to buy a brand new one, I would suggest you leave the package and the box home and bring just the Duplos.

RELEVANT READ:
Bringing the lace toy definitely entertained him for awhile although he wasn't really sure how to lace them in order at first. It's age appropriate for babies under 2, although they may be a little bit clumsy doing the activity at first.
I think my son was more entertained just making the fish wiggle around. It might be a little bit challenging for a toddler to actually catch the fish with the fishing pole, but it did catch his interest and he kept trying. I bought a small size and the only downside was that the fish and the fishing pole can be easily lost. Bring a ziplock bag (multiple) on trips so that you can put these in a bag after your kid is done playing!
I bought a variety from Target dollar section. But you can also order online if you are having a hard time finding these at local stores (they are not always there!) They were great for restaurants as well. Every time we ate at a restaurant, I brought these out for him to entertain himself. Toddlers under 2 may or may not be interested in real coloring activity. My son wasn't interested in coloring at this time. But stickers definitely entertained him and the joy of seeing something new inside!
While my son wasn't into coloring books when he was 2 years old (he is now at 4 years old!) , he was interested in these magnetic doodle boards. He definitely played with this for awhile and gave mama a little break for sure!
I brought few different sticker books with me on each trip. I think all toddlers at this age really love stickers. You will want to buy reusable ones since you don't want these to be stuck on the seat and not be able to take them out!
11. Any small new toys that the child is interested in
Any 'new' toys will definitely catch a toddler's attention! He was really into trains at this age that I bought a new train for him and brought few other trains we already owned for him to play with.

Few Items I Ended Up Not Buying
1. Dress up Doll
While my son at this age was really interested in zippers, buttons, and pockets, I didn't feel like buying a doll since he could be entertained with a zipper or a button on our own clothes. But looking back, I think he would've had fun trying to figure out all the different things on this doll.
My son was never really into felt books or pretend play, so I never really cared to get a busy book. This book I found on Amazon has pretend plays but also buttons and zippers inside which I think might have entertained him. Definitely worth checking out if your child is interested in pretend play.
Travel Toys For 3 Year Olds
Crayola has many variations of these in different characters. They have big ones in plastic packaging and small ones that are more portable. I have also used few of the Imagine ink coloring books. These are also small so it's easy to carry these in a backpack. My son would sit through and go through all the pages and could entertain himself for awhile with these. It's one of the best toddler toys for airplane at 3 years old.

I found these card games at a local toy store while I was traveling. My son played with these cards for weeks even after the trip. I love these since they are thick (puzzle thickness) and they can be played as a puzzle or a match up game. He wasn't able to play the puzzle on the plane but the match up game was something he could play with on the plane. He would ask me or my husband to play with and we all had fun playing together!
At this age, activity books were something he started showing interest in. Maze books were great at keeping him entertained for awhile. Melissa and Doug also has few different activity books - Dry erase book, cutting book, and tape activity book. Scissor book was something I didn't let him do on the plane because I was afraid of him cutting small paper bits that I may have to clean up. But since he was really interested in cutting around this age, the scissor book provided him a lot of entertainment while we were at a hotel. He couldn't really sit through and work on the tape activity book front to cover but was definitely interested in taking the tape out and sticking it to the book.

For me, I think 3 was a magic year since my son started to sit and actually work on activity books or color on his own. When I knew that he would be interested in coloring, brought one on the trip. Also, getting these triangular crayons are so worth it since you don't want crayons falling and rolling away while you are on the plane.

I absolutely love these. Even to this day, he plays with these magnets at home. This is probably one of the toys that lasted us 2+ years. I brought few so that he can play with these while we are on the plane and also when we are at hotels. I find that Magformers are much better toys for traveling since they are much lighter than Magna Tiles.

We were pretty strict about screen time with our son and didn't allow him to use it until he was about 3. So being able to watch his favorite TV show or play games on Ipad was a treat for him. If you let your child play with an Ipad or let them watch shows on an Ipad, bringing this is a must when you are traveling with toddlers on a plane. Make sure you have the Ipad stand so that it easily stands when they are watching something on the plane.

You can't bring an Ipad and forget about the headphones! I like these since they are wireless and it has volume control for toddlers' sensitive ears. You might want to make sure they are charged before you board the plane!

My son started to grow out of trains and started to be more interested in cars at this age. And ever since he was gifted a big hot wheel toy, he is now obsessed with it. (It's a great gift for for 3 year old boy!) At age 4, all he wants is a new hot wheel toy. You can buy these cars in a big pack online or go to a nearby Target store and grab few individual ones at $0.99 each. They are great since the are cheap and will make your little one excited for getting a new toy.
I hope this was helpful! I would love to know what other toddler toys for airplane that you brought with you on your trip that worked well. Toddler Leave me a comment for other toy recommendation!