Baby Items I Regret Buying - What Not To Put On Baby Registry. With so many baby products out there, what do you really need and don't need? With my first one, I scoured the internet to see what I really need since there seemed to be endless baby items that I need to add to the baby registry.
Now that my second baby just turned 3 months, here is a list of baby items I regret buying. I didn't buy much for my second one since I saved most of my first one's baby items. I just really stuck to things that I felt I absolutely needed for my baby and me. 
But even the things I saved, some of them were unused and went to waste! So I wanted to compile a list of things that you don't really need.
I hope this really helps you decide what you need to add to your baby registry and what NOT to put on baby registry.
This post may contain affiliate links. Please read our disclosure for more info.
1. Too Many Newborn Clothes
Babies grow really really quickly. So the cute clothes you buy, your baby might not fit in it in few weeks.
And depending on when they are born, you might want to think about what type of clothes your baby would need. My first was born late September so all his baby clothes were long sleeves. And my second one was born in the middle of summer and what I put on him are just short sleeve onesies.
It's so tempting to buy something cute for the baby but I find that all you need is one or two outfits that are cute for a special occasion. And many times your friends and family will bring over cute outfits for your baby so you may not even need to buy one yourself.
If it's a summer baby, all you need are short sleeve onesies - you don't even need shorts! If it's a fall/winter baby, you may want to buy long sleeve onesies with pants that cover their toes. Socks are cute. But you do need to change their diapers every 2-4 hours and I find that socks are always in the way and easily falls off.
I had diaper genie for my first baby. My only complaint with Diaper Genie was having to always buy the special plastic bag that would fit in the Diaper Genie. With so many diaper changes, it filled up really quickly and we ran out of these plastic bags so often!
If I had known diaper pail like this existed back then, I would've bought it with no hesitation. This is what we use now for our second baby and I'm so happy with it. It doesn't smell, and our kitchen trash bag fits perfectly!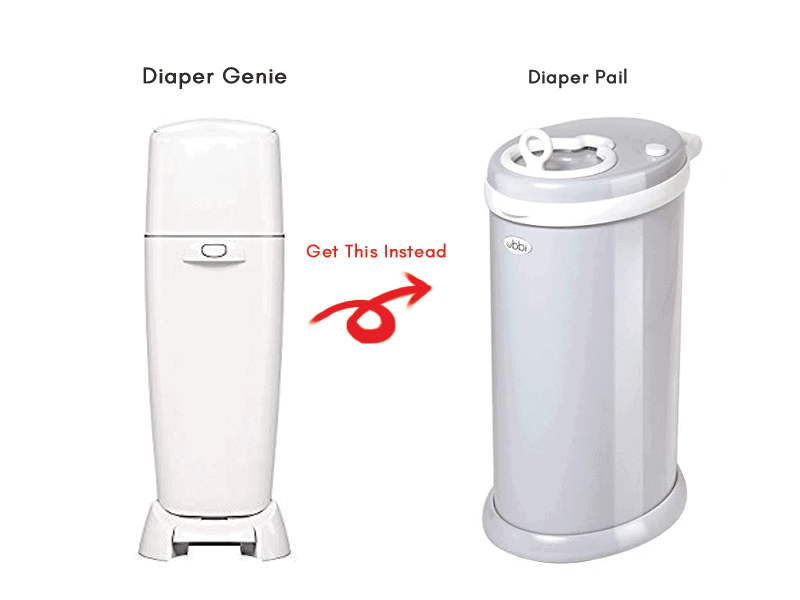 3 Newborn Shoes
I still have newborn shoes I never put on my first baby that's still somewhere in the garage. Newborn shoes are so cute but really this is my number one pick on baby items you don't need. Maybe for few photos you might want to use it, but that's about it.
I have a friend (who is not married and has no kids) that just gifted me a pair of baby shoes that my second one will never wear. It is so cute and I appreciate the gift but would be so much well used if we got something else OR my older one got shoes as gift instead. My 4 year old's shoes get worn out SO quickly. I mean like within a day, sometimes it comes back with worn out edges and peeling corners. If you want to buy shoes, you should definitely save it for later when you will need to replace shoes every so often.
When I had my first baby, I was told that I should make sure all bottles are washed and ready to be used prior to baby arriving. It's so true, until my baby didn't like the bottle he was drinking from.
So we tried other bottles until we ended up using the bottles that came with the breast pump (Medela bottle).
Now with our second one, we are using Dr Brown bottles. And I feel that it's a fairly safe choice for ANY baby since it's designed to reduce bubbles while the baby drinks from it. My second one had reflux issues so we needed another solution other than the Medela bottle. If you want to add bottles to the registry, I suggest that you go for Dr Brown bottles since you never know whether your baby will have reflux issues!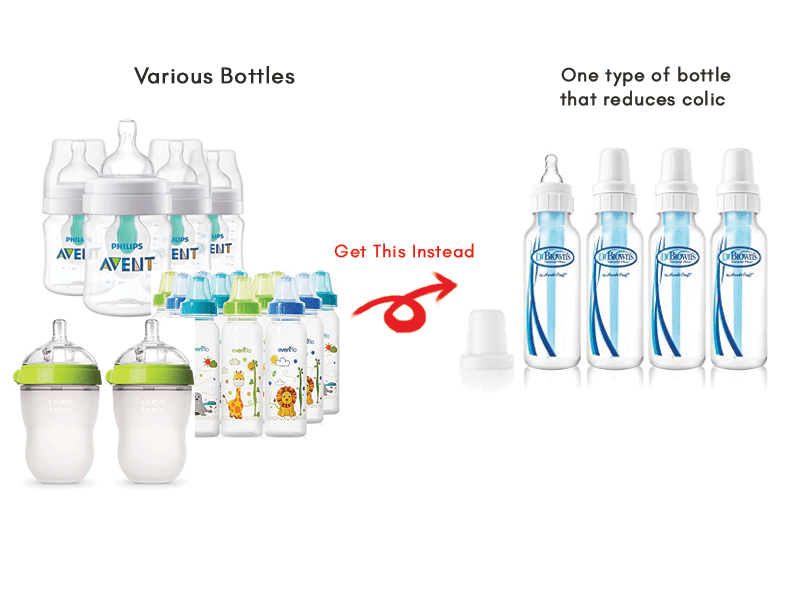 5. Diaper Changing Table
You don't really need a nice diaper changing table, since you won't be using it for long. I had a diaper changing table for my first one. After few months of using it, I had used it more as a toy storage. And it was such an awkward furniture to use to store anything.
What I now use is a dresser and I have diaper changing pad on top. It functions as diaper changing table and also storage for baby products and clothes. I absolutely love it! Your baby will use it much longer and you will be so glad that you have storage for all different baby clothes and baby products you need for the baby.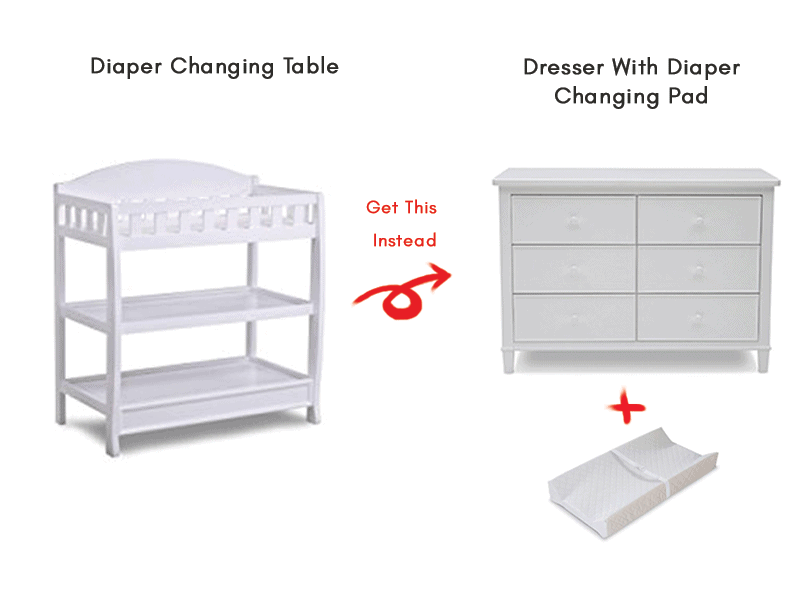 RELEVANT READ:
6. Bassinet
I am a true believer in 'Start as you mean to go on - Tracy Hogg, Baby Whisperer'.
I knew I wouldn't co-sleep with my baby since I am a type that needs restful sleep myself without worrying about the baby on the bed, or getting disrupted with their movement. So, whenever my baby needed to sleep, I put him in his crib from day one. This way, I never needed to transition from a bassinet to a crib. Any 'change' in baby's sleep environment will bring resistance and getting used to. I didn't want to go through that so I stuck with the crib from the very first day.
Also, normally, you use bassinets for the first few months of baby's life and then you have to switch to a bigger bed, as the baby gets bigger. Spending hundreds of dollars on a bassinet that the baby uses for only first few months sounded like a waste.
If you train your baby to sleep in a crib from day 1, the baby will definitely get used to sleeping in there, and you really don't need a bassinet.
When you do put the baby in the crib, you will need to make sure you swaddle the baby. This will make them feel safe and secure, as if they are in the mother's womb.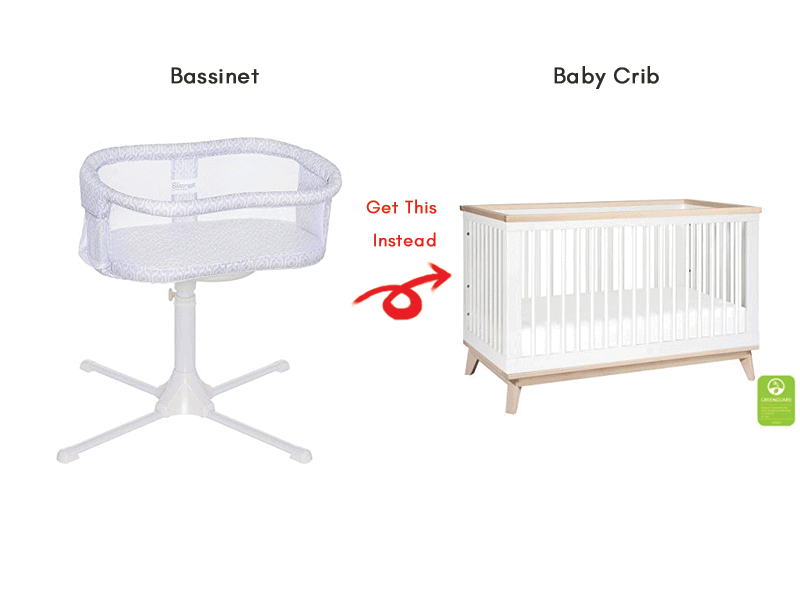 7. Wipe Warmer
When I was pregnant with my first, I wondered if this is something I should add to my baby registry. After all, no baby would like something cold on their butt every time their diaper is being changed.
But I'm glad I didn't. I feel that it's really not necessary and babies get used to diaper changes pretty quickly. And yes, they don't like something cold on their butt. But I don't see how wipe warmer would make it any better if they are already disturbed that their diaper is being changed. Also, I feel like a warm wet wipe is breathing ground for germs. I would definitely advise against getting a wiper warmer if you are considering it.
If you would like to spend money on wipes, I would suggest getting more baby safe wipes such as Water Wipes.
8. Baby Mittens
I never really used baby mittens for both of my babies for several reasons.
First when the baby is young, you should be swaddling them to help them feel secure. Especially during the fourth trimester, they still have moro reflex. And they don't really understand that their arms are theirs and they can swat their arms and hit themselves in their face.
When you swaddle the baby, there is really no reason to put a mitten on the baby. If you feel like your baby's hands still creep out of the swaddle you put on them, try Love To Dream swaddle that will cover their hands for sure, while providing them the secure feeling they need from a swaddle.
Second, many baby mittens will easily fall off. You will be constantly putting the mittens again and again on the baby whenever they fall.
Thirdly, you can prevent scratching by cutting their nails, not putting a mitten. And even if they scratch themselves, their nails are so soft and flimsy that it doesn't leave a serious scratch on them. It normally goes away within few days anyways.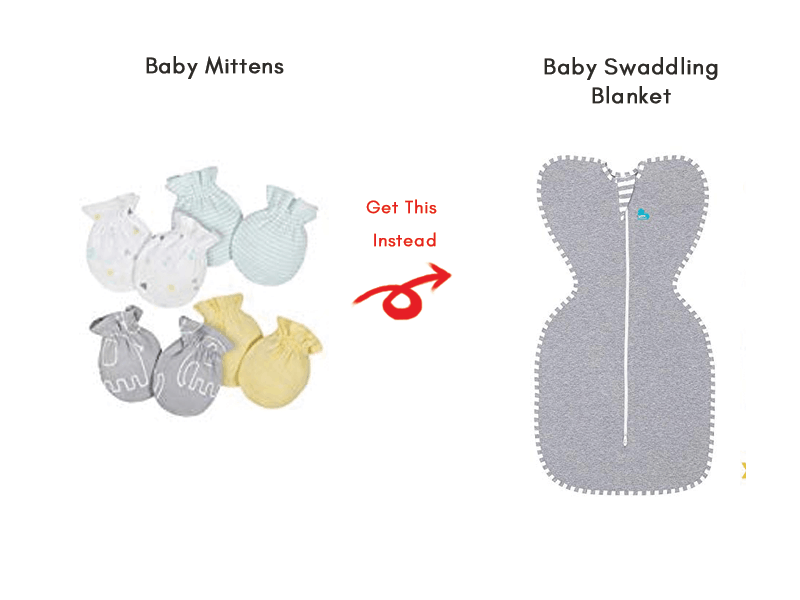 9. Baby Beanies
They are super cute. Especially when the baby doesn't have much hair, it's nice to have a cute beanie to put on when taking photos.
I probably have 5-6 newborn beanies that I hardly ever put on either of my babies. Maybe once or twice for photoshoots but that's about it.
It also depends on the weather when the baby is born. My second one was born in the summer that I never really had to put a beanie on him. It's a good idea to have one or two, and most likely you will get it as a gift, and also from the hospital.
10. Bumbo Seat
When my first one was ready to sit, he was already so big and didn't fit in the Bumbo seat. Yes, he was in his 90th percentile and had a humongous thighs. So this never really worked for us. And even if he was small enough to fit in the Bumbo seat, I would rather get a softer baby sit up seats that have more toys and entertainment for the baby.
It's much more baby friendly while helping baby learn to sit up.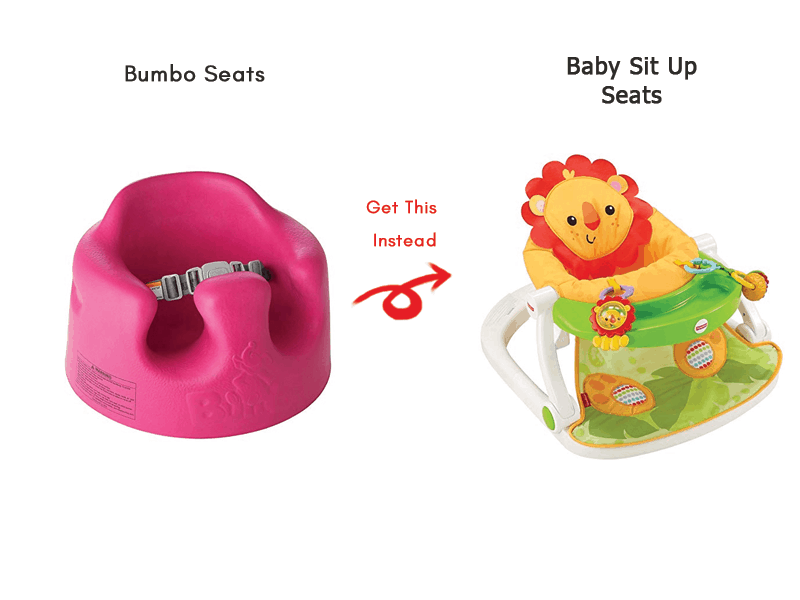 I hope this helps in you figuring out what not to put on baby registry. Don't be like me where you end up with all the products you regret buying after a year of buying whole bunch of baby items! Do share with me in the comment f there are any other items that you wish you didn't add to your baby registry!