Postpartum Gifts For Mom - After giving birth to my 2nd baby, I appreciated all the little help I was getting from my friends and families. We all know this time is such a vulnerable time for moms emotionally and physically.
Many people tend to get gifts for the new baby. Yes, it is definitely appreciated as you need so many things for the new baby. But let's not forget about the moms! New moms just went through the most physically painful experience in their lives! And is most likely on an emotional roller coaster ride and sleep deprived.
Postpartum must haves are great but who wants to give a new mom a gift of nursing pads or bottom sprays? I will never forget the first mom gift I loved - a gift to really take care of myself and feel normal again.
So, here's new mom gifts moms will actually appreciate. If you are thinking of getting your new mom friend a gift after having a baby, consider one of these, instead of another baby gift when you are visiting her next time. Get gift ideas for a new mom after birth that your mom friend will actually love!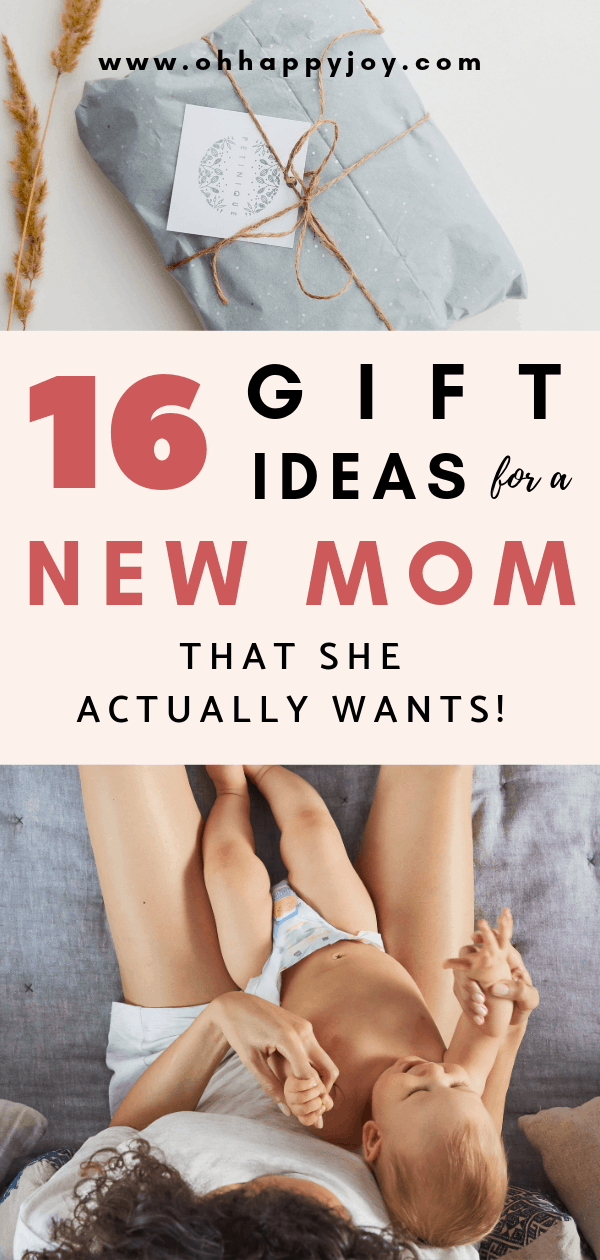 This post may contain affiliate links. Please read our disclosure for more info.
Postpartum Gifts For Mom - Gift Ideas for a New Mom After Birth
1. Get Someone To Clean Her House For Her
Getting pressure off of the mom to clean and organize the house during the first few months with the baby will be a great help. And now with Amazon offering cleaning services, you can book a cleaning session for her. I would personally LOVE this as a gift since I'm always struggling to keep the house clean and tidy with a toddler boy and a newborn. Especially after giving birth, no mama would have the time and energy to scrub the toilet or clean the bathtub. This can be one of the best gifts for anew mom from husband, especially if the mom is the usual cleaner of the house. Getting some help from someone would take so much pressure off of the new mom and all families can enjoy the clean house after!
If you know the mom friend doesn't have a Roomba at home, get her the Roomba to clean the house for her! It saves her time vacuuming the house! You can also program Roomba to clean at certain frequency throughout the week, making her forget about having to clean the house.
2. Pamper Her - best gift for new mom from husband
In Home Massage
What an amazing idea to give the new mama a gift of in home massage! I felt so achy everywhere after holding my son all day and this gift would have made me jump for joy! This app Zeel will allow you to book an in home massage and have the masseuse come to the house to give a massage that the new mama so needs.
Haircut / Nails
Get a gift card to a local hair salon or a nail salon. With my second son, I was itching to go get my pedi done as I looked at my overgrown toe nails. When I was able to go the nail salon, I was so happy to sit on the massage chair and look at my pretty toe nails after. The time after birth is normally dedicated to the baby and making the mama feel back to normal and pretty again will go a long way in making the mama feel good about herself.
3. Give Her A Gift Of Meal - gift for postpartum mom
Nursing mamas need all the nourishment she needs to breast feed the baby. When I gave birth to my two babies, I had my mom come help me for the first month. Getting help with the meals and organizing the house made a world of difference. Especially during fourth trimester, getting a gift of meal would be my personal favorite gift I would want to receive. It helps the whole family and gives the mom a break. Especially after the first or second months when the supply of meals might dry up, the new mom will love you if you bring a meal over to her house!
Home Cooked Meal
I'm sure the new mama would LOVE any home cooked meals! Make your best dinner that is easily freezable. Any type of soup, baked goods, pasta work well. I've also received marinated meat that can be easily cooked on a stovetop. It was a thoughtful gift that I loved, since it could be easily cooked. And breastfeeding mama trying to also lose weight can use good protein in her diet.
Gift Card To Food Delivery Service
Another option is giving a gift card to food delivery service. Eating out will be something that's going to be difficult for the new mom and the family for awhile. Giving the mom a break and letting the family enjoy a restaurant food that they can choose will be a great gift to the new mom. You can get a gift card to services like Grubhub, Doordash, or Ubereats.
Breastfeeding mamas will appreciate cookies that will help them with milk supply. I didn't know about these lactation cookies until recently. But these cookies will be so amazing to moms that wants to snack during the day while not feeling bad about eating cookies!
Fill A Basket
You can fill a basket filled with snacks that the new mom can eat during the day. I find that I am more hungry when I'm breastfeeding than when I was pregnant. Since moms burn more calories when breastfeeding, they tend to get more hungry during the day. They will definitely appreciate healthy snacks like nuts, dried fruits, or granola bars.
RELEVANT READ:
4. Entertain Her While She's Alone With The Baby
What do moms do when they are pumping or nursing the baby? They all need entertainment during these moments. Yes, we can stare at the baby while pumping or nursing the baby. But we can all use some adult entertainment during these times.
Give the gift of entertainment by giving them Netflix subscription or Amazon Prime Video subscription. Also, if she doesn't have cable TV like me, giving her a subscription service to Sling will also work well! I subscribed to Sling after my second son was born and I absolutely am hooked to watching all HGTV shows while I'm nursing and pumping.
If you have a book lover mama, her time to read books would be hard to find with a new baby in the house. Give her the gift of Audible subscription. During the long day of pumping, cleaning bottles or doing loads of laundry, she can make her time more productive by listening to the Audible. I have an audible subscription and my husband gifted me the Airpods which makes it so much easier for me to listen to the Audible around the house when I'm home with the baby. You don't have to fiddle around with the wires and carry the phone with you to listen to the audible. And it also makes phone calls so much easy since you can leave your phone and go about doing your things while talking with your Airpods on!
5. Give Her A Break - Post Birth Gifts For Mom
Play With The Sibling Or Take The Sibling Out
If the new mom has given birth to her 2nd or 3rd or 4th baby, give her the gift of peaceful time with her newborn by taking the siblings out of the house. Take them to a nearby park or a playground. This will be so appreciated especially if the siblings are under 3 years old and they don't go to a daycare or a preschool during the week. I find that when I'm alone with my second baby without my older one in the house, it is the most peaceful time. I feel that I can truly bond with my second baby and recharge until my older one comes home.
Get Alexa To Do Small Things
Make small things such as playing music, checking the weather, and checking on online orders easy for the mom! Alexa will make it easy for the mom to play music in the house while she is alone taking care of the baby at home. Or when the older sibling is asking to play music at home - she can just ask Alexa without having to reach her phone, find the app, find the song, and press the play button. Alexa will do it for her while the new mama is busy taking care of the baby!
6. Help Her Capture Memories
Once the baby is born, every mom's phone will be filled with baby pictures. And the desire to take nice pictures of the baby will only grow more as the baby grows. If you know the mom enjoys taking cute pictures and uploading it to Instagram to share her memories, why not give her the gift of a camera so she can capture more memories with her baby? It could end up being her favorite postpartum gifts for mom.
Cheaper option than the mirrorless camera is getting her a polaroid camera. With all pictures now residing in our phones, printing pictures is becoming a rarity. Polaroid cameras makes making memories with the baby more precious as you are taking a picture that is one of a kind. Moms can also instantly get a picture that she can put on the wall, without having to go through her phone and printing service to get it printed. The camera can also be used at future parties for the baby. She will love getting a camera that she can use to capture precious memories with the baby.
7. Get A Cute Mom Gift - postpartum gift basket for mom
Get her a matching Mama and the baby shirt! She can be twinning with her baby in these cute outfits. They also make great photo outfits she can share with her friends and family. It's definitely a cute gift that the mom will love!
She will be spending a lot of time in her PJs or yoga pants first few months with the baby. Upgrade her wardrobe by gifting a beautiful set of PJs for her to wear at home. She will feel pretty even in pajamas, rather than wearing an old Tshirt with worn out PJ pants.
Yoga pants are also known as mom pants without the yoga part! (If you also do yoga in these pants as a mom during first few months with the baby, kudos to you!) And yoga pants might become her go to outfit for everyday wear - at home or when going out to run errands. Get her a pair of brand new yoga pants that's comfortable yet trendy - you know it will be one of the best postpartum gifts for mom. You know she will be wearing these all the time!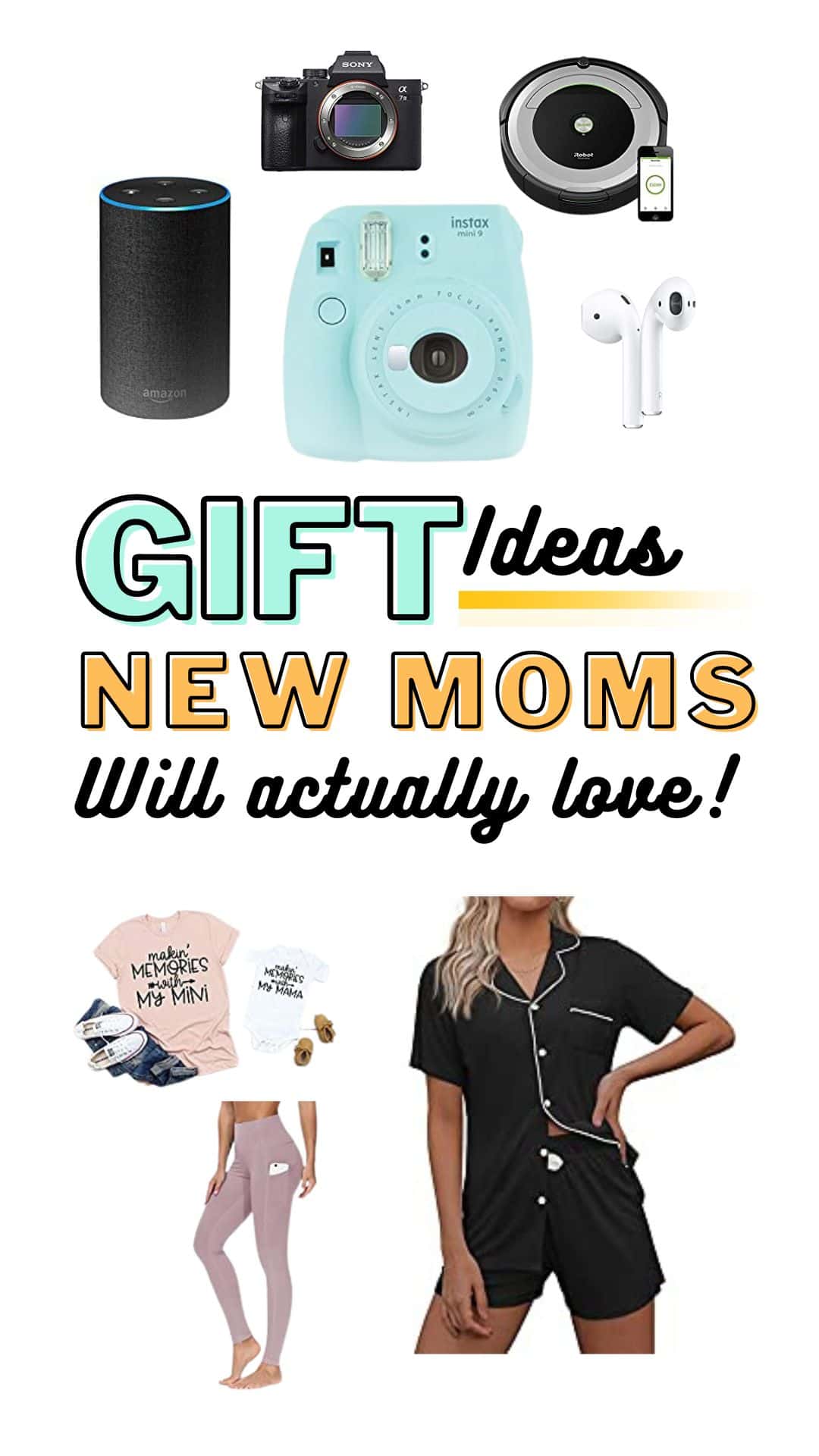 RELEVANT READ: