It's really difficult to stay happy while being broke or while you are going through hardships in life such as breakups, a divorce, a health issue, or a job loss.
As I am reading 'Happiness Project' book, many thoughts came to my mind on how I can become more happier.
While my life seems to be all rosy and going great - I have great health, I have family that loves me, friends I can call and hang out with when I want, and I live in a very safe neighborhood with a comfortable house - I've had moments of doubt, sadness, discouragement, and in the past, I struggled to pay bills and was so broke that I worried if the credit card would be declined again at the grocery store.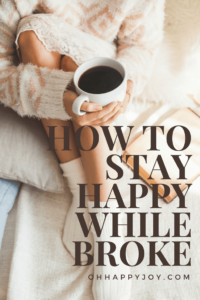 Let's face it. No matter how much you make and how comfortable you are with your life, I think it's so true that happiness comes within. You want more money, you want to look young, you want to be more popular, you want to have a body like a model... Whatever it is, humans are built to want things that are better than what you have currently. The grass is greener on the other side, isn't it?
I think unless you make conscious effort to notice the things that make you feel happy and put efforts into making yourself happier, your day will just pass by. And before you know it, it will be the end of 2018. And you will wonder, where did 2018 go?
There is a quote that says this:
If you don't design your own life plan, chances are, you'll fall into someone else's plan. And guess what they have planned for you? Not much. Jim Rohn
So here are my few takeaways from reading those books, and few actions that I've taken to make myself happier.
You Can't Change Anything Or Anyone But Yourself.
If you want a happier life, then you have to take actions. You can't blame your unhappiness on your husband, your parents, or the current situation you are in. Because at the end of the day, you can't expect them to be changed for you to be happy. You have to take notice of what makes you happy and take actions.
So ask yourself what makes you happy and start noticing it in your daily activities. Once you start to think that you have control in your life in making yourself happy, you will find yourself taking actions to make more happy moments.
Take Breaks To Increase Your Energy Level
In Happiness Project, Gretchen looks at 12 different areas in her life and decides to work on one thing at a time a month to increase her happiness. One of the first things she tackled was raising your energy level. This is because it affects a variety of areas in your life, like health, family life, marriage etc. If your energy level is up, then you are more likely to be happy.
There are days that I would sit all day. Really, unless I have to stand up and go to the bathroom or make something to eat, I can sit all day in front of my computer to work and also have fun like watch few youtube episodes or Netflix etc. I have to make a conscious effort to go for a walk or put on that youtube yoga chanel and do some exercise. Oftentimes, these breaks are so helpful that my mind refreshes, my body feels more relaxed and my productivity goes up when I return to work.
Affirmations Are Great. But Questions Can Shift Your Mind
I've always been a big fan of affirmations. But what I noticed about me was that when things are tough and when I feel really down and sad, I couldn't bring myself to say the affirmations. Sometimes I just simply didn't want to. I felt undeserving. I felt like I'm just repeating words with no emotions, which they say doesn't work anyways when emotions are missing or contradicting.
But as I was reading Tony Robbin's book, Awaken the Giant Within, it gave me an insight that 'Questions are the answers'. Questions like 'What would make me feel energized and happier?' 'How can I achieve what I want in a short amount of time?' instead of 'Why am I feeling so down' or 'Why can't I achieve it within a short amount of time like others' work so much better at shifting your mood to actually finding an answer. It was such a fresh concept to me that I started asking myself the question the next day I woke up. 'How can I make this morning more pleasant and productive, instead of rushing to get out the door?' It made waking up 30 minutes extra early so much easier. I had plenty of time to make healthy breakfast. And I got myself and my son ready in a much more pleasant mood.
Meditate
I never used to believe in these things. I used to think meditation is only for yogis and hippies. But I'm so sold on this. I only decided to give it a try when I learned that most successful people meditate. I thought I'd give it a try. Since I didn't know what to do, I thought I'd give one of those meditation apps a try. Ever since then, I'm hooked. When I have so much stuff going on in my brain, it calms me down and makes me feel organized and ready.
I oftentimes use that time to do some visualization exercise too. Basically visualizing what you want, which makes you feel happy. I've tried Calm and Headspace and so far I like 'Headspace' better. You might want to try out the app and figure out which one would work better. You would have to try both and see which 'voice' you might like better. For me, it was the calm Brittish accent male voice that worked!
Life Is Long So It's Okay To Make Small Steps
Remember the quote:
A year from now, you will wish you had started today. Karen Lamb
Oftentimes, when you are broke, it feels like there is no way that you can buy that million dollar house. You just want to win that lottery and want that money now. I've had so many of those moments too. But small steps done every day really does add up. Take that small step to start making more money, or learn a new language, or go for a 10 minute run. It's those small steps done repeatedly done every day that would matter later on.
For me, since I decided to blog, I felt like million years until my blog has some content. But I'm starting small and making small steps every day to get a post up. My goal is writing a post a day. But I'm not going to despair if I didn't write a post that day. There will be days I am just reading through other blogs to get ideas or read through FB group posts. But if I do something that would help the blog instead of watching Netflix, I think that's considered a small step.
What are some of the things that worked for you to make yourself happy in a not so ideal situation?