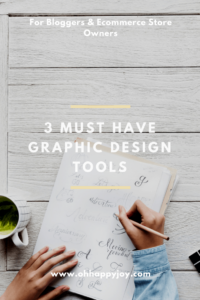 If you are a bootstrapped entrepreneur that handles everything from sending out emails, updating your social media accounts, updating websites, then you know there are a lot of images that require editing to maintain your brand's image. Even when you are photoshop/illustrator savvy, you need graphic design tools to give you ideas and also make the process faster and easier.
The easy tools to use for creating Facebook, Pinterest, Instagram, Email newsletter graphics is using the following tools
3 Graphic Design Tools You Must Have
Canva is amazing! With their free plan, they provide various templates you can use for all social media platforms and looks polished and professional. Whether it's a Facebook post or a Pinterest graphic, it makes creating graphics easy. It also saves all the graphics you created within your profile for easy access later. For Pinterest pins, I create one template and create 4-5 pins with different taglines for each blog post or product so that I can experiment. I look at the effectiveness of the call out lines to see which one works the best. Canva makes it super easy!
Great for creating quotes, wordsnag provides a variety of templates that you can use. It's a mobile app so you would need to create graphics on your phone. Quotes generate engagement with the community and you can use Wordsnag to create various quotes using their pre-made templates. It has various free backgrounds and colors you can use along with fonts and layouts you can use.
This is an Adobe tool that makes creating graphics easy. It's also free and lets you create various social media posts with their pre-made templates or you can create something from scratch. Their mobile friendly app allows easy creation on your phone.
Few apps I have tried but didn't make it to the list are below:
Picmonkey - Mainly because there weren't as many templates to use as Canva. Picmonkey does offer pretty strong image editing tools but most of my photo editings are done either in Lightroom (desktop or mobile) or Snapseed or VSCO (mobile) so Picmonkey's photo editing tool didn't offer much value to me.
Crello - It's very similar to Canva and offers a variety of templates. However, there aren't many Pinterest pin templates as Canva so Canva won over Crello for me.
Leave me a comment if there are other tools you use to create easy graphics for your blog or ecommerce store!