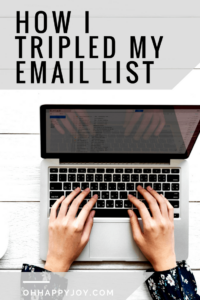 Building an email list is critical to running a successful business. Ever since starting my e-commerce business, I looked into how I can continually grow my email list. I was able to triple my email list within 3 months into the business and now I have a system in place that keeps growing my email list every day. If you are wondering how to grow your email list, read on to see what I've done!
Why It's Important To Grow Your Email List
E-commerce store conversion rates average about 4% for desktop and 1% on mobile. This means every 1000 visitors to your website, only 4 people will purchase from your website if they are visiting from desktop and only 1 person will purchase if they are visiting from their phone.
For emails, the average open rate is said to be around 15-20% and click-through rate is about 2-3%. After you've done the hard work to get your customer to sign up to your email list and let's say you have 1000 subscribers, it means every email campaign you send out, you will have 30-60 people that will click through and revisit your website. Knowing how difficult it is to get the right traffic, growing your email list is probably one of the best ways to keep making the customers come back to your website.
So let's get into how I tripled my email list for my e-commerce business.
How To Grow Email List
Run A Giveaway
Giveaways are a great way to attract customers that are interested in your product. While many do giveaways on Instagram or Facebook to gain followers, you can run giveaways to get people to sign up to your email list. You can have people interested in winning a prize enter the giveaway with their email address. You can do a co-giveaway with other few brands or run one on your own. Here's how you can set this up in Mailchimp:
1. Create a list - create a new list to collect emails from your Giveaway event

2. Create a sign-up form for your list


3. Design Your Sign Up Form
Build and design your form - normally the easier you make it for the person to sign up, more sign ups you will get to your email list. You can add graphics to your sign-up form and make it consistent with your Giveaway theme. I've done a post here on how to easily make graphics for your social media.

Once completed, you can use the SignupForm URL as the link to your Giveaway post - someone clicking on that link will be directed to a page that just shows the sign-up form.
4. Create a post on Instagram or Facebook
You can run a giveaway both on Instagram and Facebook. Instagram and Facebook have better reach once people engage with the post more and also share the post. However, Facebook has recently issued a notice saying that posts with Engagement Bait will be demoted. Using engagement baits such as the following will no longer work:
"Tag A Friend"
"Comment Yes If You Want This"
"Share With A Friend"
"Like This If You Think It's Great".
Few ways to still encourage people to share and leave a comment would be using methods like this:
Structure your giveaway to have the winner win two prizes - 'Win one for yourself and another for your loved one/friend/family member and tell us who you want to win it for'
Encourage the person entering the contest to leave a comment - 'Let us now which color/size/item' you would like
Make sure to use a photo that shows the product clearly and would encourage engagement. Since Facebook also has 20% rule on using the text, minimize the usage of text on the image and you can run the test by uploading the picture here. Have simple call-out lines in the comment section and include the link to the sign-up form. In order to show the sign-up form without being hidden in the '...' section of the comment, you would need to limit the call-out to 2-3 sentences.
Collaborate With Other Brands
Reach out to other brands that may be interested in collaborating with your store. Do some research on brands that are similar to your size. Because if they are too big, they may not be interested in collaborating with you! It has to be win-win! Look for a brand that is not selling a competing product. The brand would have to be in your industry/niche but would have the compatible audience. For example, if you are selling baby toys, you can reach out to brands that are selling baby food or baby shoes. If you can get 3-4 brands to do the giveaway together, you would get exposure to other brand's audience that may also potentially be interested in your products. You can do this by simply messaging the brand on Instagram or Facebook or emailing them. It may take many time and effort but once you get several brands interested and run a successful event, it will be so worth it!
Collaborate With Influencers
Reach out to influencers in your industry/niche and ask them if they would be interested in running a giveaway. Many times, influencers ask for a fee to run an event on their social media and the fee really varies based on their following. You can do research on the influencer and determine whether it would be a good fit based on their following and engagement (number of likes and comments on their post). I always look at engagement to see if the influencer is getting good engagement. There are many influencers out there that have gained followers but don't have much engagements. So look for engagement rates (ratio between likes/comments to followers) and see if the influencer is getting good engagement. There may be influencers that are just beginning to grow or may really like the product you are selling. These influencers may be willing to run an event for free, in return for the product you sell. So do some research and reach out and ask!
Give A Freebie
People like receiving free stuff. You may have seen those email baits where you would need to enter your email address in order to get access to a free video course, download a free PDF guide, receive free tips on something, or get a discount. There is a reason why we see these on many of the websites. Because people like receiving free things. It's in human nature to want to receive something that's valuable to them. Receiving these emails in return for providing something valuable to a potential customer gives you an opportunity to engage with the customer in the future. You can send them emails to get them to know more about your brand. Send them emails about new products you have. Share customer reviews of the products you sell.
They say people need to see your brand/product 7 times before they make a purchase. In order for you to have that opportunity to show your brand/product 7 times, getting that email address would be so critical.
Think about how you can make a PDF guide on something your potential customer would be interested in. Or a video how-to guide, or a one time discount offer that expires within few days. Giving a freebie is one of the effective ways to grow your email list.
Have an email opt-in visible on your website
Make sure you have an email opt-in form visible on your website. Mailchimp has a pop-up that can be installed on your website but once you close the pop-up, the form may be difficult to find, unless you have it visible and easy to access for visitors. The one app I use is called 'Privy' which is an email opt-in app that can be easily installed on Shopify. It's free and they offer various opt-in forms that you can try. One of my favorites is their 'Spin To Win'. It allows the person signing up to your email list to win a prize which encourages them to a purchase on your website.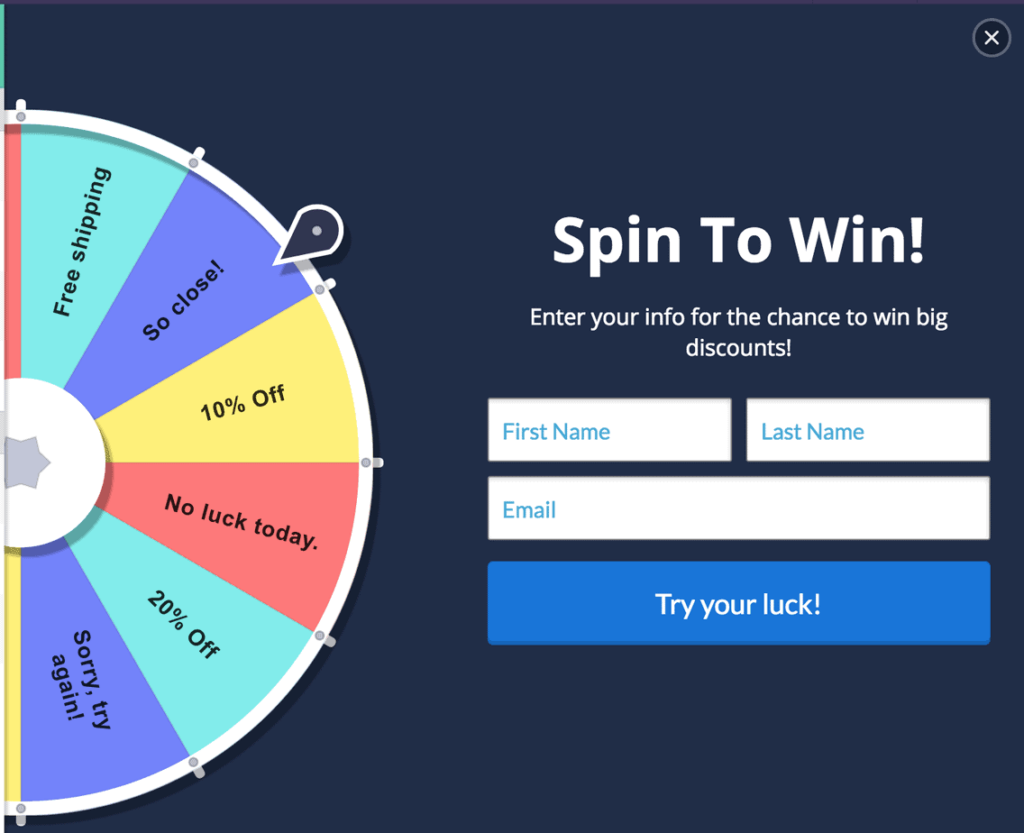 Would love to hear from others on how you were able to increase their email list!