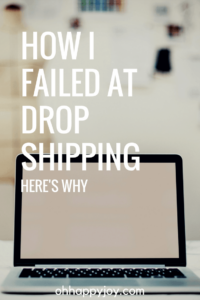 There are a lot of e-commerce stores or gurus out there that claim to have made lots of money selling drop-shipping products. I can totally see how it's so enticing to jump right into it and try it.
Because I was one of them.
I was so intrigued by the claim that within few days or weeks of setting up the store, people were making 5 figures in their store. It sounded so believable and the idea of making money while not carrying inventory was genius! I'm sure they are not lying but what I've learned is that it's not as easy as it sounds. I jumped right on it to try the drop shipping method and here's what I learned.
What Is Drop Shipping?
So, let's start off with what drop-shipping is. Drop-shipping is a retail fulfillment method where when the store sells the product to a customer, the product is then purchased and shipped directly to the customer from a third party. The store doesn't carry the inventory. Traditional e-commerce stores require you to have inventory and capital up front to sell. And along comes added costs of carrying inventory and capital requirements.
How Do You Get Started With Drop Shipping?
When I set up a drop shipping store, the set-up part was indeed fairly easy. You buy a domain, set up a store in Shopify and install an app called 'Oberlo' and you can start selling products sold on Aliexpress.com on your website. Buying a logo was also fairly easy, since there are many places that sell pre-made logos like Creative Market or Etsy.
Oberlo lets you pick an item on Aliexpress.com and list the product on shopify platform within a matter of few clicks.
Super easy right?
But setting up a store is only a small part of selling online...
Why it's not as easy as you think it is. This is why I failed at drop-shipping...
Drop shipping requires you to constantly test products or niche which costs time and money
As with any online sales, selecting the right product is key. When I decided to try drop shipping, I decided that I would go with a dog product niche (french bulldog). My store set up with few french bulldog related products. Once everything was set-up and the website looked like something that a customer would come and feel like it's a specialty store selling french bulldog related items, I started a Facebook campaign to attract potential buyers. The target audience was selected based on interest in french bulldogs.
Those who have tried to sell using Facebook ads would know that running the right ad to convert takes time and testing.
When I ran the Facebook ad, the ad wasn't converting right away. For me to really target the right group of people meant more testing and tweaking of the ads. This meant I would be incurring advertising costs until I get a sale.
It was difficult to see what needed tweaking. Whether the niche I selected was the issue, or the product I selected was an issue, or the copy on the ad, or the image I used. If the niche and the products were the issue, testing a different niche meant having to set up a different store or modify the existing one to make a different niche store. That takes so much time and effort on just setting up a store!
I'm sure after testing, you can get to the product that might bring in sales. But I felt like it takes a lot of up-front work time, and money to get the sales.
You are competing against other potential sellers that are selling the same product
Selecting a product from Aliexpress means that other sellers might sell the same product as you. This creates competition. In case the competitor is also running a similar ad campaign, with the same images provided on Aliexpress.com, you could potentially be getting into Ad bidding war. When I googled french bulldog accessories, I was able to find a website that already sold the same products I wanted to sell!
You don't get competitive pricing
When you purchase inventory in bulk, you get the benefit of being able to buy in bulk pricing from the manufacturer and can sell at a competitive price. When you sell the drop shipping products, the manufacturer is not providing the bulk pricing. So naturally, the price is much higher.
Also, shipping isn't cheap! On top of having to pay a higher price for the product itself, you have to build in the shipping fee into your sales price.This increases your overall sales price, once again.
Or you will have to charge shipping fee separately. When we have Amazon offering free 2-day shipping, which also has many overseas sellers directly selling their items, it's hard to compete when you are adding shipping charges on customers orders.
Providing customer service is difficult
Since shipping is handled by a third party, it becomes hard to provide customer service. This is especially true when the customer complains about the product or wants to return or exchange the product. It's a bit of a logistical nightmare having to deal with all those product or shipping issues.
You need to understand Facebook marketing or other social media
The idea behind drop shipping model is that you attract customers from social media marketing. If you are new to how to run ads effectively on social media platforms, then you will have to spend time learning about them. Also, with so many social media platforms, managing and building a social following takes time and effort. You may not need a large social following to start converting your store visitors. But you will still need to set up social media accounts. Even building a small following requires time and effort.
So overall, my experience with drop-shipping was that it wasn't as easy as it looks. It takes a lot of trial and error to start generating sales.
Have you tried drop shipping? What were your results and how long did it take for your store to take off and start generating profits?
When starting an e-commerce business, I'm a believer in building a brand and marketing it effectively to make it a success. I share my tips on how I was able to replace my 6 figure income with selling on Amazon here. Head on over to read more about my journey on making money online!