This post may contain affiliate links, which means if you make a purchase from my link I may make a small commission at no cost to you.
As an entrepreneur, it's so important to constantly motivate yourself. There are many times you feel like you're stuck or discouraged. In order to keep going and take actions to reach your goal, you need to learn to motivate yourself.
Unlike schools or work where there is some type of 'grade' you are given or 'performance evaluation' that keeps you on your toes, making yourself motivated to reach your goals is up to you.
So how do you stay motivated at all times?
Having a mentor or a coach is one way and joining a mastermind group is also one. But by far, reading an inspirational book has been the force that helped me keep going and also transform my life.
Now that we have Audible, it's become easier to consume books, even when we don't have physical books on hand or even when we don't have time to sit down and read books. You can listen to books while driving (my favourite way to spend time while driving), while taking a shower, or cooking. Or you can download on your iphone Kindle app and read without having to carry a physical book. Technology has made it so much easier for us to read. So commit to reading books to improve your current life.
So here are the top 5 inspirational books to start reading now to start inspiring yourself and transform your life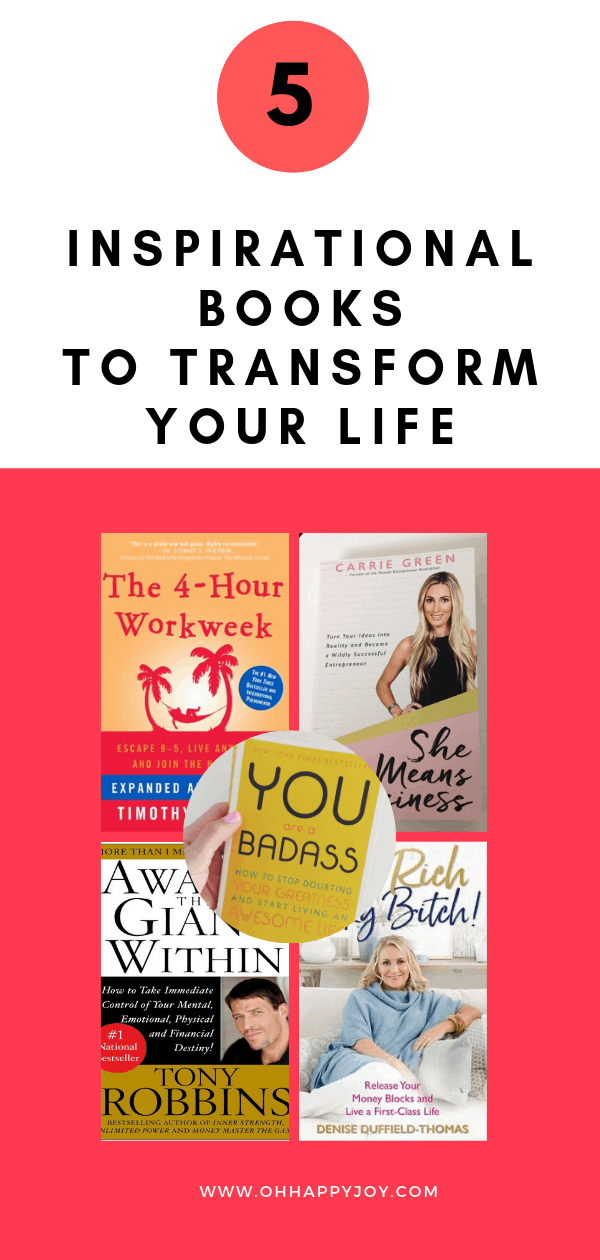 One of my favourite go-to books whenever I feel unmotivated, discouraged, or unworthy are these two books. It's seriously a mood booster in making you think like you are a badass. After reading, you will feel like you can tackle anything you put your mind to. The fact that the author herself has gone through many years of financial trouble and got herself out and became financially free is inspirational itself. The book is written as if the author is really talking to you while grabbing a coffee together, with her sometimes comical stories. This is also the book that made me seriously think about getting a mentor/coach to uplift myself to the next level.
Jen recently published a new booked called 'You Are A Badass Every Day'. Each chapter or a story is much shorter and to the point and gives you a good nudge to think about your life and boost your motivation. So I highly recommend this book as well!
Tim Ferris's very first book 'Four Hour Work Week' is the book that opened my eyes to the world of making money while not working 9-5. It was so impactful that I have been following him on social media since. I also listen to his podcast to get motivation. If you are working 9-5 and truly want a different lifestyle that gives you more freedom and flexibility, then this book is for you. It also shares a lot of tactics and tools, which may be outdated and there may be other betters tools out there now, but the concept of working less while supporting your lifestyle still is viable today. His other recent book called Tribe of Mentors (a collection of answers to Tim Ferris's questions from many influential people in a field) is also a good read but if you truly want to transform your life, start with his Four Hour Workweek.
Tony Robbins is well known in the world of self-help and he has written many books. He's one of those people that either people LOVE or HATE. People may just dismiss him as someone overly enthusiastic or too much. But reading his book has changed my perspective. It made me believe that he truly cares about transforming lives and helping others and have a lot of experience to back him. I haven't read all of his books but Awake The Giant Within is definitely worth reading if you are interested in shifting your mindset and reaching your goal. It's a lengthy read but very rich with lots of exercises, stories, and examples and will guide you to take that action in changing your life.
Carrie Green is the founder of Female Entrepreneur Association who has built a very successful membership site. Her book takes you through her journey of building her business. She shows how she fought the discouragement, loneliness, and hardships of building a business and achieving her dream. It's inspirational and makes you think you can do it too! If you are building a blog, business, or just simply trying to reach your financial, physical, or career goal, I think her personal stories will inspire you. Ever since reading her book, I've joined her Facebook group. I must report that personally I didn't gain too much by joining her Facebook group but her book is a must read to get you inspired!
Okay, so the first reaction you may have when you read the title might be that you may look materialistic and superficial. It might make you a little embarrassed to read a physical copy of the book with the title of the book fully showing when you are riding in a subway. But I promise you that this book is more than just 'getting rich'. It's more about shifting your mindset to achieve what you want in your life. So if you are a little conscious about what other people might think of you while reading this book, then download it to your phone or listen to it while driving alone in the car. It will make you think that mindset is everything when it comes to getting what you want.
Do you have a book that you continue to come back to get the motivation you need? Do share in the comment below!