Toys, Toys Everywhere? Try These Playroom Organization Hacks for a Clean and Happy Space
Creating a functional and organized playroom for your children can be a daunting task. However, with a little bit of planning and creativity, you can turn even the smallest of spaces into a fun and organized play area for your kids. Here are a few ideas for playroom organization and some inspiration images to help you get started!
RELEVANT POST:
Playroom Organization Ideas
1. Utilize playroom toy storage solutions - playroom storage ideas:
Invest in a variety of storage options such as shelves, bins, and drawers to keep toys, books, and games organized. Label each container with a picture or word to help your child easily identify where each item belongs.
Here are few popular storage solutions to get you inspired!
1. Toy storage bins or baskets:
These are great for keeping small toys and games organized and easily accessible. Try to use the ones that are either clear like this one or low enough for kids to be able to see the toys easily.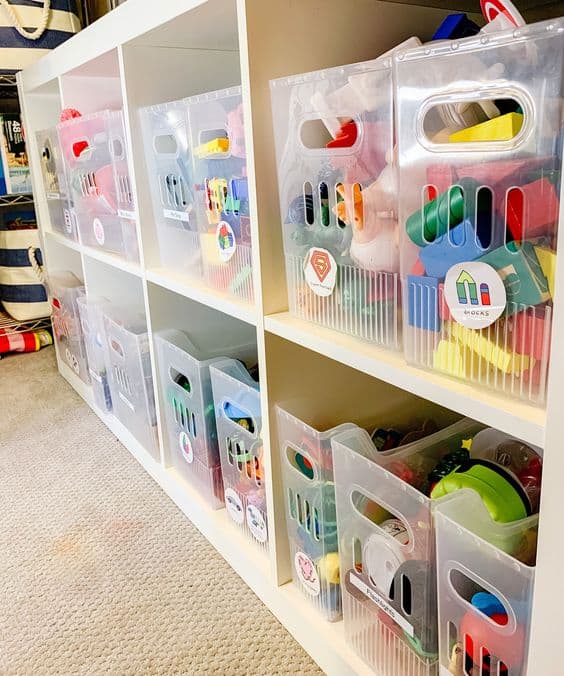 Source: The Rose Record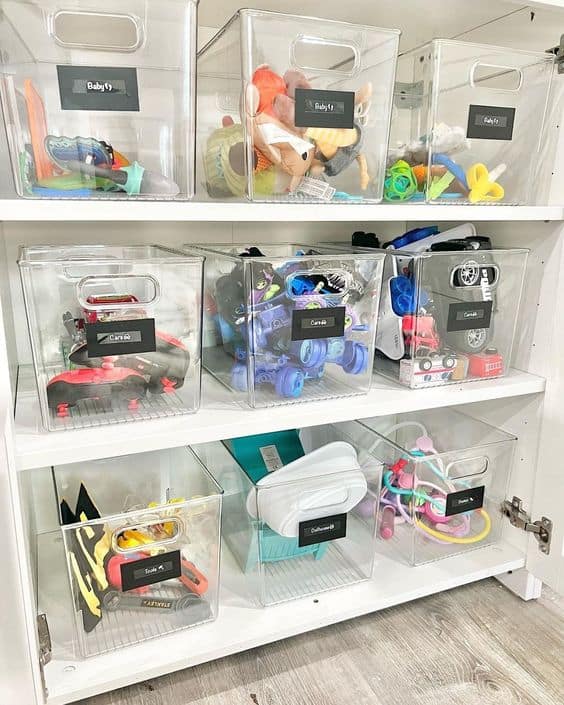 Source: mDESIGN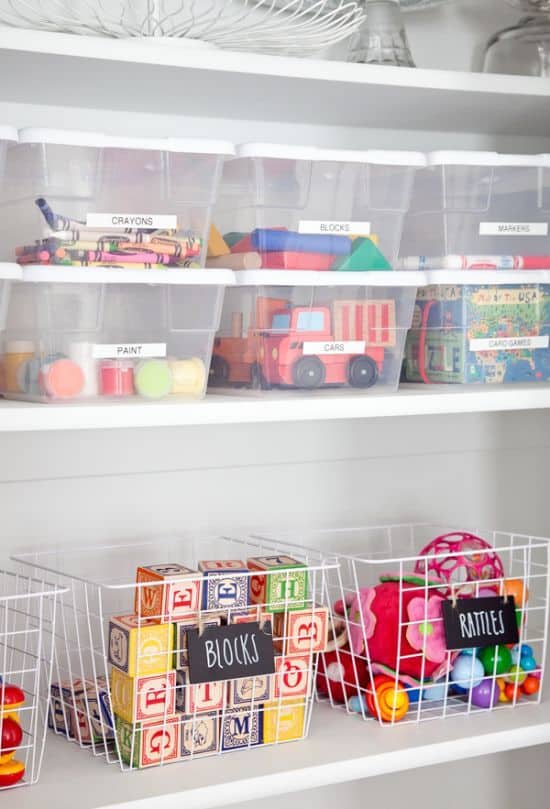 Source: The Organised You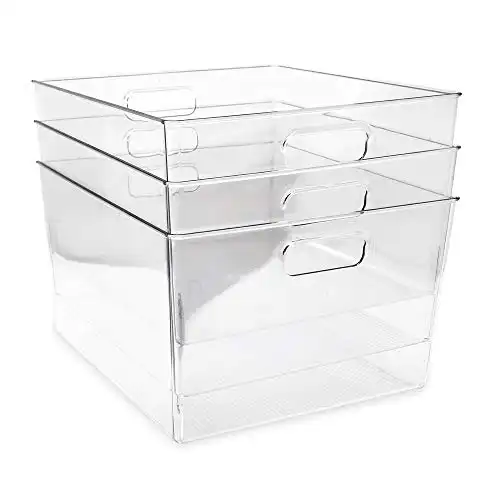 2. Shelves:
Shelves are a great way to store books, games, and other items and keep them off the floor.
Bookcases: Bookcases are perfect for storing books and other reading materials.

Drawers: Drawers are great for storing clothes, toys, and other items that need to be kept out of sight.

Over-the-door organizers: These organizers can be hung on the back of a door and used to store shoes, hats, and other small items.

Cube storage units: These units are great for storing and organizing a variety of items, and can be customized to fit your needs. Our favorite is Ikea Kallax shelf like this one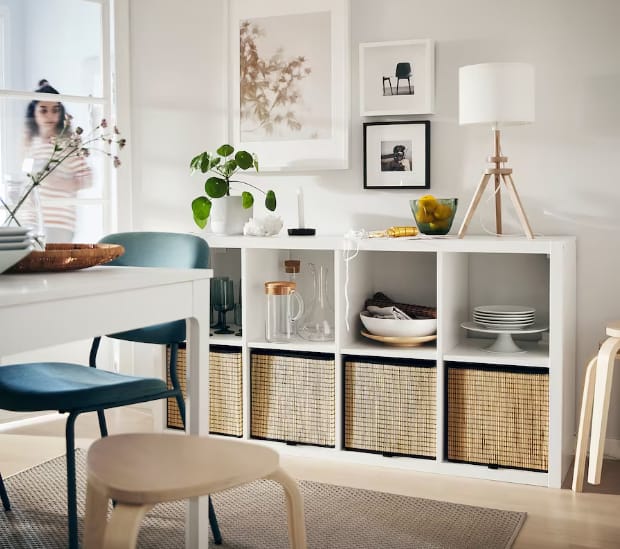 Get Ikea Kallax Shelf Unit here
Closet organizers: Closet organizers can help you make the most of closet space and keep clothes and other items organized.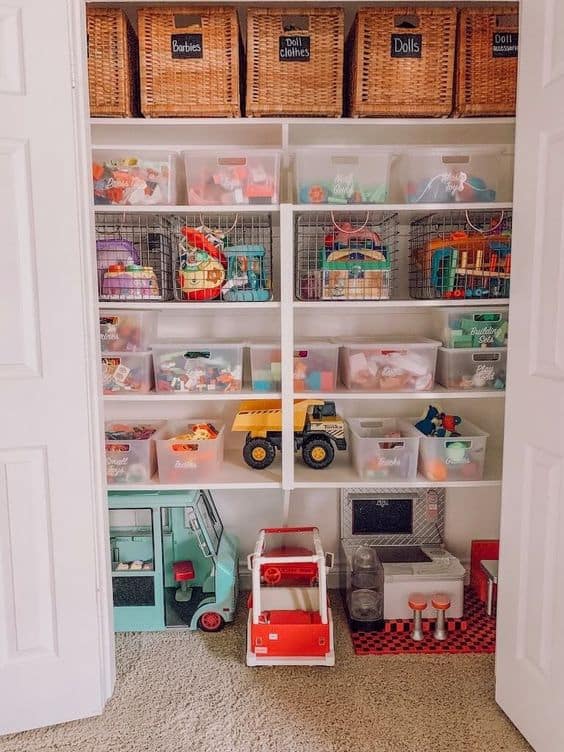 Source: Kaleidoscope Living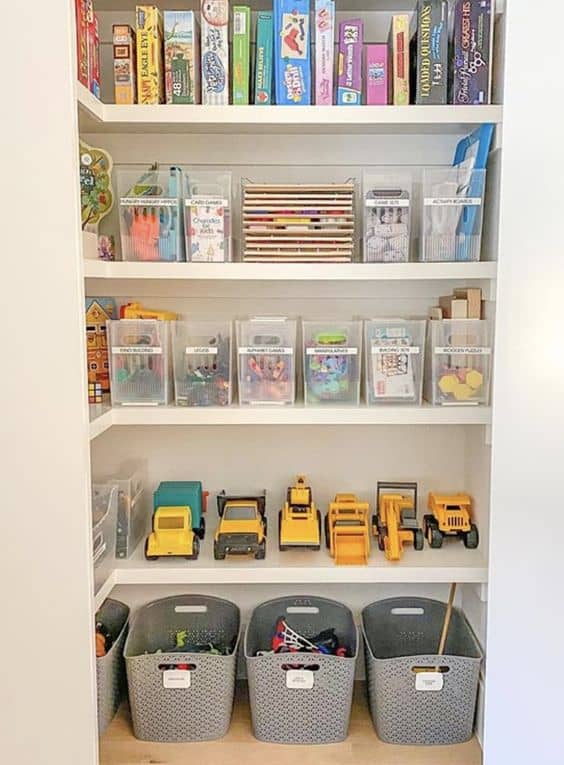 Source: hellokarilynn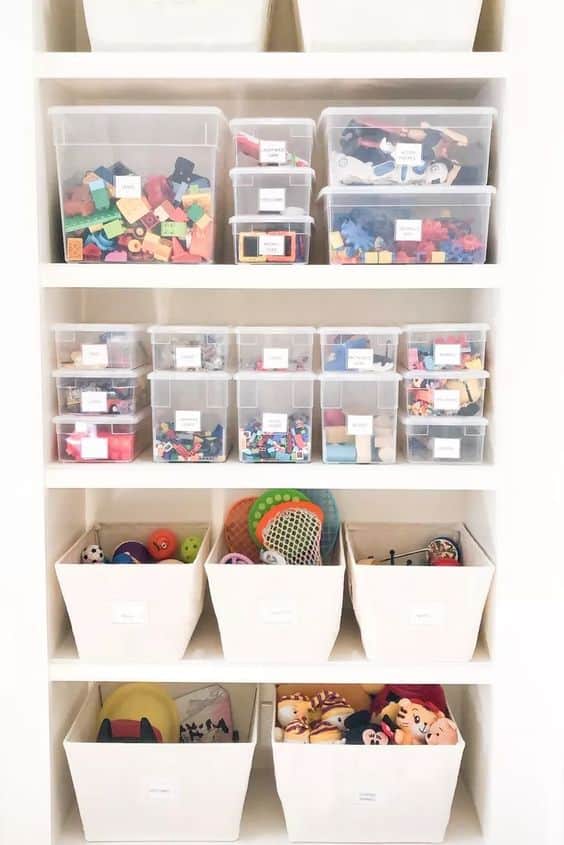 Source: liketoknow.it
Hanging organizers: These organizers can be hung on a wall or door and used to store toys, stuffed animals, and other items.

Under-bed storage: This is a great way to make use of unused space and keep items such as clothes, shoes, and extra bedding out of sight.

Wall-mounted shelves: These shelves can be mounted on a wall and used to store items such as toys, books, and other items.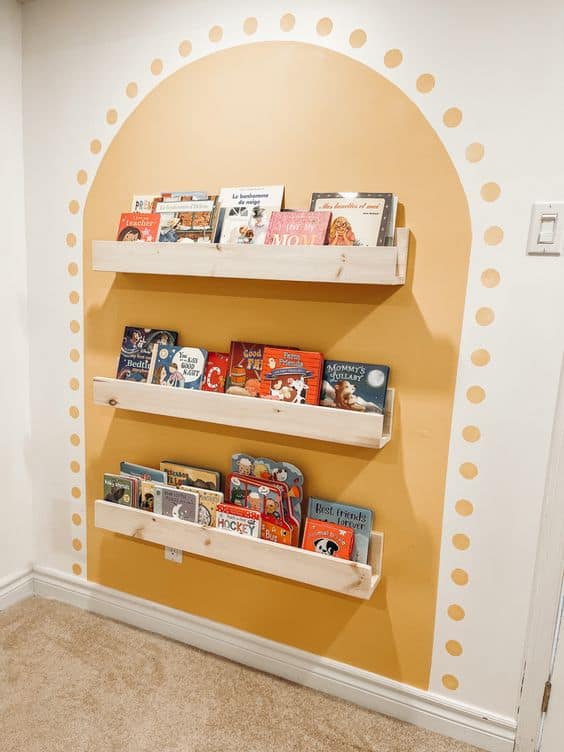 Source: Valerie Thibaudeau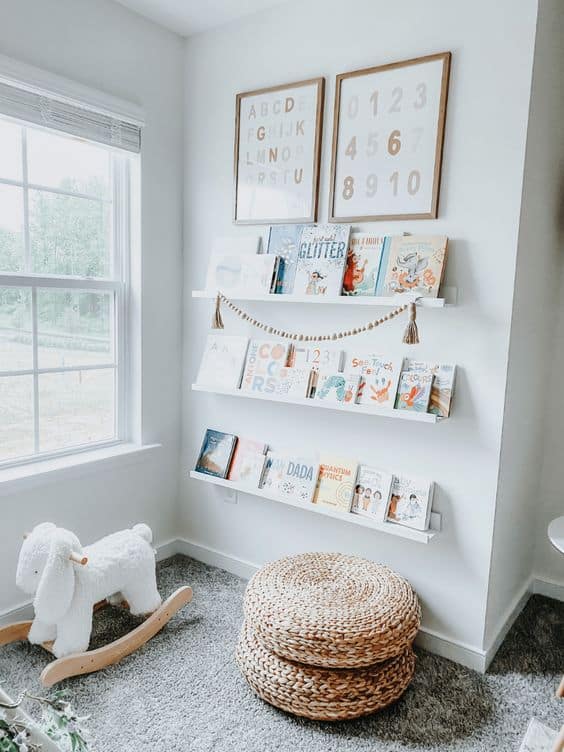 Source: Brooke Angelique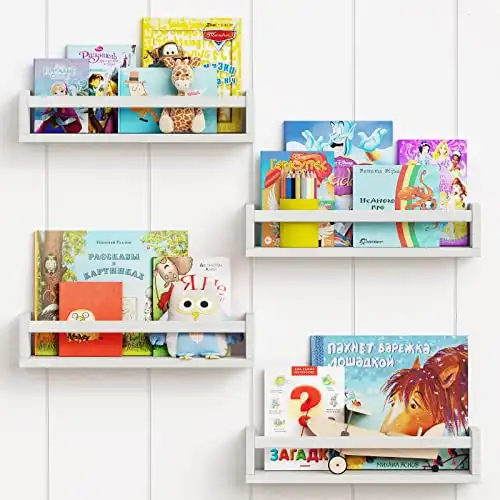 If you are like me, we have a TON of legos at home. Legos are great for entertaining kids but pain in the butt to organize and clean up. Here are few ideas you can use to organize legos!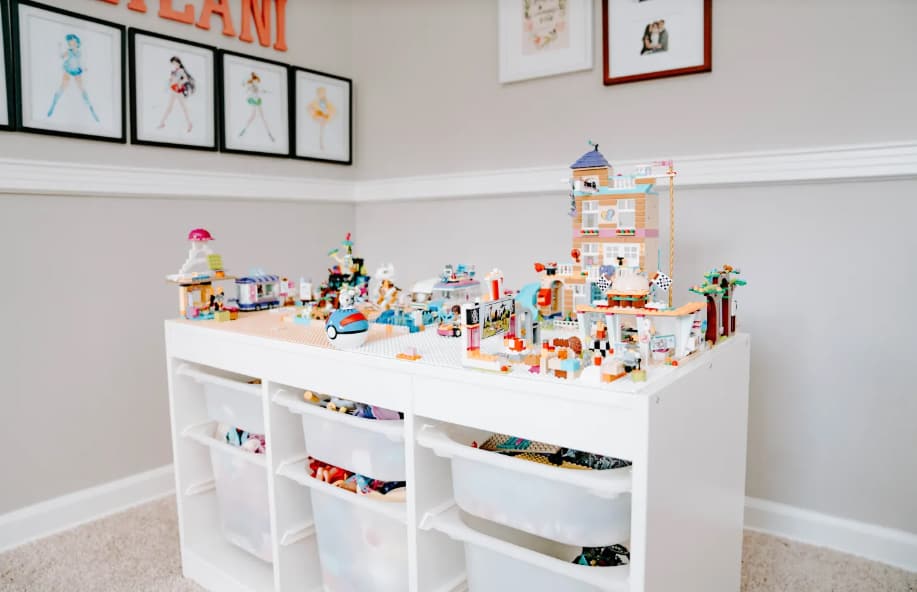 Source: Xolivi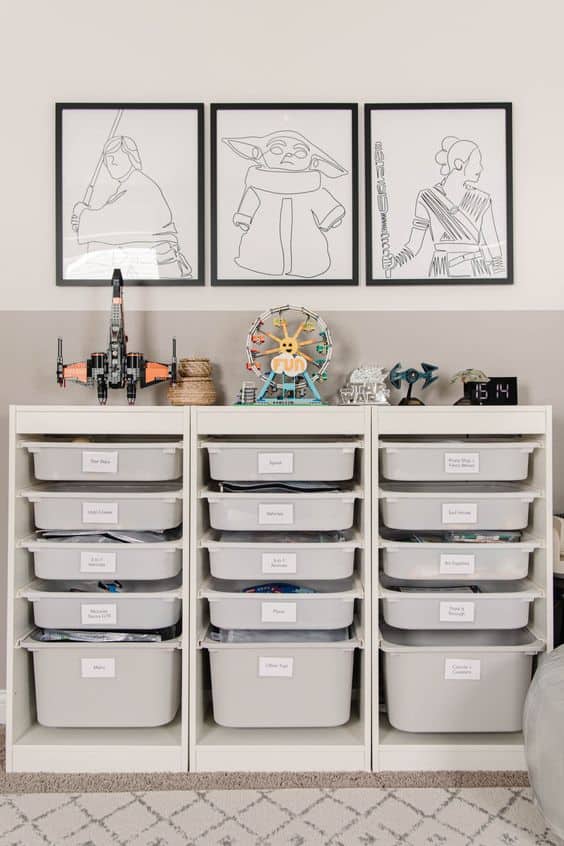 Source: Caitlin Marie Design
Ikea Trofast would be a fantastic option: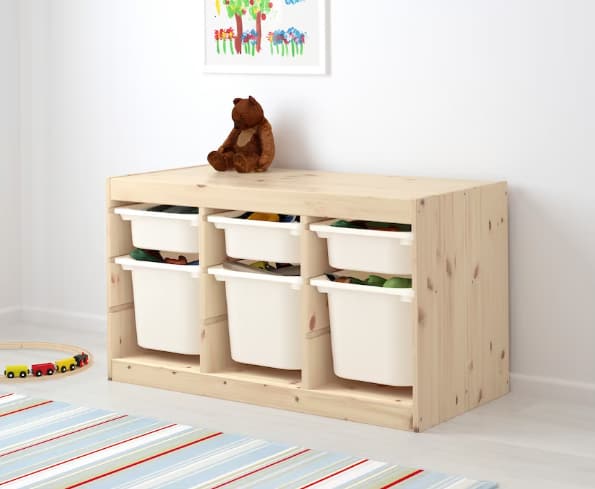 And if you are like me, I like to keep them all in one large plastic bin like this:
2. Create designated play areas:
Set up different areas within the playroom for specific activities. For example, a reading corner with a small bookshelf and comfortable seating, or a building area with a large table and legos.
Reading nook in play area: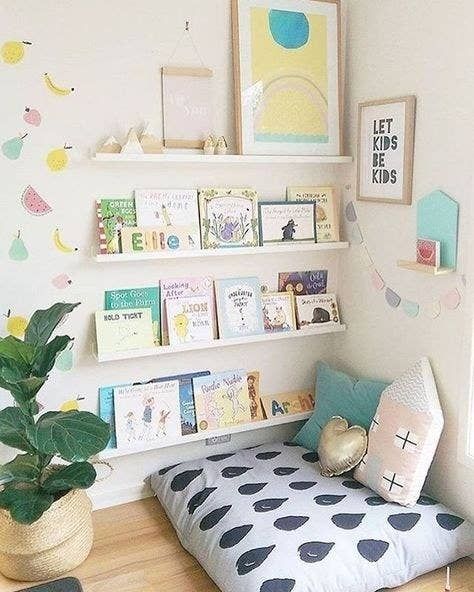 Source: Buzzfeed
Source: Popsugar
Arts & Crafts in Playroom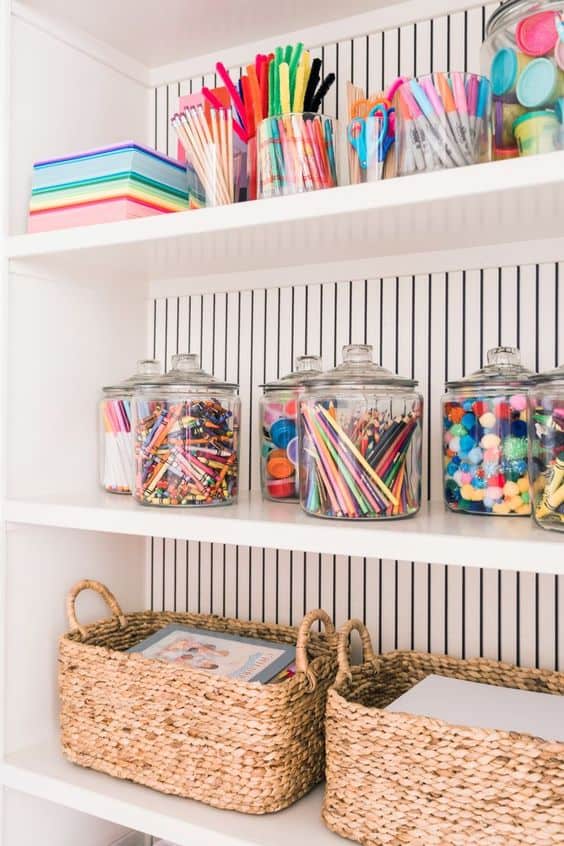 Source: Rachel Parcell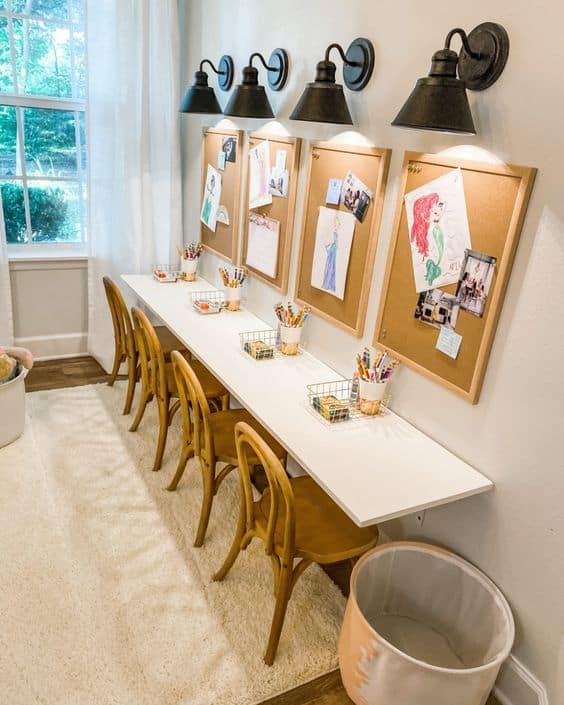 Source: Cotton Stem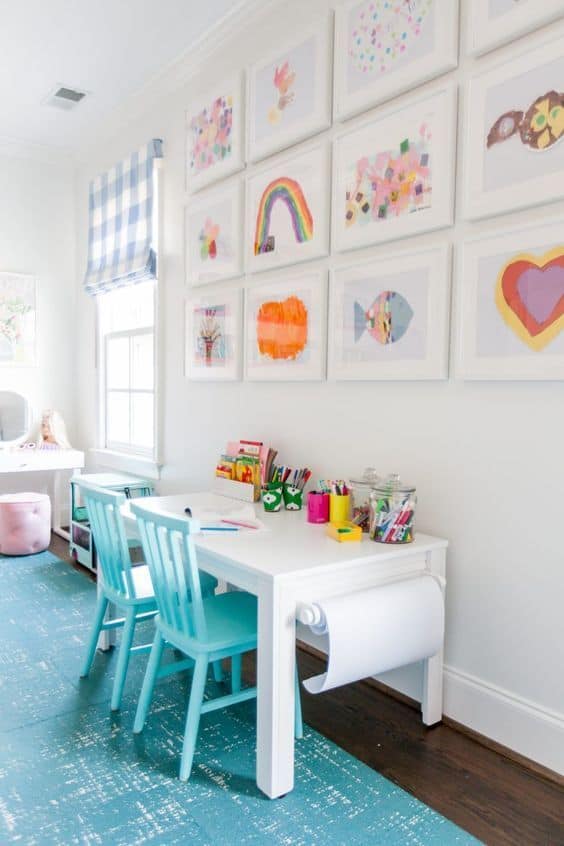 Source: Nikki's Plate
3. Use wall space - small playroom organization ideas:
Install shelves or hooks on the walls to maximize space and keep items off the floor. Books and small items like cars would be great toys to store on the wall. Here are few more playroom storage wall unit that make it easy to store toys on the wall! playroom shelving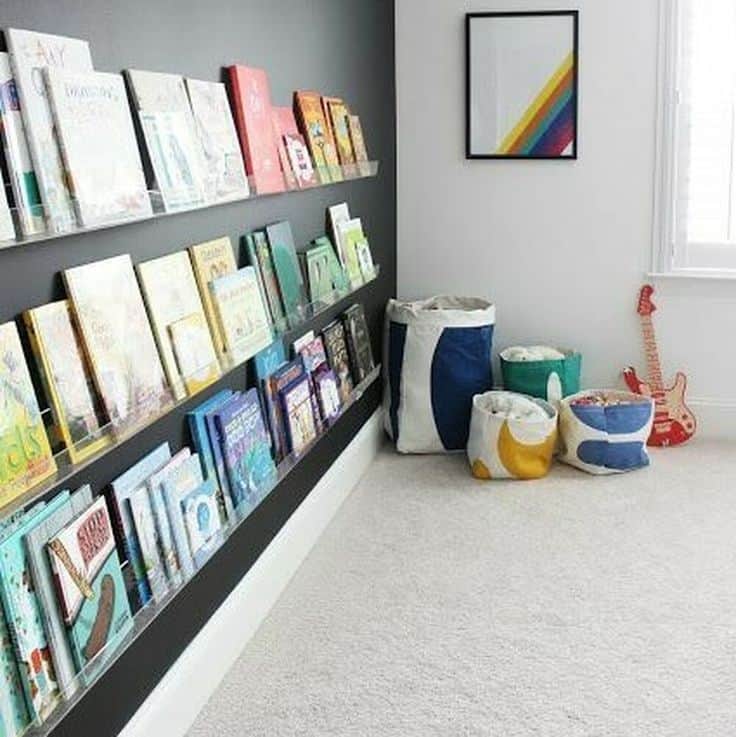 Source: Clear Home Design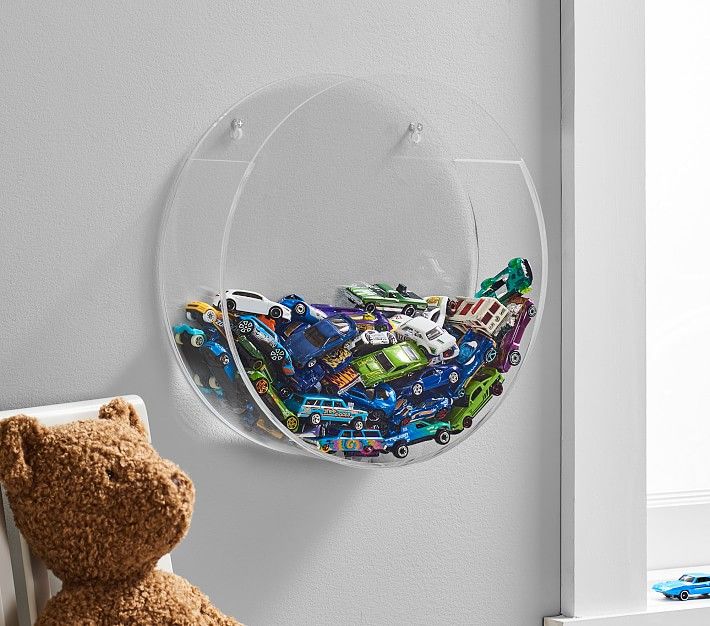 Source: Pottery Barn Kids
4. Make it easy to clean up:
Encourage your child to clean up their toys by making it easy for them to do so. Low storage options and open bins make it simple for children to put things away. Here are some kids playroom storage ideas that help it easy for kids to clean up.
5. Get the kids involved:
Ask your children for their input on how they would like the playroom to be organized. This not only gets them excited about the process, but it also helps them learn responsibility and ownership over their space. If you ask….how can I encourage my children to keep the playroom clean and organized?
How can I encourage my children to keep the playroom clean and organized?
Set clear expectations: Explain to your children what you expect of them in terms of keeping the playroom clean and organized.

Make clean up fun: Create a game out of cleaning up, such as a timer or a reward system. Play 'clean up song'! Clean up Clean up everybody clean up~

Involve them in the cleaning process: Have your children help you with the cleaning and organization of the playroom.

Lead by example: Show your children how to keep the playroom clean and organized by doing it yourself.

Give them ownership: Give your children responsibility for certain areas of the playroom, such as their own toy storage bin.

Teach them how to put things away: Show your children where things belong and how to properly put them away.

Have consistent clean-up times: Set a regular time each day for cleaning up the playroom, such as before dinner or before bed.

Use visual cues: Use labels or pictures to help your children understand where things belong.

Reward them for a job well done: Acknowledge and reward your children when they do a good job of keeping the playroom clean and organized.

Make it easy for them: Keep storage solutions low and open to make it easy for children to put things away.

Label toys as discussed in point 1 above. For kids who cannot read yet, use pictures to help them understand where things go!
Use simple labels such as this:
6. Rotate toys:
Keep things fresh and interesting by rotating your children's toys every few months. This not only keeps the playroom from becoming cluttered, but it also keeps your child's interest in the toys they have.
By following these playroom organization ideas, you can create a functional and enjoyable space for your children to play and learn. Remember to have fun and be creative with the process, and soon you'll have a playroom that both you and your children will love.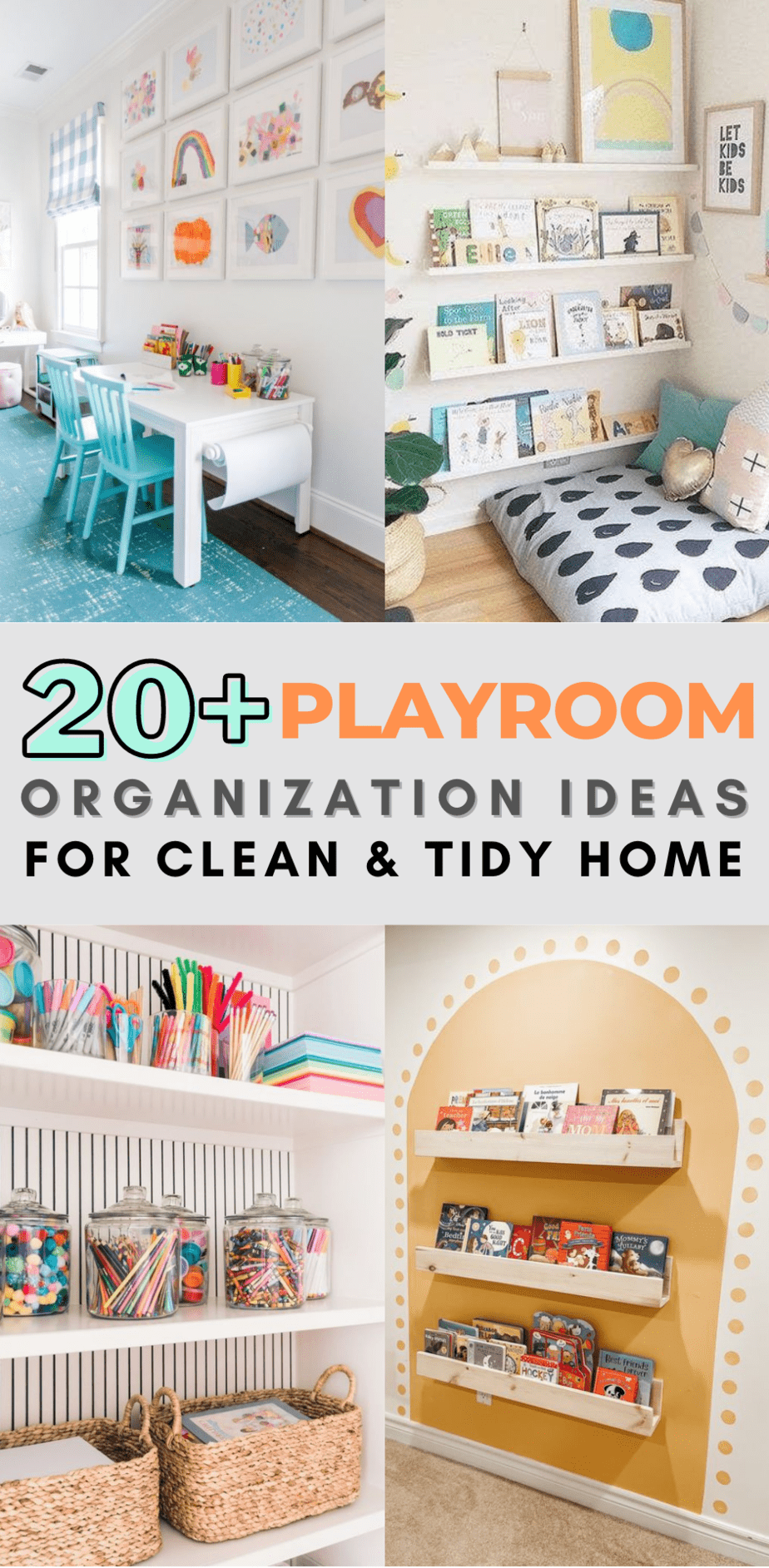 RELEVANT POST: