Sensory Activities For 1-2 Year Olds – Introducing your child to sensory activities is an excellent way to stimulate and engage his senses. So if you're looking for the best sensory activities for 1-2-year olds, then you have come to the right place.
It's amazing how babies as young as one year old show so much interest around them. They try to talk to you, move towards you, and make silly but adorable gestures by clapping their hands and waving bye-bye when you leave.
And at two years old, toddlers learn so many things about themselves and their environment. They become more curious and inquisitive and even try to imitate others around them.
At this age, young kids need to explore their senses more. And the best way to help them do so is through sensory activities for toddlers and babies!
There are plenty of sensory activities for 18-24-month old at home. These sensory play ideas allow little ones to explore their senses through play. They realize that playdough is soft and squishy, sand has a fine texture against their palms, and oats feel coarse but smell good! Yes, sensory activities for 1-year-olds help engage their sense of sight, touch, sound, taste, and smell.
I've rounded up my favorite sensory play ideas for 1-year-olds and 2-year-olds to give you awesome ideas for sensory activities that your little ones might enjoy.
RELEVANT POST:
This post may contain affiliate links. Please read our disclosure for more info.
1. Sensory Ctivities for Toddlers - Clothespin Pull
This is an easy sensory play for 1-year-olds that requires only two things: clothespins and paper rolls. Give your baby paper rolls with a few clothespins attached to them and let him take them off. Following this, you can ask your baby to shoot the clothespins through the paper roll or transfer them to another container. This is also one of the best fine motor activities for 1-year-olds that you can introduce right now.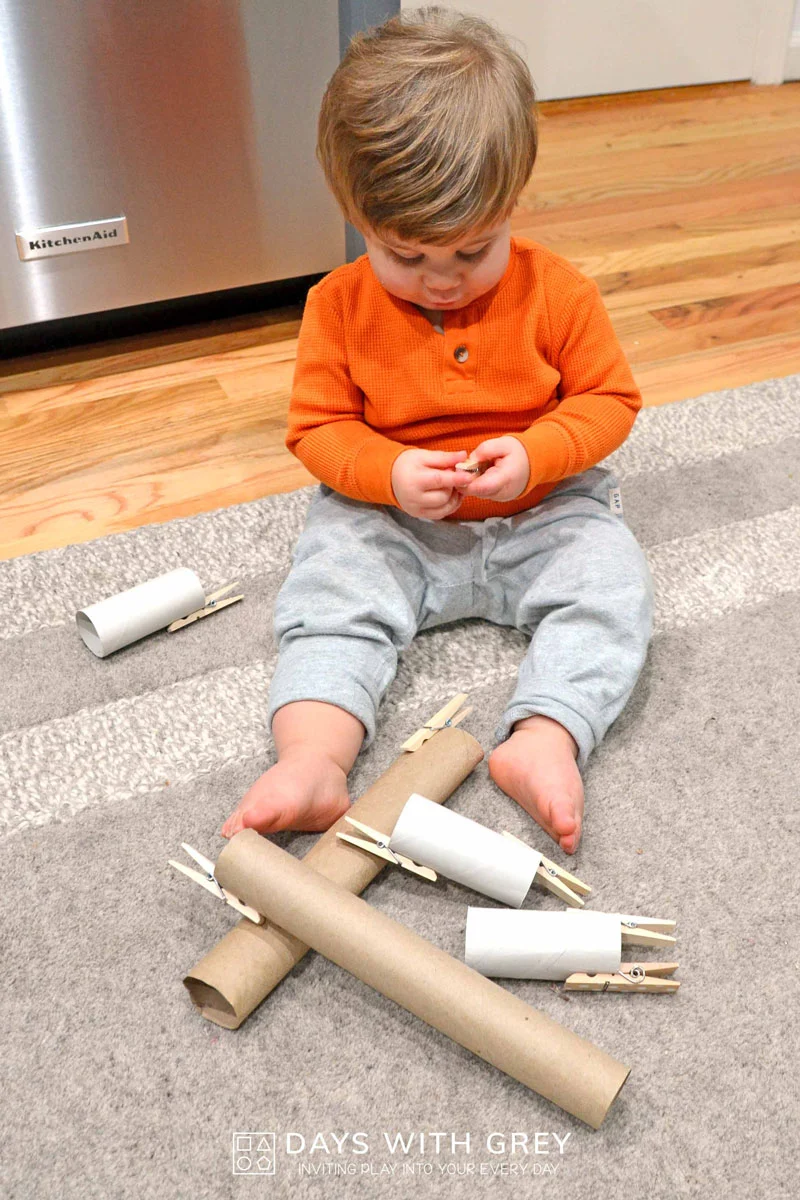 Source: Days With Grey
This is an easy and fun DIY sensory bin for 1-year-olds, featuring colored spaghetti. You can make rainbow spaghetti by dyeing the cooked pasta with food coloring. The assortment of colors engages your baby's sense of sight and gives you the opportunity to introduce him to different colors. It also practices your baby's fine motor skills as he holds the pasta in his hands and fingers while familiarizing himself with the sticky, squishy texture of noodles.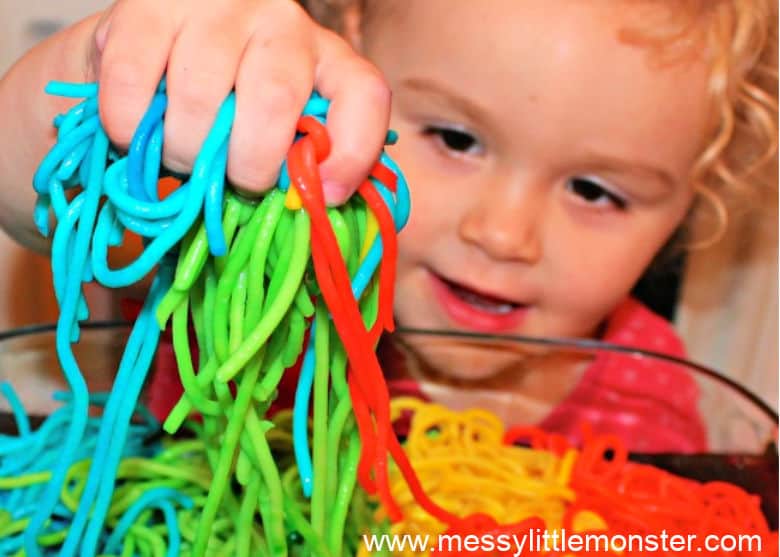 Source: Messy Little Monster
3. DIY sensory bin for 1-year-olds - Cereal Sensory Bin
Playing with cereal is one of the best 1-year-old sensory activities as it offers lots of opportunities to learn about the cereal's colors, texture, and aroma. Placed in a sensory bin along with spoons, scoopers, and bowls, babies are able to flex their tiny finger muscles by holding these tools, scooping, and transferring cereal. I also like to add Lucky Charms Learning Pack into this sensory bin, so I could introduce sorting, counting, and color recognition in a fun way!
This is an edible sensory bin for 1 year old too, so you don't have to worry about your baby putting things into his mouth (but still with your supervision).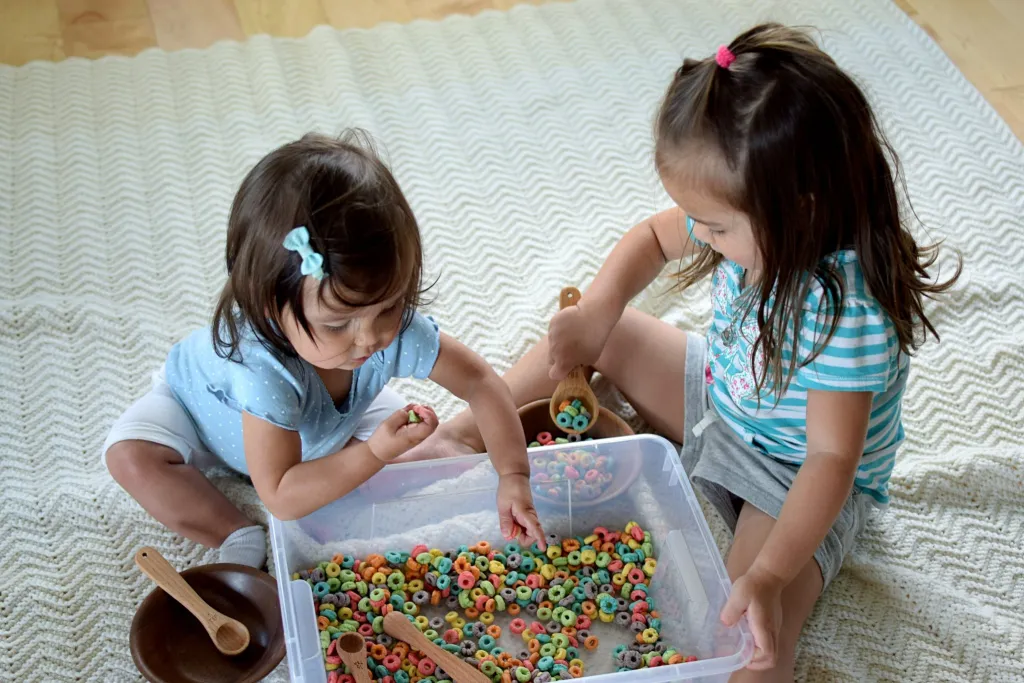 Source: Entertain Your Toddler
4. Fine Motor Activities for 1-year-olds - Edible Sensory Play
Playdough is one of the best sensory play materials for babies. It allows them to make rolling, squeezing, and squishing motions with their hands and fingers, which makes it one of the best fine motor activities for 1-year-olds. You can set up edible play dough sensory play for 1-year-olds by choosing a themed activity and changing up the tools based on your baby's interests. This is also a wonderful opportunity to teach babies about colors and shapes.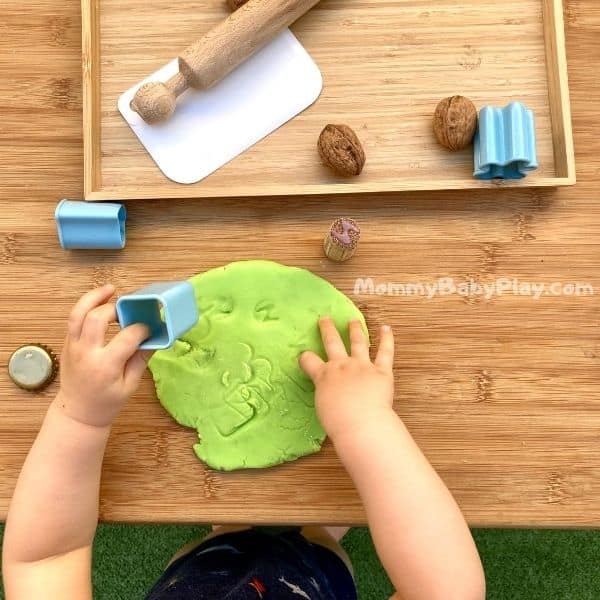 Source: Mommy Baby Play
Rainbow rice sensory play for 1 year olds is an easy baby activity that's quick to set up. It is fun for babies too, as rice provides an incredible texture against their skin. Dyeing rice in various colors makes this sensory even more engaging and entertaining for little kids!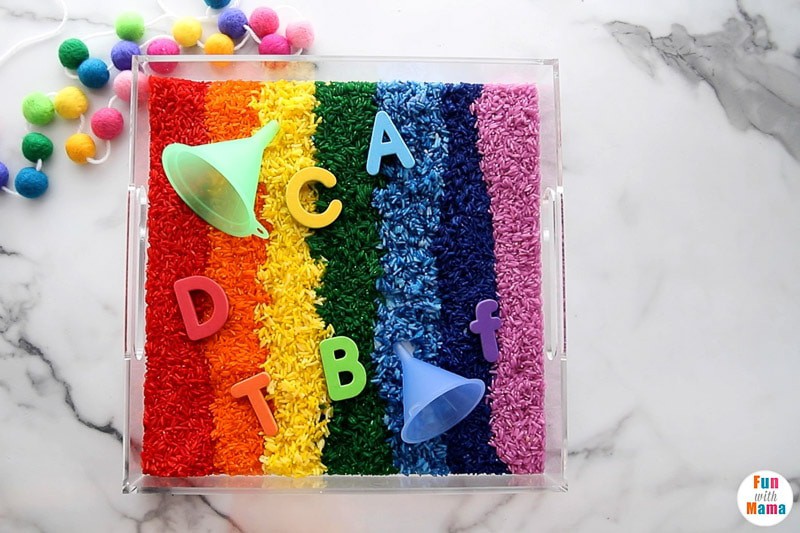 Source: Fun With Mama
Playing with water beads is one of my favorite sensory activities for 2-year-olds! There are plenty of things that toddlers can do with water beads, and I guarantee you that kids will find this sensory material entertaining and fascinating. You can do a simple water bead sensory bin so that toddlers can play with them using their hands or you can give them toys so they can do a variety of things with water beads. Either way, letting your child play with water beads is one of the top things to do with 2 year olds!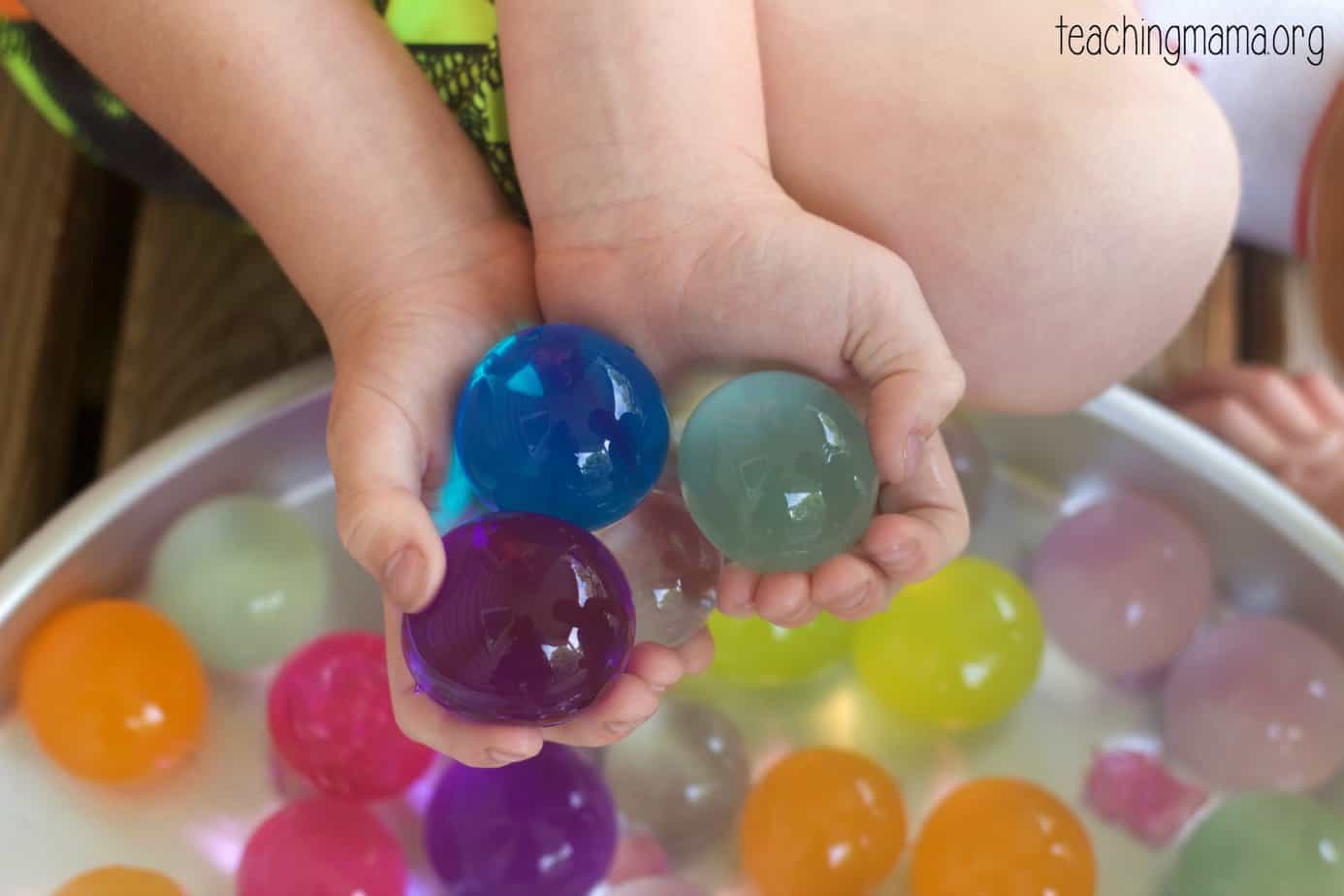 Source: Teaching Mama
Did you notice how much fun your child has when playing in the sand on the beach? Guess what, you can replicate this setting right in your own home with an edible sand sensory bin. This is one of my top sensory bins for toddlers as it is taste-safe, allows them to explore the sandy sensation against their palms, and provides them opportunities to create their own story narrative by adding themed toy kits.
You can easily make edible play sand by crushing cheerios in the blender until you achieve a sand-like consistency. You could also use other edible materials, such as whole wheat flour mixed with vegetable oil, powdered saltine crackers, and crushed oatmeal and graham crackers.
Customize the edible sand bin according to your child's interests. Here's an edible insect sand bin for inspiration.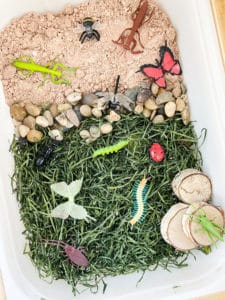 Source: ABCDee Learning
8. Fine Motor Activities for 2-year-olds - Pasta threading
Want easy fine motor activities for 2-year-olds? Pasta threading fits the bill perfectly! Simply give your toddler some uncooked macaroni and something to thread them with, such as ribbon or straw. Watch your toddler pick and try to shoot macaroni into the thread. You could also dye the pasta to teach kids about colors, color sequencing, and counting. This is a fantastic sensory play for 2-year-olds, encouraging them to practice their fine motor skills and hand-eye coordination.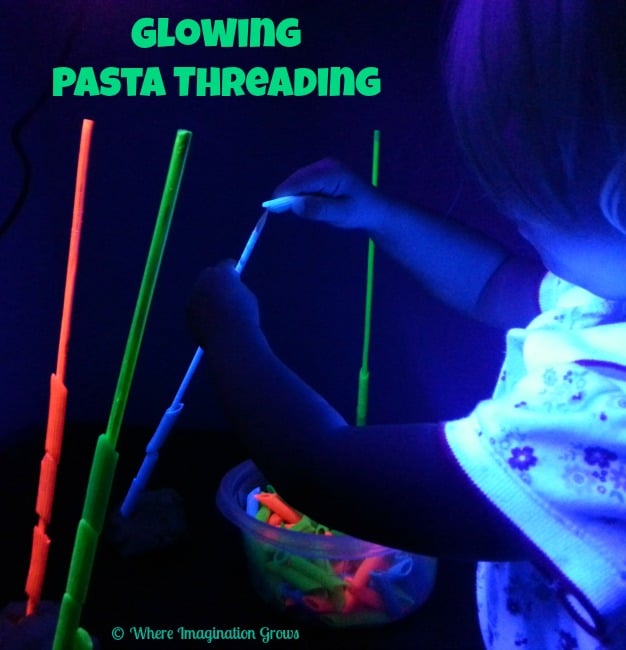 Source: Where Imagination Grows
The sensory bag is one of the best ways to occupy and engage babies and toddlers. And the best part is that you can easily make these based on the themes you have in mind! This constellation sensory bag is made with a gallon storage bag (ziplock also works), clear gel, star confetti, and glow-in-the-dark constellation cards. It's less than $5, and comes together in less than five minutes, but baby can have endless playtime with it!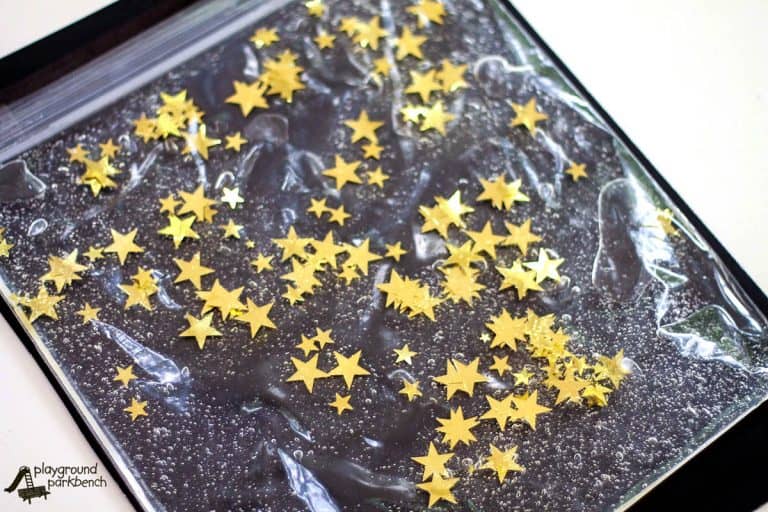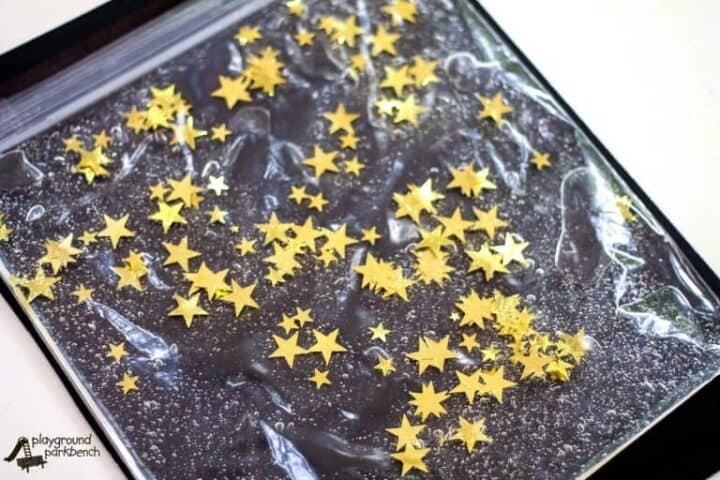 Source: Playground Parkbench
10. Sensory Activities for 18-24-month old at home - Oil and Water Sensory Bag
The oil and water sensory bag is an amazingly simple but mess-free sensory activity for babies and toddlers. You can take them anywhere to offer sensory input for when your little child gets bored or cranky. Simply mix baby oil, water, and food coloring inside a freezer bag, and make sure to tape all the sides to keep the bag from bursting. Babies and toddlers love touching, squishing, and observing the movement of colors, which engage their sense of sight and touch.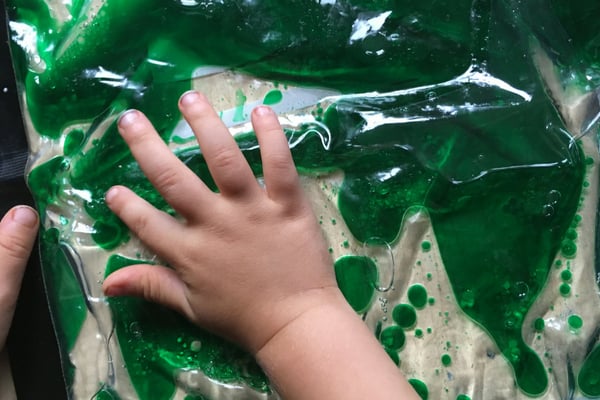 Source: Everyday Chaos and Calm
Toddlers won't be able to resist playing and exploring this edible sensory bin. Reason? It has all the good stuff in it – chocolate puffs, marshmallows, and whipped cream! This taste-safe sensory bin offers an invitation to play, allowing kids to make their own cups of hot choco. Plus, it offers tactile (touch), and olfactory (smell) experiences as they dig and scoop the cocoa puffs.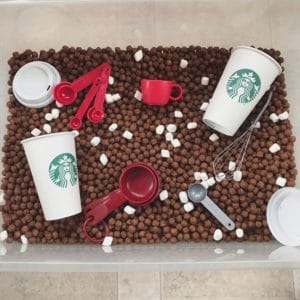 Source: ABCDee Learning
This is an amazing sensory play idea for one-year-olds as they're just starting to learn what they can do with their fingers! The mission is to rescue the taped animals from the cookie sheet. This sensory activity helps babies and toddlers develop in different areas: focus, communication, hand-eye coordination, problem-solving, and fine motor skills.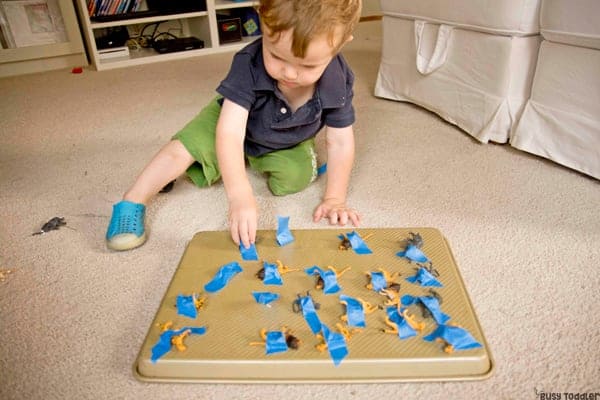 Source: Busy Toddler
Nurturing our kids through play gives them a fun and amazing learning experience. Sensory play teaches babies and toddlers valuable skills that come valuable in life. Fine motor skills and hand-eye coordination teach kids to grasp things, allowing them to learn how to do things themselves, from tying their shoelaces to dressing up. In the background, sensory activities also enhance kids' problem-solving abilities, patience, perseverance, and socialization.
Which sensory activities are your babies and toddlers find most engaging and enjoyable? Let me know in the comments!
RELEVANT POST: