Positive Affirmations for Kids - Teaching your children to have a more positive outlook in life is something we all want as parents. And if you are here, you probably already know how positive affirmations for kids can help your kids to become a better person and have a better outlook in their life. 
As someone that practices the law of attraction and positive affirmations myself, I wanted to also teach my kids positive affirmations. 
So that first brings us this question...
This post may contain affiliate links. Please read our disclosure for more info.
How do you teach children about affirmation?
There is really no right or wrong way to teach children about affirmation.
You can use Gratitude Journal for Kids, Affirmation Cards, affirmation boards, or coloring pages to make it interactive with your children.
That said, I like doing things simple.
One of my favorite books on positive affirmation is Louise Haye's Mirror Work. Her book talks about doing affirmations in front of a mirror. 
It's one of the most effective ways in making yourself believe in the things that you say out loud to yourself. 
With children that cannot read just yet, you can start with one-three affirmations that they can remember. If you have watched the movie 'The Help', there is a scene where the nanny repeats 'You is smart, You is kind, and You is important' to the kid. Those three phrases later have a very impact o the girl's life...
With children that can start to read, you can use positive affirmation cards. These work great when put up on the wall or as cards kids can hold in front of a mirror and say to themselves. 
Benefits To Affirmations: What do affirmations do for children?
There are so many benefits to doing  affirmations for children. 
Wire their brain with positive thoughts about themselves

- this helps them have more positive outlook on their future and have positive thoughts about themselves, boosting self confidence and self-esteem

Overcome anxieties and worries

- with kids that tend to worry or have anxieties, positive affirmations help them deal with these emotions. Affirmations have power in shifting your mind to thinking something positive about the situation or yourself. Done more repeatedly, these positive self talk for kids will help them self regulate their negative emotions more effectively on their own

We become what we think about

- Have you ever thought about what a thought such as 'Math is too hard…' will do for your kid?

Well, not all kids will love math and that' true. But if the kid was complimented on small additions as a kid and was constantly told that you are really good at math...and you are getting better and better every day with a little bit of practice! Imagine what that he would do to the kid.
These mantras for kids will teach your kid to be the person they want to be. I am a great dancer. I am an amazing singer. I play baseball like a champion. I am really good at reading….
All these positive self-talk will help children become the person they want to be...faster.
So here are 50 good mantras for kids. Pick a few that you believe your child needs the most. And use these as daily affirmations for kids. These are also great positive affirmations for students, if you are trying to pick a few that you can use in a classroom setting. 
And whichever way you practice positive affirmations for children, practiced regularly, there will be lifelong benefits!
RELEVANT POST:
POSITIVE AFFIRMATION FOR KIDS
Use as morning affirmations for kids to start the day on a positive note!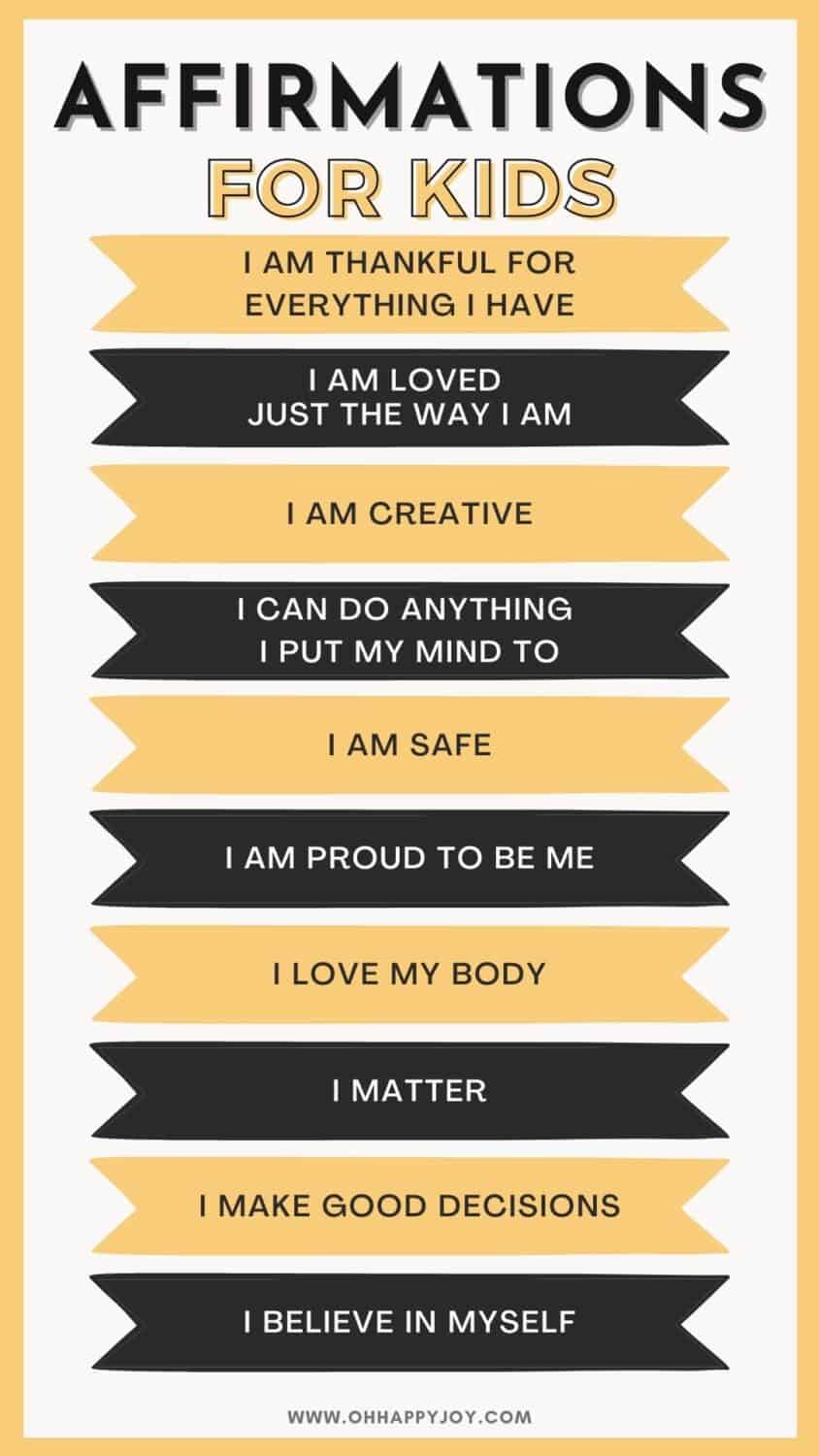 I am unique and special

I am a wonderful friend

I am honest and trustworthy

I am exactly where I need to be

I like myself just the way I am

I am important

I am smart

I am kind

I am brave

I accomplish great results

I am thankful for everything I have

I am loved just the way I am

I am creative

I can do anything I put my mind to

I am safe

I am proud to be me

I love my body

I matter

I am creative

I believe in myself

I make good decisions

I am awesome

I am a joy to others

I have many gifts and talents

I am beautiful

I am healthy

I have amazing ideas

I am a great friend

Challenges help me grow

Good things happen to me

My words have power

I turn failures into opportunities for success

I can become whatever I want to be

Learning is fun and exciting

I am strong inside and out

I am helpful

I am caring

I overcome challenges and become better

I have the power to make my dreams true

I am in charge of my life

I am a leader

I am enough

I am good at solving problems

I am patient and calm

I love being me

Mistakes help me grow

I make a difference

I can do hard things

I am fun

I include others.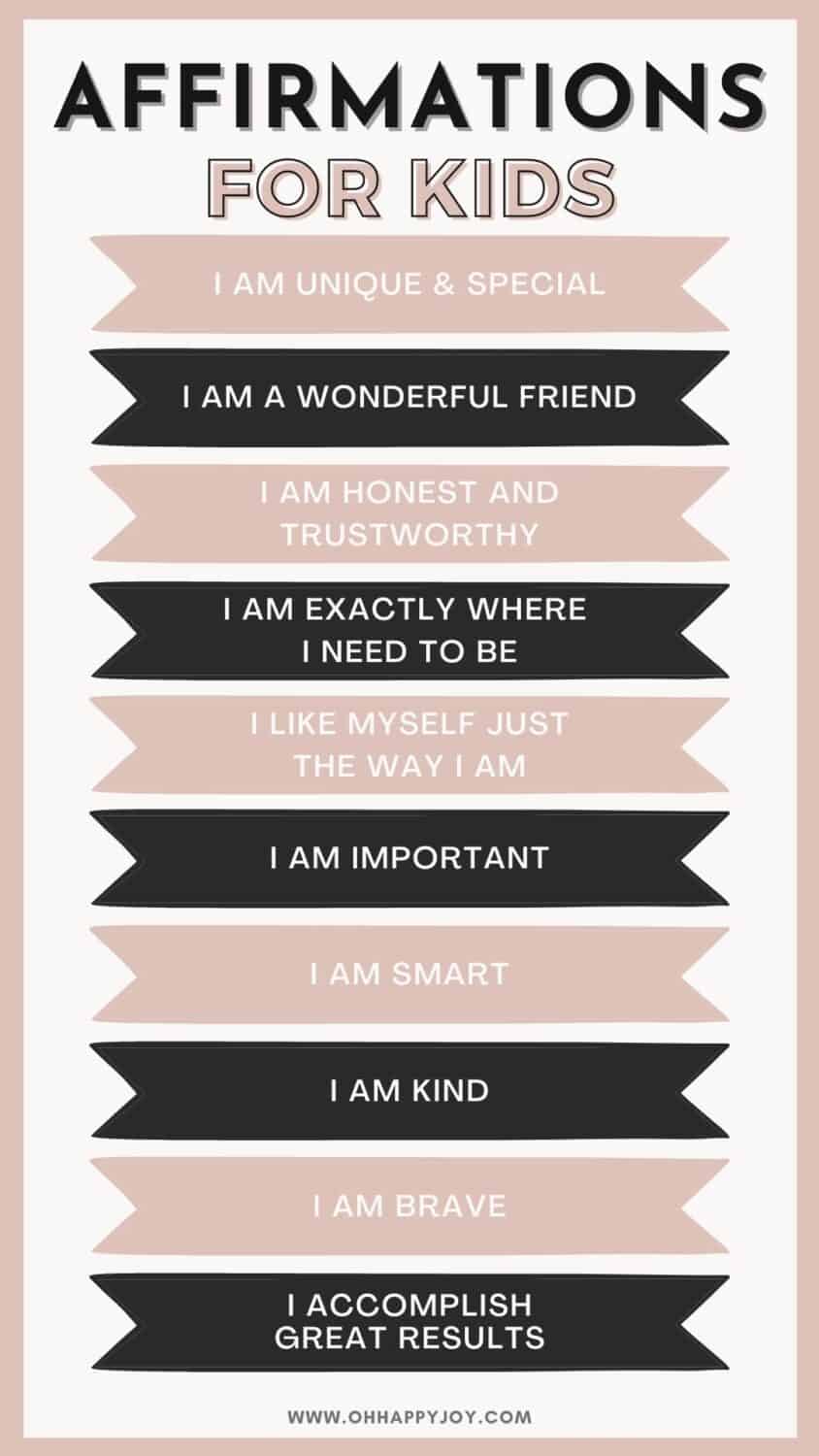 Is there kids affirmation you like to do with your children? Do share in the comment below!