Amazon Maternity Must Haves For Comfort - So here are few things that SAVED me during my pregnancy. These are all the pregnancy essentials I bought that helped me survive pregnancy. If you are looking for pregnancy must haves for expecting moms, then I sure hope this list will help you get through your pregnancy!
After having two boys (one epidural and one natural birth), one thing I realized is that every pregnancy is different. But the things a pregnant woman needs to survive your pregnancy period does NOT change!
These really saved me go through two pregnancies - I was working full time at this time and was always busy, but I swear, these made my life so much easier...and I hope it will help you too!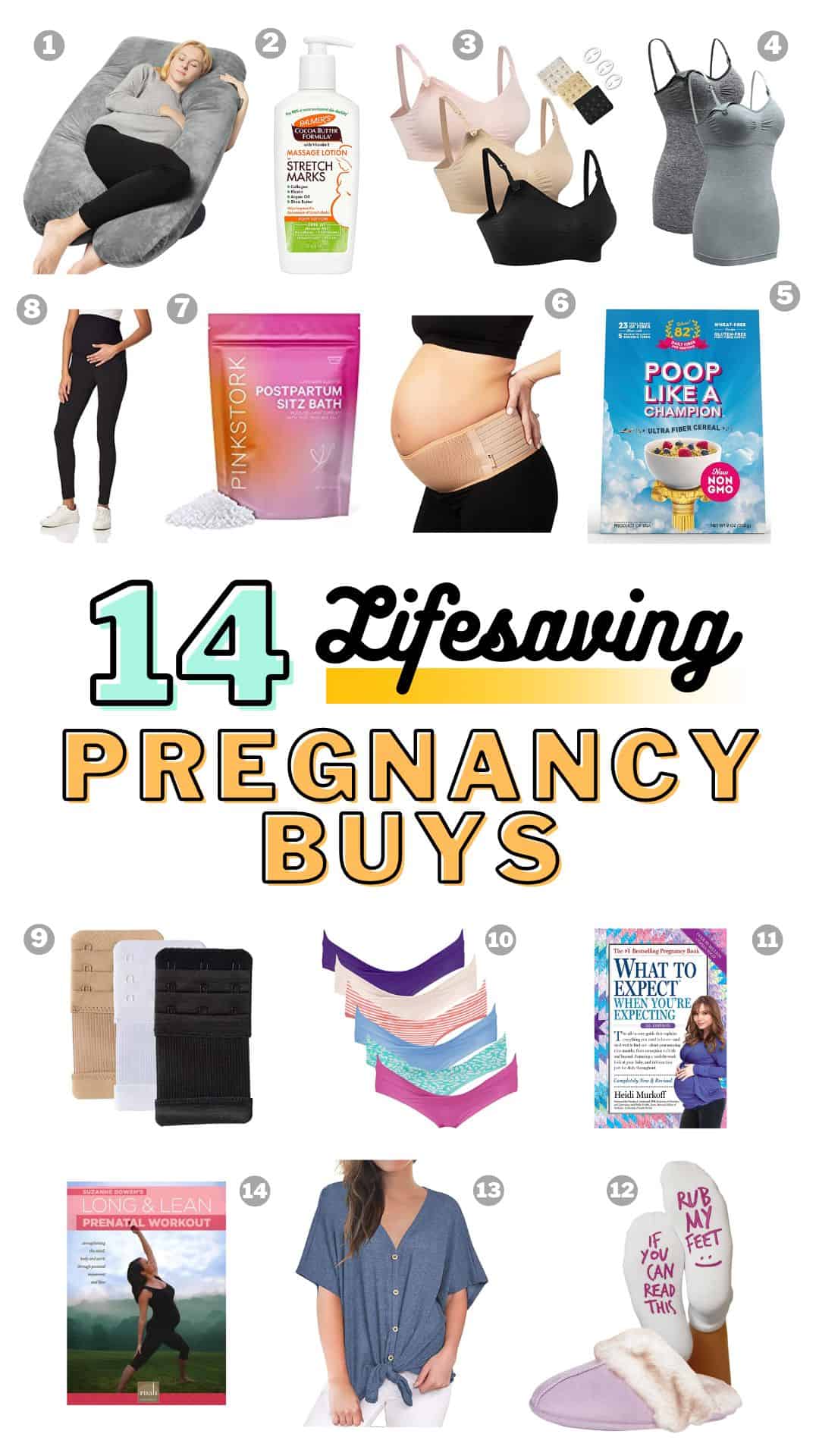 This post may contain affiliate links. Please read our disclosure for more info.
Pregnancy essentials - Best Pregnancy must haves for Smooth Pregnancy
Once you start to hit the mid-late second trimester, you will start to realize it's starting to really really become uncomfortable sleeping on your back.
When I had my first one, I made the mistake of getting these pregnancy pillow that had only one side...and boy that was a huge mistake!
With a big belly, trust me, you will be turning and shifting quite often and having two sides of the pillow where you can just turn your body, and not turn the pillow around every time you need to turn to the other side, will save you a lot of sleep!
2. PREGNANCY MUST HAVES: BELLY LOTION To Minimize Stretch Mark While Pregnant
I really didn't want to get stretch marks on my belly. I know for some people it's unavoidable...it could be your skin type or genetics...or you may not have applied lotion religiously like me while pregnant.
I started putting lots and lots of oil and lotion on my belly as my belly started to pop.
One thing to note is, you might want to avoid the oil when you are dressed to go out...it will stain your clothes and will look like you already have a baby that just cried on your shirt…
3. EXPECTANT MOTHER ESSENTIAL: NURSING BRA
Trust me...your bras will NOT fit as days go by while pregnant. If anything, this is definitely a must-have for expecting moms. And you will be needing these nursing bras a LOT after you have your baby and start breastfeeding. So why not get them early and put it to good use as your boobs start to get big while pregnant?
These will save you money down the road having to buy nursing bras.
I love these wireless ones since you will soon realize wires aren't all that comfortable while pregnant. And with a growing baby pushing all the organs in your belly, you will want all the comfort you can get and not put pressure on your boobs.
And if you are like me and not a fan of these clip-on nursing bras, you can get these cross-front nursing bras that will be comfortable and easy to pull down when you are nursing your baby after birth. Definitely a pregnancy must haves for comfort on Amazon you have to get!
What's better is, get these nursing tank tops with built-in bras that have pads on them so that it works as a nursing top and maternity clothes!
I bought these ones from Amazon that I wore throughout my pregnancy and also after birth that I definitely got my money's worth.
If you want to check out my full post on the maternity clothes that also turn into nursing clothes on Amazon, then you can check out my post here.
RELEVANT READ:
5. pregnancy product: Fibrosis Cereal For Pregnancy Constipation and Digestion Discomfort
If you start to have issues with your digestion and constipation, make sure you have this cereal handy. Along with oatmeals and greek yogurt (anything to make going to the bathroom easy breezy), this will help your bathroom trips much more pleasant.
I didn't have any issues with my first one but I definitely could use any help for my second one.
With my second one, as the due date neared, my belly was getting more heavier and heavier. And since he was sitting much lower in my belly, it felt heavier than my first pregnancy.
If you need relief from your growing belly and gravity doing its work to make you feel uncomfortable, these belly belts will help you feel relief.
You will start noticing that it instantly makes your belly lift up a little relieving the pressure on your belly and lower half of your body!
I've actually never tried this until after having the baby for my postpartum needs. But some moms swear that soaking your body in a warm bath with bath salts helps with nausea and restless leg syndrome.
Had I known this, I think I would've spent every night soaking my body in warm bath with bath salts, since I went through pretty bad nausea in my first trimester and restless leg syndrome all throughout my pregnancy!
If you are like me and have pretty bad nausea, this is your pregnancy must haves for your first trimester!
I've worn all my pre-pregnancy clothes as long as I could, including leggings.
But trust me, there will come a time, when even your leggings won't fit you and become super uncomfortable with your growing belly. So, if you are someone that likes to buy things and use it for a long time, get these pregnancy leggings early on in your pregnancy and wear them throughout. You can also wear these after giving birth too for your postpartum body, because...you know it will take some time for you to get back the tummy before you had the baby!
9. pregnancy stuff you might need: BRA EXTENDER
Until your boobs get really big to a point your previous bras don't fit anymore, you can get these handy dandy bra extender to help you extend the life of your pre-pregnancy bras while you are pregnant.
These are simple to use and will definitely save you from having to rush and buy nursing bras!
These pregnancy undies will save your day as your belly grows. You will start to notice how your regular undies are rolling down and bunch up and becoming uncomfortable!
These are great since they have good coverage on your growing butt but low in the front for your growing belly size!
11. pregnancy congrats gift: Pregnancy Announcement Shirt
They are super cute and you will want to leave a photo wearing one of these cute shirts.
One thing I regret is not taking enough photos of myself when I was pregnant. I would sometimes just take photos of growing belly but not really myself with the belly...Especially for my second pregnancy, boy I was busy with the older one and also work that I never really had time to take pictures of myself!
So, please....listen to this mom who wishes she had more pictures of herself...get these cute shirts and take some photos!
12. pregnant mom essentials: Baby Books
I'm not here to recommend you books like 'What To Expect When You Are Expecting'. You probably already have this book.
I had this book for my first pregnancy as well. It's informative and educational for someone going through pregnancy for the first time. But the book I REALLY recommend to my friends who will have a baby for the first time, is get them to read baby books before baby comes out!
I had no clue what it's like to have a baby...until I had my very first one. And I had no idea how to take care of a baby nor what they need from me as parent. It was pure survival until I picked up these books and started reading about what to do.
So, I would highly recommend you read these before you give birth to prepare yourself...and maybe read again after the birth as a refresher.
Going through the winter while pregnant, you will need cozy socks and non-skid slippers with good memory foam to make walking comfortable. Anything to really make you comfortable through your pregnancy, it's a definitely a must.
And you will want your husband to give you lots of foot and leg massages as they get swollen. If you are like me and also have restless leg syndrome, then ever more reason to need massages every night. These socks are so cute - instead of asking your husband, just show him the bottom of your socks!!
I love these ones from Amazon - they are super cute, comfy, and cozy!
14. Maternity clothes that turn into NURSING CLOTHES - maternity must-have clothes:
Who wants to just buy clothes for pregnancy? It's only for couple months really and it just feels like a waste, doesn't it?
To avoid having to buy clothes just for pregnancy, you might want to get ones that can be used as nursing outfit. I already have a post on this 'Nursing outfits that don't scream breastfeeding' here, but I've picked out few of these clothes on Amazon that you can try out!
14. Prenatal Yoga
If you want to have a smooth delivery and a fast recovery period, doing some level of exercise is a must! As someone that regularly practices yoga, these prenatal yogas are safe and will relieve pain in your body as it gets heavier.
Some yoga postures may not be safe when you are pregnant so you might want to switch to more gentle prenatal yoga practice. I personally think doing mild exercise is a pregnancy must haves for comfort. You can get pregnancy video on Amazon or you can always find a Youtube video like Boho Beautiful Yoga (my favorite yoga channel) for free!
What are some of your pregnancy must haves for comfort on Amazon that helped you survive your pregnancy? Do share with me in the comment below!
RELEVANT READ: