Christmas Stocking Stuffers For Toddlers - It's that time of the year!!!
If you follow holiday traditions and can't wait to stuff those stockings by the fireplace for your little one, then these will help you fill that up pretty quickly.
I hate getting things that end up in the trash quickly. Many cheap toys that my son used to get from birthday party favors ALWAYS ended up being in the trash can in a day or two.
The excitement of getting a novel toy wears off pretty quickly...and that's why I like getting toys that last years now since I know spending money on toys that last only a day or two is really a waste of money.
So, if you are planning to put in really high-quality toys for your toddler (and this counts if you are the grandma trying to decorate your home for your grandkids), this list will surely help you get the ones that your toddler will ACTUALLY play with.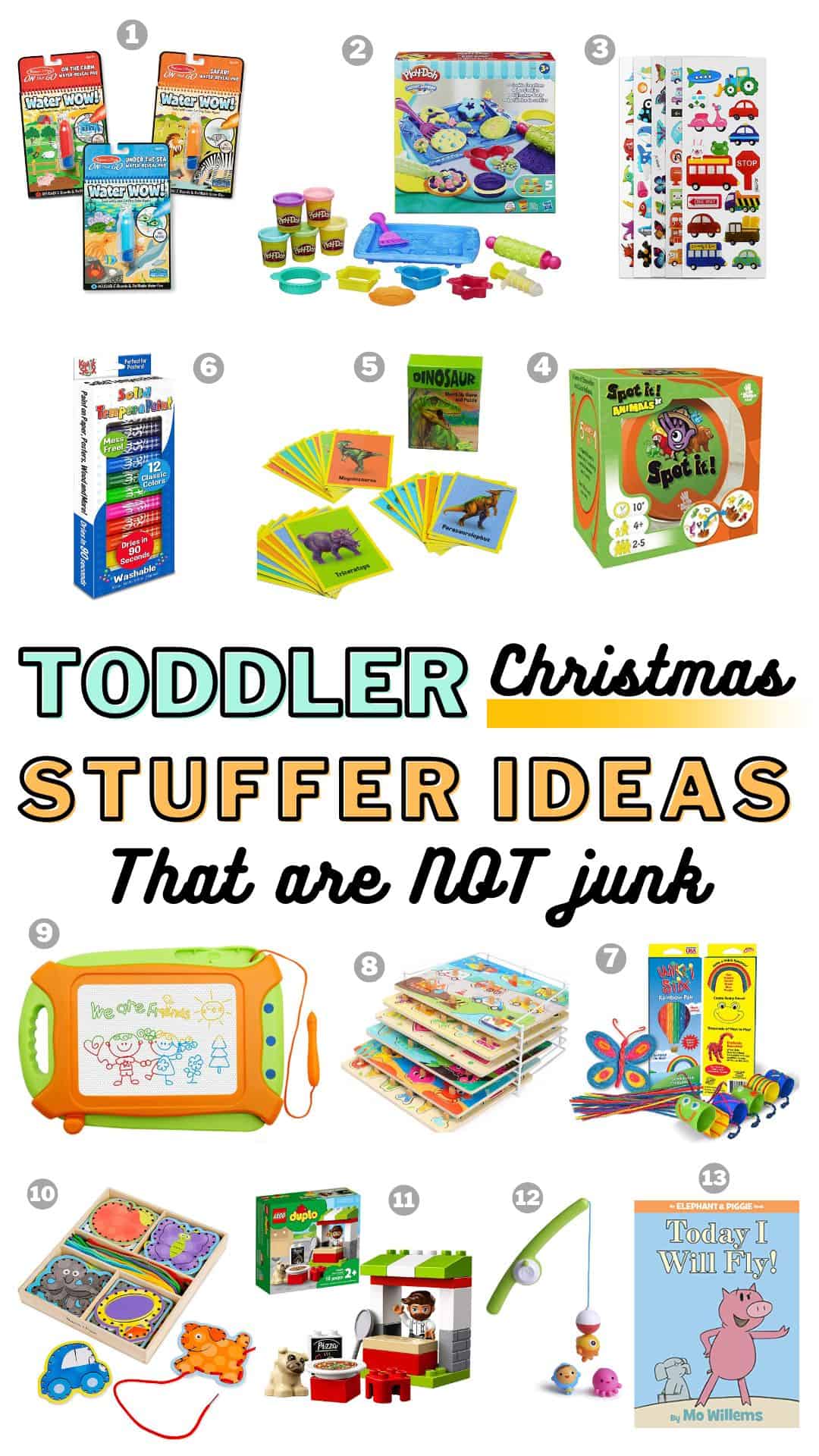 This post may contain affiliate links. Please read our disclosure for more info.
Christmas Stocking Stuffers For Toddlers
I've never seen a toddler that doesn't like this!
Whether you have a boy or a girl, your toddler will be so mesmerized with how they can color with these coloring books and do it again and again.
And it's mess-free so works really great while you are driving in the car too!
Toddlers between the age of 2-3 are excellent age for play-doh.
They will spend hours on this, as long as you have a working play-doh that's not dried.
And if play-doh dries, you can always buy just the play-doh and let them play with these.
At only $10.99, this is a great stocking stuffer that your toddler will absolutely love!
Toddlers at this age become really interested in stickers. I would get few stickers that have different texture for them to be more interested in the stickers like this one below.
These are really great, especially when your kid is starting to show interest in coloring. They come out much thicker than regular crayons.
Kind of like lipsticks...but in fun colors. Even for me, using these was fun so your kid will definitely enjoy coloring with these!
I've mentioned this in this post here as well where I talk about toys that last more than 2+ years.
This may be appropriate for 3-4-year-olds, but they are really great at entertaining your kid with two different types of games - matching game and a floor puzzle.
The cards are thick (like regular puzzle thickness) and big so it is perfect for toddlers!
Relevant Read:
Spot it is another great game that your toddler will enjoy playing.
It's so age-appropriate and this will also help their learning or recognizing objects on the card and understanding the connection between one card to the next. And it's small enough to be put in the stocking, so perfect!
I love this age when the toddler start to explore drawing.
Even when your toddler isn't really into coloring with crayons (mine took awhile to become interested), the draw and erase boards are great at getting the interested in drawing and creating art.
My son around the age of 2-3 started to show interest doing puzzles.
We started off with something really simple like this one and slowly started to try more difficult ones.
He felt a huge sense of achievement when he was able to finish the easy ones on his own.
I would highly recommend puzzles if you want to get something meaningful for the stocking!
Wikki stix are great if your toddler like arts and crafts.
The unique texture and ability to bend, fold, squeeze, connect these will make it fun for your toddler.
A great stocking stuffer for toddlers that enjoys being creative!
This is a great fine motor skills toy that will occupy your toddler for awhile!
I can't leave out Duplos!! I've talked about it in this post as well where this is one of the toys that will last 2+ years.
If you want to truly get high quality stocking stuffers that your toddler will play for years, then this is it!
The one like this that is under $10 is perfect as stocking stuffer that will not go to waste for sure.
Every toddler needs a good bath toy! And this fishing bath toy will surely entertain your little one while they are taking a bath.
It's great even outside the bath as they can play with this on the floor.
I've definitely gotten one of these for my son and he played with it for days and weeks.
The reason why I picked this book over others is that your kid will definitely fall in love with Piggie and Gerald.
My son started reading this book with me since he was 2 years old and even now he loves them.
And there are a lot of stories to choose from. Getting one that your toddler hasn't read will certainly keep him entertained!
Hope this helps!! Really, any one of these will be a huge hit with your toddler and you won't waste money on these high quality Christmas stocking stuffers for toddlers!
Let me know in the comment if you have any other ideas!
Relevant Ideas: