I have been WAITING for many months to write this post about how to make money with Pinterest.
Before I started blogging, I had no idea that Pinterest could be a source of income for me. I remember pinning 'wedding hair styles' for my wedding when I first started using Pinterest!
You are probably wondering if it is REALLY possible to make money with Pinterest. Perhaps, you got here because you were searching for passive income ideas. Or you ended up searching 'how to earn money using Pinterest'.
I've eventually learned how to use Pinterest for blogging and I'm proud to say I do earn sizeable income from Pinterest. to give you an idea...this is what it looks like on one of the sources I use to monetize my blog.
And remember...this is just ONE of the sources!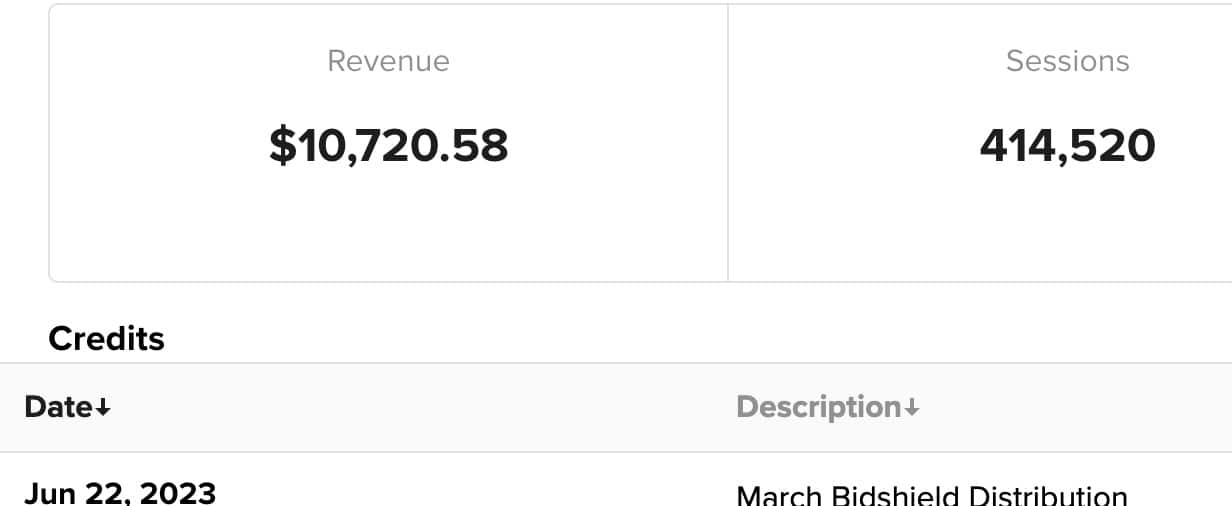 So no you know that it IS possible to make good income even with a small blog like mine, it is definitely possible for you too.
How To Make Money With Pinterest 2023
Well, not only Pinterest great at pinning recipe ideas and arts and crafts, it is a 'SEARCH ENGINE'. According to Pinterest, 465 Million users use Pinterest every day to search for things on its platform.
And because it is a visual search engine, unlike Instagram or Tiktok, Pinterest is amazing at driving traffic to your website. While people hardly ever visit 'websites' from Instagram or Tiktok profile....Pinterest actually drives traffic to your website! And Traffic means money...!
How Much Money Can You Make On Pinterest?
We all have only limited time. So is it worth spending time on trying to make money with Pinterest?
Well, what if I told you it's absolutely possible to make more than $200 per day on Pinterest?
And you are right...you don't need any experience to do this....because I started with zero experience at all!
So, here we go. I will share with you my step by step guide on how you can achieve your financial success with Pinterest!
How To Make Money On Pinterest: Step By Step
Using Affiliate Marketing
You may have seen some social media posts about people saying Lululemon paid me $8K...and here's how.
Well, that's what we call 'affiliate marketing'.
You are using Pinterest (visual search engine) to post about products (lululemon clothes) and once that person purchases that product, you get a commission.
As long as you know how to create images and post on Pinterest, it is absolutely possible to earn affiliate income using Pinterest.
Make Money With Pinterest With A Blog
This is my favorite way to earn money on Pinterest. When I first started blogging, I had NO IDEA on what I was doing. I just followed what other people were doing...and read countless posts that told me what I needed to do...
I didn't have a lot of faith that it can truly replace a full time income...all I wanted to make was reach at least $2K per month!
I thought blogging is only reserved for those people who knew how to write...
But it's far from the truth! You don't need great writing skills NOR have to be super tech savvy to be able to start using Pinterest and make money!
For me, this is by far the best way to make money with Pinterest since you truly do get to see the recurring income month after month.
How I Make Money On Pinterest With A Blog
I've really dabbled in may different types of ways to generate income online. While some were super successful, I really really wanted to be successful with my blog.
I view having a blog as having a real estate property online. Just like you collect rent month after month from your tenants, you collect money month after month from your blog!
But it took a LONG time for me to get to where I am with my blog. It wasn't an easy journey because for the longest time, I didn't know what I was doing.
And I say this because I don't want you to think that this is 'get rick quick' scheme. It does require work, but your effort will surely be rewarded!
Let's Make Money On Pinterest With A Blog!
If you are a beginner and you want to start generating massive traffic to your blog or your website, I am going to walk you through every step of the way to make this happen!
I am constantly learning and updating my strategies based on how Pinterest algorithm changes. So my strategy is totally up to date on most recent changes Pinterest has implemented.
Any business that wants to generate traffic with Pinterest will totally benefit from this...because Pinterest is a traffic generator for sure!
Get access to my training that covers all the Pinterest secrets I use (Not sure if it's secret but I do think it comes from non-stop learning,testing, and implementing!!) to make money on Pinterest!
So check out how you can truly monetize this amazing platform and start earning income month after month!