Are you looking for unique 1st birthday gifts? It's such a special time for the baby and the family and is often celebrated in a big way. In our culture, it's celebrated BIG time where you have a very huge party where anyone you know is invited. And naturally, anyone invited would be thinking about the first birthday gift ideas.
I've been to so many 1st birthday parties where we celebrate it big (called Dohl) and now that my two boys are two and six years old, I know what is a 'good gift' as 1-year-old birthday gifts.
Before you go ahead and scroll through, let's think about what babies are like at this stage.
Babies at this age would still be putting things in their mouth (so no play dough type of toys please).
They have a very short attention span and some babies can walk or are at least practicing standing, if not crawling. Their motor skills are not yet developed for complex activities like difficult puzzles or duplos, just yet. (they will though as they get closer to 2!)
Getting these 1-year-olds to be entertained and intrigued by a new toy isn't that hard….but rather getting them to be interested LONG enough is definitely a challenge.
Personally, having had two boys, I would say a good gift for 1-year-old boy is anything that grabs his attention for a long enough time, something that helps him be active, and development appropriate
So, I've compiled ideas on unique first birthday gifts for 1-year-old boy (mainly boy toys since I have two boys but these are also good as gifts for girls). If you are looking for 1st birthday gift ideas, then scroll through to see what unique gifts you can get for that 1-year-old!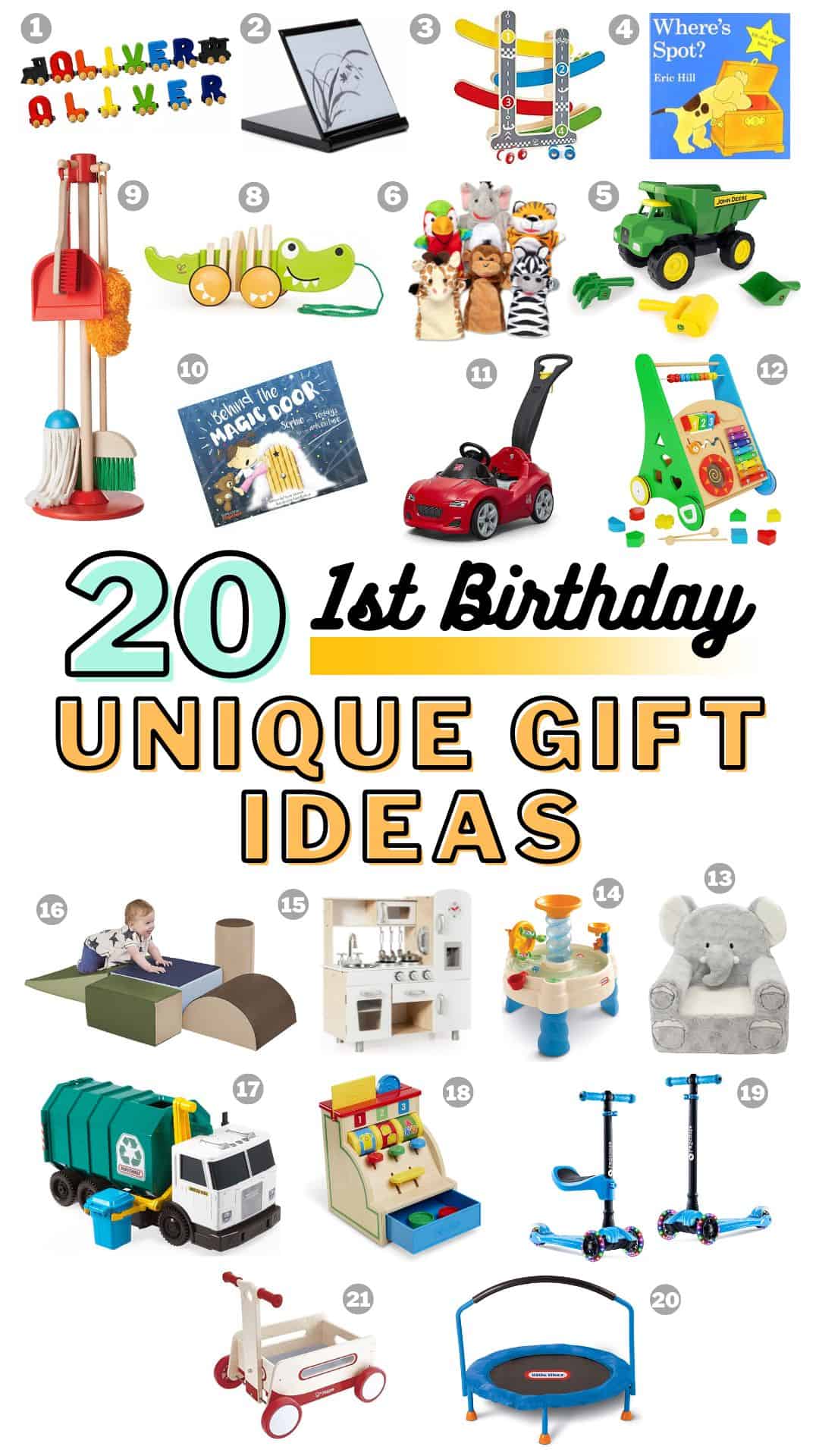 This post may contain affiliate links. Please read our disclosure for more info.
Unique 1st Birthday Gifts
Babies at this age will develop skills to do a puzzle. These are a great tool to teach them their name but also big enough that the baby can easily learn to do these at this age.
Mess free toys for the one year old? #yesplease. Babies will soon begin to be interested in coloring and working with paint brushes. These are great since the one-year-old can explore paint brushes WITHOUT the mess. Here come mom's hugs!
If you are a boy mom, then you know your boys will love cars. This is a great toy to get your baby's attention and play with the cars as they slide the cars down the slope!
These are so appropriate as 1-year-old birthday gifts. When you have a baby that can't sit long enough to finish a board book, lift a flap board book are great to get their attention and build vocabulary. Educational? Check. Interactive? Check.
Soon you will take your baby to the playground or the beach (here comes the summer!) And these beach toys will come in really handy in getting them to play with sand (not eat them). 1 year old baby boys also tend to be drawn to trucks, trains, cars, airplanes….and these trucks are an AWESOME toy both indoors and outdoors.
These were a big hit for my 1 year old! 1 year old will love stuffed animals that are ALSO interactive. A must have in any household with kids! (my 6 year old also loved it!)
1 year old babies will soon learn than pulling a toy is FUN! Make it unique and special by personalizing these pull toys as 1st bday gift!
While cleaning may be the last thing we as adults would want to get our hands on, it will be fascinating toy for babies! They love these cleaning set toys and pretend to help around the house.
If you are an uncle or an auntie looking for a unique 1st birthday gift, then this might be a huge hit! Maybe more so with the parents than the babies, unless your baby LOVES reading and can sit through a fairly long book. We got this as a gift for my son and we absolutely loved it and still read them years after!
Whether you have a girl or a boy, these ride on cars are really great as 1st birthday gifts. As babies start to walk and want to push and pull things on their own, they will be so entertained with these.
If the baby isn't walking so proficiently by their 1st birthday, the walkers are a great gift idea. They encourage babies to walk on their own and practice their walking skills.
Something about having their size chair makes them love kid size chairs. The one year olds may want to do everything sitting on their special chair just made for them!
Babies love to play with water. And water table is a huge hit, especially during the summer time. They can spend quite a long time playing on this water table, so if the birthday is in the summer, it's even a better gift!

Does the baby love coming to the kitchen and play with all the kitchen utensils? Give them a pretend kitchen they will play in for years to come! What's better is to add few kitchen toys such as the Melissa & Doug fruits & veggies set that baby will learn to cut.

By baby's first birthday, the baby will definitely be crawling or standing at the least. And these climber sets are GREAT at getting them to be active while at home and keep them entertained.

If for one year old baby boy, they will love ANY trucks. These interactive trucks were a huge hit with my one year old who still plays with them at 2 years old.

This was our christmas gift to our then 18 month old and he had a blast playing with this. Melissa Doug Cash Register toy is simple enough for 1 year old to play and be entertained! And would be a great pretend toy as they grow older!

If the baby is already walking by their 1st birthday, this is a great gift idea. Even if they are not walking, soon they will be walking and would be interested in a scooter like this one. I LOVED this for my one year old boy who couldn't yet ride the scooter standing up, but he quickly learned to scoot around sitting on the chair part. Now that he is 2, he is starting to ride this without the chair. Definitely an awesome toy gift idea for active 1 year old boy!

If you can't have a big trampoline in your house, then these mini-trapolines are great for this age. Babies will learn to jump on these fairly quickly and have a blast!

Pulling and pushing toys are a great hit at this age and even better when you can carry your favorite toys in them. One year olds will find many uses out wagons as they play with it!

Hope this was helpful in finding unique birthday gifts for 1 year old boy or (girls too!). Share in the comment below if there are any other gifts that 1 year olds have liked!