How To Create Kid Friendly Living Room - As a mom of two, I've been searching for kid-friendly living room ideas, as we are also planning to move to a new home, and switch out our old furniture. We spend a lot of our time in our living room/family room, and having a kid-friendly living room furniture and play area in the living room is so key!! I'm on the lookout for one of the main piece of furniture, kid friendly sofa for our living room.
As I look to having an organized yet cozy living room where we all feel good as kids and adults, I wanted to share few kid-friendly living room decorating ideas that caught my eye. 
This post may contain affiliate links. Please read our disclosure for more info.
Kid-Friendly Living Room Furniture
It all starts with having the right kind of furniture! As we all know, kids get messy. And they fall and bump into a LOT of things ALL THE TIME. 
Both my 6-year-old and almost-two-year-old boys like to jump on the couch and spill things on the couch making a mess all the time. And right now, we got rid of a coffee table, but I want to get one, that's kid-friendly, of course. 
And it's unavoidable having the toys spill over from their bedroom to our living room since that's where we mostly hang out. 
We have created a space where we 'dump' all toys found in the living room, but I wanted to create a play area in the living room that is can minimize the mess, yet easily accessible to kids to get their toys and play. 
So, with that said, with kids running around, making a mess in the living room area, the main things I wanted to look at were: 
Get Kid Friendly Couch For The Living Room 

Get Kid Friendly Coffee Table 

Have An Organized Kid Play Area In Living Room 
Kid-Friendly Couch For The Living Room
First of all, it was so important that it is EASY TO CLEAN! My main goal was to find an easy-to-clean kid-friendly couch, that's also very comfortable. 
Right now, we have a sectional, and we love having a big and deep sectional couch in our living room, so my focus was to find something exactly that. Sectional, easy to clean, comfortable kid-friendly couch for the living room, just like the one I found here. Below are few of the styles I liked!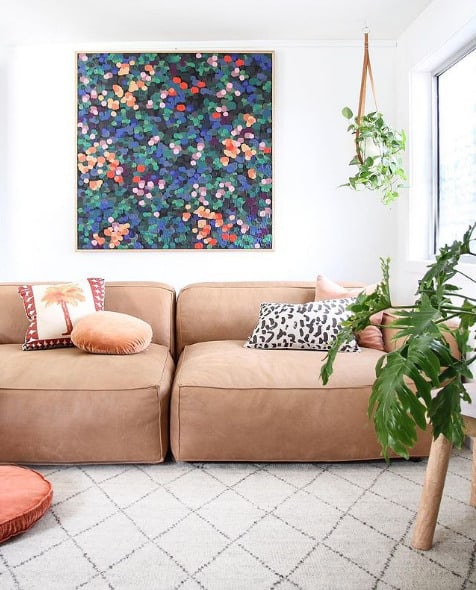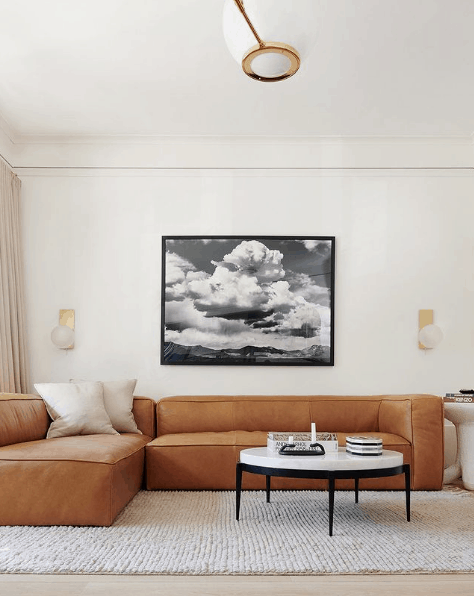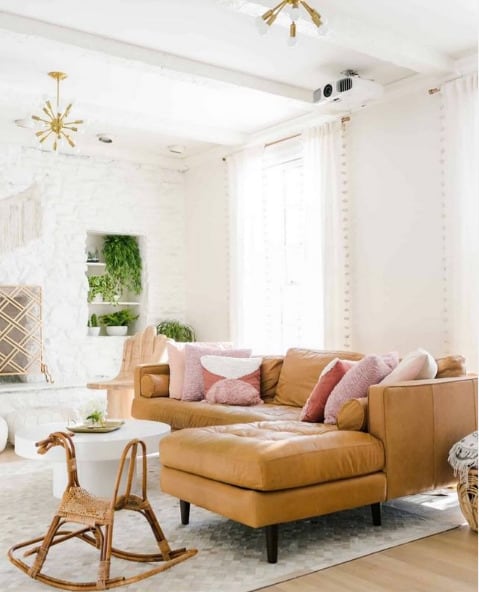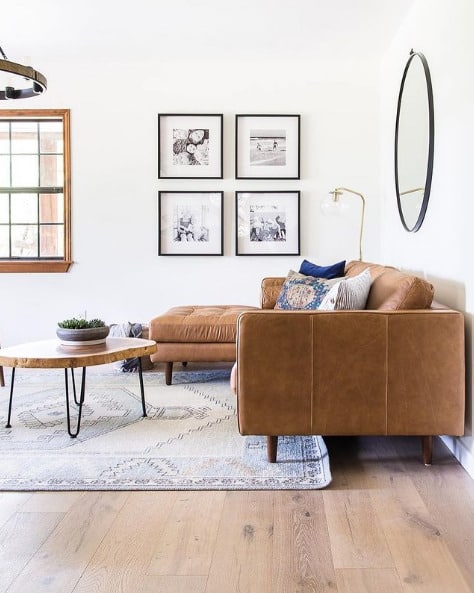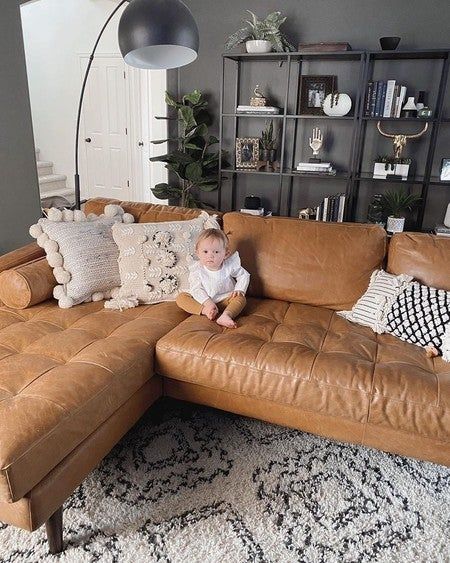 RELEVANT POST:
Kid-friendly fabric couches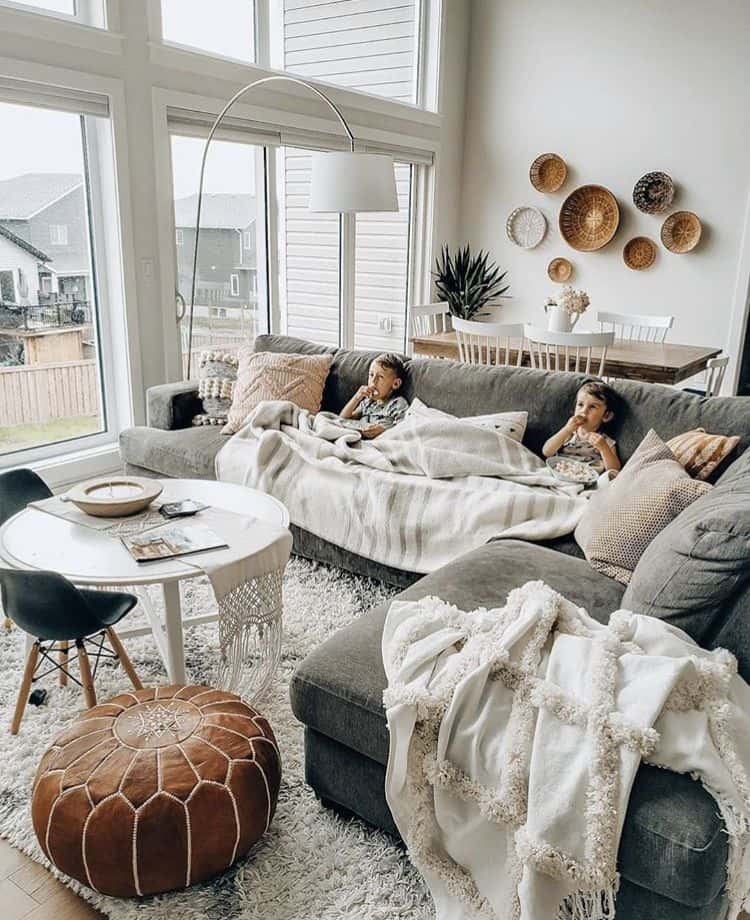 Where you can get it:
Leather Couches For Families With Kids:
Fabric Couches For Families With Kids:
Kid-Friendly Coffee Table
We used to have a rectangular coffee table that had sharp edges, which we got rid of when our first baby was starting to crawl. And we never replaced it! 
Now that he is 6 years old and our second one is 2, it's time to get kid friendly coffee table in our living room again. 
The focus was to find something that doesn't have sharp edges, and ideally multi-functional. 
I found many options that are kid-friendly round coffee tables, but I also really liked some that could work as ottoman.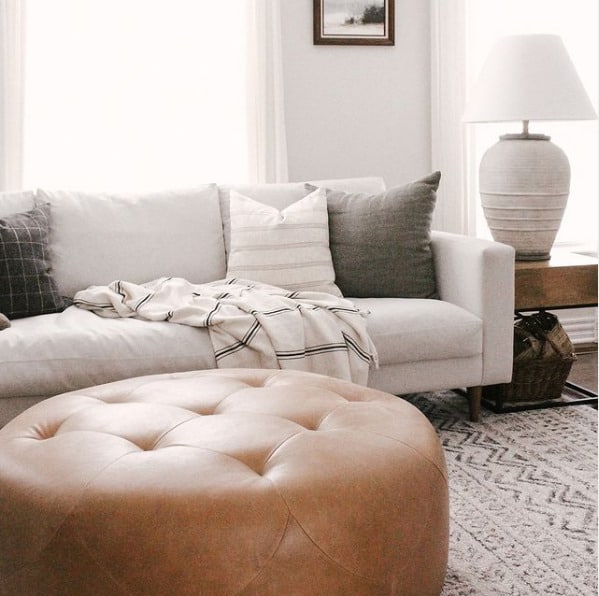 Where you can get it: Article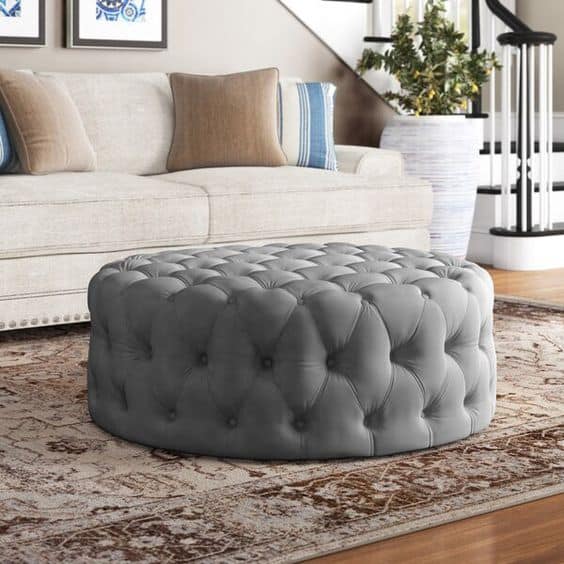 Where you can get it: Modway Store
Round Wooden Table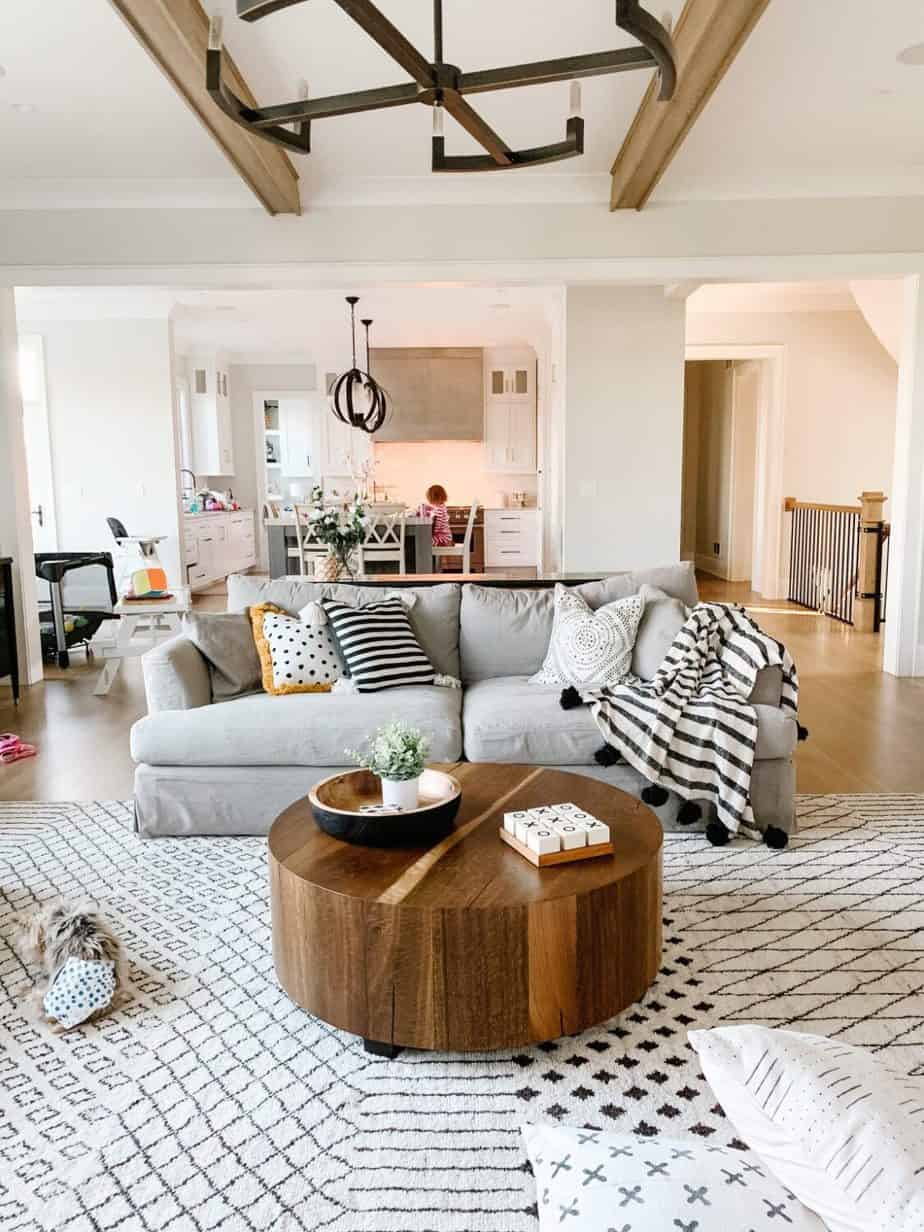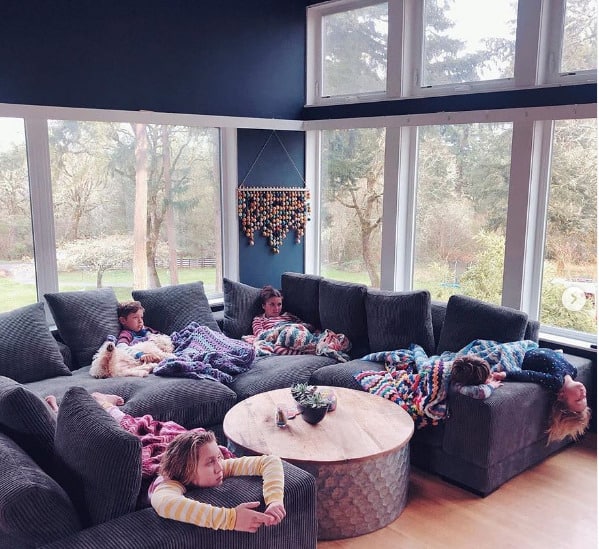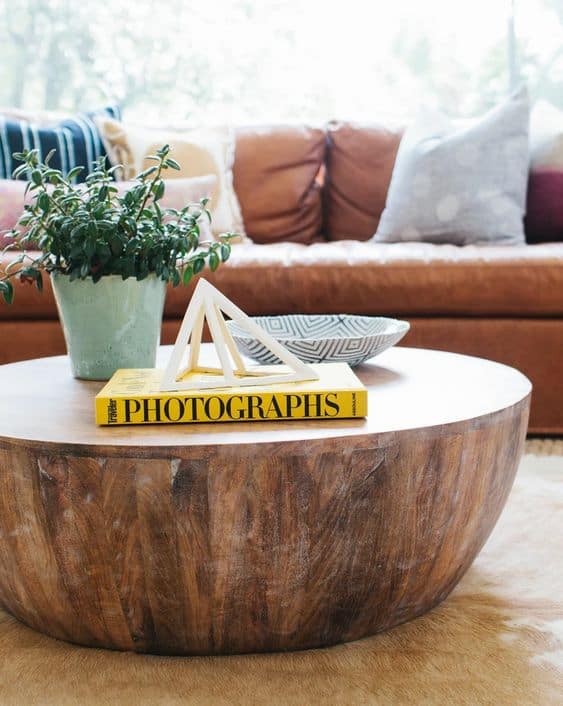 Where you can get: The Urban Port
Square Ottoman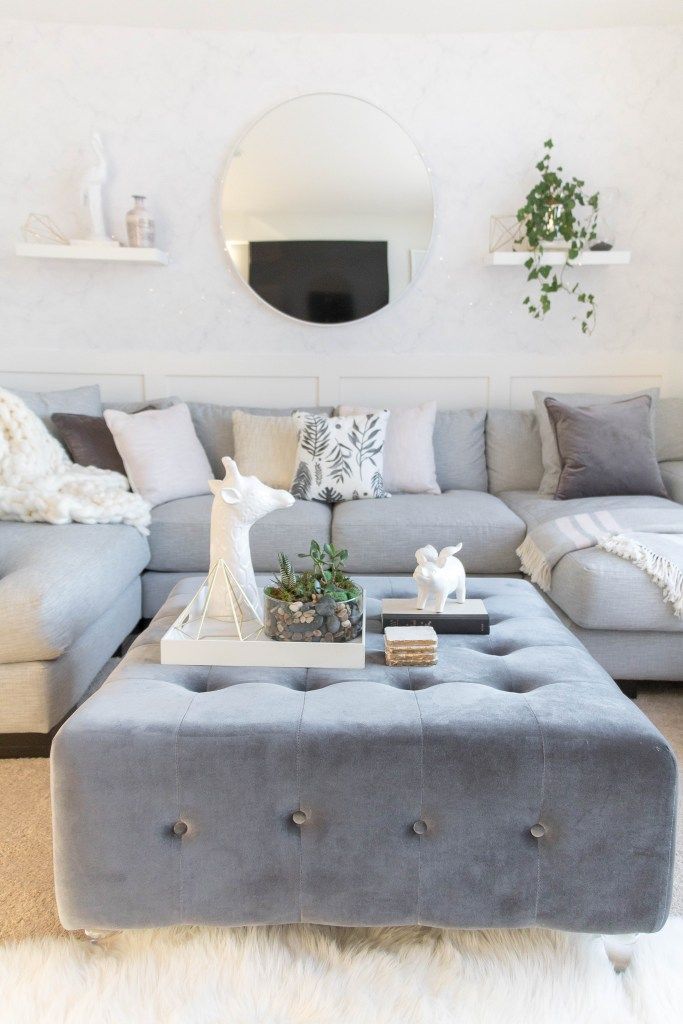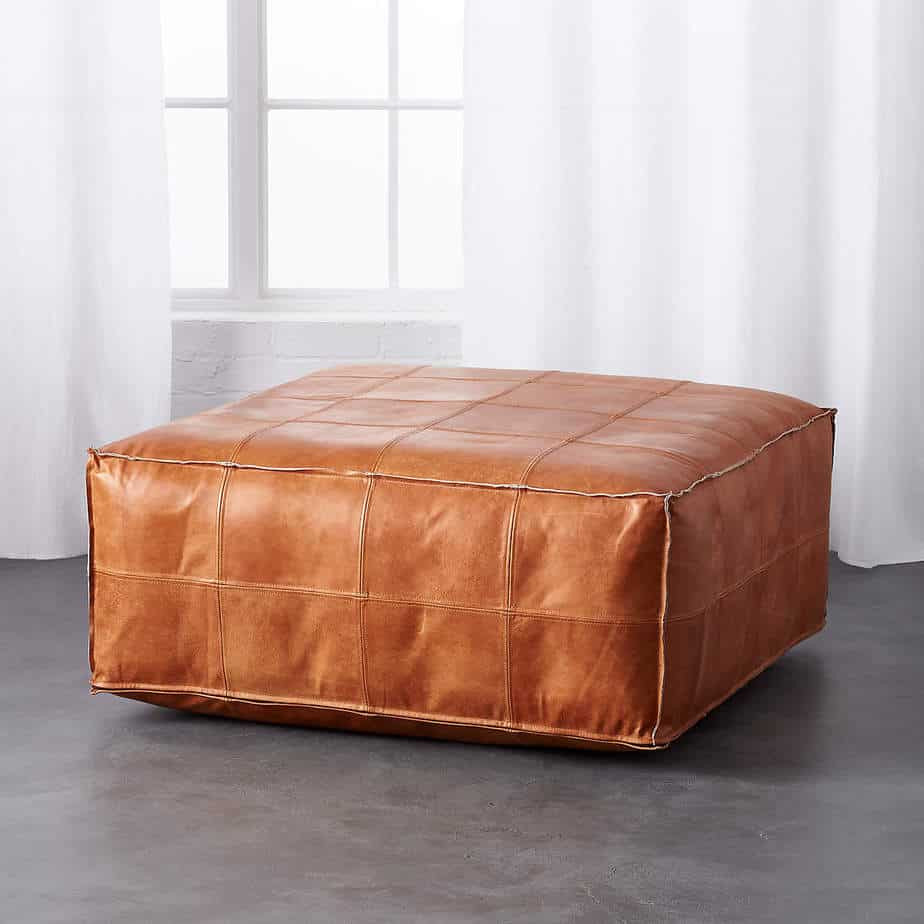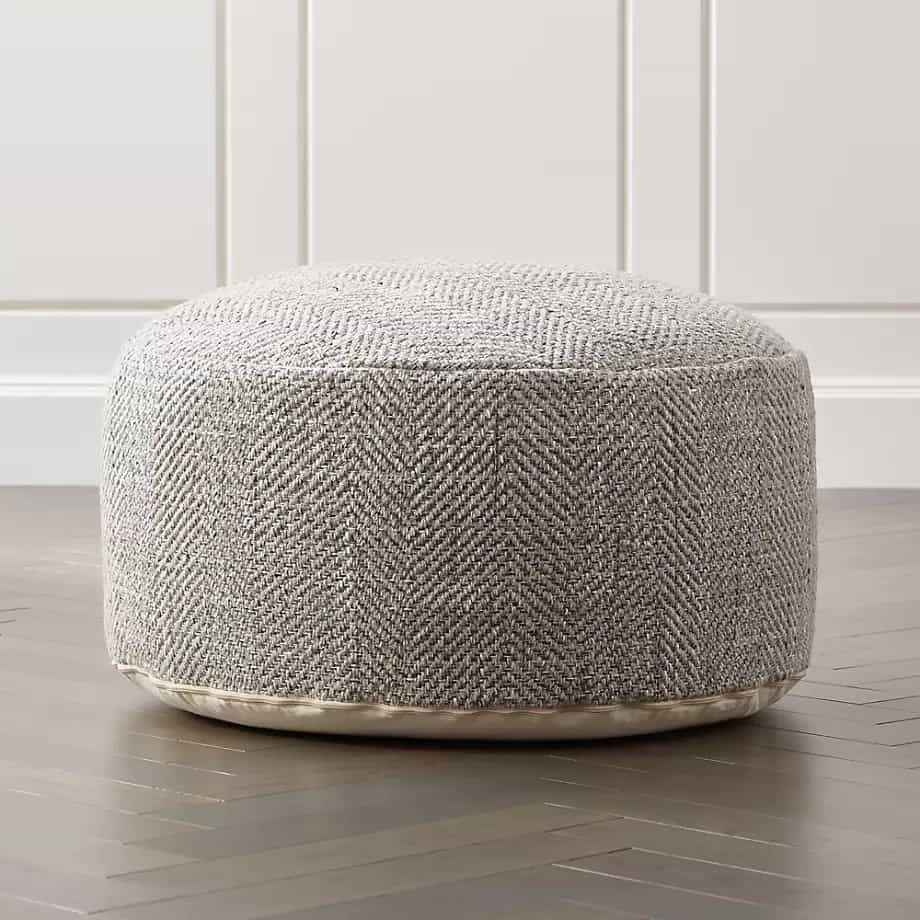 Play Area In Living Room Ideas
Having a play area is so essential because, they will definitely play in the living room as adults hang out there. 
Our living room is the same thing as the family room because we don't have a formal living room in our home. 
And I frankly, never liked having formal living rooms, since it always gets NEVER used. So when we do move, I will be looking for homes that just have one great room or one large family room that functions as living room. 
And when we do invite people over to our home, kids always end up playing where the adults hang out (not the 6 year old but 2 year olds do require supervision!), so having a separate play area is so key! 
So here are some ideas I found that helped me visualize the space and also toy organizing ideas in the living room that helps me organize all the toys.
Use Versatile Shelving Units
Use bookshelves to organize toys in one part of the living room. Have them easily accessible to your kids. I find that kids play with toys more when they can actually see them. But if you want to hide the mess, then you might want to use baskets to keep the toys in, or use furniture that has doors that can be shut, after kids are done playing with them.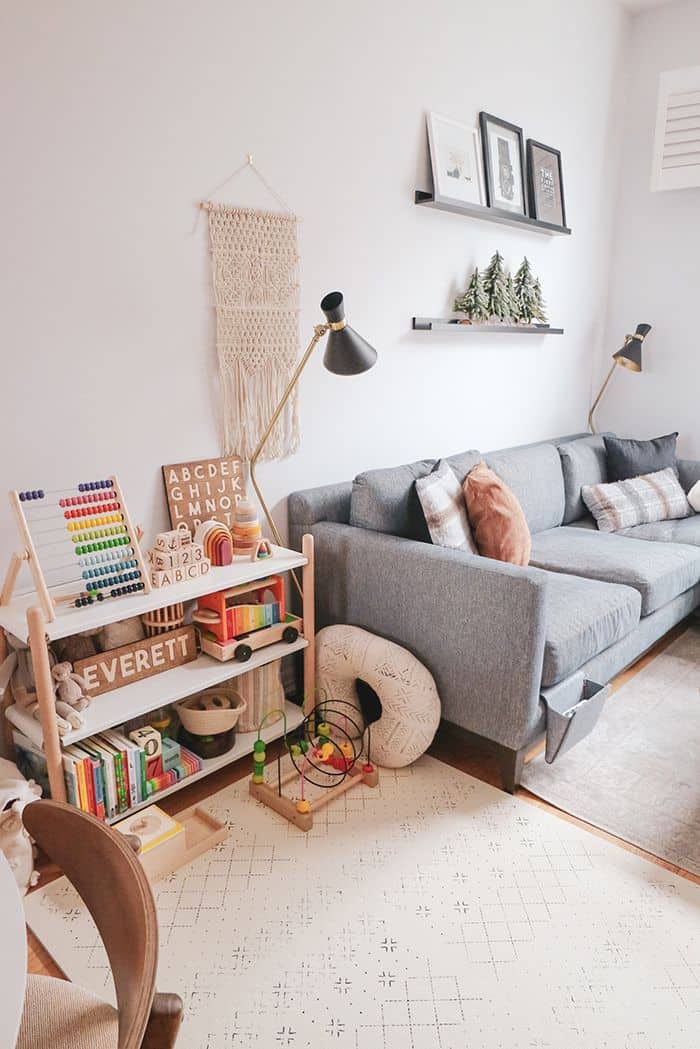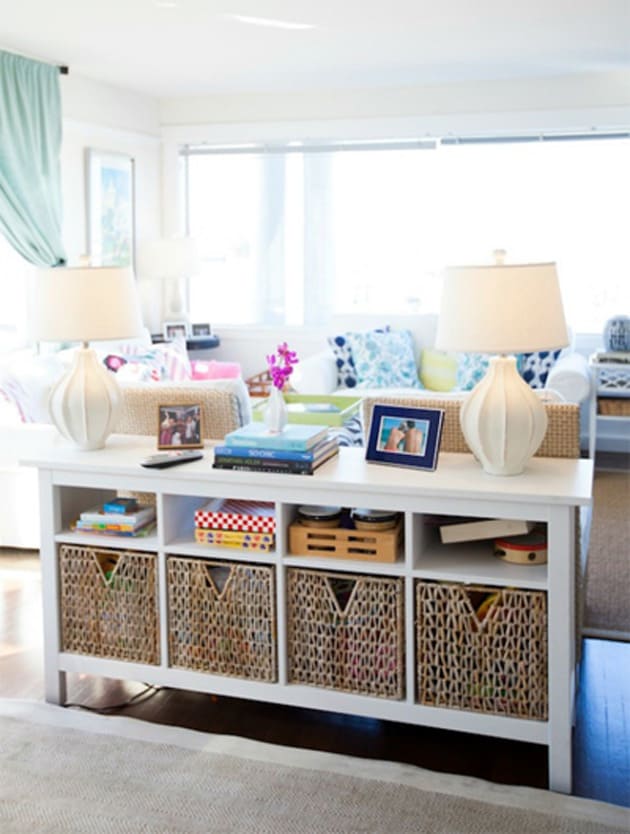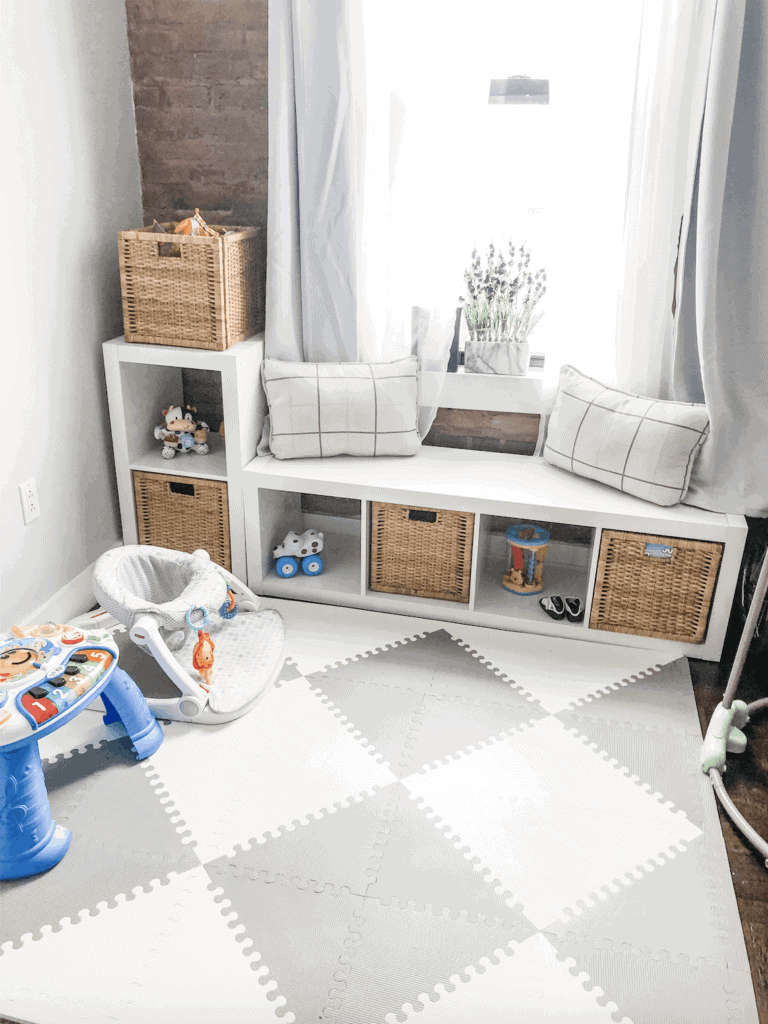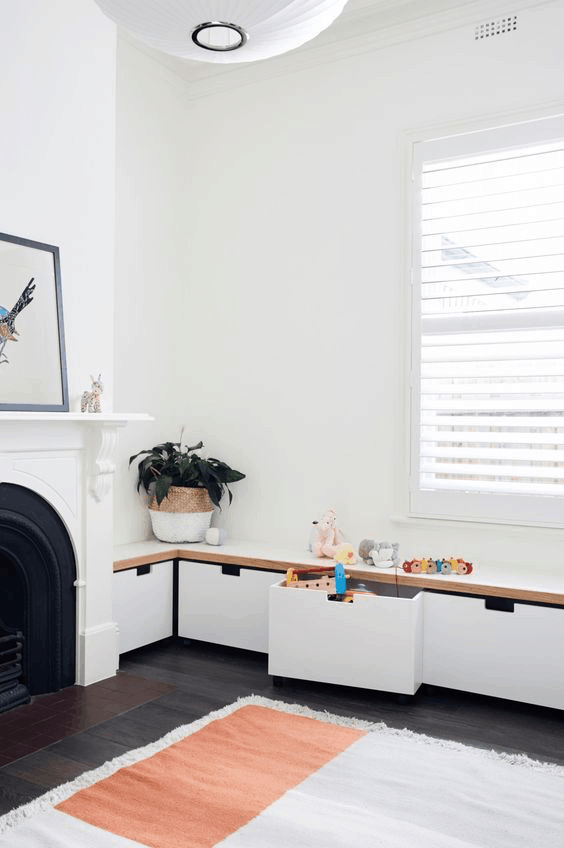 Use Baskets To Store Toys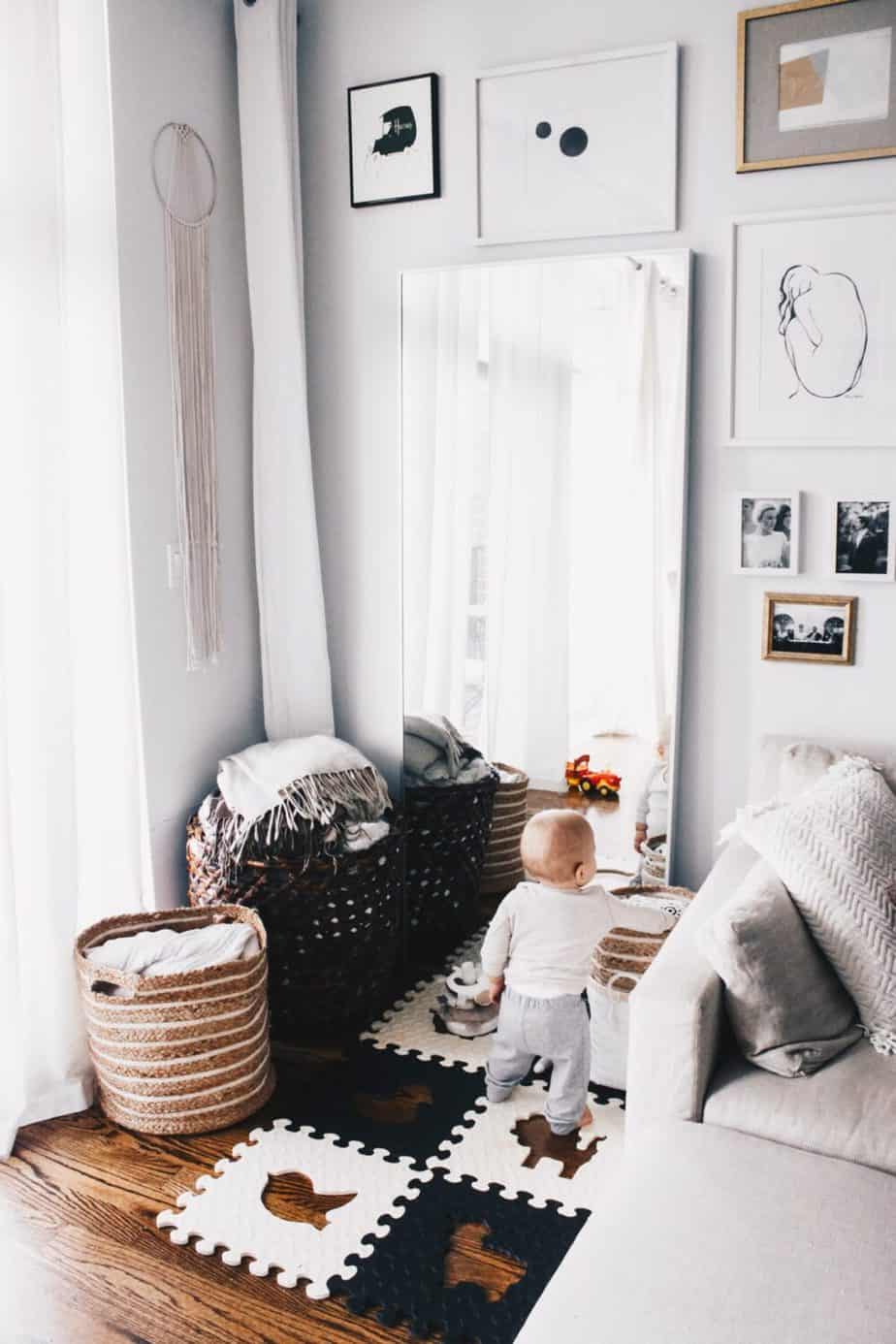 Where you can get: GooBlo Store | Artera Home Store
Use Seating Area To Create Designated Play Area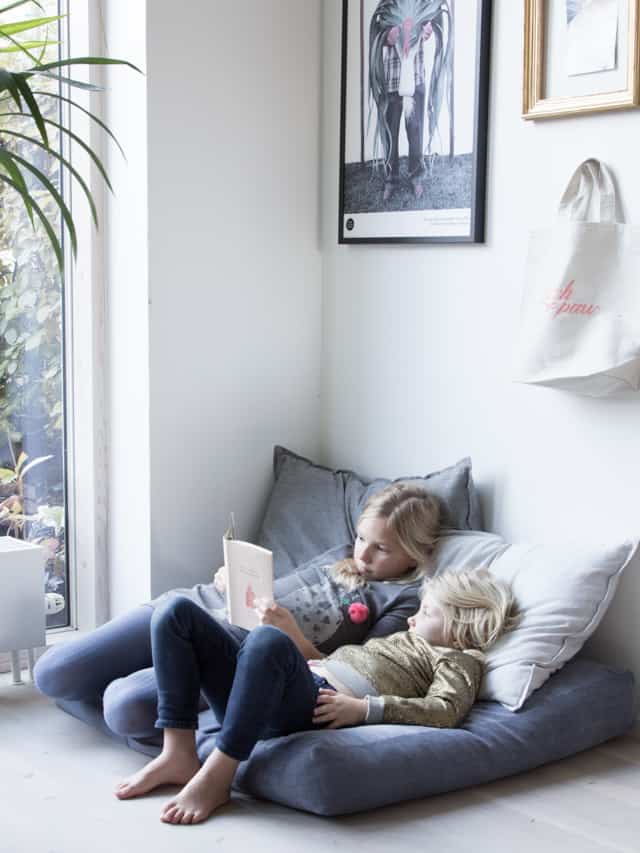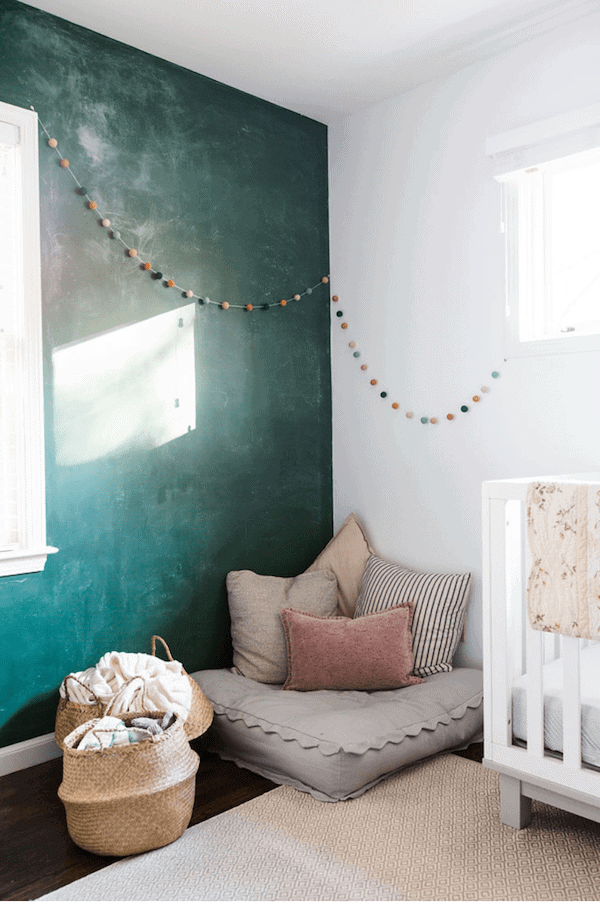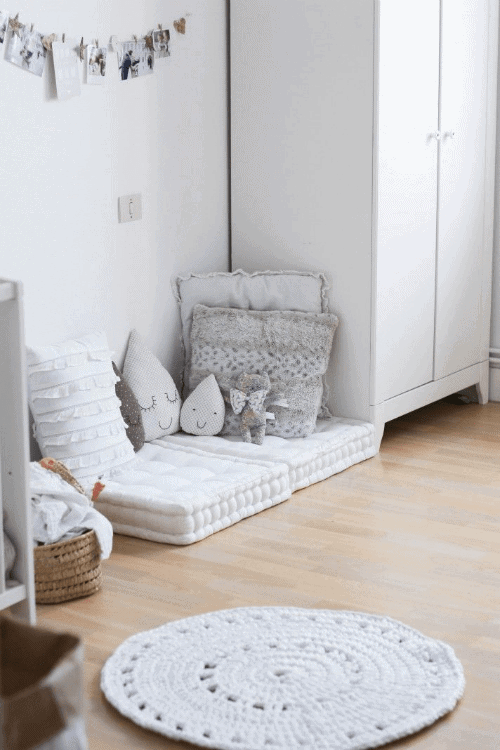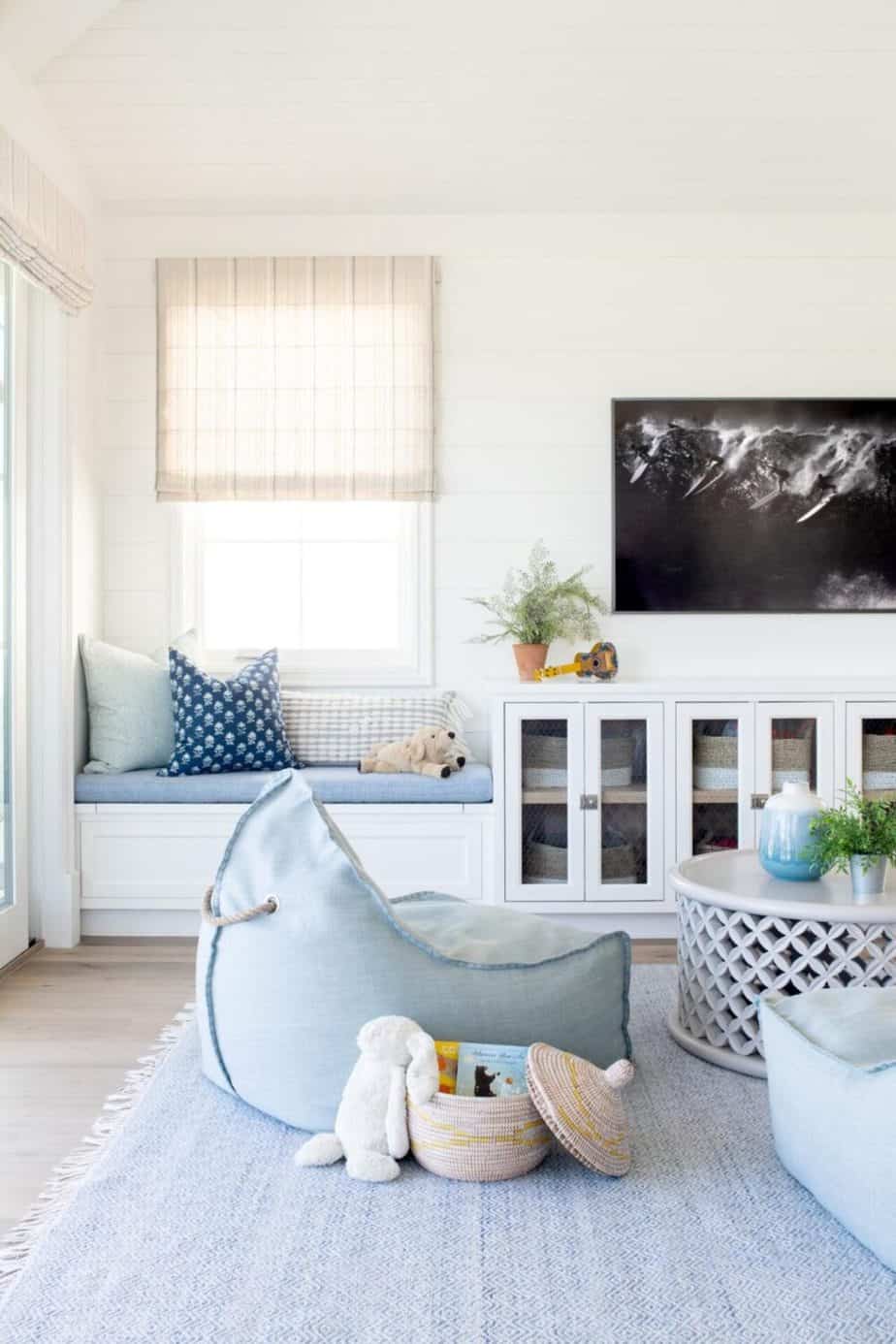 Where you can get it: Square Cushion | Round Cushion

How do you plan on creating kid friendly living room? Do share your thoughts and ideas here!