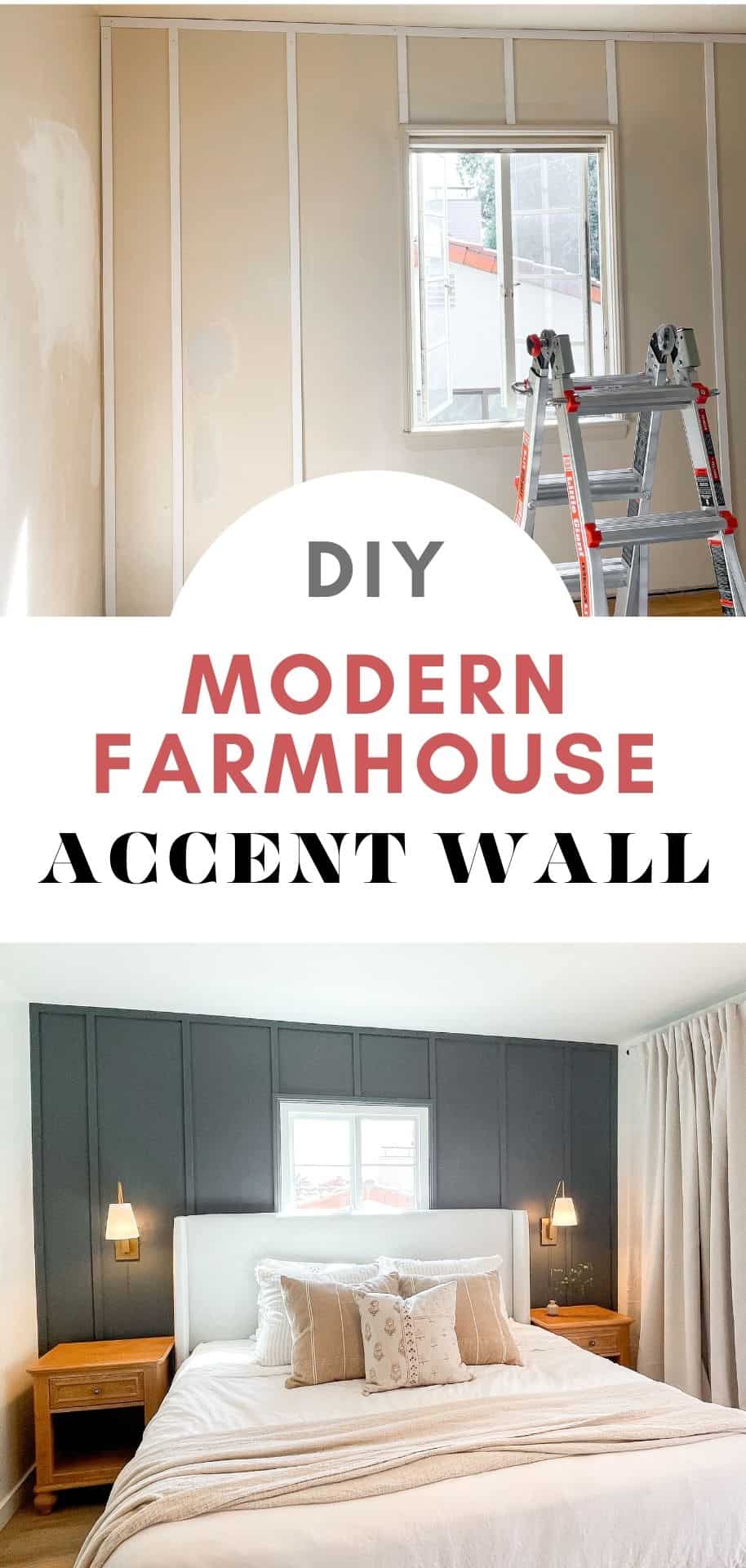 I've got a pretty easy tutorial for you to spice up your wall without breaking the bank. Get a full wall board and batten built in just a day!!
You might be wondering, what is board and batten? Well, it's a type of wall treatment where you attach narrow strips of wood (the battens) over wider boards (the boards), creating a grid-like pattern on your wall. It's a classic look that can work with any decor style, and it's actually pretty easy to do yourself!
Now, you might have seen board and batten used as an accent wall, doing a full wall has become pretty popular lately. It might seem like a big undertaking, but trust me, the results are worth it.
I just finished the master bedroom board and batten accent wall and cannot be happier. I went for navy board and batten wall since most of my furniture will be light color and I wanted the wall to pop.
Final View of My Master Bedroom Board and Batten Accent Wall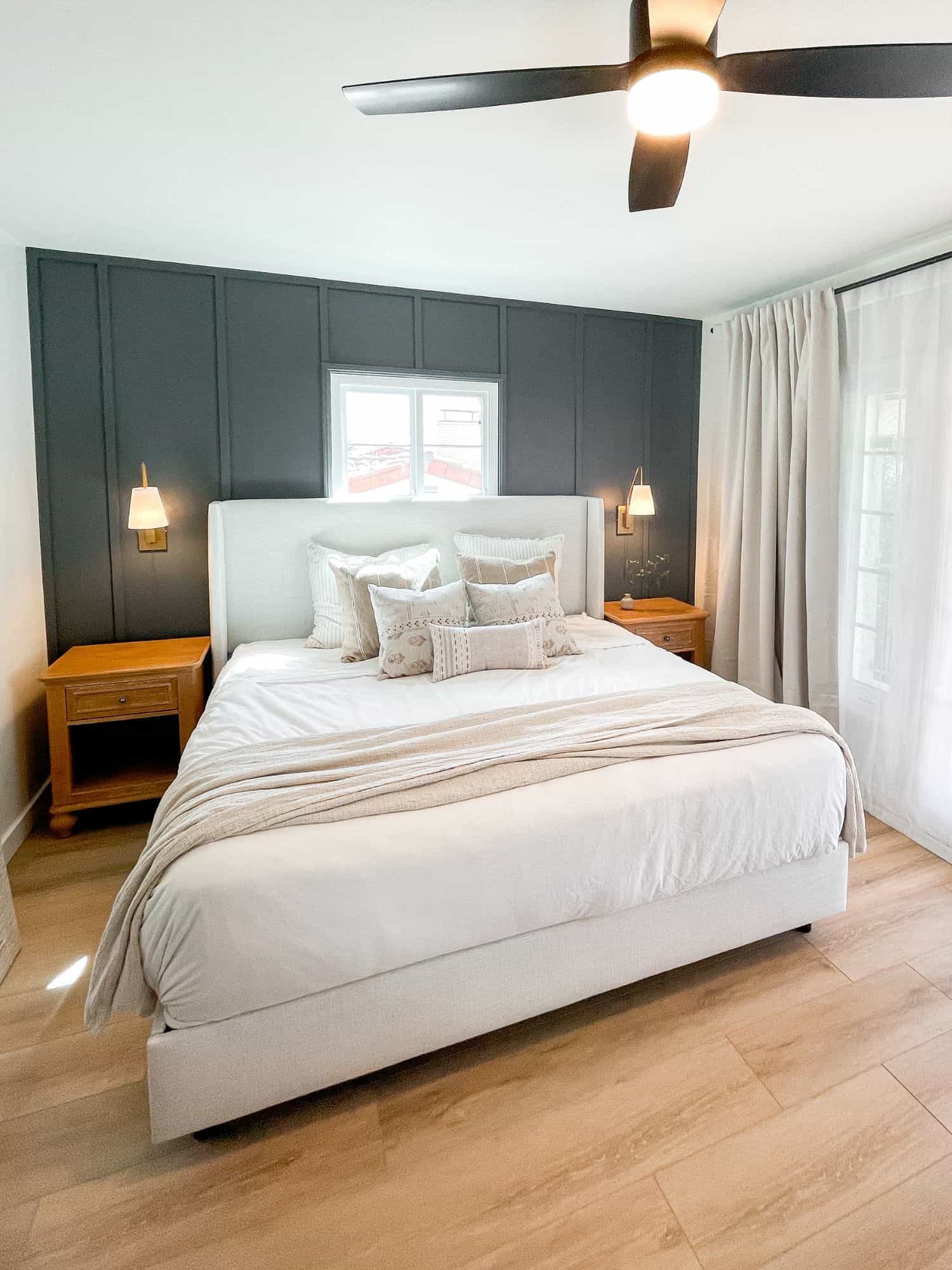 Instead of a traditional style panelled wall, I went for a vertical board and batten wall. Mainly because I wanted the wall to look taller than it is.
We have a standard 8 foot ceiling and I do believe having vertical wall panels help the room look more tall.
And, as you can see in my picture, if you are trying to have a board and batten accent wall with windows, you are in the right place! Our master bedroom has a window…somewhat in the middle but not exactly!
I'll share all my tips on how I managed to make it look like the window is actually centered with vertical panels. It is definitely tricky to set up a board and batten wall with down...Especially if the window is not in the smack center!
Here's everything you need to know to make it happen. But before that, let me show you what the room used to look like: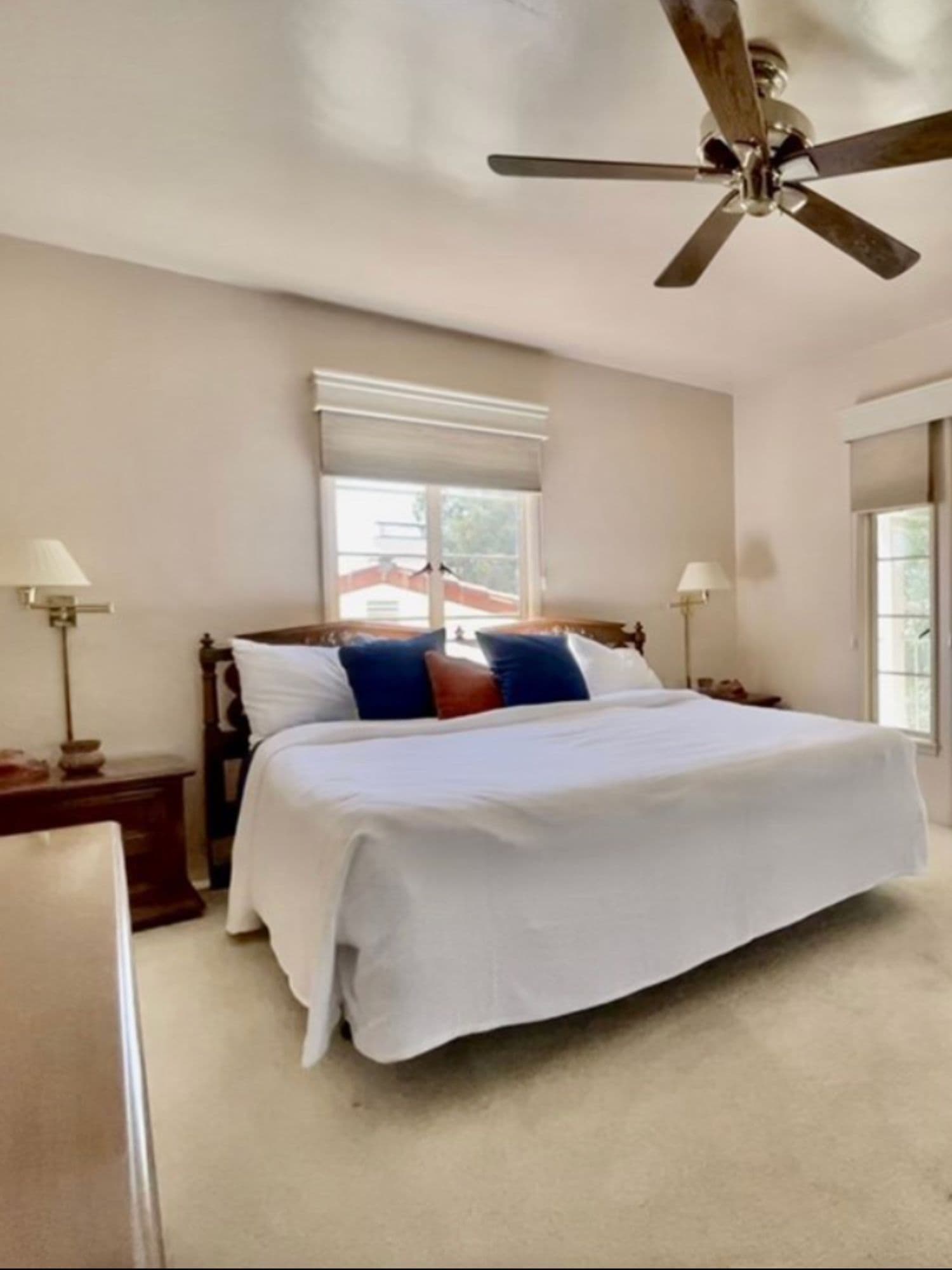 Pretty darn boring right? So here we go! Get ready to follow my journey on DIY Modern Farmhouse Accent wall project!
RELEVANT POST
Materials and Tools Needed To Make Your Modern Board and Wall Ideas Come To Life
MDF Boards - Some people get common boards but we ended up getting MDF boards as some also recommended that they are easier to paint and finish.
Saw
Nails
Nail gun or hammer (nail gun highly recommended)
Level
Paint Tape
Paintable Caulk / Calk gun
Wood Filler and Putty Knife
Paint/Brush/Roller (Benjamin Moore Flint)
I got the board and batten headboard wall idea from the image below. The location of the window is different but gave me lots of good ideas on how to set up my master bedroom accent wall with panels.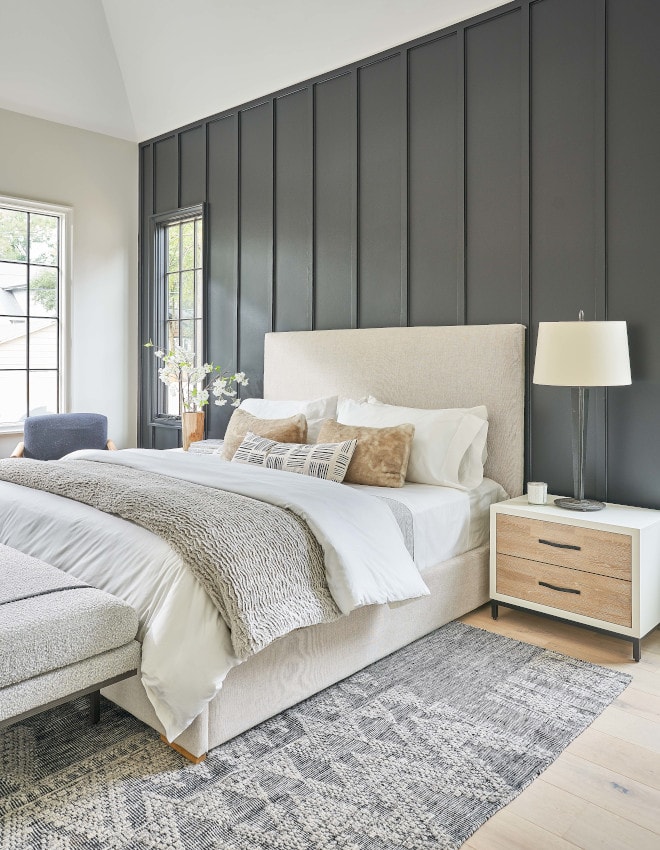 Source: Home Bunch
Step 1: Prepare your wall
Before you start, make sure your wall is clean and smooth. You might need to patch any holes or sand down any rough spots. Some recommend painting the wall in this step but I opted to leave the painting at the end.
Step 2: Measure and mark
Before we bought any material, we made sure we had a plan in place by measuring the wall, calculating exactly how many boards we needed and where we would place it.
Because our window wasn't in the exact middle, we decided we would place the vertical boards as if the window was in the middle. As you can see, one side of the wall space is slightly small, but we thought it's better than weirdly placing the panel next to the window.
The spacing between our our wood paneling for bedroom walls is 17.5".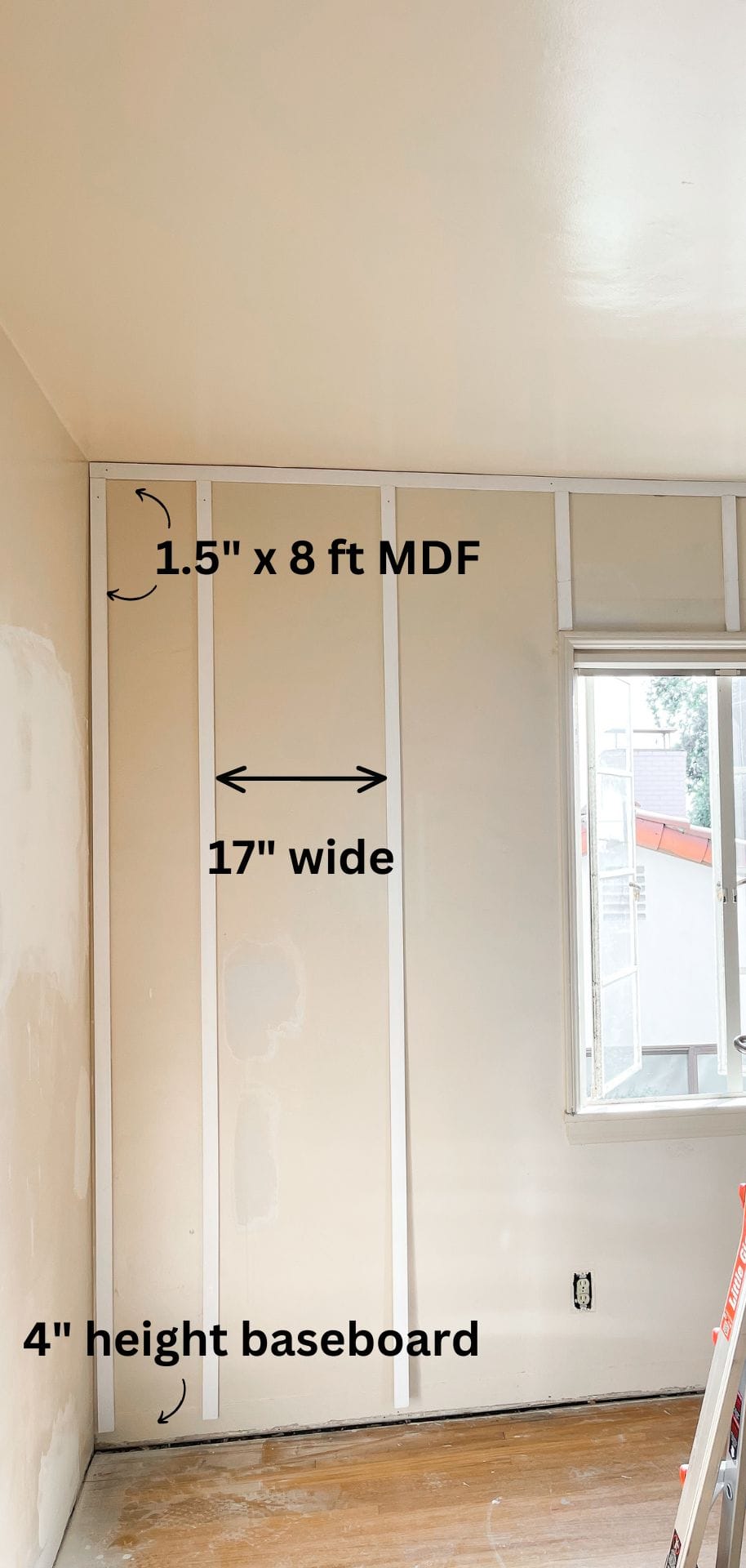 Step 3: Install the boards
Starting from one side of the wall, use your nail gun or hammer to attach the boards to the wall. Make sure they're level and spaced evenly.
Step 4: Fill the gaps
Fill the nail holes and gaps between the board and wall with wood filler. Once it was completely dry, we used sander to sand it down smoothly.
And as for the space where the board meets the wall, we used the paintable caulk on each side to fill the space.
Step 4: Paint the Wall and Boards
Once all was smooth and ready to be painted, we used paint tape to tape around the wall. Since we were planning to paint the baseboards and baseboards were going to be put in once the floors are in, we waited until the floors were put in to paint the baseboards. I used Benjamin Moore Flint as accent color. Our other white color is Benjamin Moore Simply White.
Tips and Tricks
We used wall lamps to spice up the board and batten bedroom accent wall. We had an electrician change out a lot of the lights/lamps in our house and included this as part of their work plan. These are hard wire lamps so you need someone to have wires ready for your lamp once the accent wall is done.
Invest in the nail gun! Half way through, we decided to buy a nail gun instead of using hammers. Hammering takes so much longer and it's so loud!
Here's what it looked like after we have put in floors AND the lighting.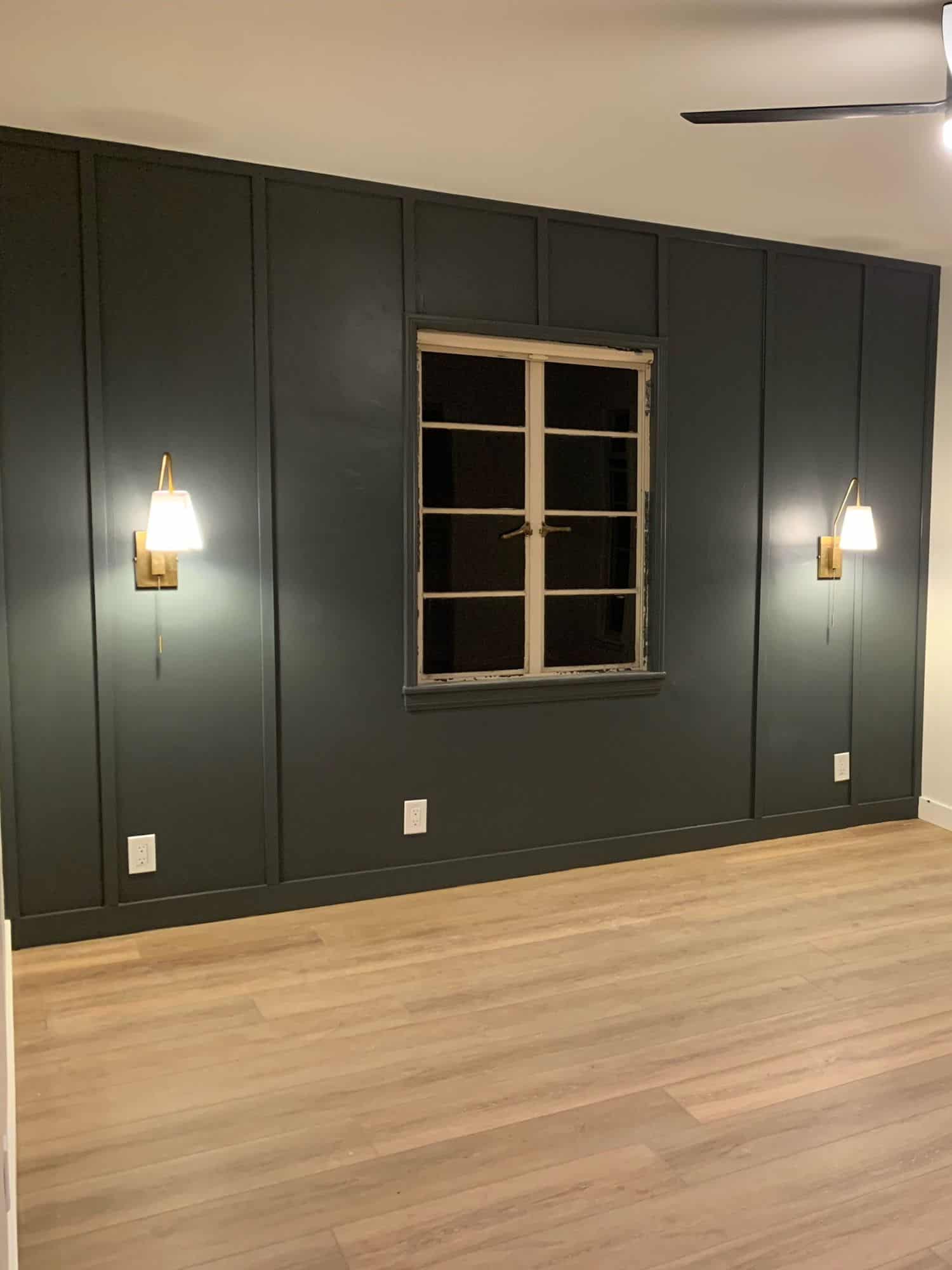 Here is a quick video of how we made it happen!
There you have it! Hope you enjoyed my panel wall makeover and saw how it really transformed my master bedroom!! Check out my post on the pottery barn lookalike curtains I have used in a separate post and also the navy blue accent wall ideas that helped me pick the right color for the bedroom!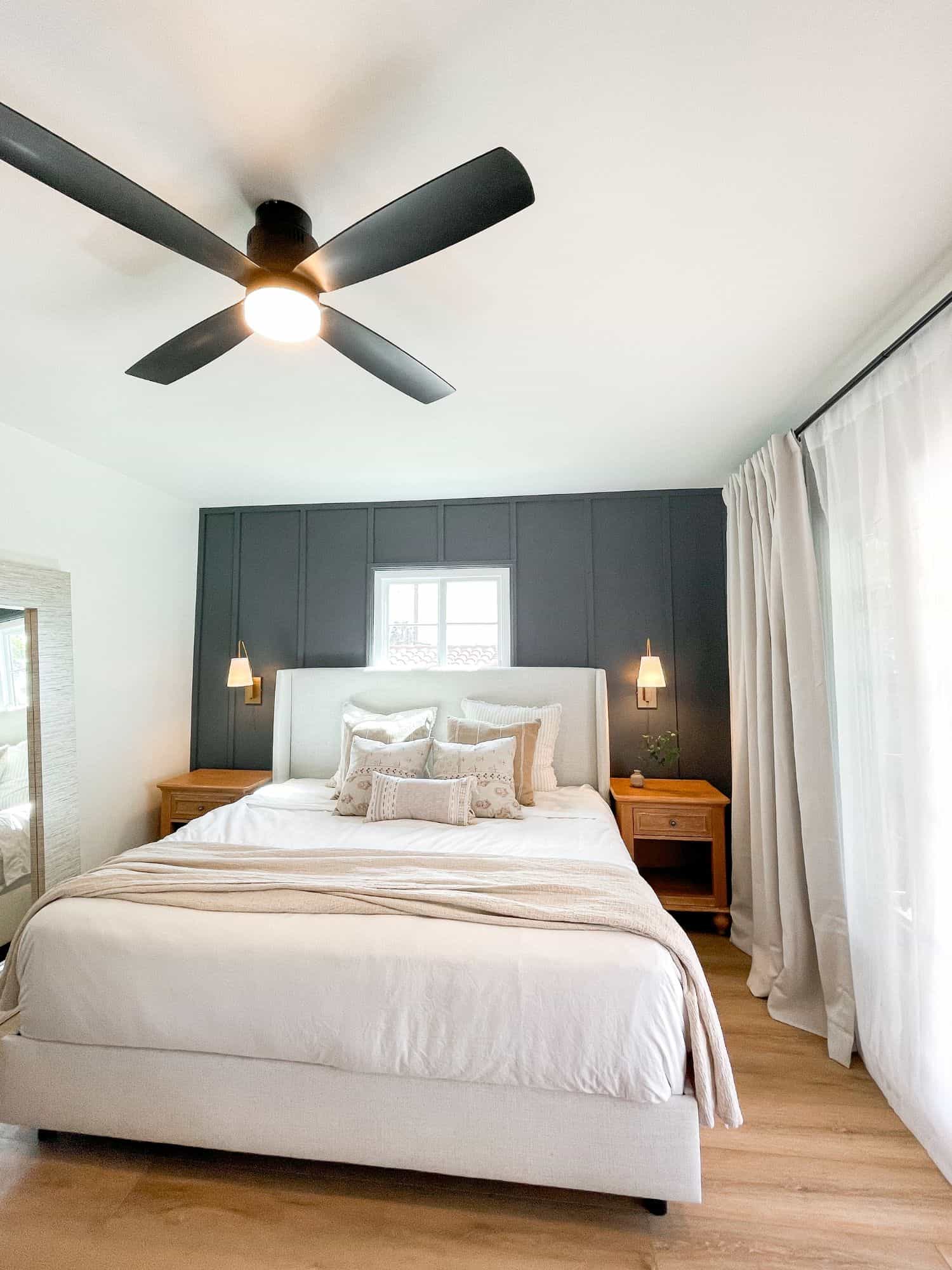 Here's a good before and after picture of putting in board and batten walls!