If you are looking to do a bathroom remodel, then you are in the right place! I wish I had a bathroom remodeling checklist to help me guide each step of the way. There's a lot that goes into bathroom renovation and hopefully this checklist will help you think about things that you may have overlooked or missed!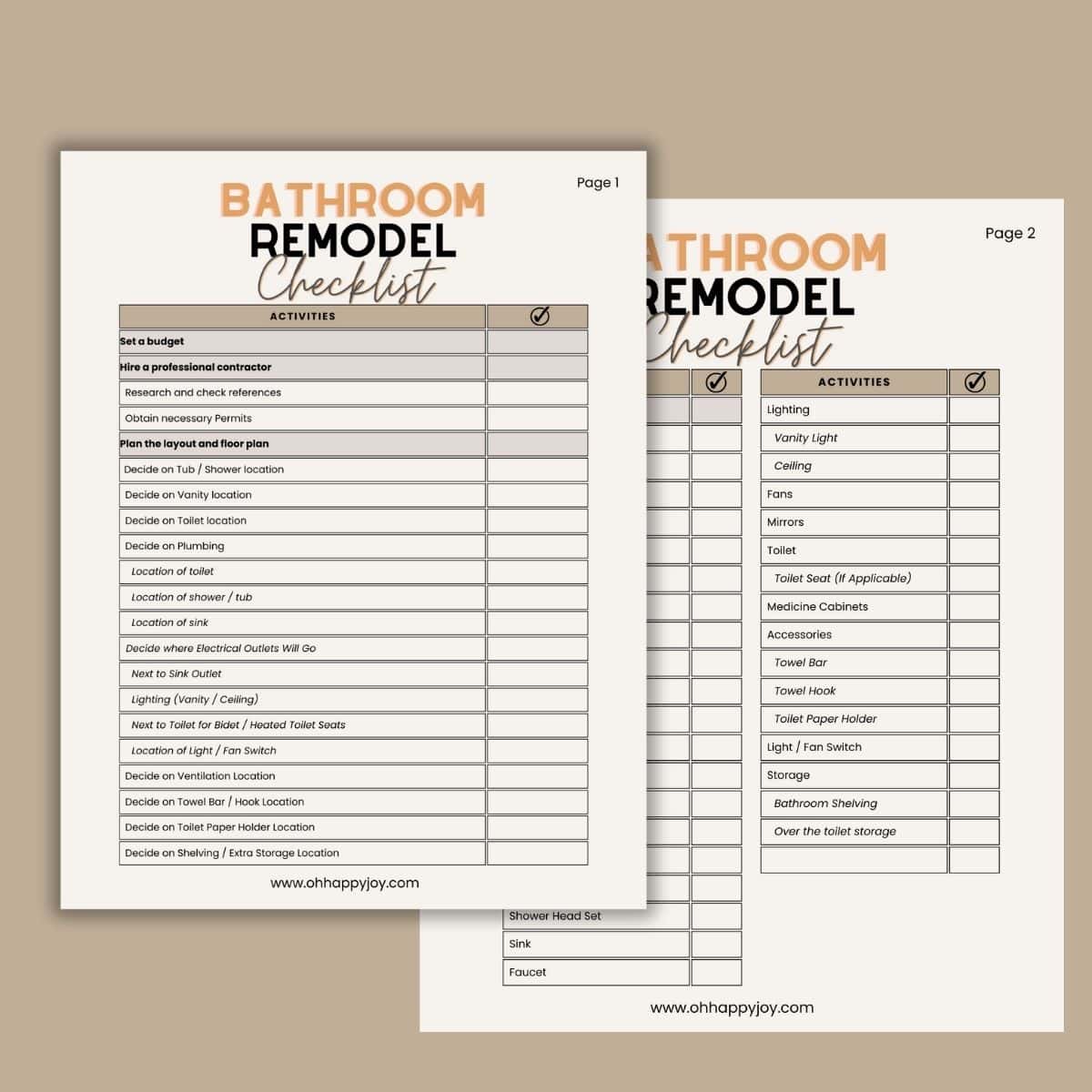 After doing 5 bathroom renovations, this checklist for bathroom remodel keeps me on my toes and make sure all the things are thought through. It also includes a bathroom renovation budget template that you can use to keep track of all the costs. If you are interested in learning more about the cost to remodel a bathroom in Los Angeles, make sure to check out my post.
You can download my bathroom remodel checklist pdf here. Or get the excel bathroom remodel checklist template here.
And if you want to know what's important in each step, I've laid out the bathroom remodel steps below to help you guide the way!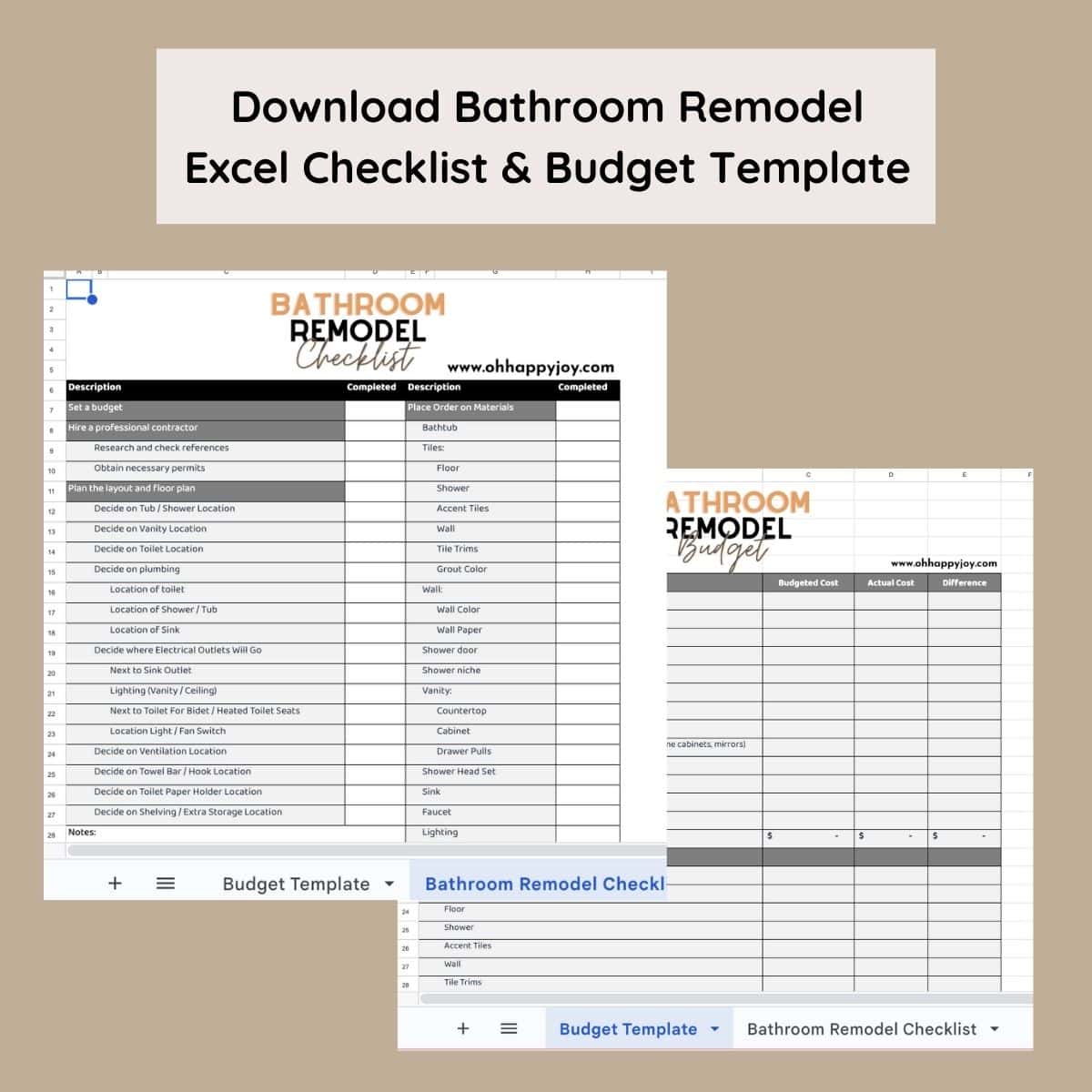 Initial Planning
This is the step you need to think about how you want your bathroom to look like. You would gather inspiration images. It's best to set up a Pinterest board that has all the inspiration images. And also determine how much you can spend on a bathroom.
Design and Layout
Get your measuring tape out and measure the existing bathroom space. Most likely you will be renovating your existing space. You can think about the changes you want to make…
Things to think about are:
Will I change the bathroom layout? (ie. where the sink and the toilet would be) Remember changing the layout (placement of toilet or faucet) will cost extra as you will have to add plumbing costs to change the placement. Same thing with electrical outlets. You may need to hire a professional electrician to come out and change things for you, which will cost extra.

Will I have enough storage space? This will determine what type of cabinets you would want to have and whether you have enough sink counter space. And also whether to add shower niche

or medicine cabinets.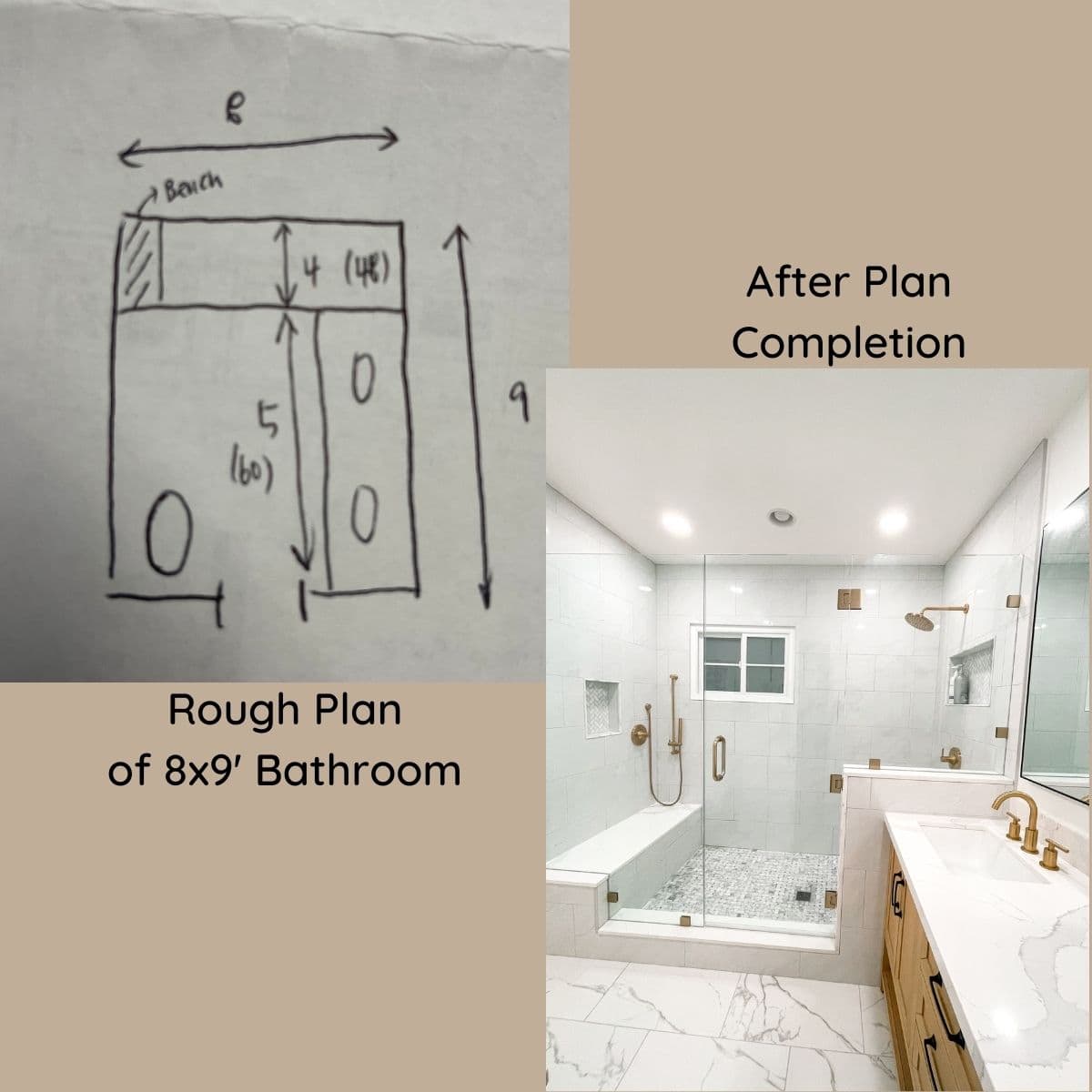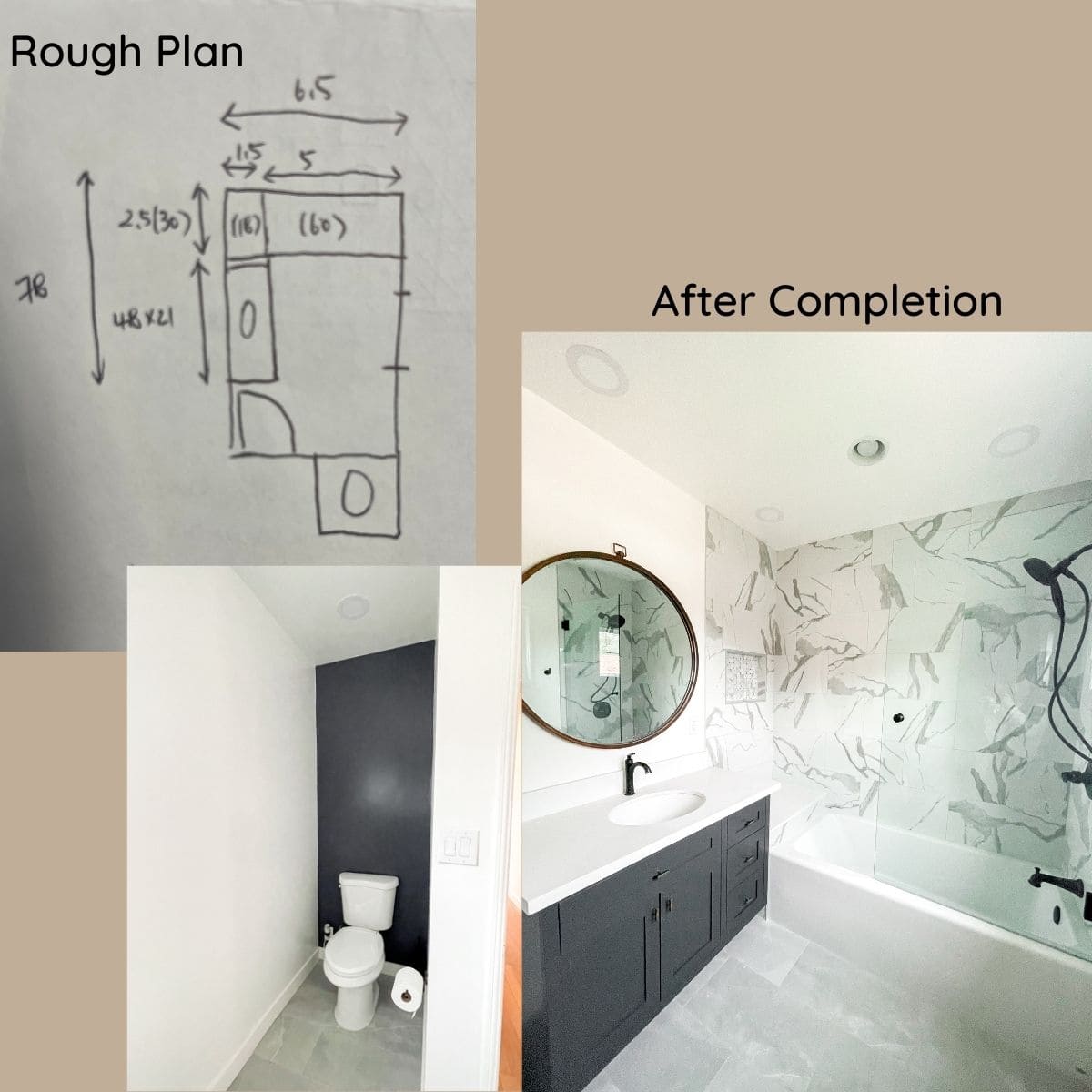 Fixture and Material Selection
This is where it gets fun…at least this where your bathroom inspiration will come together!! You get to pick out the exact fixtures you want to use for your bathroom. This will include
Sink

Faucets

Shower heads

Toilets

Cabinets

Tub

Tiles for the floor or shower booth

Lighting

Wall material / color

Ventilation

Towel hanger

Toilet paper holder

Mirrors

Medicine Cabinet
I have all of this in my bathroom remodel budget template so make sure you check it out.
Plumbing and Electrical Considerations
As I have mentioned in 'design and layout' section above, you will need to consider where your plumbing will go. Any layout changes will cost you extra!
And if you have very old plumbing that needs an upgrade, you will have to take that into consideration.
Electrical requirements is also so so important! Not only you will have to think about where your lighting will go, you will also need to consider having outlets. For example, we wanted to have an electrical outlet right next to our toilet since we wanted a seated toilet seat. While these can be added later, it's better to add this on while you are renovating the bathroom.
Same with the ventilation - since we were changing the ventilation, this also needed to be reloaded!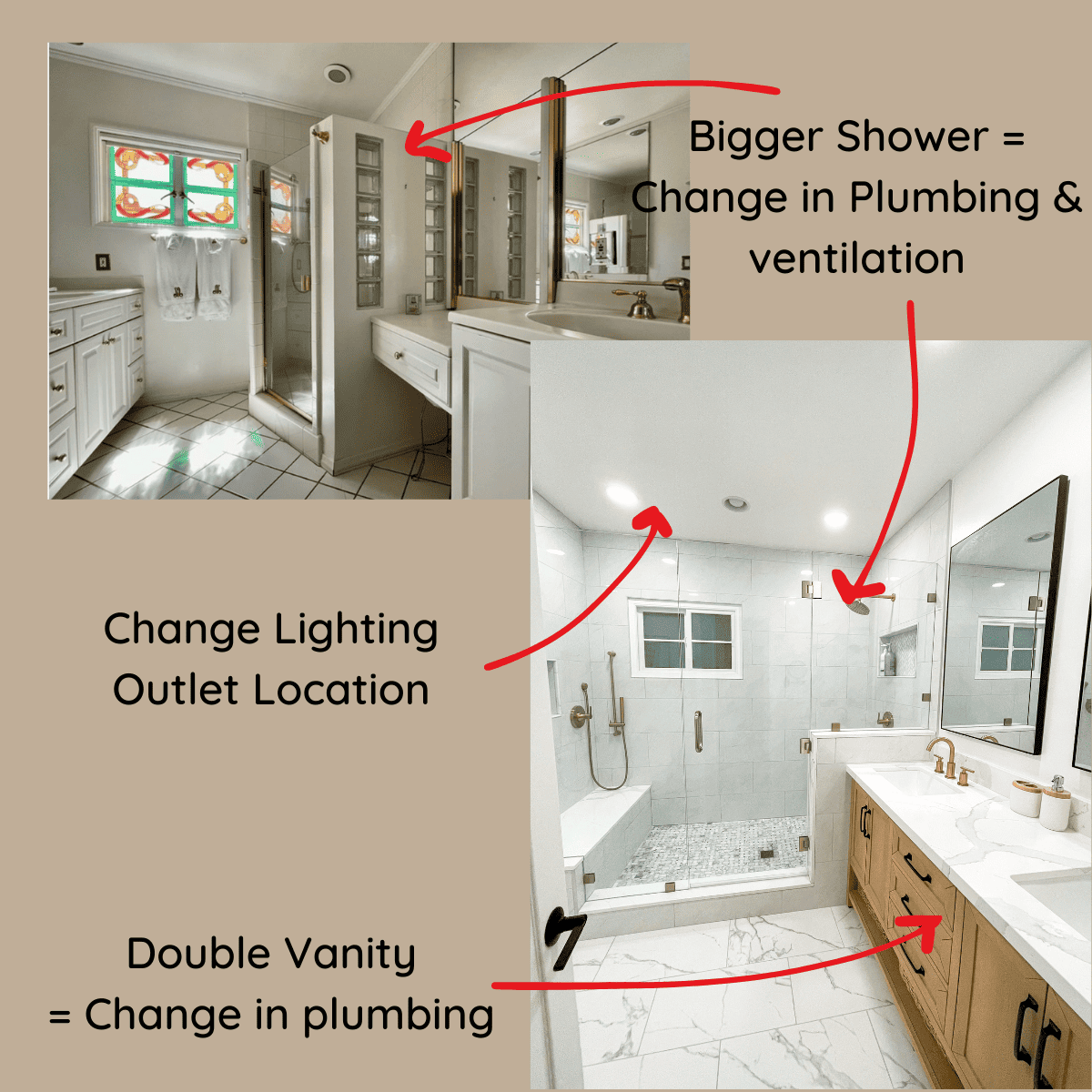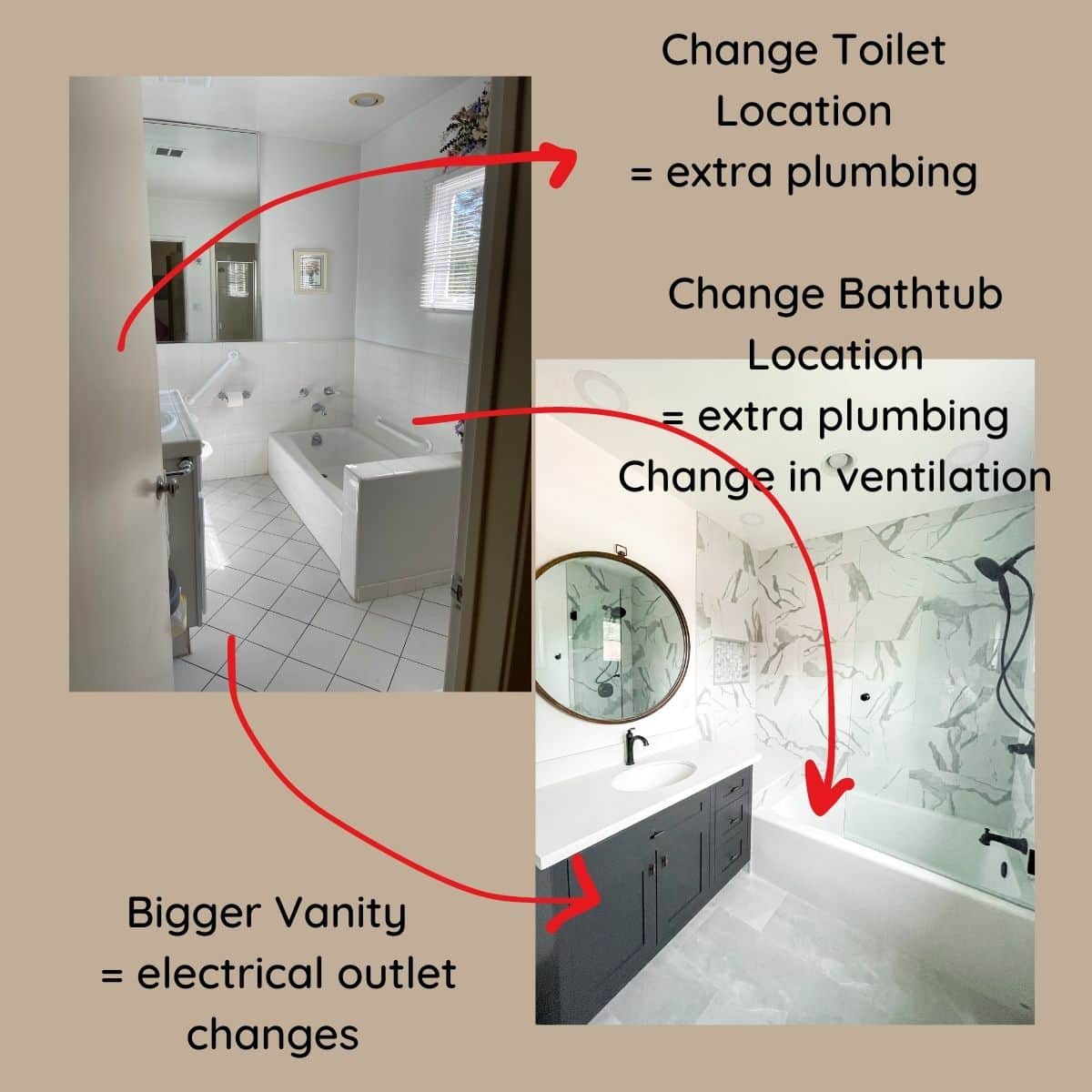 Storage and Organization:
There are few things to consider for this one:
Vanity and cabinetry: Choose the appropriate vanity style and size. You can work with a contractor who can supply a custom vanity OR purchase a pre-made vanities from places like home depot or online stores like wayfair. Sometimes purchasing a vanity set help you save lots of money since it comes with the sink, countertop, whereas purchasing cabinets and countertops all separate costs extra money.
Shelving and niche options: You will have to think about if you want additional shelves or medicine cabinets. Niches or medicine cabinets will need to be built into the layout.
Towel bars and hooks: Decide how many you would like and where they would go! You will also have to determine if you want matching ones that are consistent with your shower heads or faucets.
Hiring Professionals and Obtaining Permits:
Contractor selection: Decide whether you will hire a professional contractor for the entire project or if you'll handle certain aspects yourself. When it comes to contractors, there are few different ones out there. I've worked with both types below and it's really up to you based on convenience and the budget/timeline.

Bathroom tiles/cabinet stores - Normally they handle bathroom remodels and you get to choose the material from their store. It's convenient since all bathroom materials (except fixtures) are normally there for you to choose.
General Contractors - Normally they have a working relationship with certain bathroom tiles/cabinet stores where you can pick your material from. You will have to pick materials from those stores OR do your own research in finding things you like, whether it's from a local store or from an online place.
Research and references: Once you talk to the contractors and get a quote and get a feel for them, you can talk to their references so that you can actually trust them to do the job within the budget and also on time that they have promised.
Permits and regulations: Normally the contractor will take care of this…You will have to talk to them and get help in obtaining the right permits.
Timeline and Project Management:
Project schedule: Create a timeline for each phase of the renovation to ensure a smooth workflow and to coordinate with contractors, suppliers, and other professionals involved. You can either do the project management on your own (if you are using different contractors for different things) OR you can have the general contractor handle everything. Be sure to check in on the remodel periodically so that renovation is on track the way you had imagined.
Order and delivery of materials: If you want your project to be done on time, ordering and getting the material ready to go is the first thing you should do! Don't give contractor excuses to not finish the work on time because they are waiting for certain materials to complete the job. Avoid any possible delays by ordering and getting these in.
Flexibility and contingencies: Even if you plan everything right, it's wise to build in some time for unexpected challenges. There could be unknown leak in the plumbing that you didn't know about….Or the material you ordered doesn't fit in certain space…Whatever it is, be prepared for set backs and additional costs.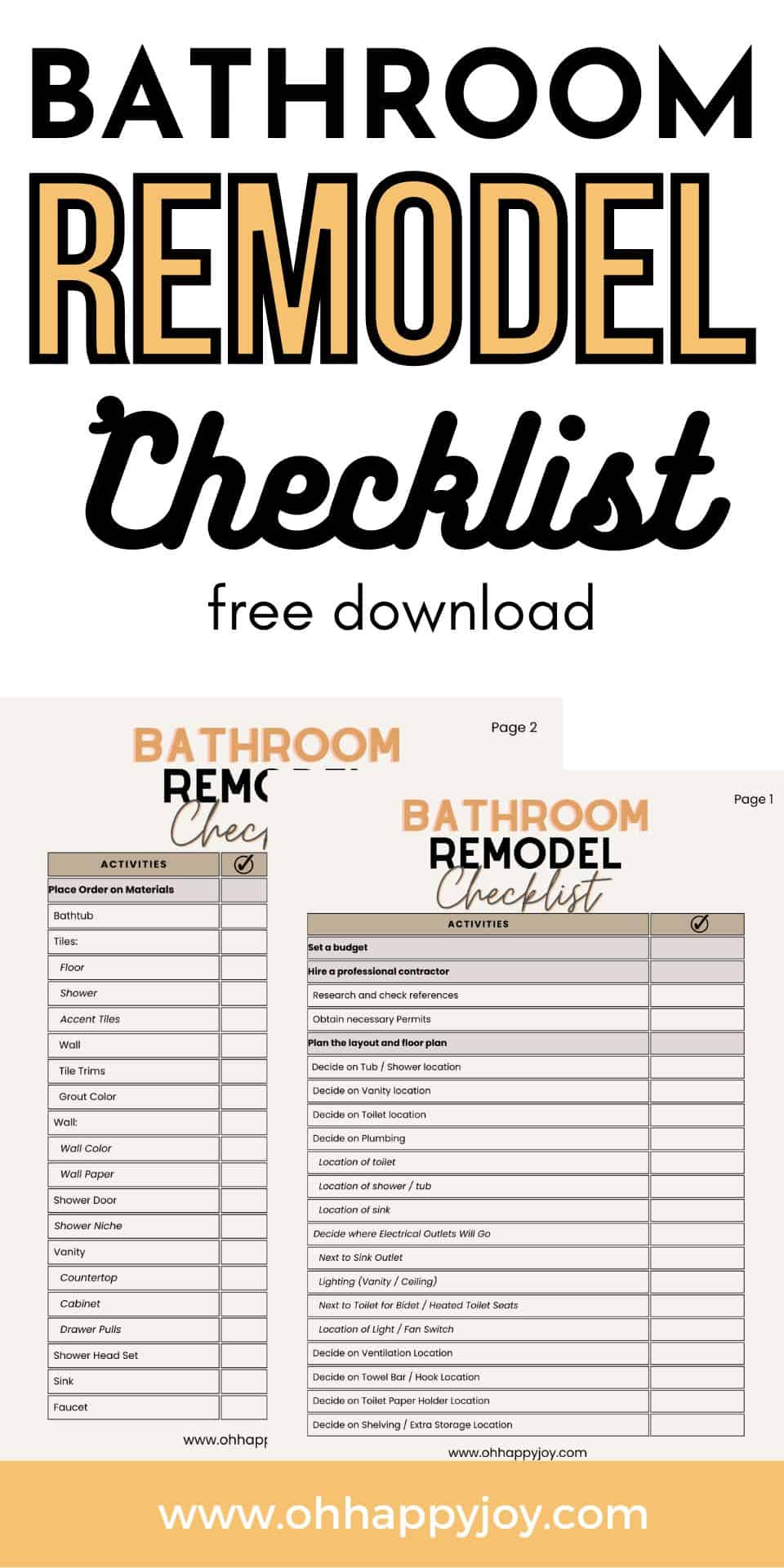 RELEVANT POST: