When it comes to renovating your bathroom, choosing the right shower niche size is a crucial decision. When I started renovating my bathrooms, I wanted to make sure I have enough space to store all my shampoo/conditioner bottles and all my cleansers without things falling off the shelves. A shower niche is both functional and stylish, adding some pizzazz to your bathroom design. So, let's dive in and find the perfect shower niche size for your bathroom!
RELEVANT POST:
What is a Shower Niche?
Okay, so let's first dive into what a shower niche is for those that don't know…
A shower niche is a recessed area in the shower wall that provides storage for your bathroom essentials. It is a functional and stylish addition to your shower, allowing you to keep your shampoo, soap, and other items within reach while you're taking a shower. Shower niches are available in a range of sizes, styles, and materials, making it easy to find one that fits your bathroom design and your needs.
Why Use a Shower Niche?
There are several reasons why you should consider installing a shower niche in your bathroom.
First of all, it's a convenient and accessible storage solution for all your shower essentials. No more leaving your shampoo and soap on the floor where they can get all wet and gross! With a shower niche, you can keep everything within easy reach and neat.
Plus, shower niches can really add to your bathroom's style and design. You can customize them to match your décor and even add some lighting for a spa-like feel. And because they're recessed into the wall, they don't take up any floor space at all.
Lastly, installing a shower niche can actually increase the value of your home. It's a popular and attractive feature that can really elevate the look and feel of your bathroom. So why not give it a try? Your future self (and potential buyers!) will thank you.
How to Choose the Right Shower Niche Size
When choosing a shower niche size, there are several factors to consider. Here's what you should take into account:
Shower Space: Before choosing a shower niche size, you need to measure the available space in your shower. Measure the height, width, and depth of the area where you'd like to install the niche to determine the maximum size that will fit. Few things to consider are:

Where the water pipes are: Some people don't think about this but depending on where your shower niche is, the water pipe may need to be rerouted, which can add up to the cost. For my bathroom, we had to reroute the pipes like the image below to fit in the shower niche and have the shower head above
Where the studs are: Studs will have to be cut to make the room for the shower niche. Know that anything is really possible…but some come at a higher cost than others, so you would need to work with your contractor to decide the ideal space, while minimizing the cost.We decided to leave the stud where it is, instead of cutting it - it was about 2 inch difference and it was a lot more cost effective than cutting out an entire stud to get 2 inches more.

Storage Needs: Consider how much storage you'll need in your shower. Do you want to store just a few items, or do you need enough space for all of your bathroom essentials? This will help you determine the size of the niche that will meet your needs. Few important things to consider are:

How tall is a shampoo bottle? I buy my shampoo bottles from Costco. The shampoo bottle height like the ones I have in the image below are 12 inches, when the top pumper comes out. I wanted ample room above to store my large shampoo bottles, so the niche was built accordingly. I knew my other bottles like facial cleansers would be shorter than this so I made sure the shower niche is just slightly bigger than a Costco shampoo bottle.

Style: The size of the shower niche will also affect the overall style of your bathroom. Smaller niches can be used to create a minimalist look, while larger niches can make a bold statement. Choose a size that complements the overall design of your bathroom.
Material: The material you choose for your shower niche will also impact its size. Some materials, such as tile, are more flexible and can be cut to size, while others, like precast niches are limited to specific sizes. Few important things to consider are
Edges of the shower niche: There are few ways to finish the edges of a shower niche. One is using a bull nose like the one I have here.I got my bullnose from Floor & Decor and picked out the marble pencil that's similar to the chevron marble tiles in the back.You can get similar marble pencils like this one:

The other is using metal tile trims. Depending on the look, you will have to decide which ones will look better for your shower.My metal trims were also bought from Floor & Decor which were Schuler Jolly Edge Trim ½ inch in SatinAmazon has few schuler options too in various sizes and colors. You will have to consider the thickness of your tiles and also how your edges to look before you decide on one.

Standard Shower Niche Sizes - Shower niche size and height
There is no set standard for shower niche sizes, but here are some common sizes you may encounter:
Small: A small shower niche is typically 12" x 12" or smaller. It's perfect for storing a few essential items,
Large: A large shower niche can vary in size, depending on the size of your shower. Here are few example of a large shower niche that spans all the way from the wall to the glass.Source from keyllynanSource from backsplashSource from Croma Design
For my bathrooms, these are the shower niche dimensions I used:
Shower niche height: 12.5 - 14.5 inches
Shower niche length: 16 - 26 inches
Shower niche depth: 4 inches
How high should a shower niche be?
If you are asking what the standard height of shower niche is….it should be chest height or slightly above! You want it high enough so your little ones can't grab your expensive products and make a mess, but not so high that you can't reach them yourself. I'd say go for around chest height, that way you won't strain your arm trying to grab your favorite body wash.
Here's a diagram of how high my shower niche is. The shower niche height from the floor is 54" for my shower side and 42.5" for my bench side. Same for my other bathroom with a tub.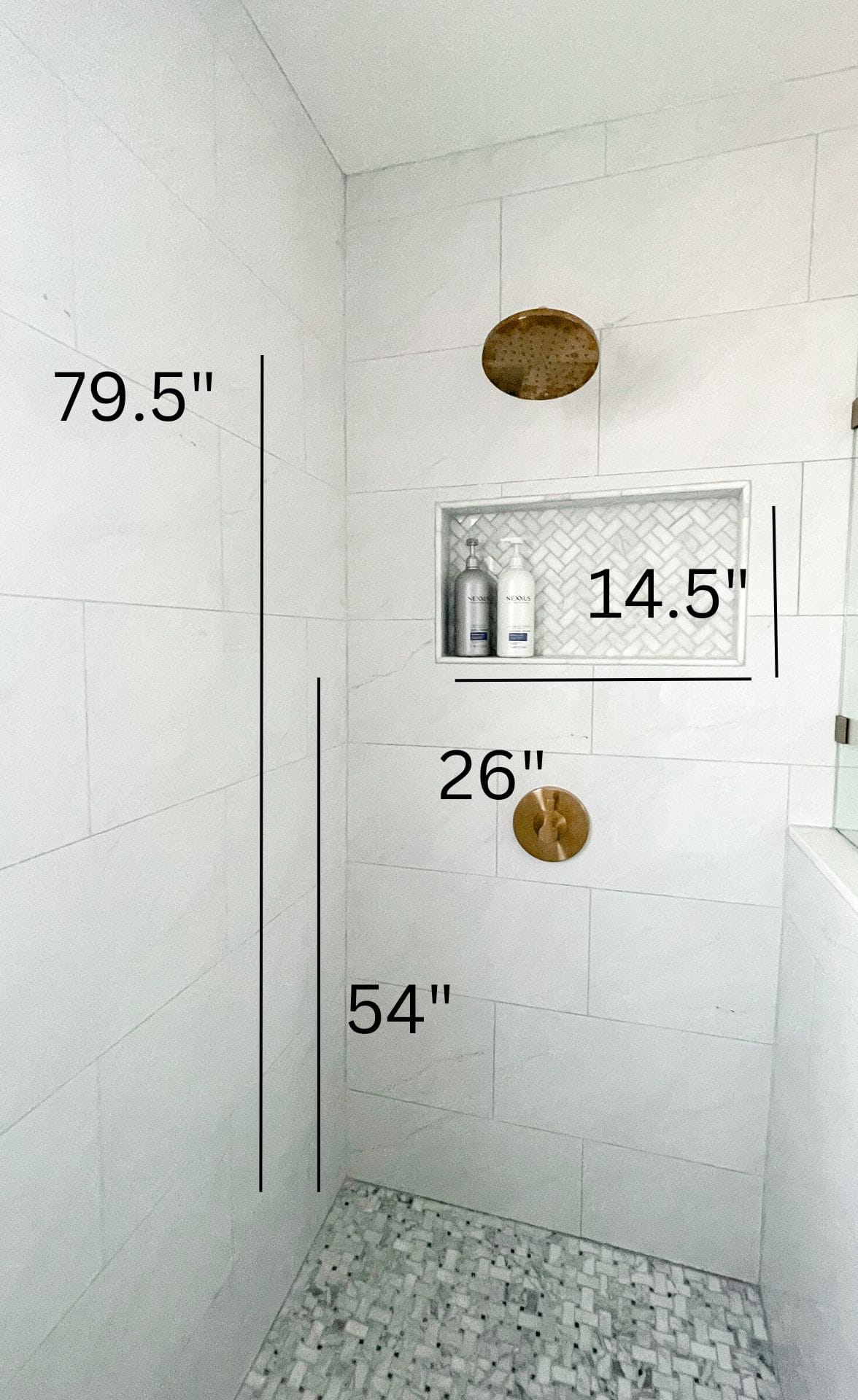 This also changed for my bench area…I wanted to be able to easily reach while sitting on the bench so this one was a lot lower.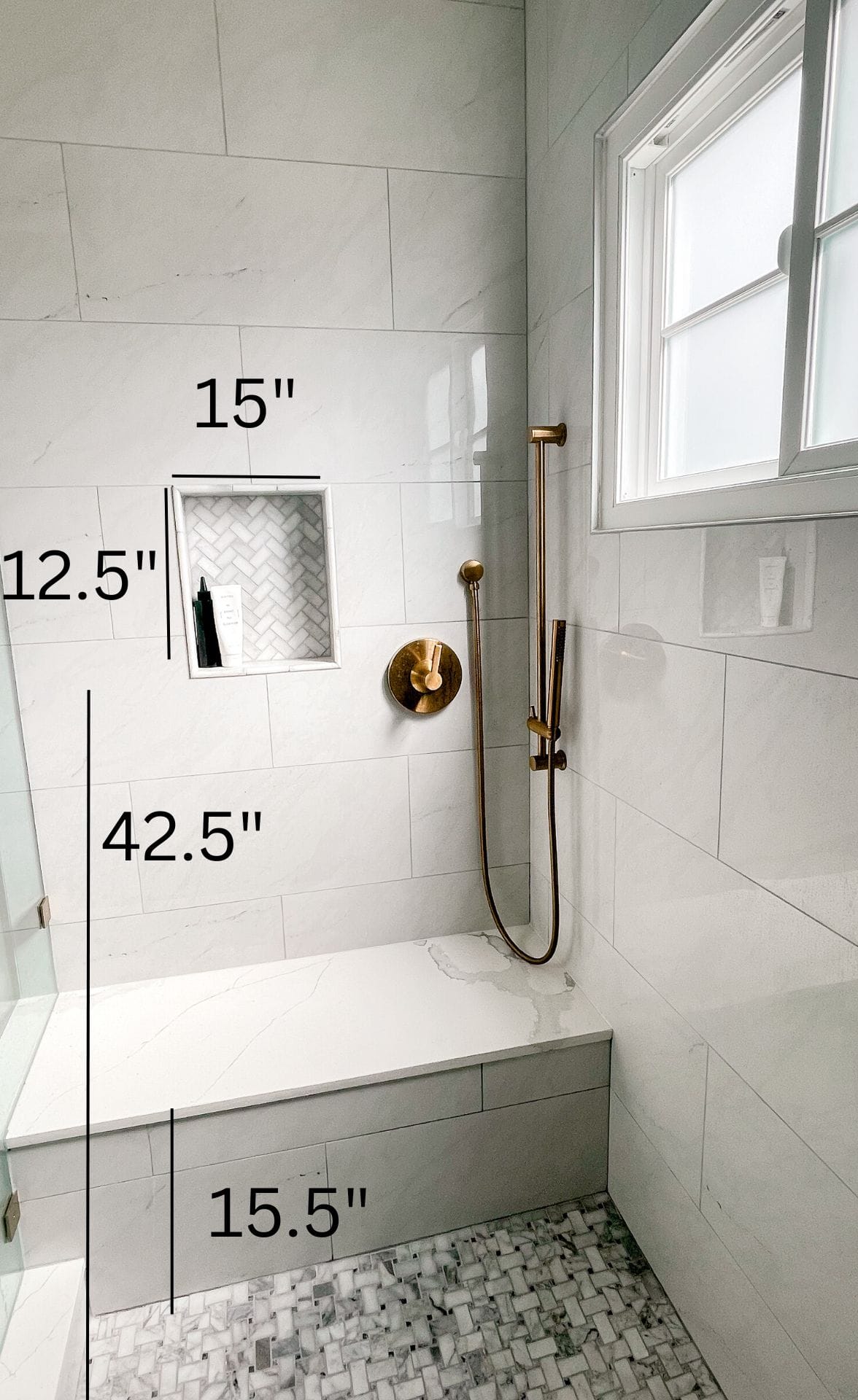 With the tub, I had it placed relatively high from the tub so my kids aren't constantly grabbing things and making a huge bubble mess in the bathroom. The niche height from the floor was 42.5 inches.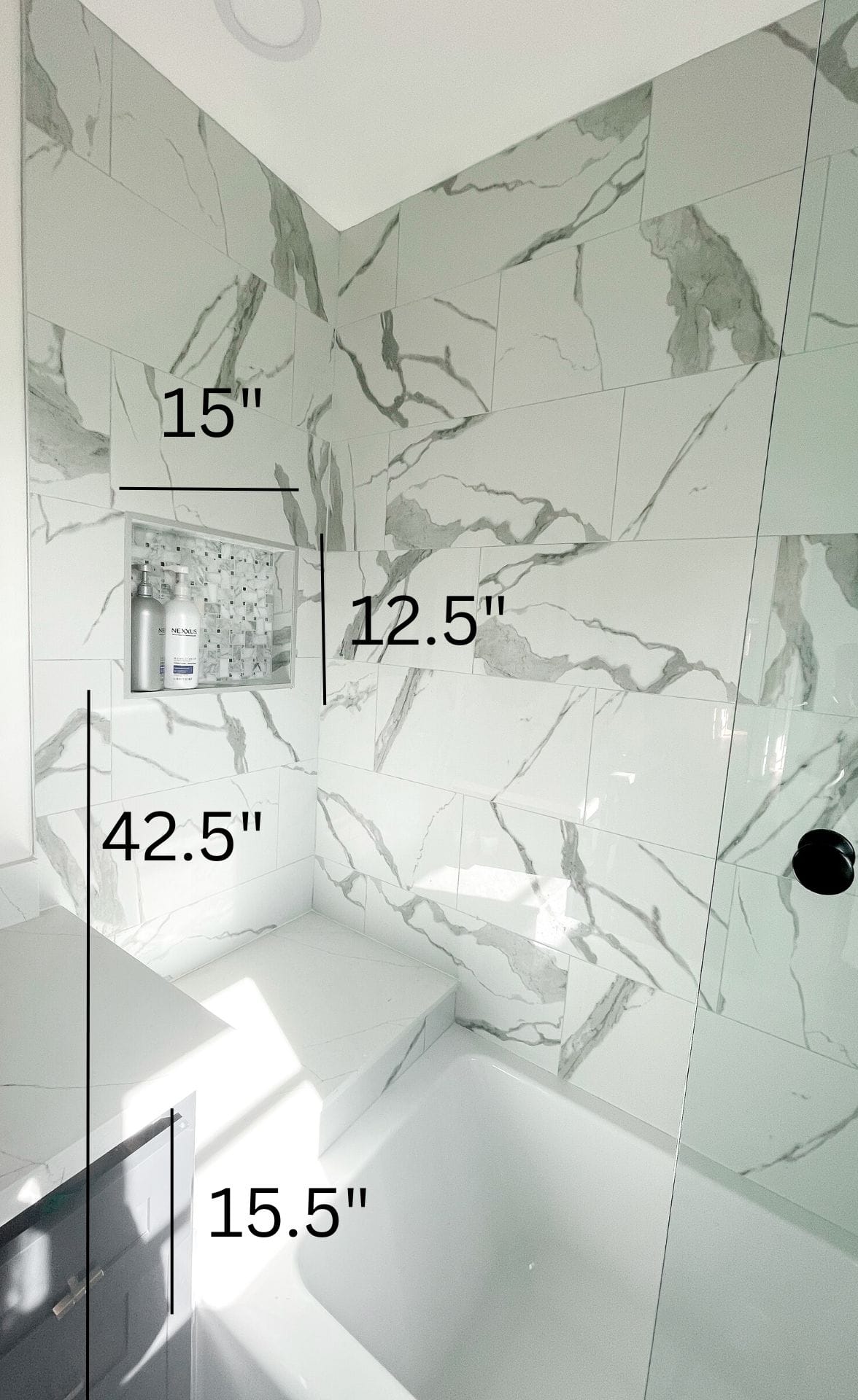 Hope this was helpful! Once you finish your shower niche, you will be so happy that you have decided to use the perfect shower niche size for your needs!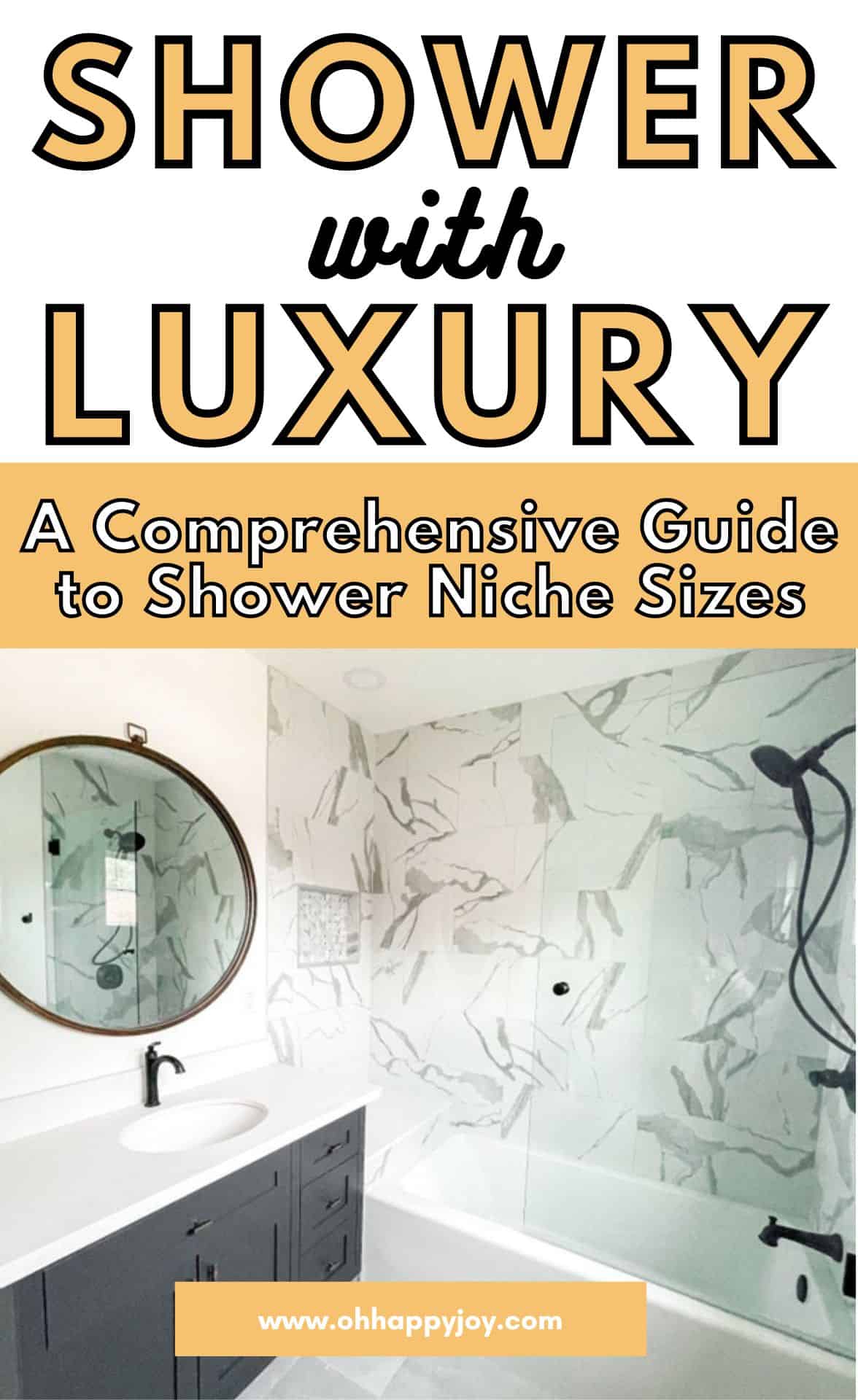 RELEVANT POST: