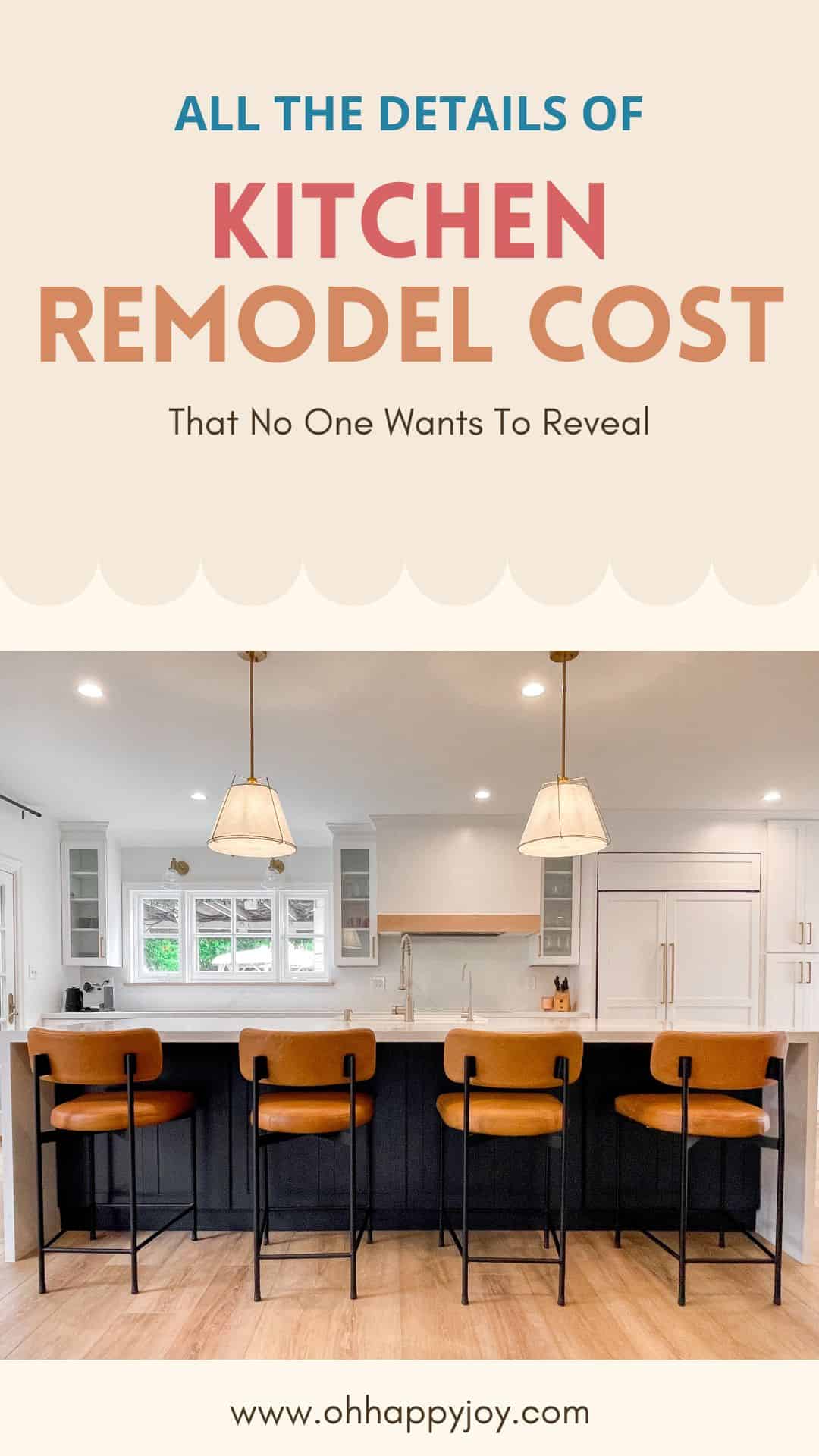 If you are planning a kitchen remodel and wondering what your kitchen renovation budget should be, then you are in the right place! We have just completed our kitchen remodel which also included removing a load bearing wall between kitchen and living room. I wanted to share my kitchen remodel cost in Los Angeles since that's probably the first thing that you would be thinking about too!
Before we moved into our new home, the house needed a LOT of remodeling. We started with our bathroom renovation, and bedroom remodel with accent wall, and remodeled our kitchen as the last thing…especially since we wanted to remove walls.
We reached out to about 5-6 contractors for a quote and I did a lot of research to find out on average how it costs to renovate the kitchen. Honestly, the information online was soooo general that it was really hard to understand how much it really costs!!
That's why I decided to break down the cost of mine to give you a good feel of how much it costs to remodel a kitchen in Los Angeles.
This post may contain affiliate links. Please read our disclosure for more info.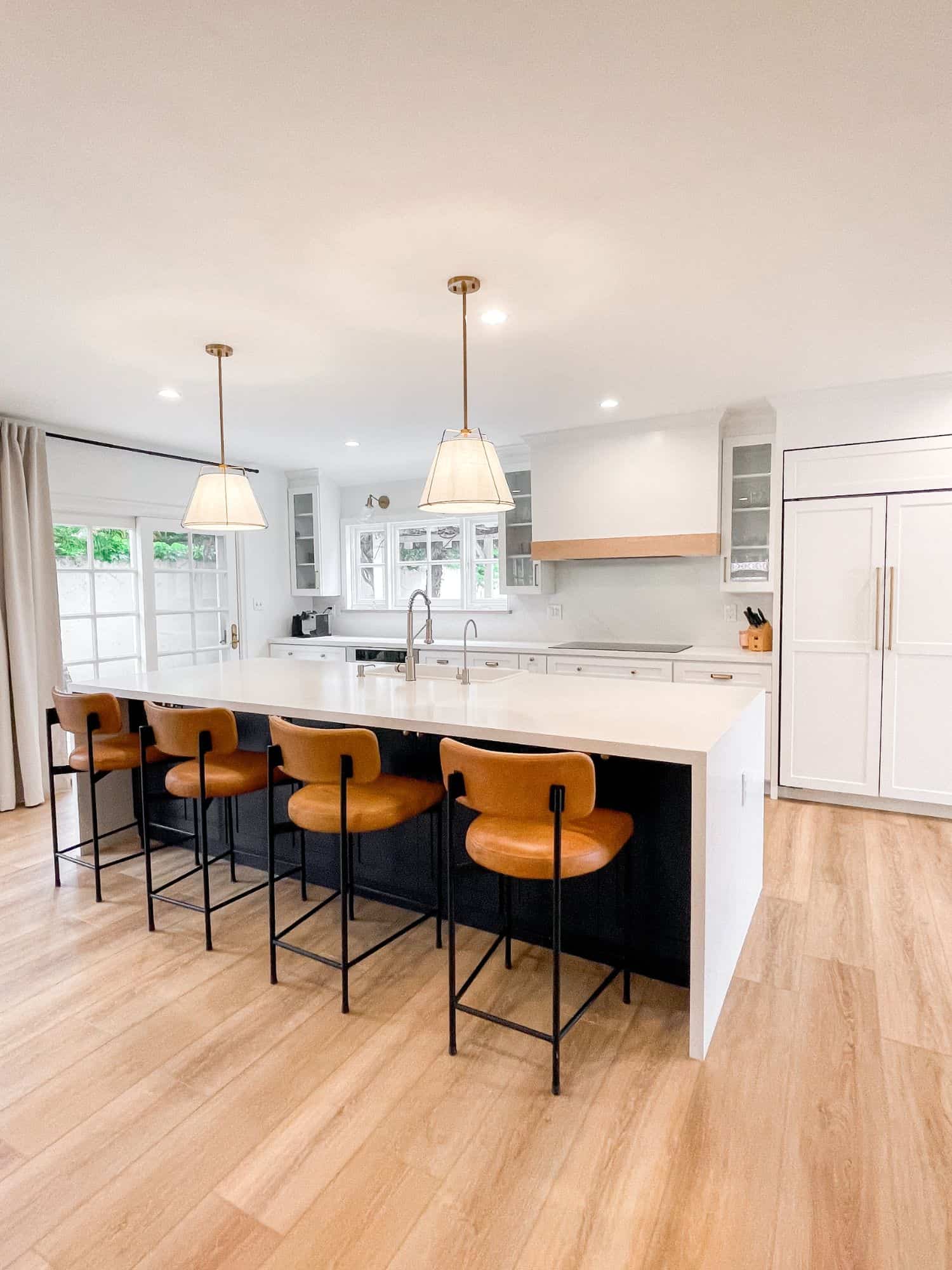 But know that getting a quote from various local contractors would be the best way to REALLY get a feel for how much it will cost to renovate your kitchen. Depending on where you live, costs may vary.
Make sure you get a quote from various contractors and also go with ones that actually break down the overall quote into various areas of work.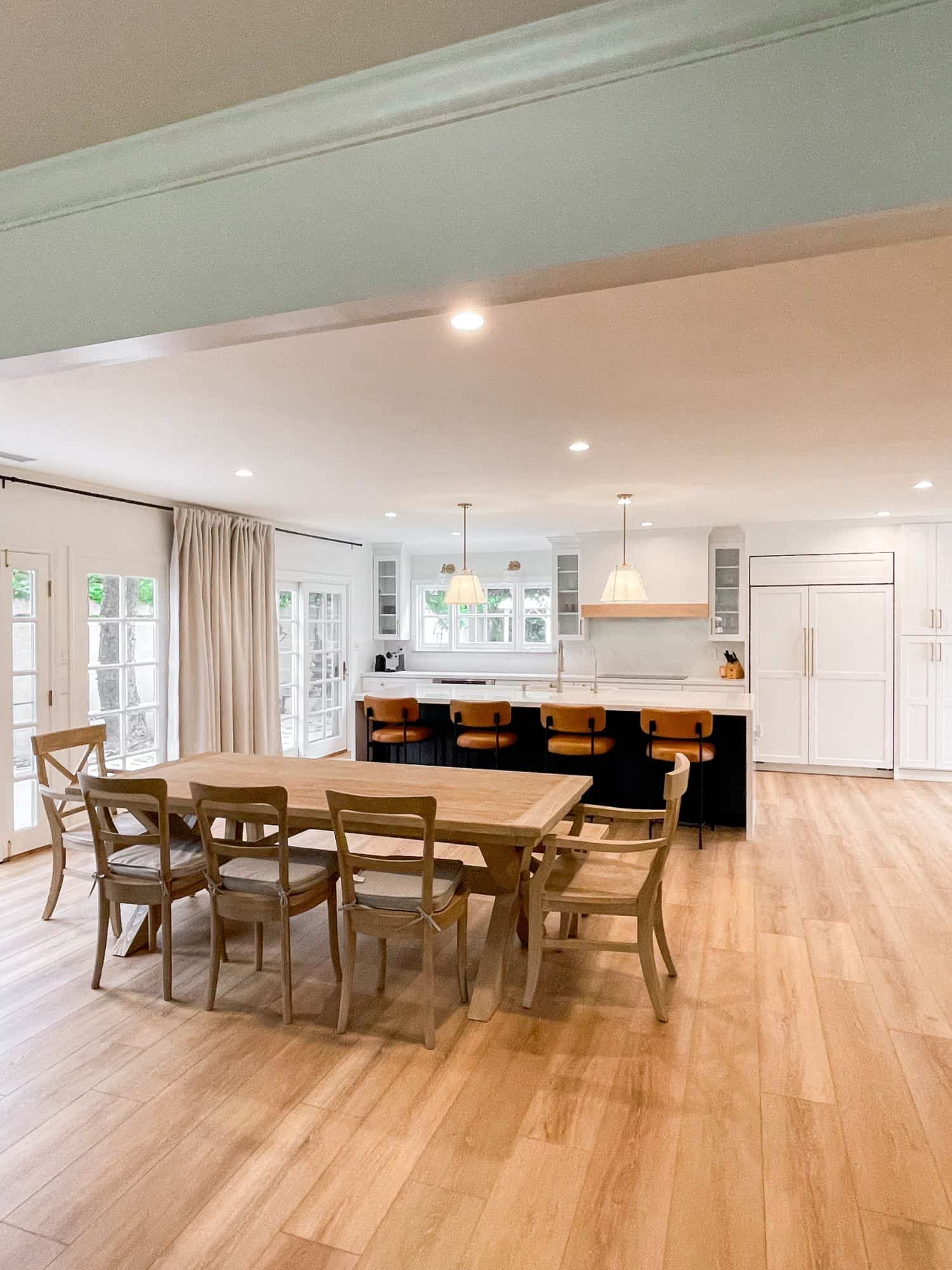 Relevant Post:
Kitchen Remodel Cost In Los Angeles - Cabinets
There are a lot of online stores that sell ready to assemble cabinets. And after reading this blogger's post, I also researched where I could get Fabuwood cabinets. Based on the cabinet needs, I did the calculation on the cabinets and because my kitchen was fairly large… (4 x 10' island, and 20 foot long wall), the cost added up to be about $10K.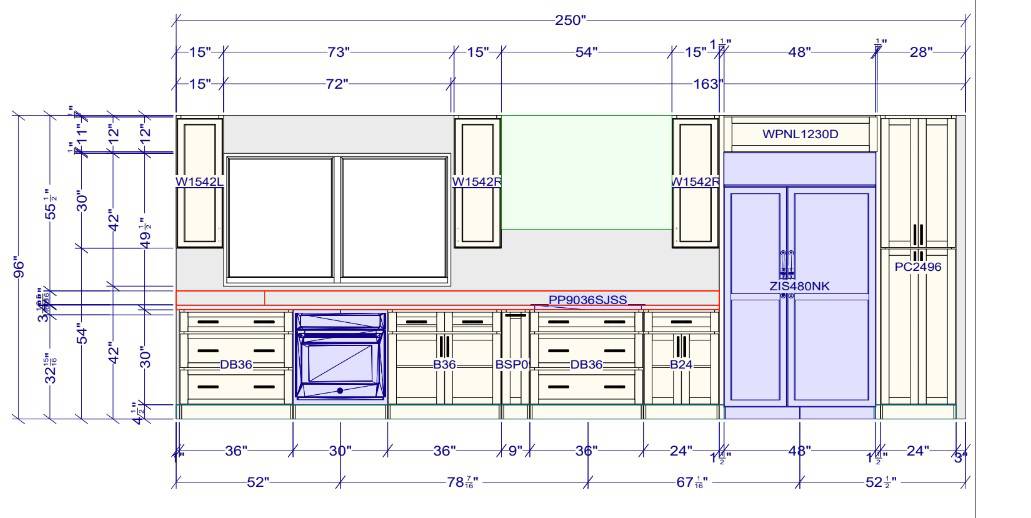 And then my contractor, who has done lots of kitchen remodel, told me as long as the cabinets are made of solid wood (not those MDF particles), then the 'brand name' doesn't really matter.
I went with the supplier he had connections with which sold Koville cabinets in California. With the contractor discount, I paid about $7670.
I wanted white and blue shaker cabinets and it worked out perfectly what I got from them! If you are working with a contractor, then it would be wise to get a quote from the cabinet store they work with. Depending on the contractor's relationships, you can get contractor discounts which helps a lot in getting a better deal.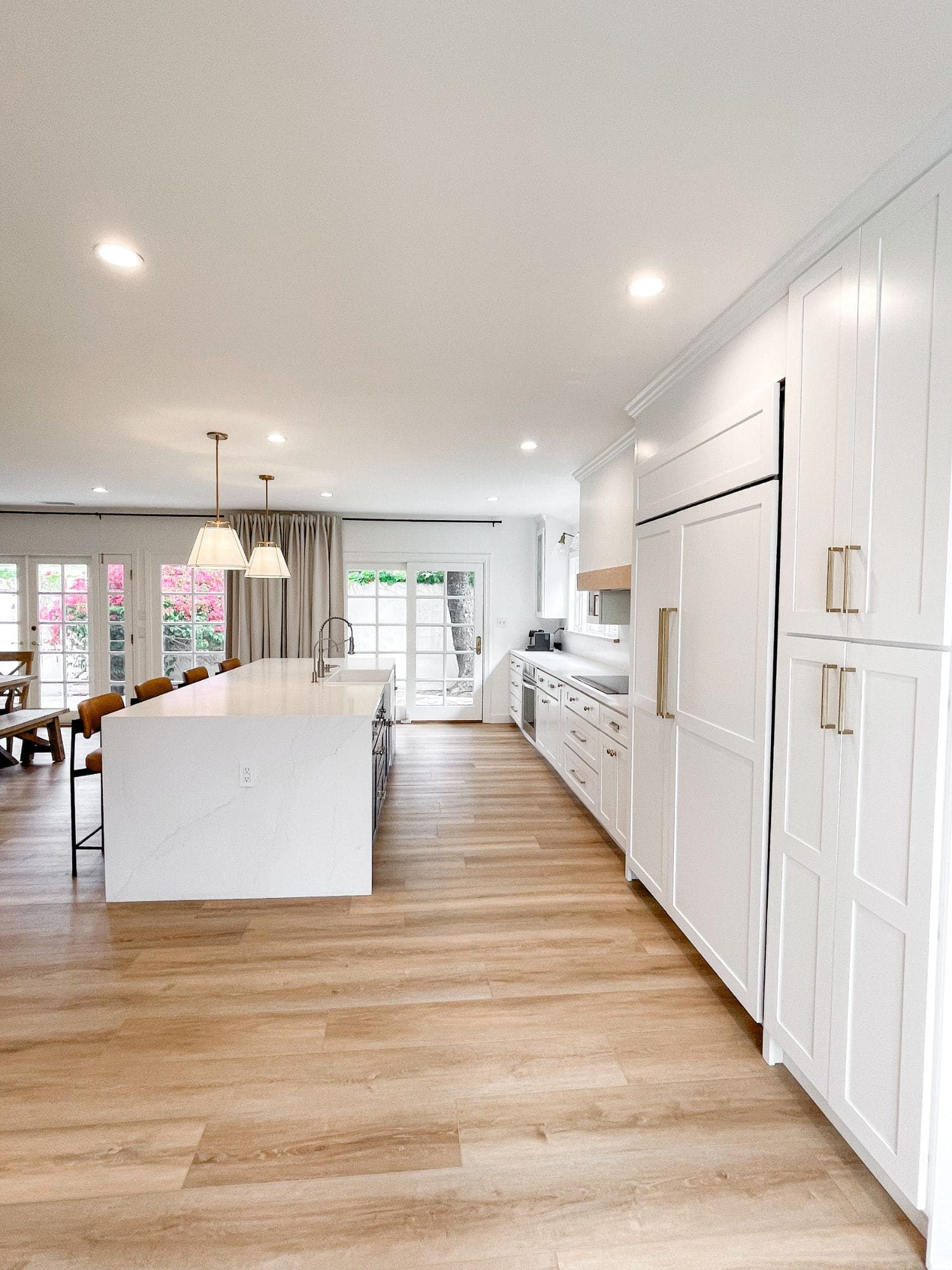 Kitchen Remodel Cost - Countertops
Oh boy, this was one area where we spent so much money on! I was pretty particular about how I wanted my island to look like. I wanted a waterfall island, and as I have mentioned above, the size of our island is 4 x 10'. This is probably the size of a slab you can get. Going larger than that would require you to get an extra large size slab which costs more.
I needed 2 slabs for the island from MSI (1 for the top and 1 for the waterfall, cut in half) and 2 for the wall cabinet countertops and 1 for the backsplash.
And we also had to work with fabricators who handled cutting and installing the quartz countertops, which was a separate cost.
The 4 slabs were $6500 (including taxes) and fabrication costs were $5500.
Could I have used a cheaper material for the countertop? Yes, absolutely.
You can get pre-fab countertops that are ready to install which reduces the fabrication cost. Also, you can opt to use tiles instead of quartz slab for the backsplash, which will be lower cost to fabricate and I could've saved money on 1 slab.
But I wanted a seamless look both on the island and also on the wall, so we decided to splurge a bit on the stones.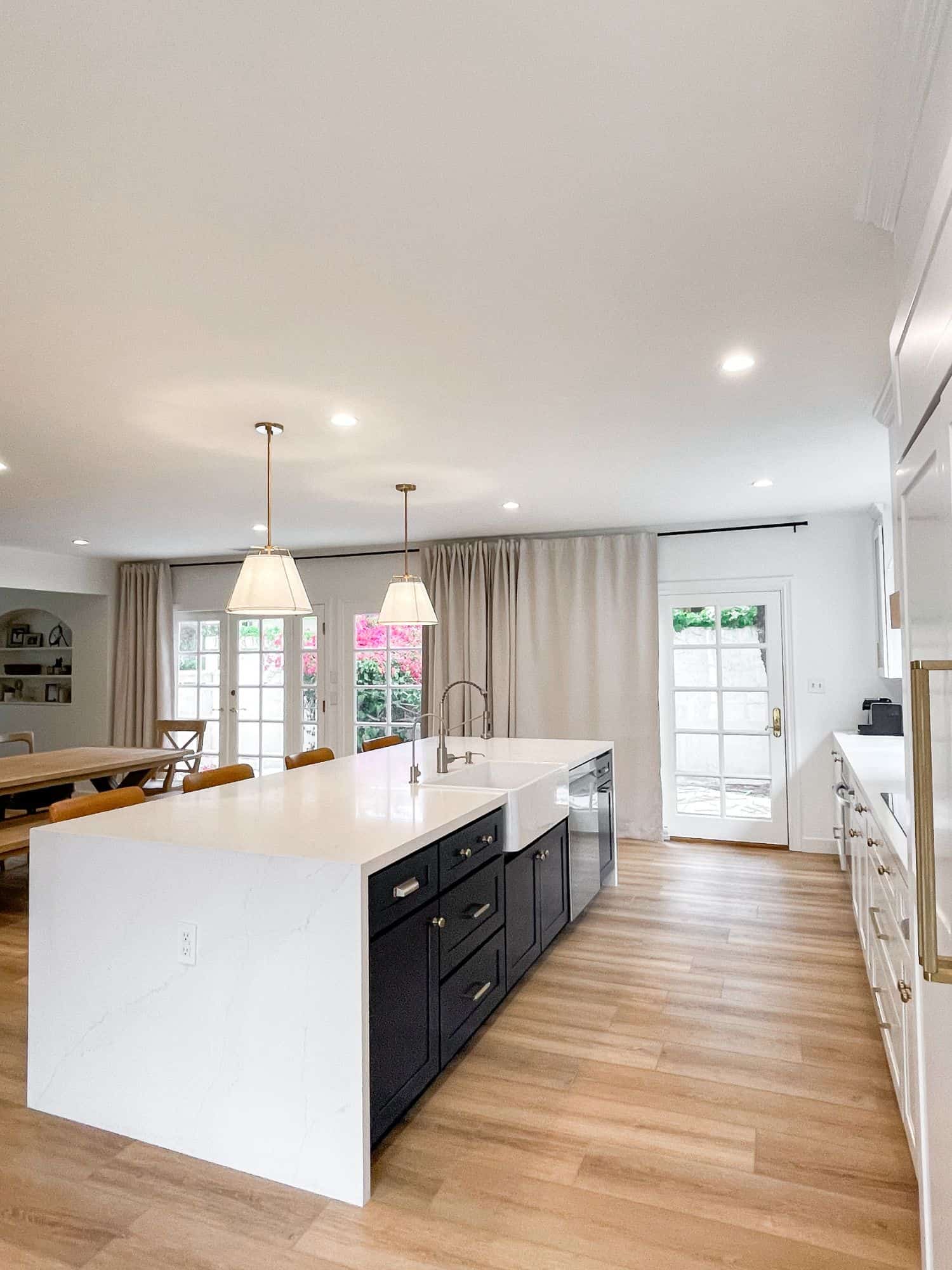 Kitchen Remodel Cost - Decor Items
With the shaker cabinets, I wanted to splurge a bit on the cabinet pulls so that the cabinets look more custom.
I ended up using Top Knobs pulls which worked so great with both blue and white shaker cabinets.
The lamps over the island were also from wayfair which I love the overall look. And the linen curtains I used over all of my french doors are from Amazon.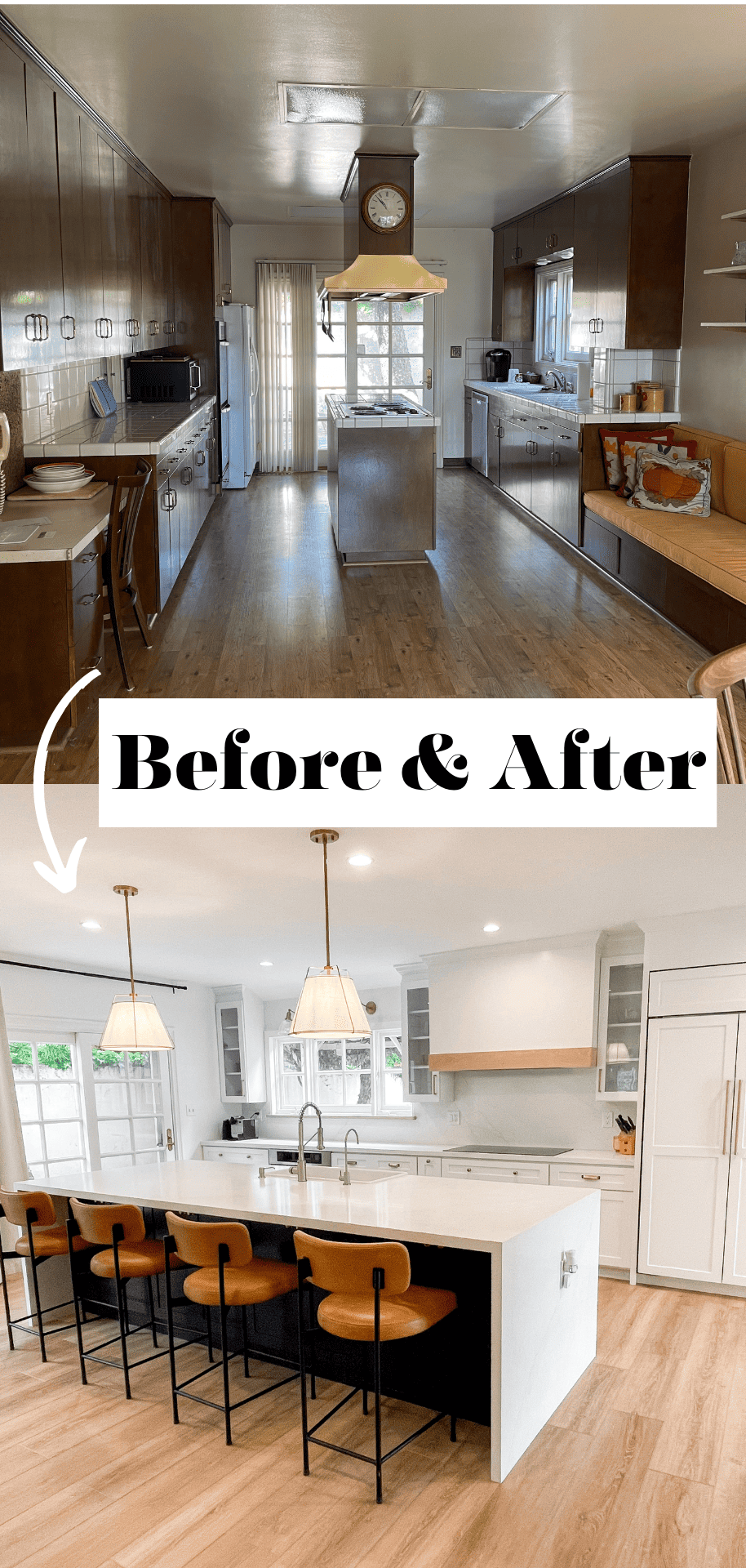 Kitchen Remodel Cost - Appliances
We wanted a high-end look for our kitchen and particularly wanted a built in fridge with panels. The fridge was probably the most expensive item for our kitchen renovation but my husband was very adamant about getting a large custom fridge. And it was something that you can see as the first thing you open the front door so we wanted a good aesthetic.
We purchased a 48" Panel Ready Counter Depth Monogram Fridge from Howards. I've learned my lessons to never buy another appliance from Howards as their customer service was horrible, so you might want to look at other appliance stores if you are searching for a custom look fridge.
Because we wanted a seamless look once the fridge panels were installed, we also needed to purchase the Flush Installation kit. The total we spent was about $11,000 for the fridge and the flush kit.
For the panels, because Koville only makes ready to assemble shaker cabinets, we had to hire a local cabinet maker to custom make the fridge panel for us. They came and measured our fridge, got a sample of the cabinet color, and installed it for us for about $1250.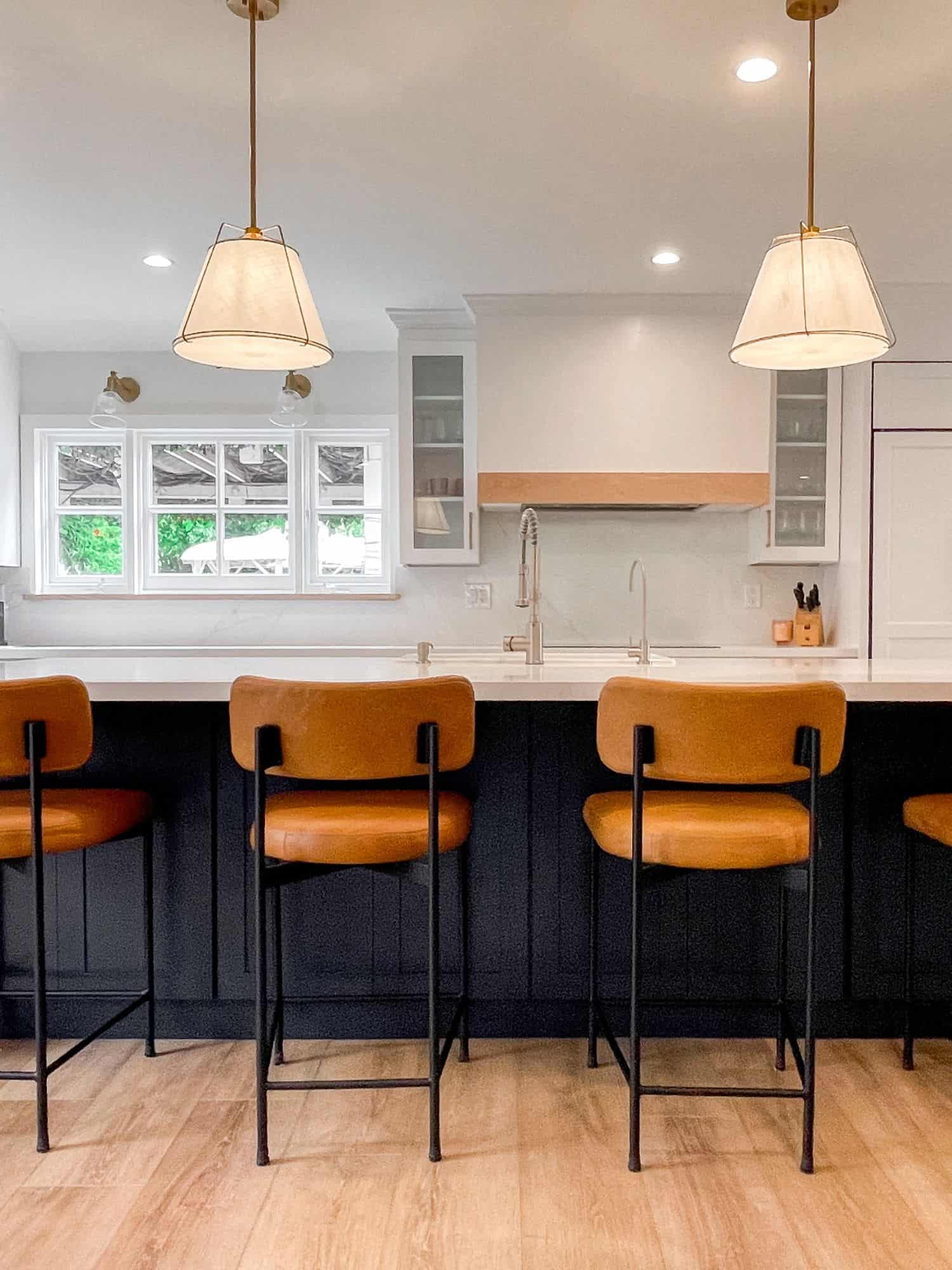 Other appliances were bought during black friday sale. We got a Samsung dishwasher, 36 inch Bosch Benchmark Induction cooktop, LG oven, and range hood for $5230.
Our Kitchen Remodel Cost Breakdown:
Cabinets - $7670

Countertops - $6500

Fabrication - $5500

Appliances (Custom Fridge) - $12500

Appliances (Dishwasher, Cooktop, Oven, Range Hood) - $5230

Sink (Fireclad Farmhouse) - $460

Faucet - $164

Cabinet Pulls $790

Total Material Cost - $38,814
Demo Kitchen Wall and Relocate All Electrical - $2600

Structural Reinforcement - $5800

Cabinet and Moulding Installation (Include custom range hood) - $5400

Replumbing and Appliance Installation- $5000

Total Labor Cost - $18,800
Total $57,614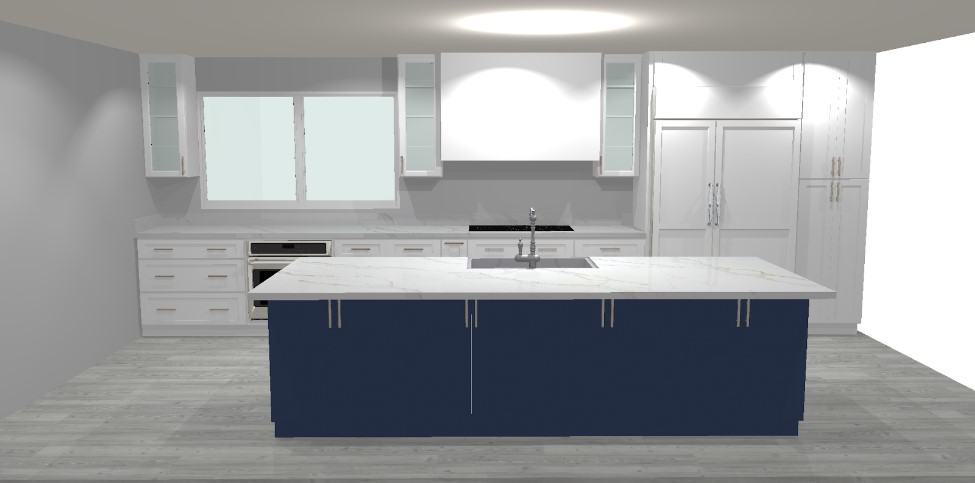 RELEVANT POST:
Keep in mind that we removed a wall and also decided to really splurge on the custom fridge. If you are looking to get a smaller size fridge or even get something that's not paneled, you can save money there. Same thing with the backsplash. So save about $10-$15K from the above.
Let me know if you have any questions on our kitchen reno or if I missed anything! Check out my post on Kitchen renovation before and after, and master bedroom transformation or bathroom remodel here.