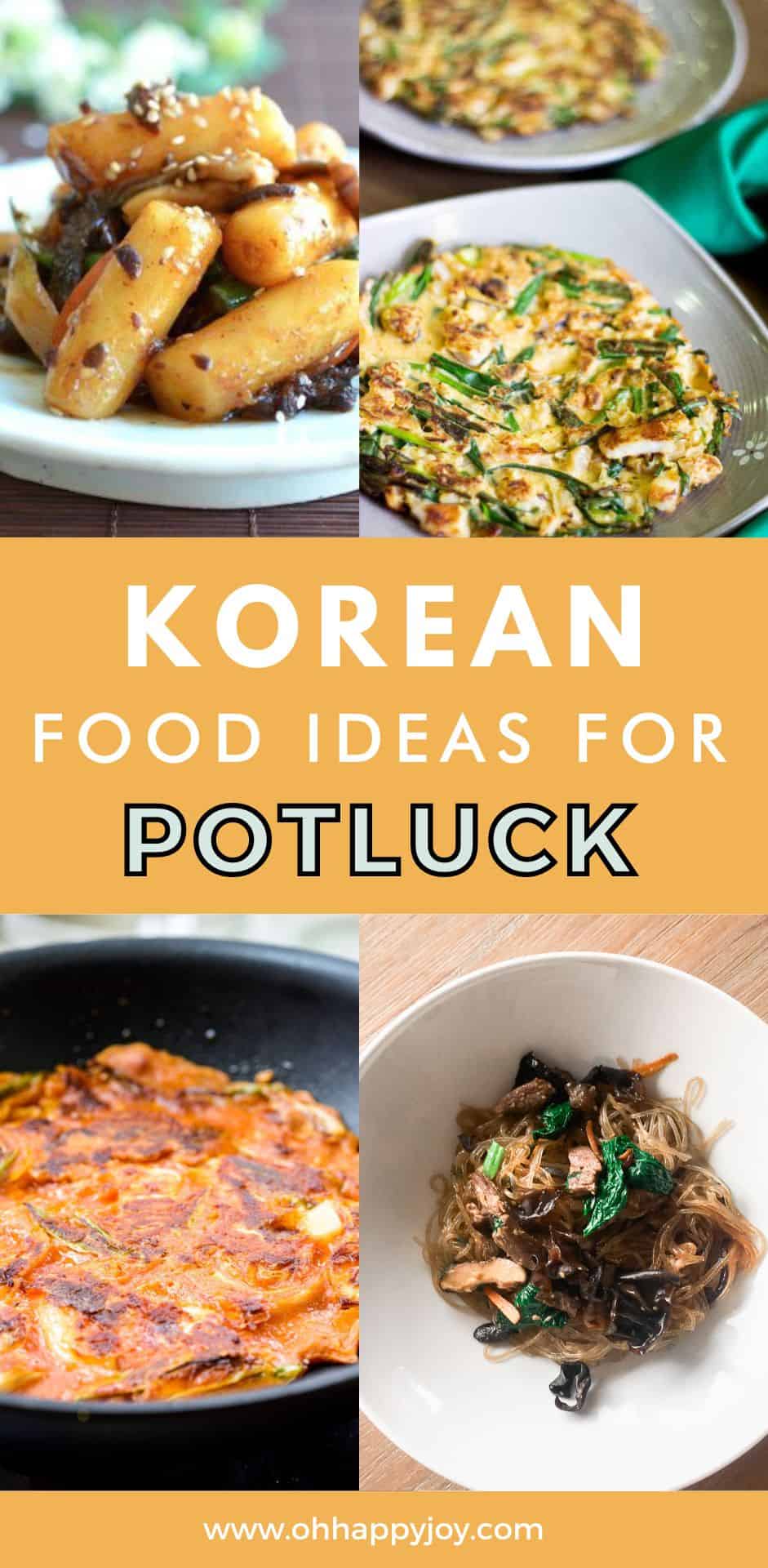 Looking for Korean food for potluck? Having been to many Korean gatherings…I'm here to share REAL Korean potluck food that people actually enjoy. And hey, I'm not a huge fan of Korean potluck dishes that require 30 steps to make. I like things EASY and SIMPLE.
And these are great as Asian Thanksgiving food. If you are having a Friendsgiving or inviting people over for Thanksgiving dinner, these recipes will surely make your guests' belly full and happy.
So I have listed the Korean party foods in order of its easiness to make and prepare. I'm sure this korean dish will become a crowd favorite so let's begin!
You might not have heard about this dish if you are not Korean. But you may have seen 'Inari sushi' at a Japanese restaurant? This is it! It's super easy to make since normally the tofu curd you buy at a market comes with the sauce too. Great Korean finger food that's super easy to make!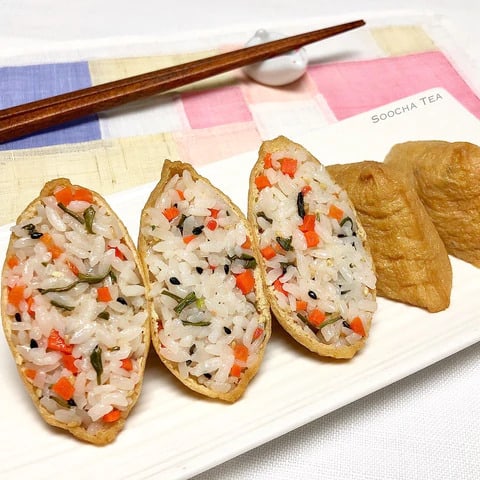 Source: Soocha Tea
Koreans LOVE pork belly. And what's better than making bulgogi with it? I like to use pork belly with the marinade or you can use not so fatty parts like pork shoulder like the recipe says. It's simple to grill up as long as you marinade the pork!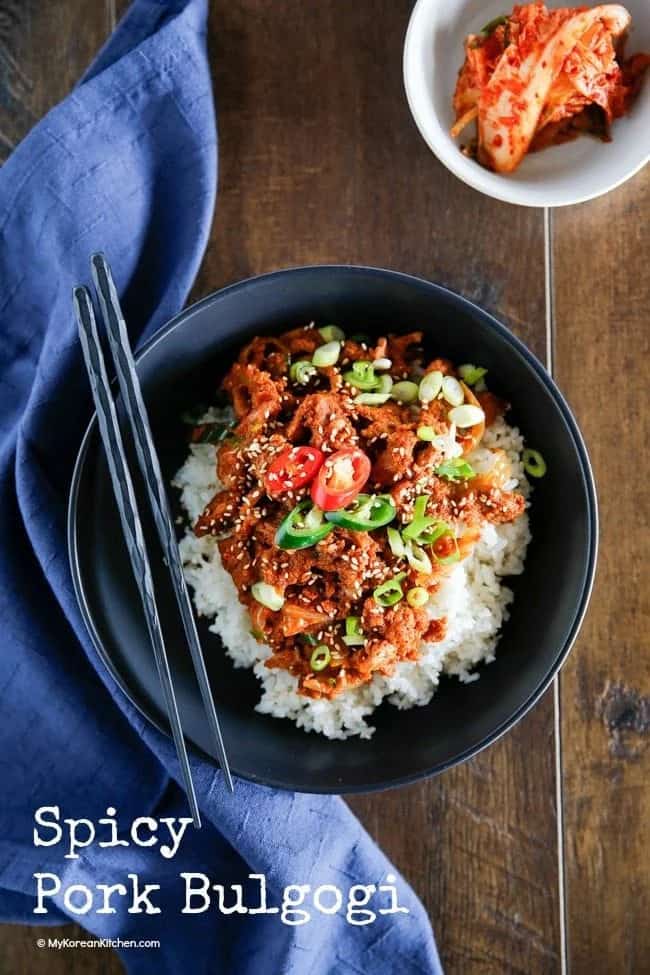 Source: My Korean Kitchen
3. Mandu Korean Dumplings
If you are trying to make mandu from scratch, well then this isn't so easy. I'm talking about pan frying those yummy frozen dumplings they sell at Korean markets. My favorite brand is CJ. You can go with rice wrapper potstickers like this one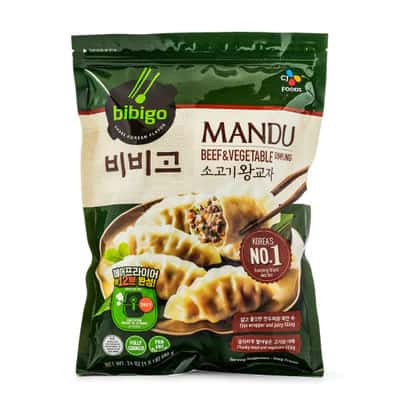 Source: Say Weee
or steamed one like this one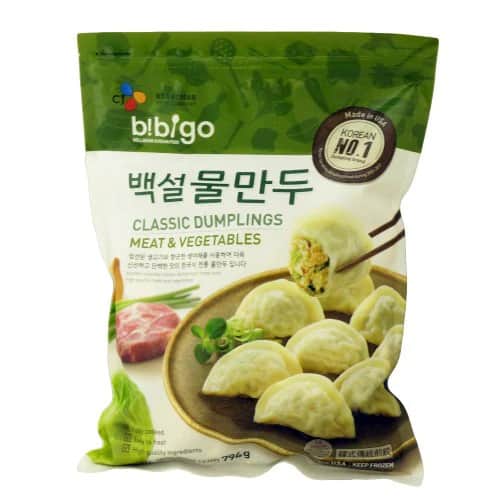 Source: HanYang Mart
They work great as Korea appetizers!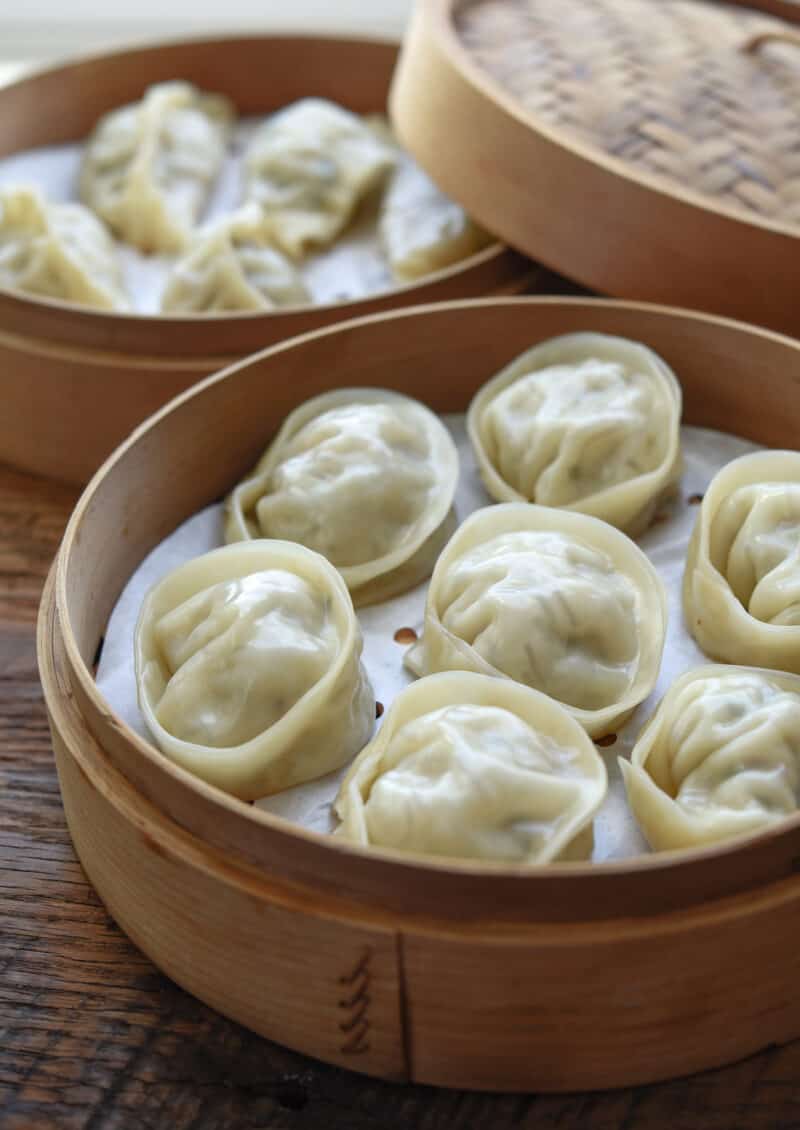 Source: Beyond Kimchee
4. Korean Pork Belly Bossam
It's one of my favorite meals. And my family loves it. Koreans absolutely love pork belly...having said that, if you are not a huge fan of too fatty meat, I have a bossam recipe that uses the pork shoulders in an instapot.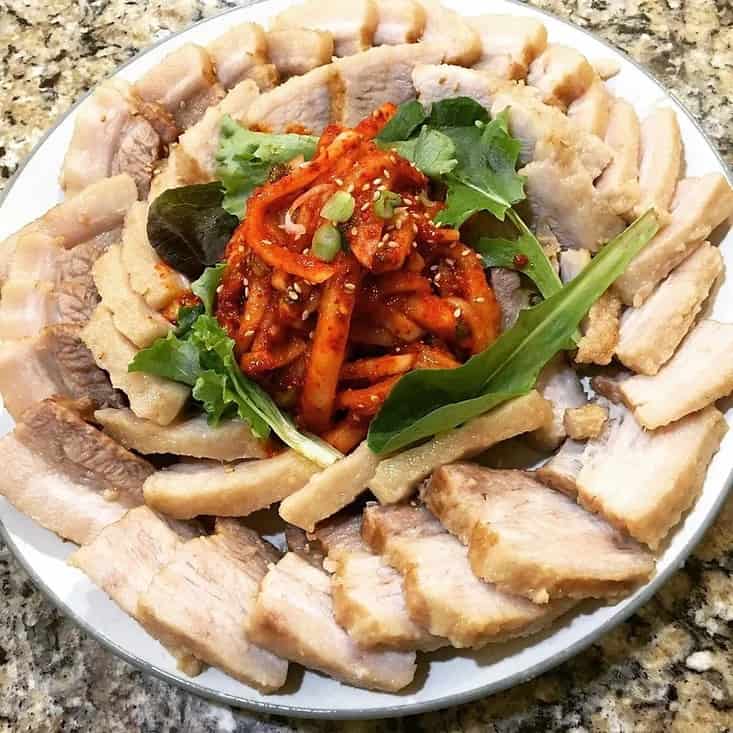 Source: Ahjumma Recipes
I love spicy kimchi fried rice. All you really need is kimchi to make it. Well, maybe throw in the staples like gochujang, sesame oil, sesame seeds and green onions. They are delicious and easy and simple to make! One of the best Korean food for potluck if your guests can tolerate spiciness pretty well.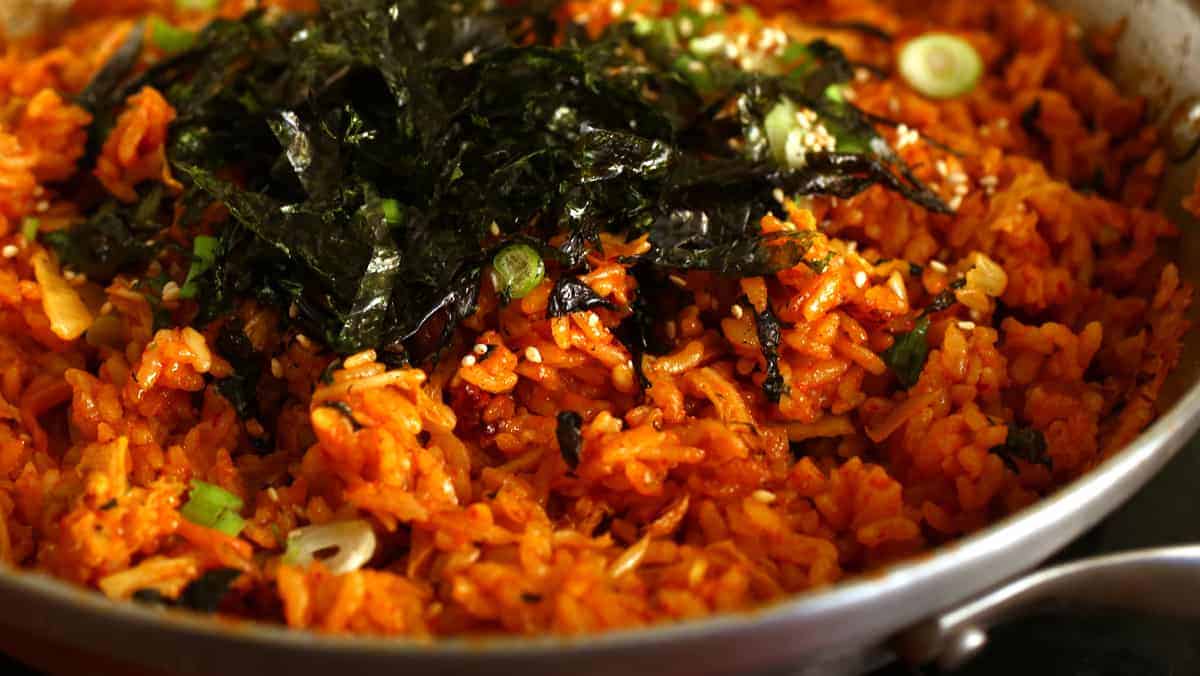 Source: Maangchi
Even for those that don't like kimchi, this could be their entry way to eating one. Raw kimchi has distinctive taste and smell that many don't like. But this one makes it very inviting for newbies to taste it. Again, you need two ingredients to make (kimchi and the pancake mix) and you just fry them on a pan and that's it!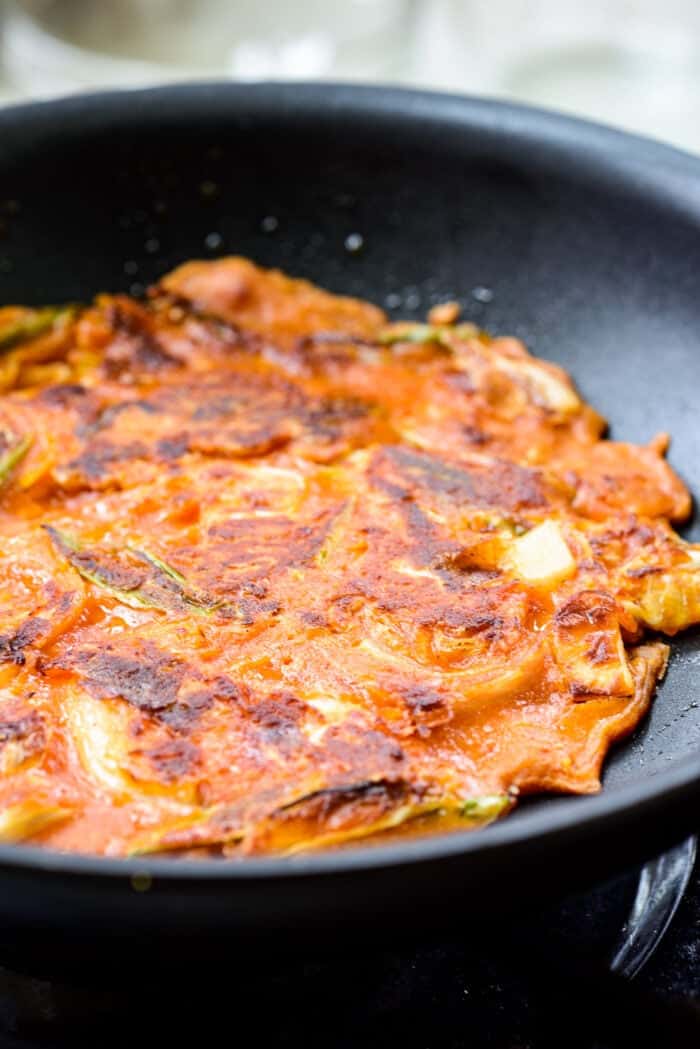 Source: Korean Bapsang
RELEVANT POST
If you want to be a bit more fancy, then seafood pancakes are what you can try. You definitely need more ingredients and it could be more tricky to pan fry them since they are more bulky. But they are delicious and nutritious too, and one of the most popular Korean potluck ideas!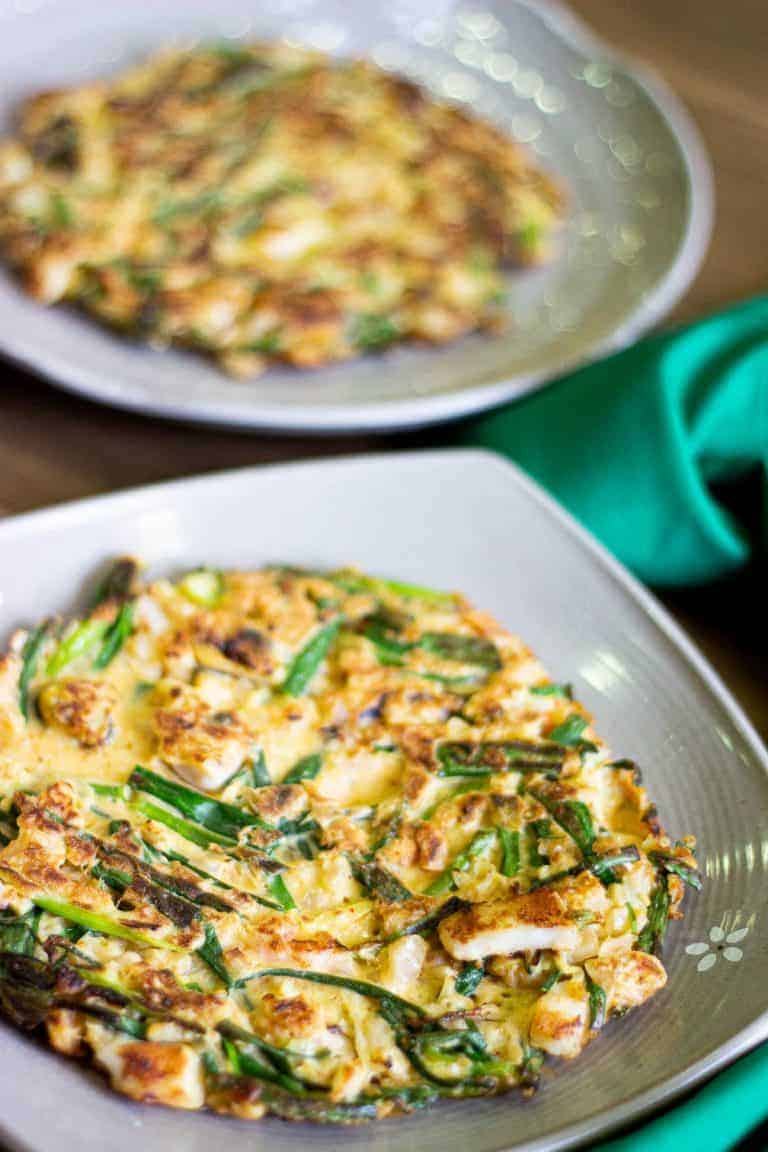 Source: Wandercooks
If spicy food isn't something you want to bring to a party, this well known korean snack can be the dish that you might want to try. They are made with soy sauce so they are salty and sweet. Yum!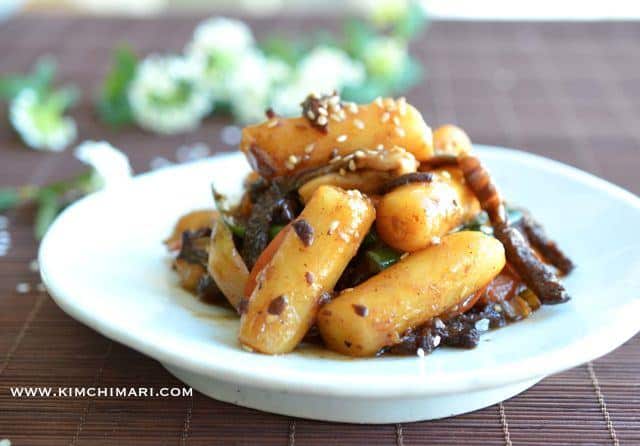 Source: Kimchimari
Tofu is very asian. And I haven't yet seen any Koreans who don't like tofu. This is a slight twist from Chicken gang jung, instead using tofu. Like I said, I love anything easy and cutting tofu into cubes is much easier than cutting chicken into cubes!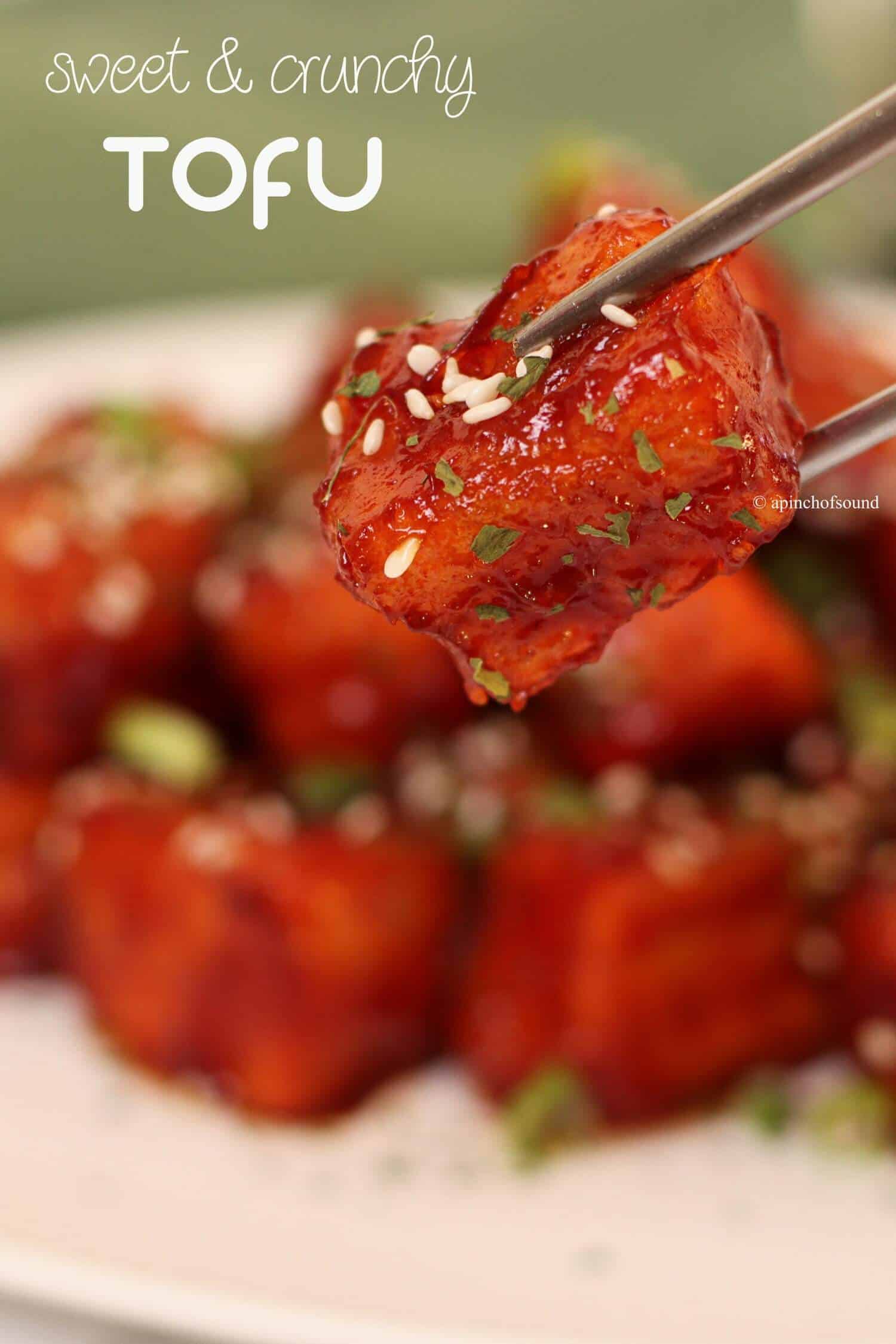 I love chicken galbi. It's one of those salty and sweet taste that many asian dishes are known for. And you just chop lots of ingredients and cook it in one pot! It's one of Korean comfort foods that many party guests would go fot!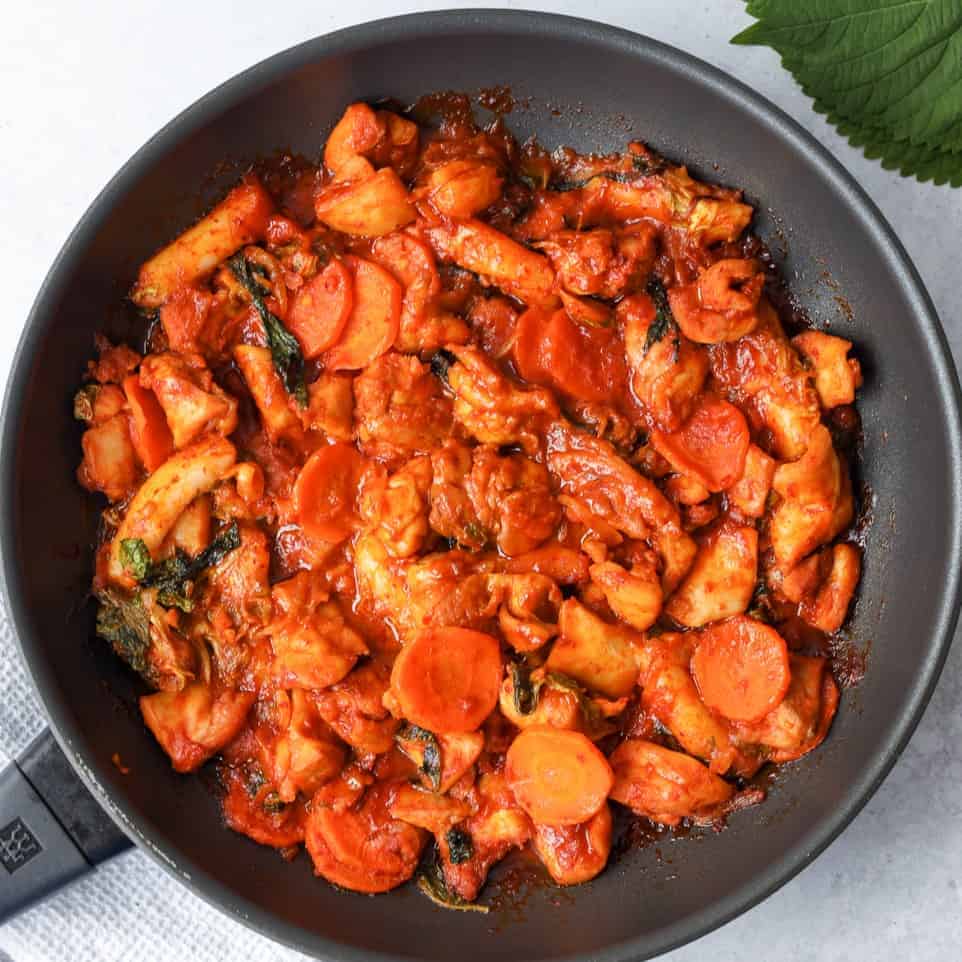 Source: Christie At Home
Dish that has short ribs could be considered gourmet food in Korea. It requires a lot of time and effort to make it. BUT you know me. I LOVE anything easy. Making this dish in an instapot makes the dish so much easier to cook. This could be crowd's favorite Korean potluck food!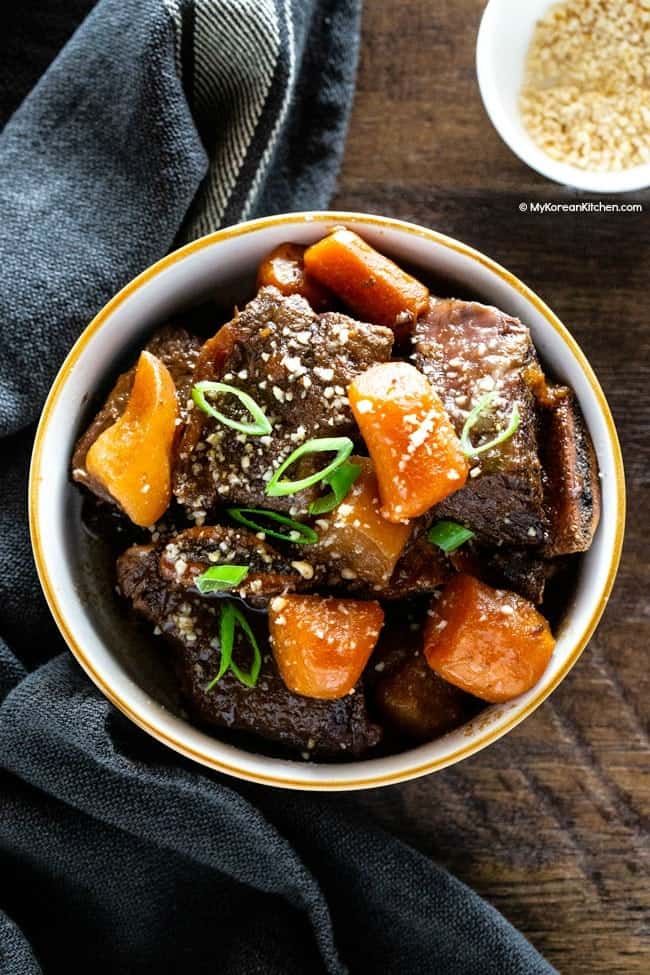 Source: My Korean Kitchen
Well known as Korean party food, many people think of this as the perfect dish to bring to a potluck. I love this dish too. While I have a great Japchae recipe that may have reduced some steps, it is still fairly complicated recipe for a newbie to try. At this point, I would rather whip up a healthy potluck salad or just make something more on the top of this list. But hey, it's totally worth it, if you can bring to your next Korean potluck!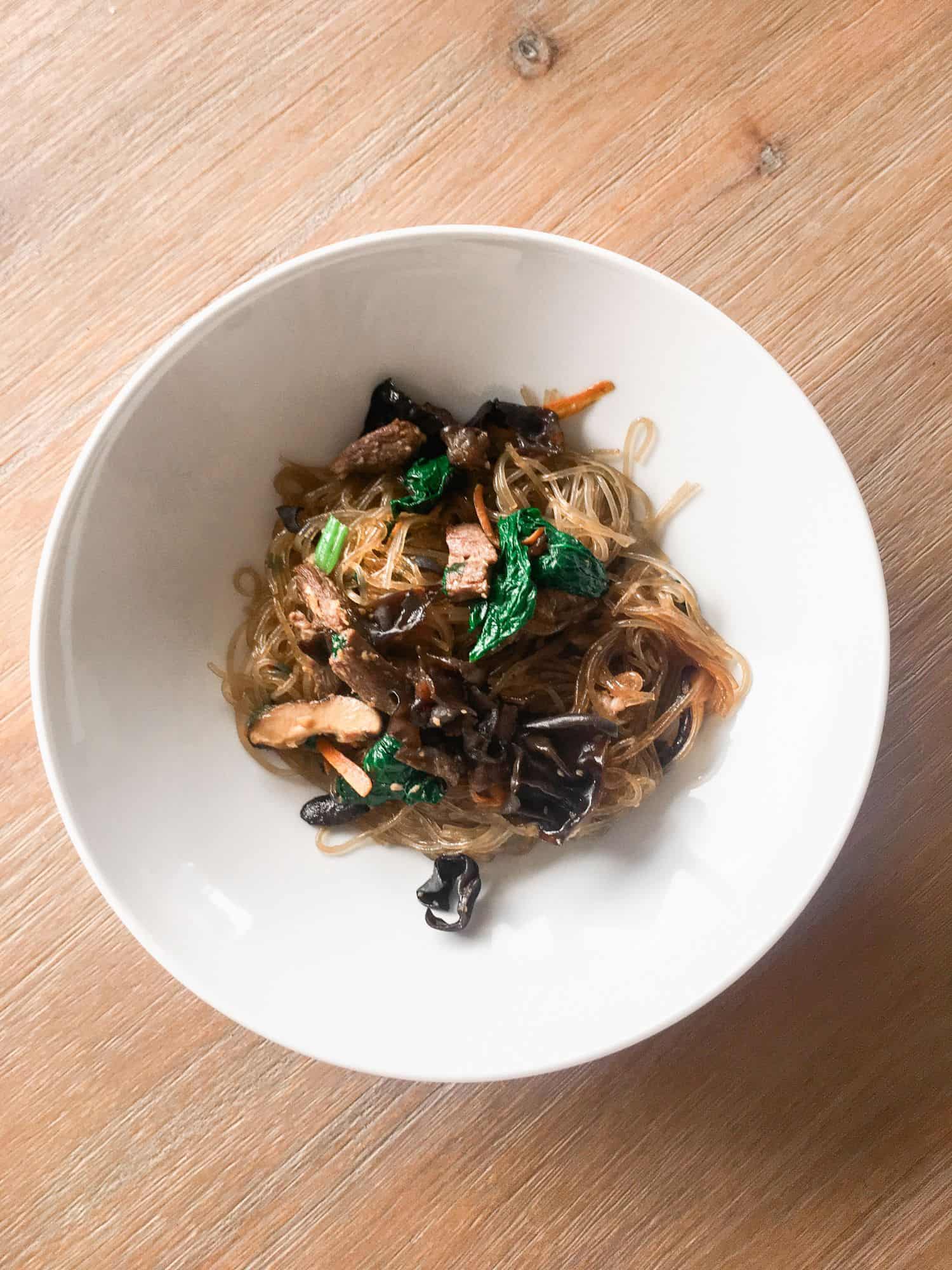 Source: Korean Japchae Recipe - Oh Happy Joy
This is one dish that takes a LOT of time to make…at least in my opinion. Mainly because you have to prepare each ingredient all separately and then get a roller, roll each one and then cut it….I would rather buy few from a grocery store and display nicely on a plate. But that's just me. Gimbap made with healthy ingredients at home are the best. When my mom makes them, I do not protest. Here's the recipe if you would like to give it a go!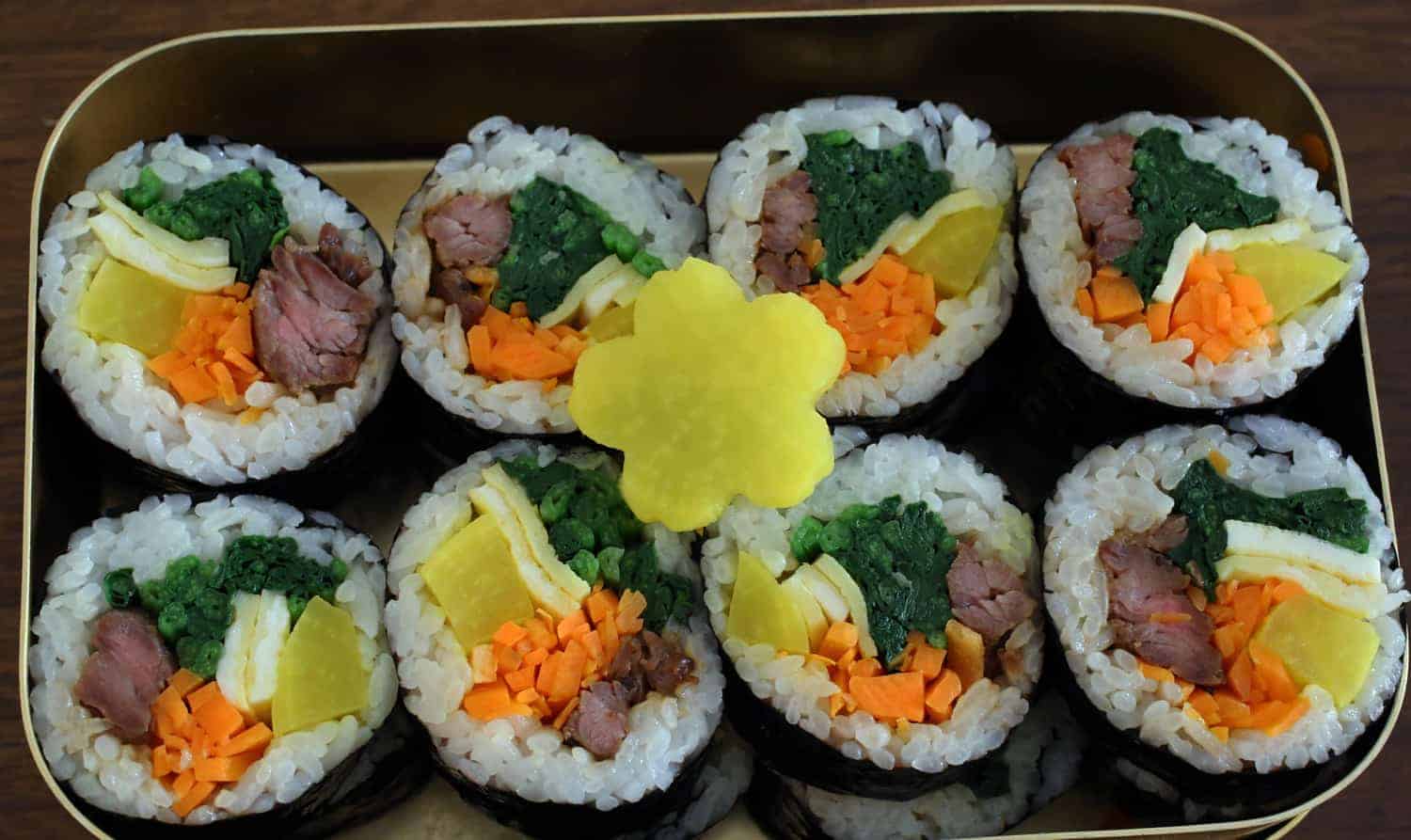 Source: Maangchi