This post may contain affiliate links. Please read our disclosure for more info.
Do you wish to have more flexibility in your work schedule or your every day life? Are you looking for work from home jobs that can give you that flexibility?
You might wish to:
Have the freedom to travel the world while money still flows into your bank account.
Start a new family which requires a lot more flexibility to take care of your newborn.
Have more control of your life while creating a new business or a company.
For me, I wished to have the flexibility and more time with the baby when my son was born. I was really looking for work from home jobs for moms. Personally, I think it gets especially more challenging for moms in the US, where maternity benefits only span out to maximum 3-4 months. Having raised in Canada, most of my Canadian friends enjoy one year long maternity leave. So, starting a new family began my search for options to work from home and have more flexibility. (See how I did it here)
In order to really produce the income you desire, you will need to invest your time in making your 'work from home' idea work. Of course, there will be challenges along the way. But there are so many benefits to working from home, and many of us already have the tools necessary to succeed - Our laptops, a good wifi, and the mindset that will take you to your dreams!
There are many different ways to work from home and make the 6-7 figure income you so desire. If you are ready, let's explore some work from home ideas that worked. I will be sharing some success stories along the way!
9 EASY WORK FROM HOME JOBS
If you have read some of my posts on how I earn my living, you know that I'm the real example of how this is really possible.
Amazon has become one of the largest online retailer in U.S. and as an e-commerce store owner, I can honestly say that Amazon makes it extremely easy for a seller to list their product and sell.
RELEVANT READ:
It works the same way for buyers too. Many consumers can easily find the products they need and within 2 business days, the product is delivered to your door. Whether you live in Montana or California. How awesome is that!
The idea is simple - you source products you would like to sell on Amazon, and you list the products on Amazon. Amazon brings you traffic - millions of customers that are looking to buy the very product that you have listed.
Of course, you have to do the work to get your customer to buy your product over others. But Amazon helps with bringing the customers to the very product page you listed, and also help you fulfill the products for you via Amazon FBA (Fulfilled By Amazon). Amazon FBA takes away the risk of having inventory sitting in your warehouse or in your garage. They take care of the storage and sending the products efficiently to the end customers so you can focus on selling/marketing part of the business.
If you are interested in making money on Amazon, you can read my post 'How I Replaced My 6 Figure Income With Selling On Amazon' to see how this is possible.
2. BECOME A PROOFREADER
If you pride yourself as someone that easily catches grammar errors and enjoys reading, this job is definitely for you! Being a proofreader is definitely something you can do at home, and you can easily make up to $45/hour.
The idea is that before the documents become public, the proofreader will review the document for any grammar errors. Whether it's a blog post or an academic paper, this job will allow you to work from your outside patio while sipping coffee, instead of the office cubicle.
Especially if you are an English major graduate, this job might excite you even more, since it will allow you to get paid to read.
Caitlin from Proofread Anywhere has a really great free introductory workshop that takes you through what it's like to be a proofreader. She traveled the world while making full time income on her proofreading career. Her proofreading work allowed her the freedom to work anywhere while making a living.
So find out about her workshop if you will enjoy getting paid to read and correct other peoples mistakes to make a writing into a masterpiece.
3. TEACH ONLINE
Create and sell your course through Udemy or Teachable
Having an online course is a great way to make money from home. If you are an expert in your field, you can create a course on Udemy and start selling your course. You earn money on every student that enrolls.
You will be surprised to know that Microsoft Excel skill is one of the most sought after classes on Udemy. This was surprising to me as a CPA!
Another great platform that allows you to make an online course is Teachable. Teachable makes it easy for someone to create a course. And you make money by having students enroll in your class. This mama (Family Success Academy) has built a very beautiful course through Teachable and earns money whenever she sells a course.
Become an online tutor
Even when you don't have special education or expertise, you can teach English online to students in China through VIPKids.
One of the great things about an online tutor is that you can work from anywhere, and VIPKids makes it easy to teach by providing lesson plans and course materials. You can create your own schedule, there are no upfront costs you need to incur, and you can earn up to $20 per hour.
Great thing is once you are accepted as a teacher, you don't have to seek students on your own since students will be already waiting for you.
4. BECOME A BLOGGER
Blogging is great since it requires no initial investment to start making money! Many have created successful blogs and have quit their daytime jobs.
There are various ways to generate income from a blog.
Advertisements - Yes, you've seen how people show ads on their blogs right? When you get enough traffic to your blog, you will start generating income from showing those ads on your blog from the ad network you join. Many start with Google Adsense and then slowly branch out to Mediavine or any other network as they grow traffic.
Affiliate Income - You can earn affiliate income by having a link of someone else's product. Whenever someone clicks on the link and makes a purchase, you earn a small commission from it. Michelle Schroeder has a really great course called Making Sense of Affiliate Marketing that will walk you through the world of how to monetize using this method.
Sponsored Posts - Once you develop your blog and start attracting certain group of readers to your blog, there may be brands/companies out there that would want to pay you to write a post about their product/service. As an e-commerce store owner, I have certainly worked with various bloggers and paid to write a post about our products so this is a really lucrative avenue for earning money, once you start to attract certain group of readers a brand/company is interested in marketing to.
Sell Digital Products - Whether it's a course, template, e-book, or artwork, you can sell your products to make money. As the traffic and readers grow and you have products that you can digitally share, you can monetize from selling these products on your blog.
Read about how you can start a blog and how these bloggers are killing it on the blog space!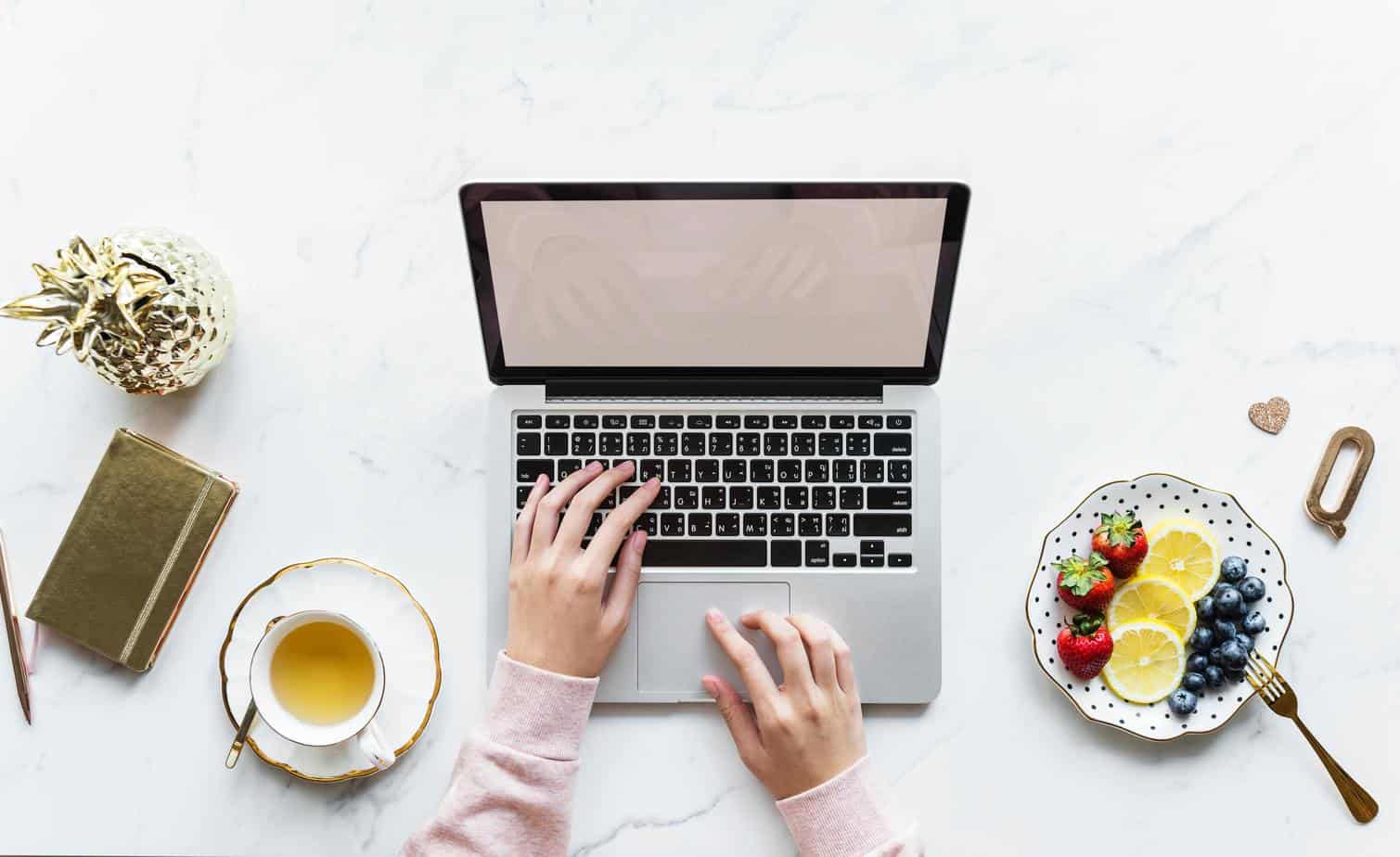 5. BECOME A SOCIAL MEDIA MANAGER
There is an increasing need for companies and brands to have a Social Media Manager who can manage various social media channels. If you know how Facebook, Pinterest, Twitter, or Instagram works and enjoy being on these platforms, this is a great job from home. You can learn about tactics and strategies by joining Facebook groups, reading articles to help a brand grow its social presence in the online world. I myself hired a Social Media Manager for my e-commerce store who was in the East Coast (I'm in California here!) for my store.
You can start looking for opportunities on websites such as Upwork, Freelancer, or Linkedin. Or if there is a specific small shop brand you really like that you think you can help out, the store owner will totally appreciate if you reach out to them!
6. BECOME A FREELANCE WRITER
If you enjoy writing, this is the job for you! With ever growing needs to produce contents on blogs or websites, people and companies are looking for good writers to add contents to their own blogs and websites.
I hire freelance writers for my own e-commerce store to add relevant contents as well. If you are a blogger, you can utilize your blog writing to showcase your writing styles when you are pitching to the potential customer that needs a freelance writer.
Check out few of the websites that provide pay you to write with these websites and blogs to get you started!
7. BECOME A BOOKKEEPER
As a CPA, this was definitely what I knew I could fall back on, if my e-commerce store failed. I knew I could pick up a bookkeeping job to financially support the family.
If you are a CPA or even if you are not a CPA but have taken bookkeeping classes, this is a job that you can take on to make extra cash at home. Accounting services is something that doesn't need to be provided on-site so there are various small businesses out there that are looking for a remote bookkeeper to maintain their accounting records.
You can earn up to $60 per hour being a bookkeeper and save extra cash earned at home or make a living out of it. Check out a course provided by Bookeeper Business Blueprint on how to start your bookkeeping business with no experience.
8. BECOME A TRANSCRIPTIONIST
As a transcriptionist, you will be converting recorded words to written documents. There are various fields (medical/legal) that require transcriptionists, and other more and more media (such as podcasts) are needing transcriptionist to convert words into written documents. With a growing demand, you can be rest assured that there will be plenty of work out there to make extra income from home.
Janet Shaughnessy from Transcribe Anywhere provides a course on how to become a transcriptionist. It will walk you through step-by-step on how to become a transcriptionist with zero experience so you can start right away.
9. BECOME A VIRTUAL ASSISTANT
There are growing needs of companies to have a virtual assistant! I currently hire someone from overseas but there are various companies out there that is looking for someone who can work US hours and understands the customers in US to handle customer service or any administrative work that needs to be done during the day.
If you have any experience working in an office, it will definitely appeal to a potential employer.
Hourly wage for a VA can range from $15 – 35 so it's definitely something to think about.
The skills you would need vary depending on the need of the person hiring but can range from helping out with administrative tasks but can include social media management, customer service, and blog updates. Even if you don't have a specific skillset, if you are an organized person, there may be plenty of opportunities for you. Check out for those opportunities on Upwork, Freelancer, Flexjobs, Remote.co.
Many of these opportunities can really help you work from home and make extra income. If you have anything else that's working for you, please do share!
RELEVANT READ: