Before I begin our whole journey of opening a load bearing wall between kitchen and living room, here's a before and after picture for you to see what a DRASTIC difference it makes.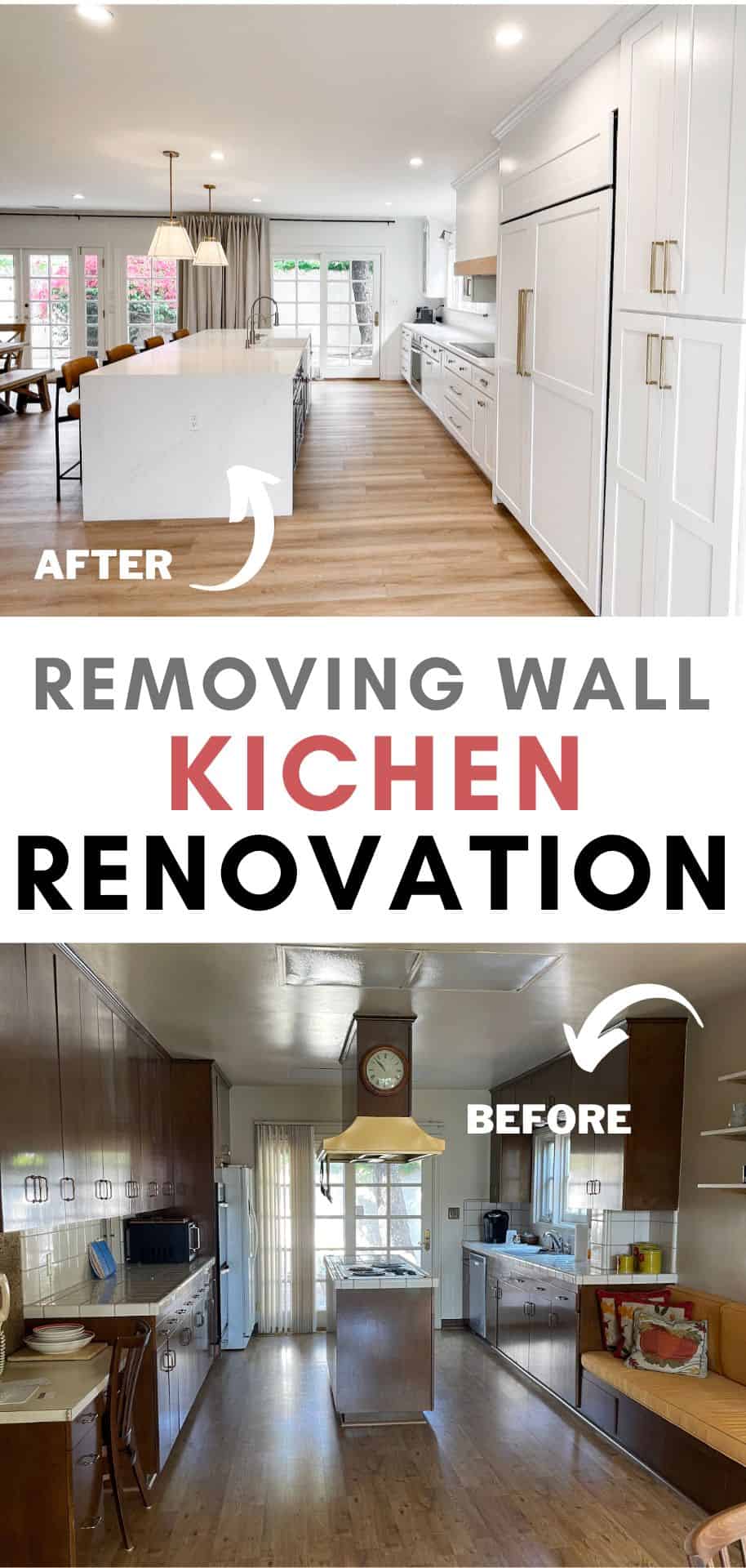 I'm sooooo glad we decided to open up the living room and kitchen…AND dining room. Kitchen remodel with load bearing wall is definitely something you shouldn't do as DIY project as a first timer.
We hired experienced contractors who handled all of the aspects of our renovation. BUT having said that, I was ALSO heavily involved in the design aspect of things and everything else. If you have already seen my post on DIY Master bedroom board and batten accent wall, 1960s bathroom remodel before and after and how to decide on shower niche height and design your bathroom , you know that designing takes a lot of research and carefully thought out plans.
So here we go, how to open a load bearing wall between kitchen and living room
RELEVANT POST:
1. What Is a Load Bearing Wall?
Well, even an experienced contractor didn't know the answer to this question UNTIL we opened up the wall.
But once you open up a wall, it's fairly easy to see whether a wall is load bearing or not. And this is where a structural engineer comes in….
This is the view from the kitchen and you can see which load bearing wall we wanted to remove to open up the kitchen.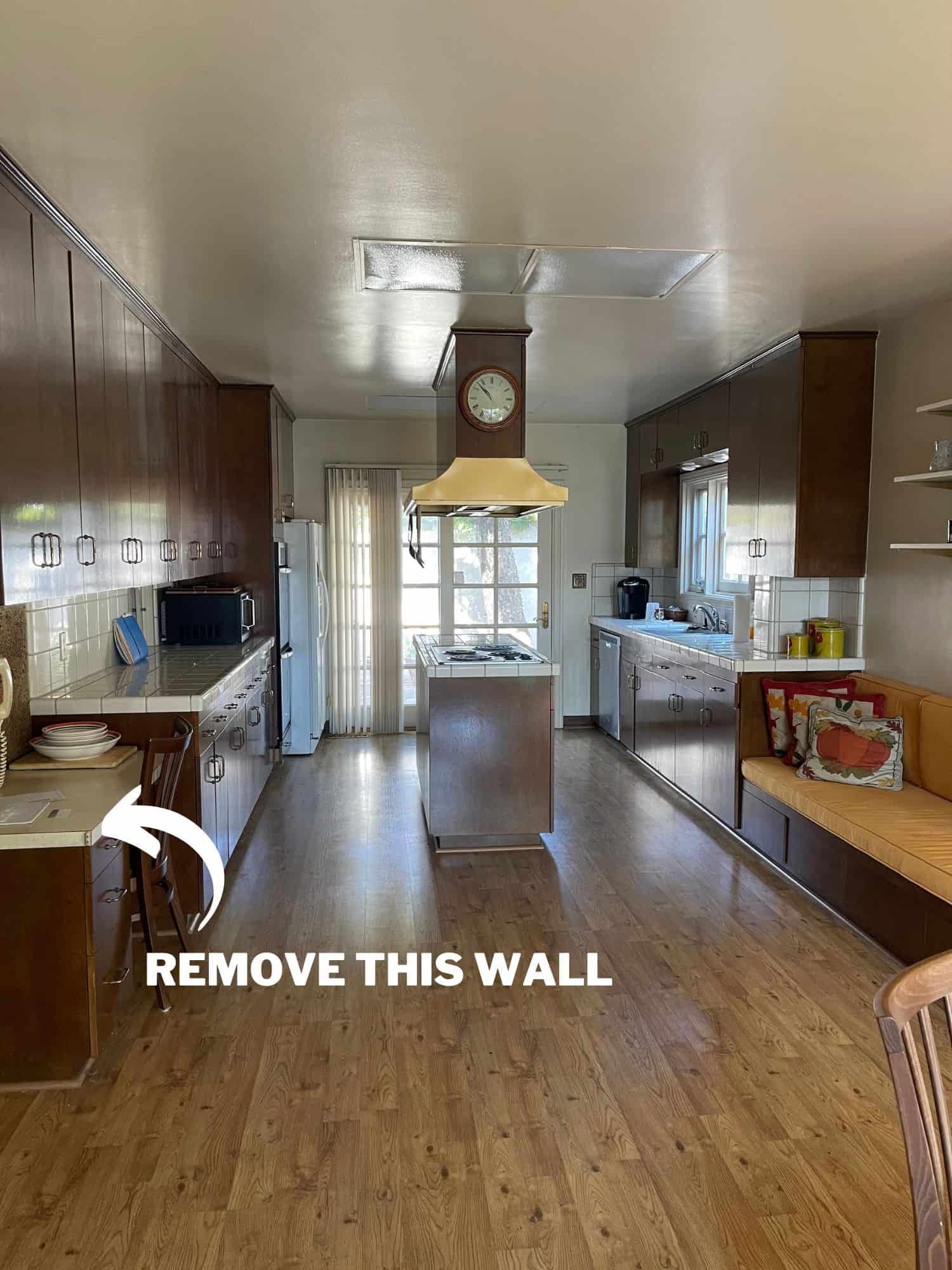 This is the view from the other side. As we also needed to remove the popcorn ceiling, we had to cover everything in this picture. But you can see where the kitchen is on the other side of the wall we wanted to remove...And the small odd window we had in the middle of the wall.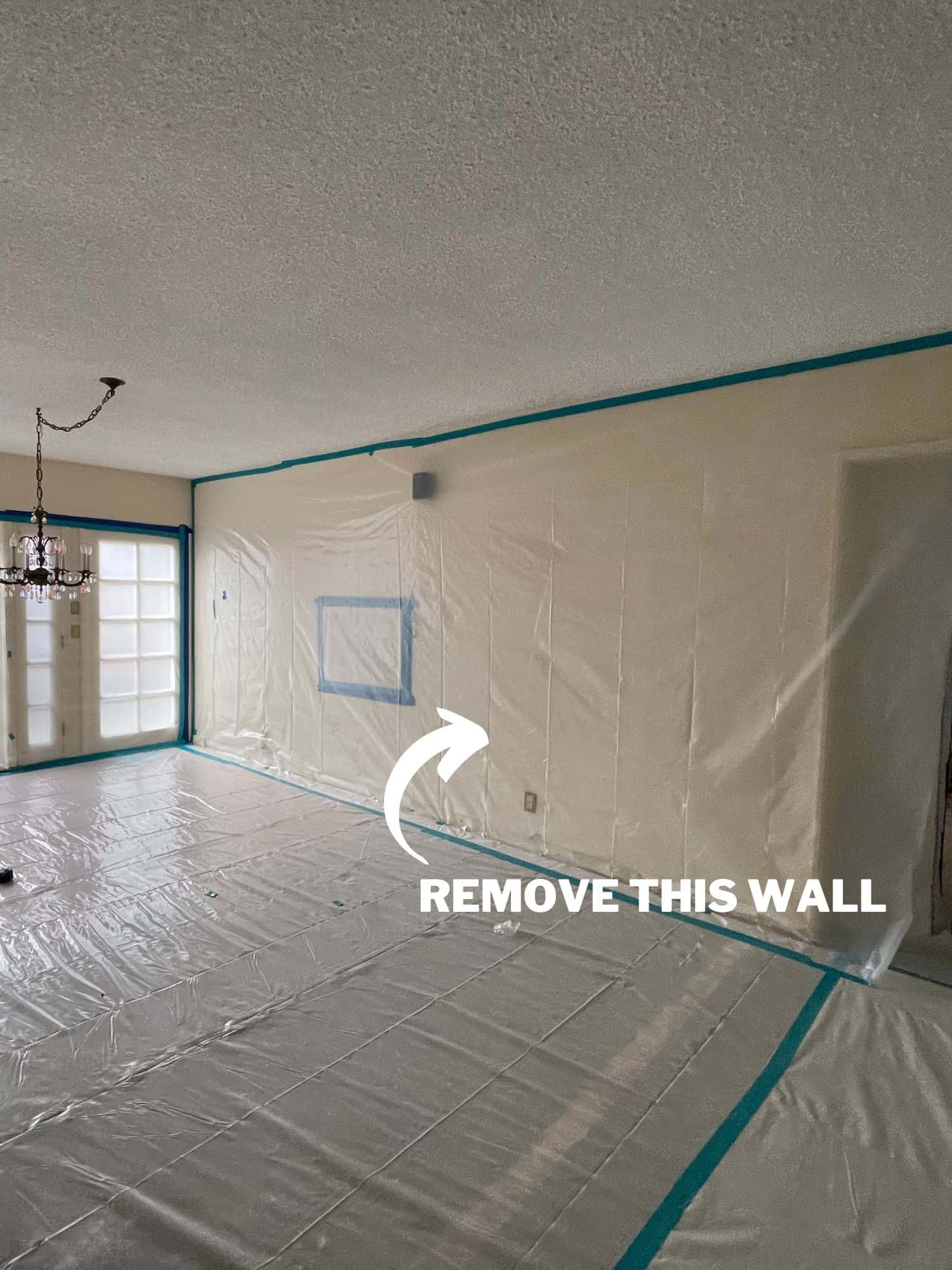 2. Assess Feasibility and Structural Considerations
For our renovation project, we needed to hire a structural engineer and an architect.
Oh boy that was something that took awhile to figure out what I needed to do.
We were lucky to have the blueprint of our home from the city…well, in our case architectural association in our neighborhood, who pretty much kept all the architectural design of the homes had ours.
I went to a place that makes copies of these giant paper drawings so my architect can have a copy.
That was super useful for our structural engineer as he was able to see if we needed to reinforce the footing and what beam we needed to use to support the wall.
The structural engineer and the architect worked together in drafting the plan to be submitted to the city for approval.
3. Obtaining Permits and Hiring Professionals
The whole plan of removing the wall and updating our kitchen was submitted to the 'plan' department in our city. And then once approved, the work could be started.
4. Structural Modifications and Supports
We demoed the wall. And then it was supported with support studs…and then the wall was removed and the beam was put in.
Just this step alone created so much more of an open space as you can see below.
This image shows that we have supported the ceiling with support studs while we removed all the wall studs.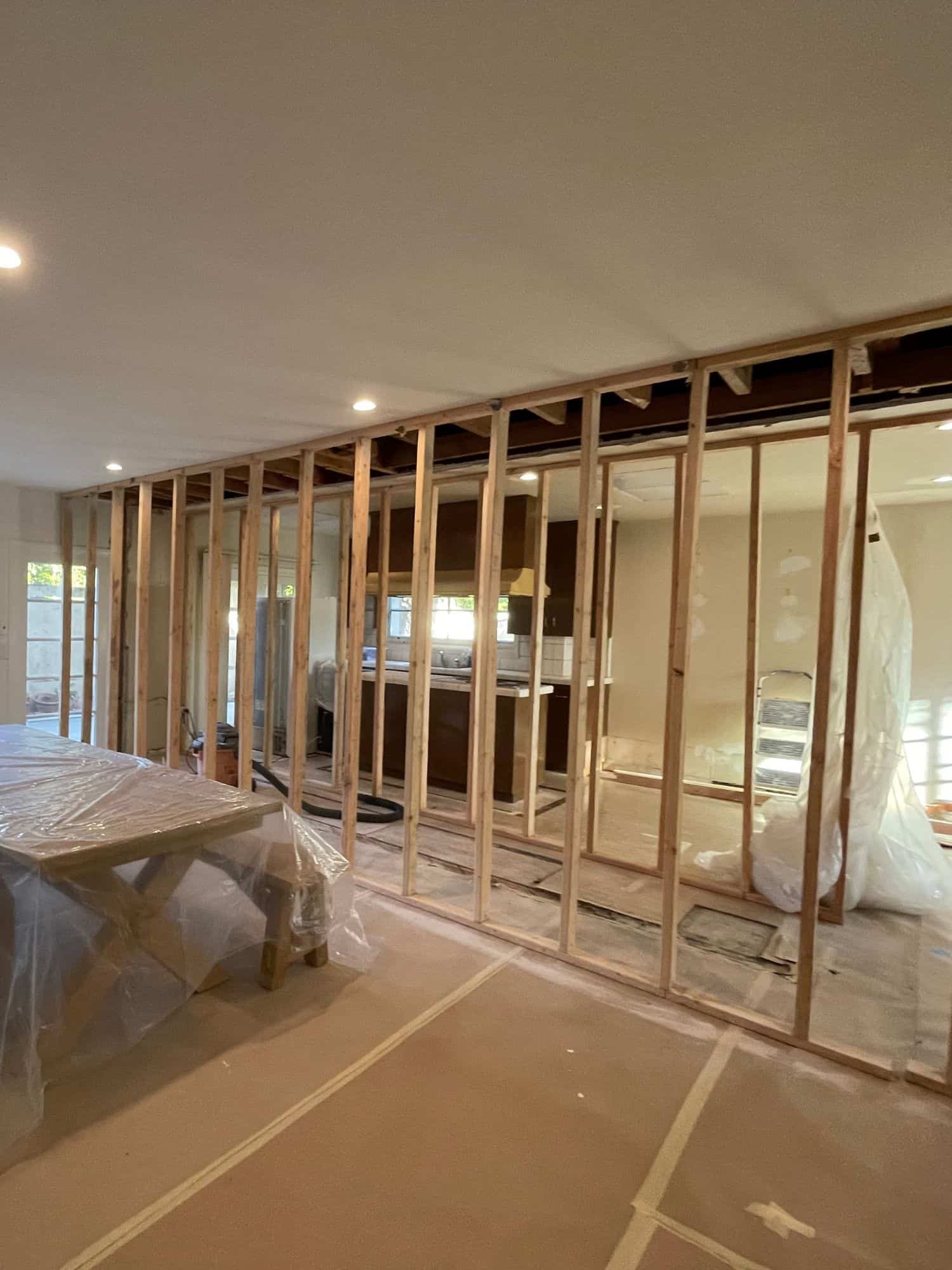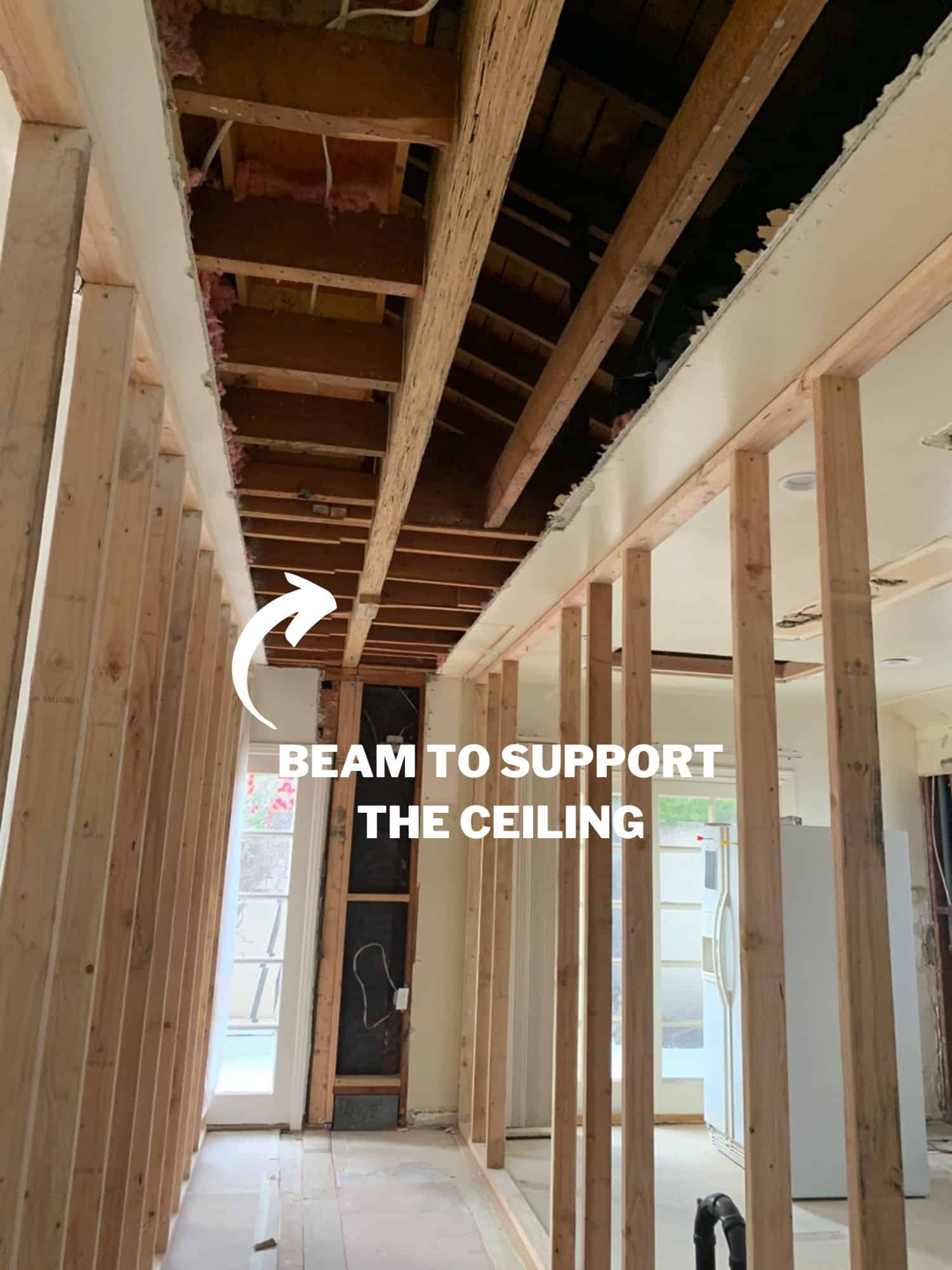 The footing was also reinforced as now the support was holding a lot more weight than before.
Once this stage was done, the city inspector came out to inspect how things were done. If he had any modification, this was the time for us to address it, BEFORE the walls were closed up.
Because we removed the wall that had the fridge and was also relocating where the sink would go, all the electrical stuff had to be rerouted after removing the wall.
So when removing a load bearing wall in the kitchen, always keep in mind where the new outlets and appliances will go so that you can also involve electricians in time to get those set up!
Final View of Opening a Load Bearing Wall Between Kitchen and Living Room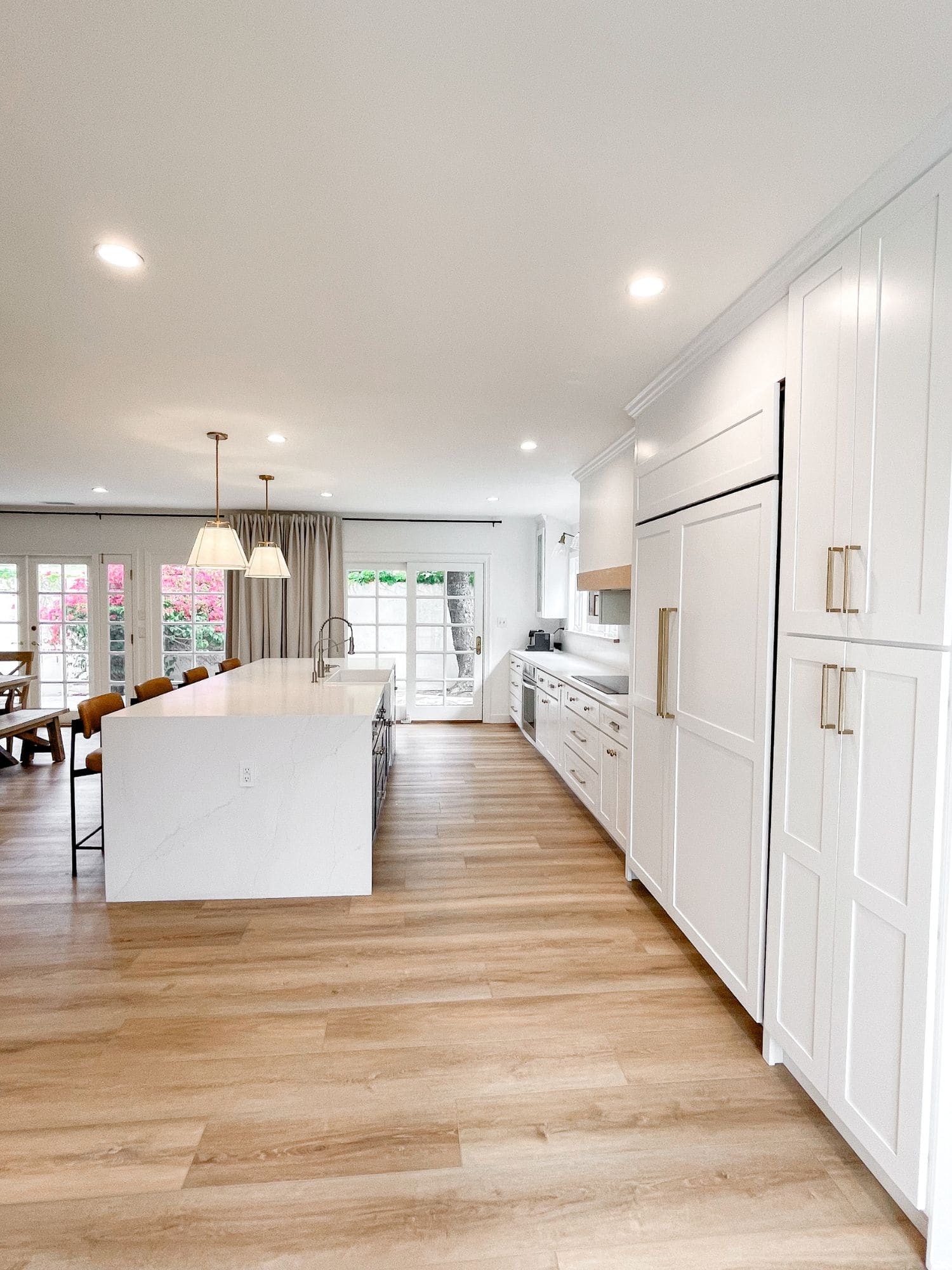 And ta da!! You wouldn't believe how happy I was to see the whole space open up and get so much more light.
We also knocked down wall between kitchen and dining room…well to be more exact, the dining room and the living room. I wish I took pictures of us knocking down that wall too but unfortunately, I only have before and after picture.
Do you see how much it opened up the space in the 'after' picture below?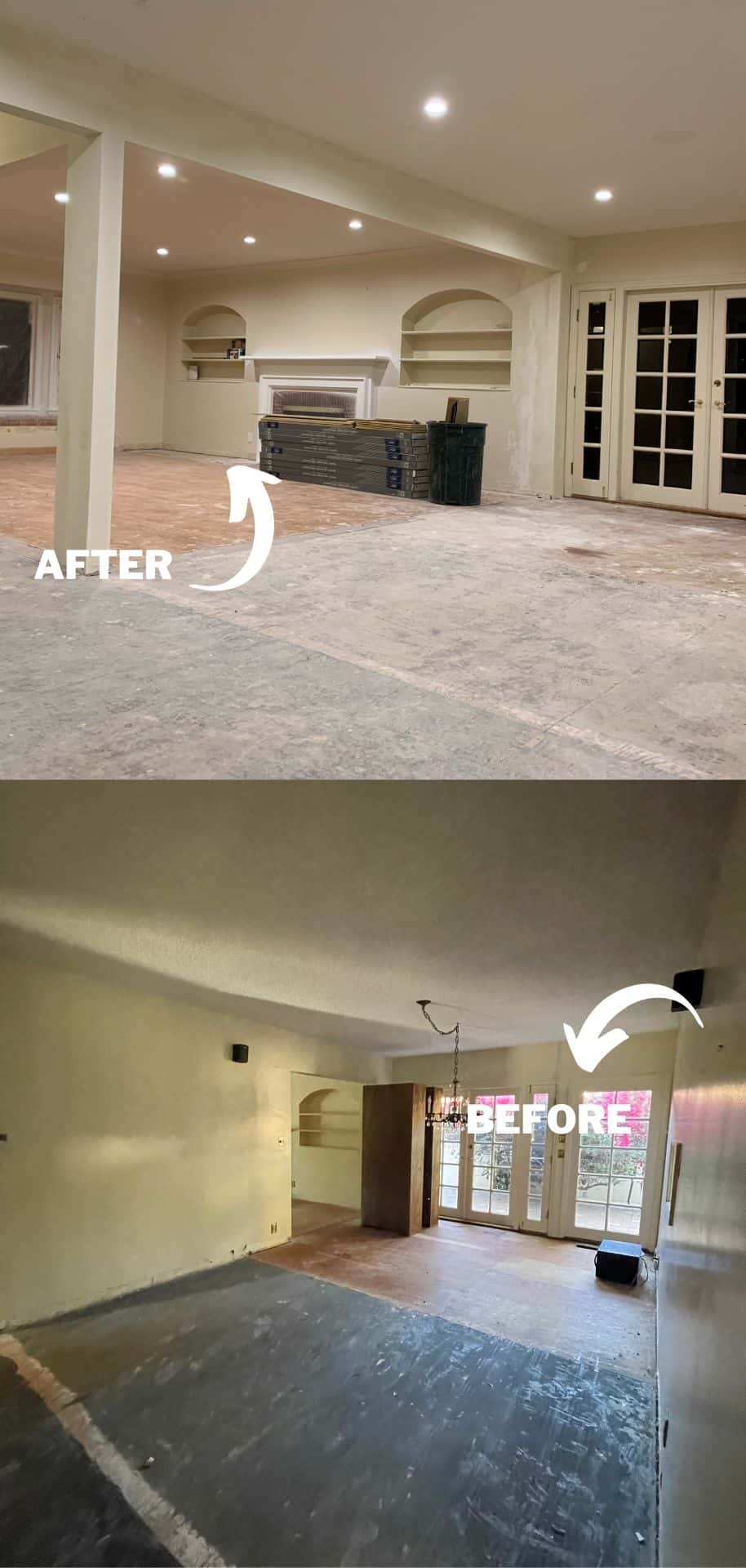 Here's a view looking into the living room.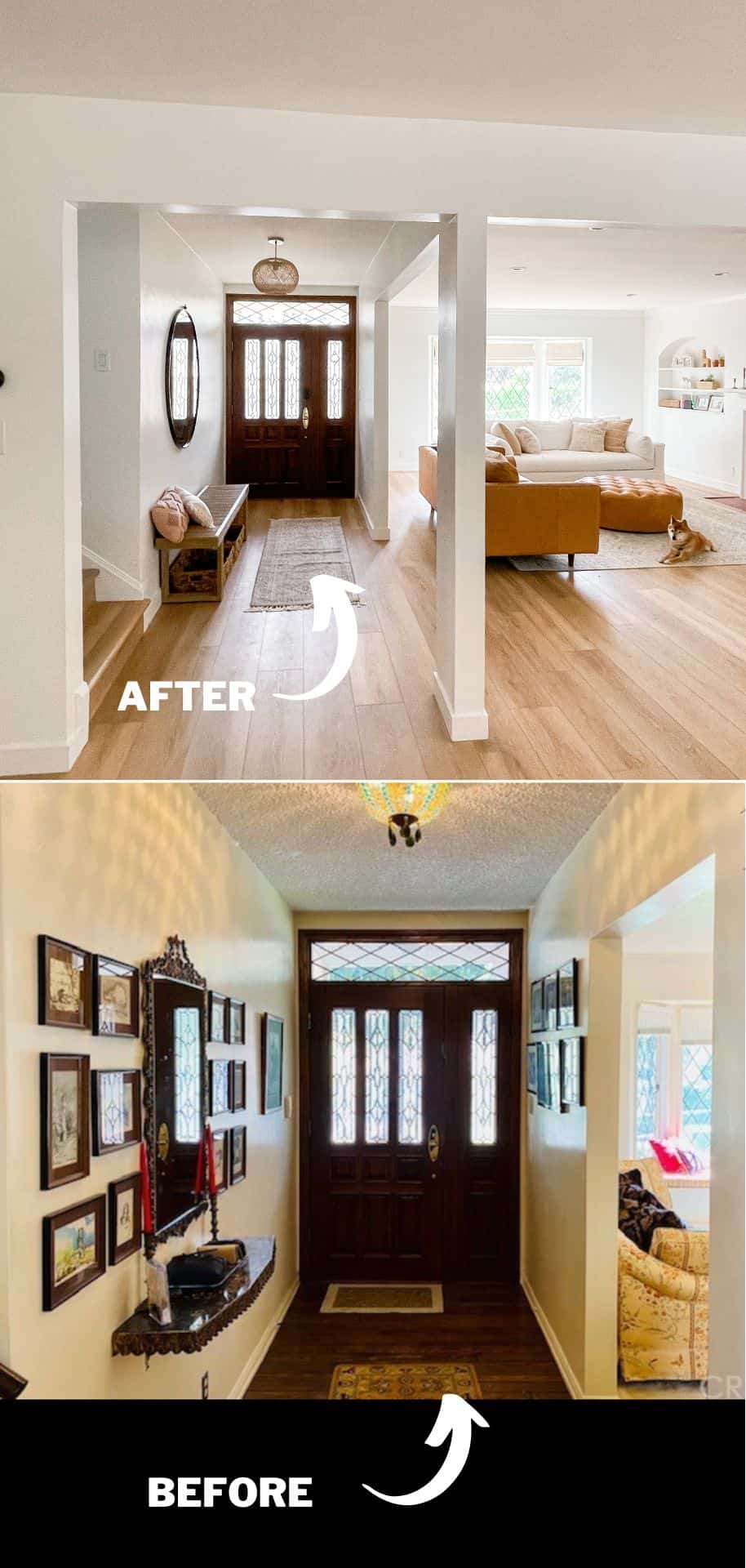 We didn't want to fully remove the wall, mostly due to budget constraints. We decided to keep the post and just shave off the wall in between. Even so, this created such an open space environment.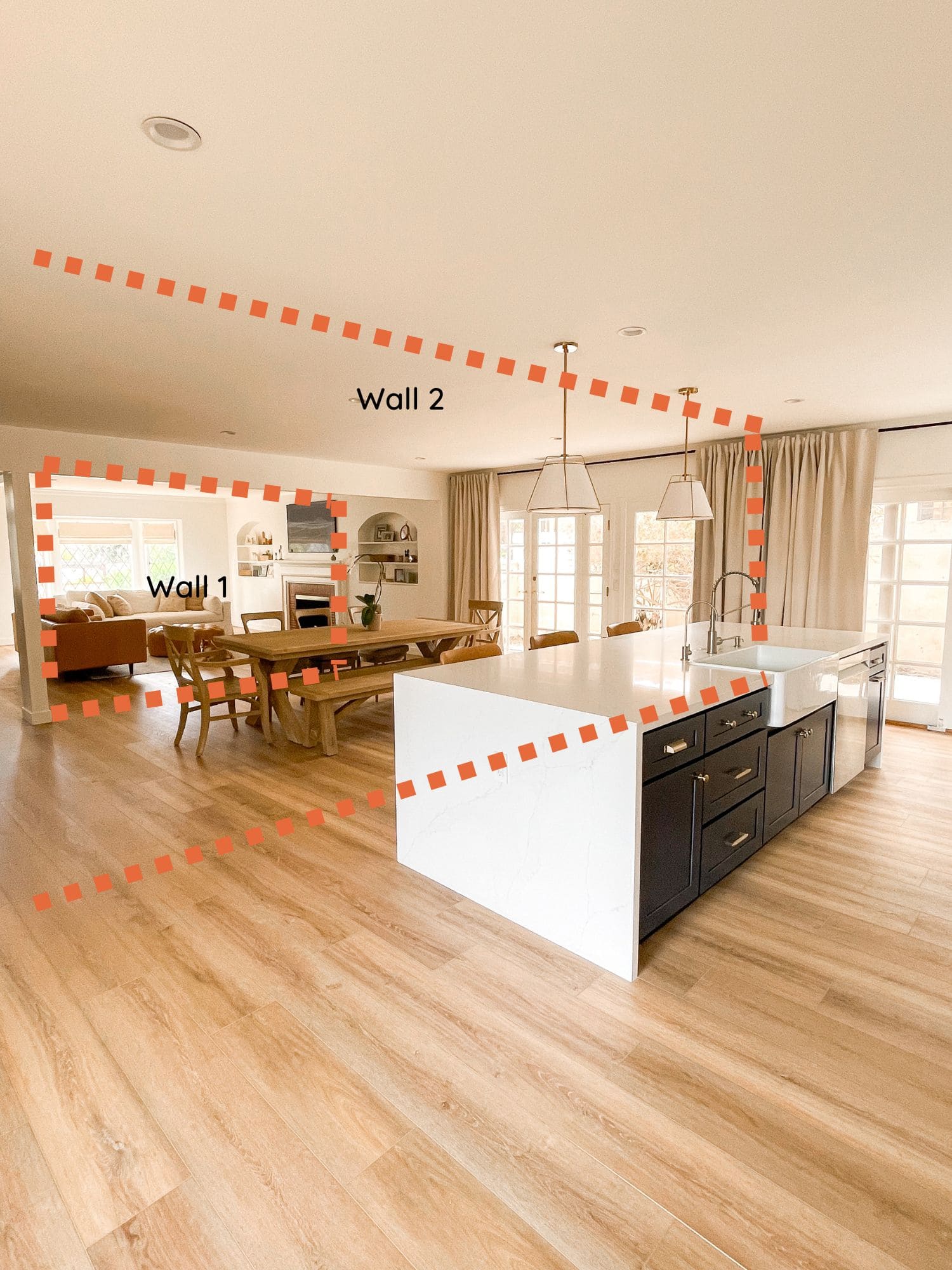 Here's the final look from the kitchen.
And another look from the living room looking into the kitchen.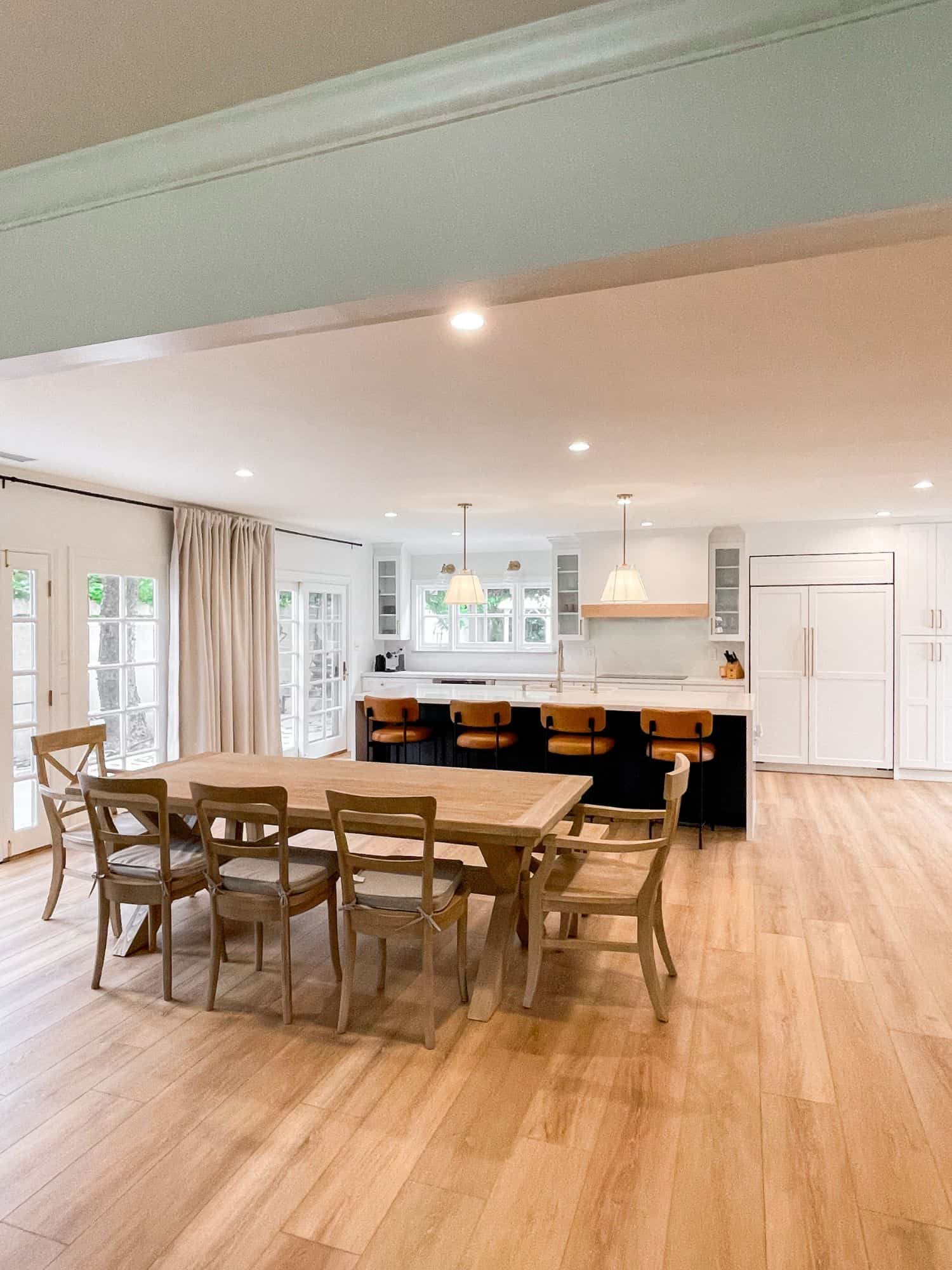 Removing walls to open up kitchen is SO SO SO worth it. Here's a good look of before and after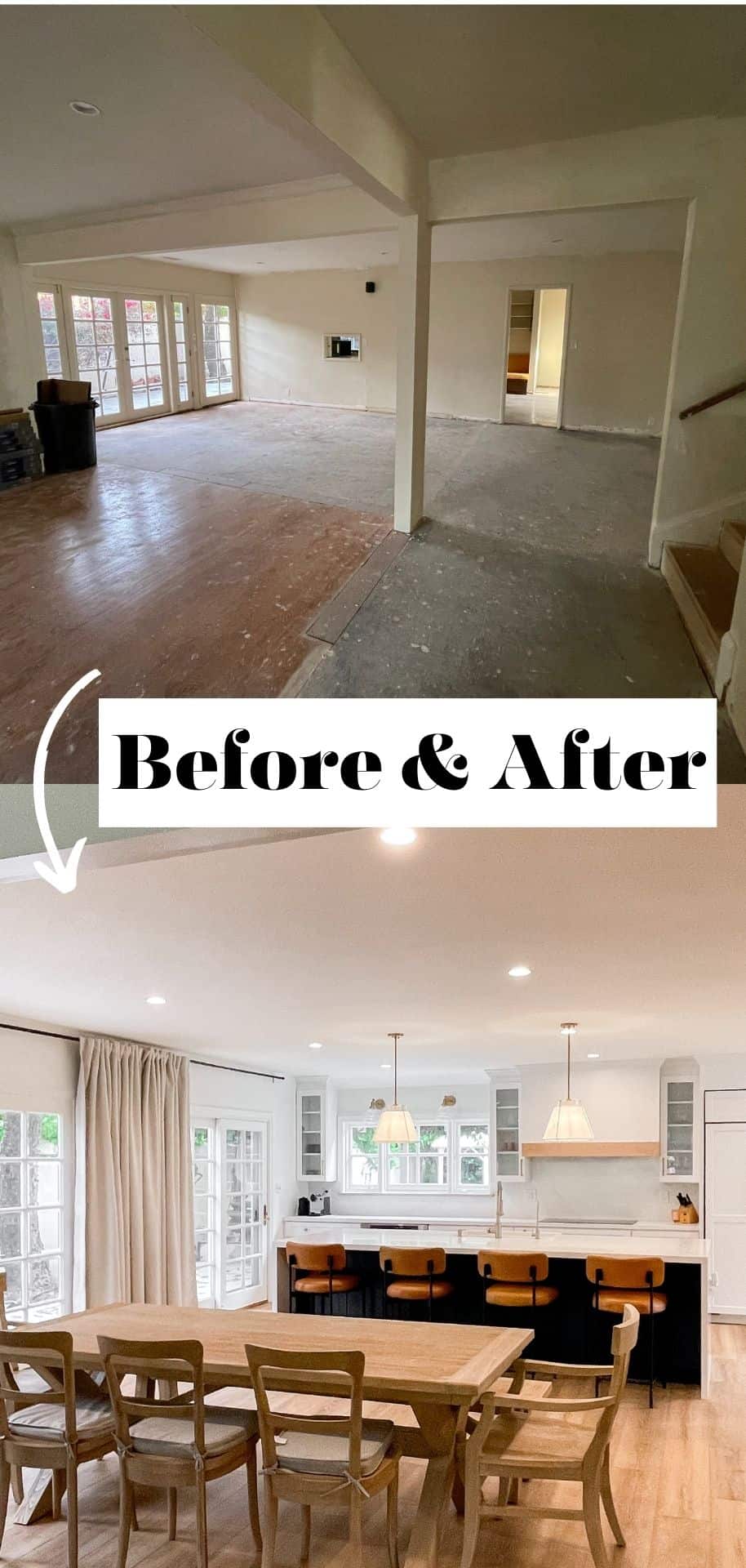 Hope this was helpful! I will do another post going over the kitchen renovation details with costs so stay tuned!
RELEVANT POST: